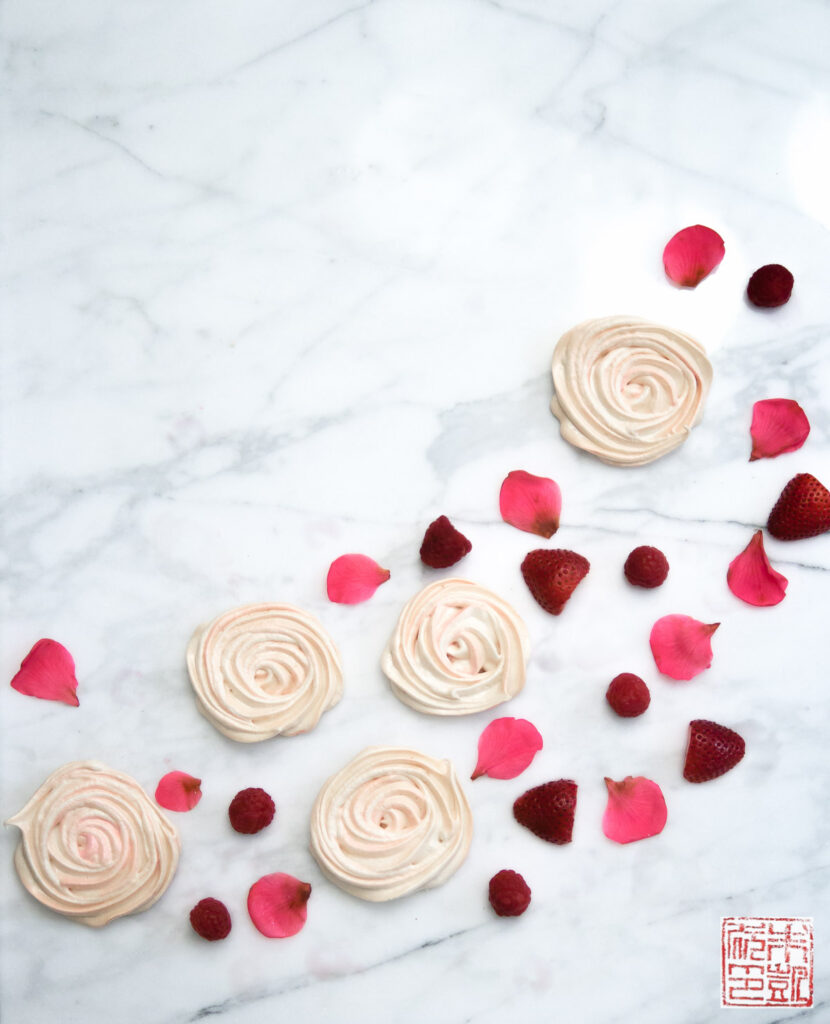 I know…with all the pink and red it almost looks like a Valentine's Day post. Well, when you have two people in the house who claim pink as their favorite color, sometimes a lot of pink food gets made.
When I was growing up my favorite flavor was strawberry everything, and I always wondered whether it was because I liked pink. The only flavor of ice cream I'd pick was strawberry, since it was always that perfect shade of baby pink. (When I got older and more sophisticated, or so I thought, I branched out into red strawberry sorbet – daring!)
Isabelle loves pink, to the point where she's told me I can't have pink because it's her favorite. I get to have red instead; she figured out that red is pink-adjacent! I distinctly remember telling her one day that her yogurt was strawberry flavored because it was pink, and ever since then strawberry's been her flavor of choice. Did I perform some kind of inception and condition my daughter to be just like I was? These are the things I ponder when I'm picking out the non-pink, non-strawberry-flavored fruit/candy/ice cream for myself again because Isabelle already took the pink option for herself.
So these little meringues aren't strawberry flavored, although I'm curious to see if Isabelle will think so. One of the perks of being a parent: playing tricks on your kids. At 3.33 years old though, she might be getting to the age where I can't outsmart her that easily anymore.
I whipped up these meringues just to have something to go with the abundance of spring strawberries (and raspberries) we've been enjoying lately. Originally I was going to make it more like a pavlova, with whipped cream and fruit layered between two meringues. Or you can make an Eton mess, with crushed meringues mixed with cream and berries. They're just an easy way to dress up some fresh fruit and create a simple dessert. Some tips on making meringues:
-Have egg whites at room temperature so they whip up with more volume.
-Make sure your mixer bowl and whisk attachment are very clean and free of grease, which keeps the egg whites from whipping up properly.
-Add in the sugar slowly, a bit at a time, so it incorporates fully. The meringue should not feel gritty when you are done. Superfine sugar works best.
-Bake at a low temperature so they set evenly and don't brown. If you bake at a higher temperature, like 300 degrees F, the outsides will set faster and the middles will stay softer and chewier. You can adjust the temperature and time depending on what kind of meringues you want.
-Don't neglect the step of letting the meringues cool in the turned-off oven: it will help dry out any remaining bits of moisture inside and prevent cracks from forming on the outside.
Since I piped my meringue to look like swirly roses, I added in some rosewater for flavoring (not sure if Isabelle will guess that). The flat shape makes them perfect for sandwiching fillings in-between, macaron style. Or you can always just simply dollop the meringue onto the baking sheets for free-form cookies. The possibilities are endless with this simple cookie, which hopefully will become a staple of your baking repertoire!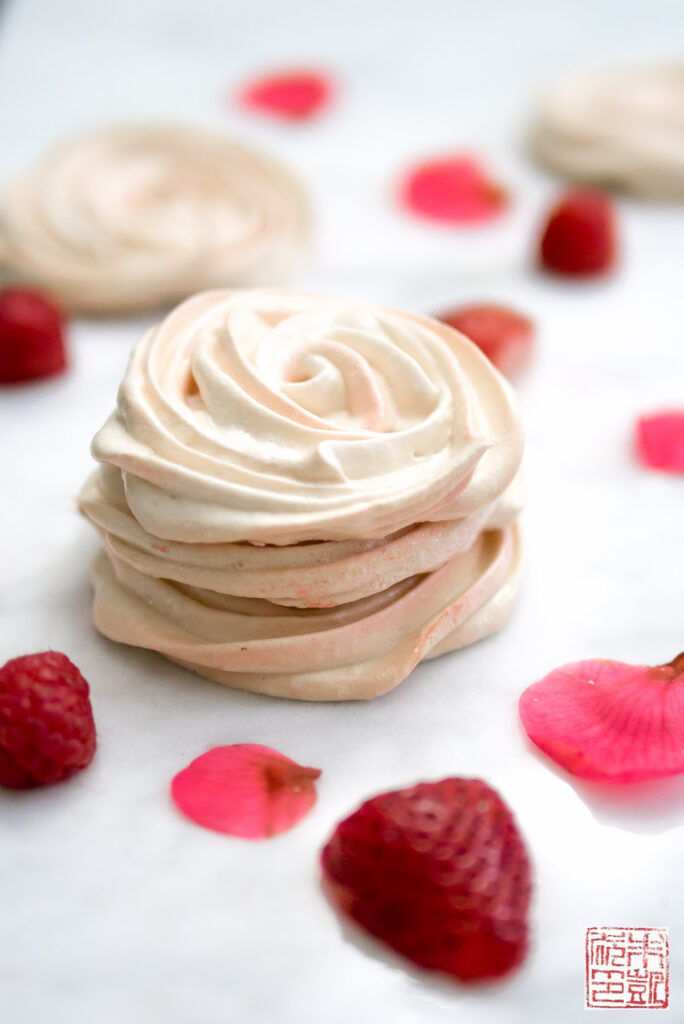 Rose Meringues
Serves:
about 18 meringues
Ingredients
2 large egg whites, room temperature
½ cup superfine sugar
½ teaspoon cornstarch
1 teaspoon rosewater
½ teaspoon vanilla extract
Instructions
Preheat the oven to 250 degrees. Whip the egg whites in an electric mixer on medium-high speed until soft peaks form.
Add about half the sugar and continue whipping until the peaks become very stiff and shiny.
Add the rest of the sugar and the cornstarch and continue whipping to incorporate and tighten up the meringue. You want it to be fairly stiff so you can pipe it.
Add rosewater and vanilla extract and whip to combine. If you want to keep the meringues as white as possible you can omit the vanilla.
Place a 2D tip in a pastry bag and fill with the meringue. Pipe each meringue with a spiral motion, starting from the center.
Bake the meringues for about 1 hour or until they are dried out.
Turn off the oven and let meringues cool inside for a few more hours, preferably overnight.
Remove from the parchment paper. If you are not using them right away, store them in an airtight container at room temperature.