I was invited to a media event at the Hyatt Centric to preview their new amenities. I was not paid for this post and all opinions are my own.
When my out-of-town friends ask me in what part of San Francisco they should they look for lodging, I usually like to suggest somewhere near the Embarcadero, either in the Financial District or up around Fisherman's Wharf; both locations are convenient to transit options and are close to the water and some stunning view of the bay. And, of course, both areas have some fantastic food options nearby.
I was happy to learn that the Hyatt hotel near Fisherman's Wharf had recently undergone a renovation and rebranding as a Hyatt Centric. This style of Hyatt caters to the "modern explorer" – leisure and business travelers looking for a sophisticated, cosmopolitan experience. To celebrate this relaunch, I was invited to a media event at the Hyatt Centric Fisherman's Wharf to see some of their new amenities. Read on for a recap and some of my favorite sweet recommendations around the hotel!
Hyatt Centric + DryBar
One of the amenities the hotel is most excited about is their partnership with blow dry specialists DryBar. For the event, a mini salon was set up for us in one of the hotel ballrooms and stylists were on hand to give us hair touch-ups. Unfortunately, this station didn't remain after the event, but Hyatt Centric now includes one of DryBar's famous Buttercup hair dryers in every room for guests to use. No more weird industrial-looking hair dryers or worse yet, finding there isn't a dryer included!
Hyatt Centric San Francisco is also stocking their rooms with toiletries from BeeKind. This eco-friendly line is made with honey and other organic ingredients, and the company donates part of the proceeds from their sales to the Honey Bee Research Program at the University of California at David. Since lemon verbena is one of my favorite scents (and baking ingredients!), I loved the lemon verbena scent of the products!
Appetizers and sips from the hotel's restaurant, Brick and Beam. The menu pays homage to the hotel's location near the ocean with several seafood offerings, including fish and chips and clam chowder in a bread bowl.
Brick and Beam has a homey-chic ambiance with exposed brick walls and oversized chairs upholstered in the same fabric used for yacht sails. The entire hotel has been redone with a subtle nautical motif – using sail fabric to cover chairs is the sort of understated touch that give the decor a bit of originality and connection to its location near the ocean. I'm looking forward to making a return visit to Brick and Beam to try out their menu properly!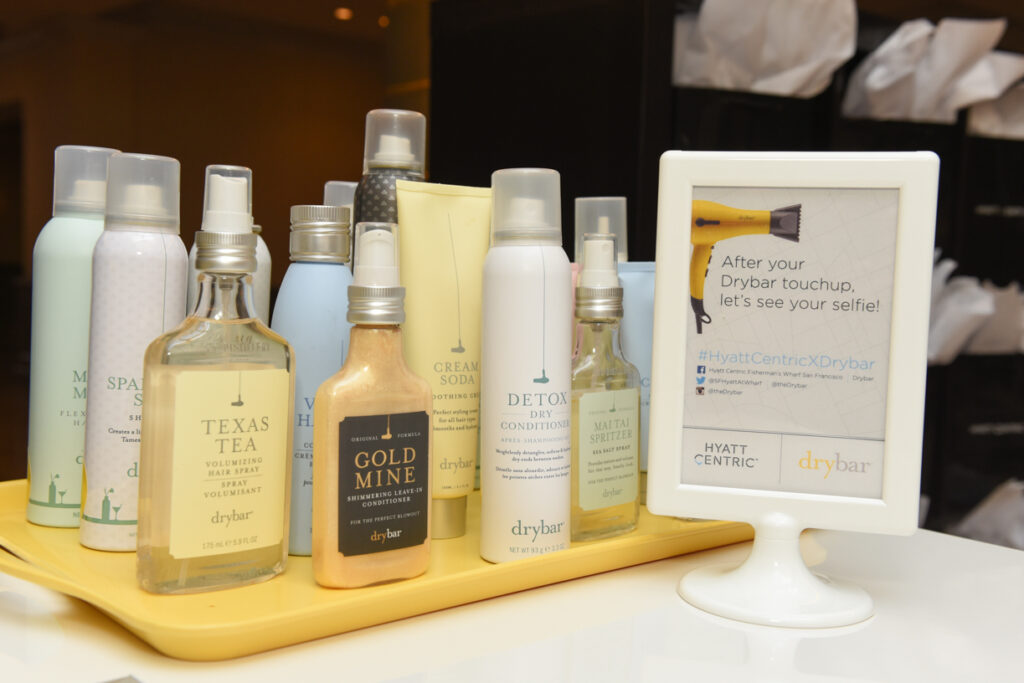 Back in the ballroom, time for a touch-up. A selection of DryBar's products the stylists were using for our blowouts.
Here I am going through the DryBar catalog of looks. I love how everything is named after a drink!
The stylist prepping my hair before curling it. 
Bonus action shot.My stylist was the best: not only did she do my hair, but she taught me how to use SnapChat! Yes, I'm very slowly figuring out how to use it! If you'd like to see my attempts, my Snapchat handle is dessert_first.
And here I am after a touchup courtesy of DryBar! Thanks to Hyatt Centric Fisherman's Wharf and DryBar for a fun evening!
Sweet Things to Do and Eat Nearby
One of the best things about Hyatt Centric is it's convenient location. Whether you're a visitor to San Francisco or a local looking for a staycation, the Hyatt Centric is close to many of the city's most well-known neighborhoods and to some great eating. Here are my (dessert-Centric) recommendations for the best places to go in the area.
all photos in this post without my watermark are courtesy of Hyatt Centric and Steven Gregory photography.