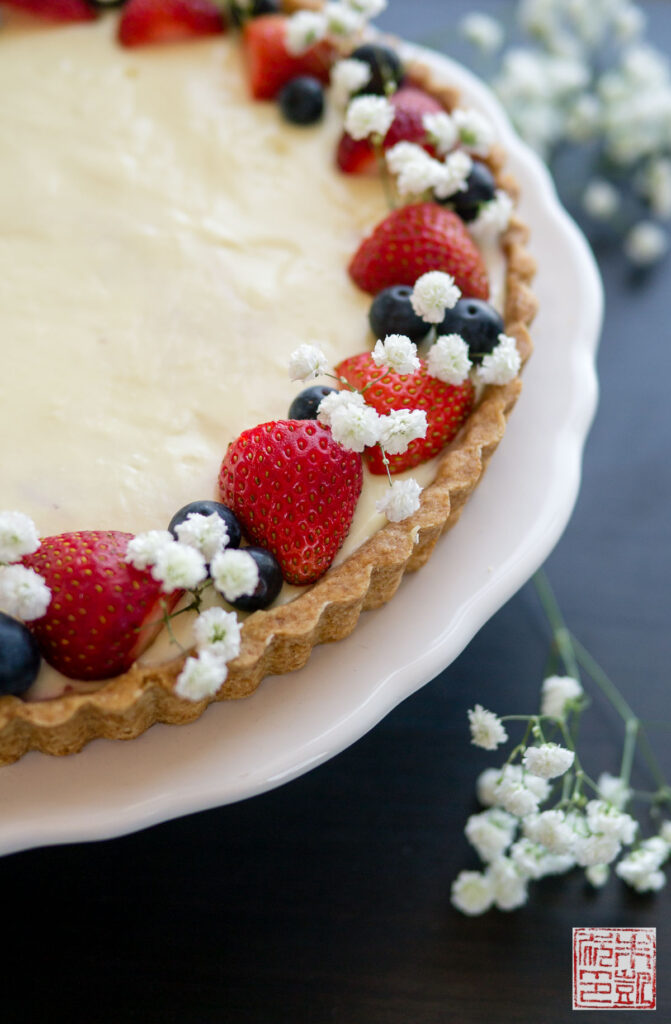 Happy almost summer! I took my summer vacation a little early and just got back from a gorgeous week-long cruise to Alaska. I can't wait to share with you all, but before I do that I wanted to post the last thing I made before I left on my trip: this berry tart with cheesecake pastry cream. It was meant as a Memorial Day dessert, but I think it'll serve just as well to celebrate the start of summer.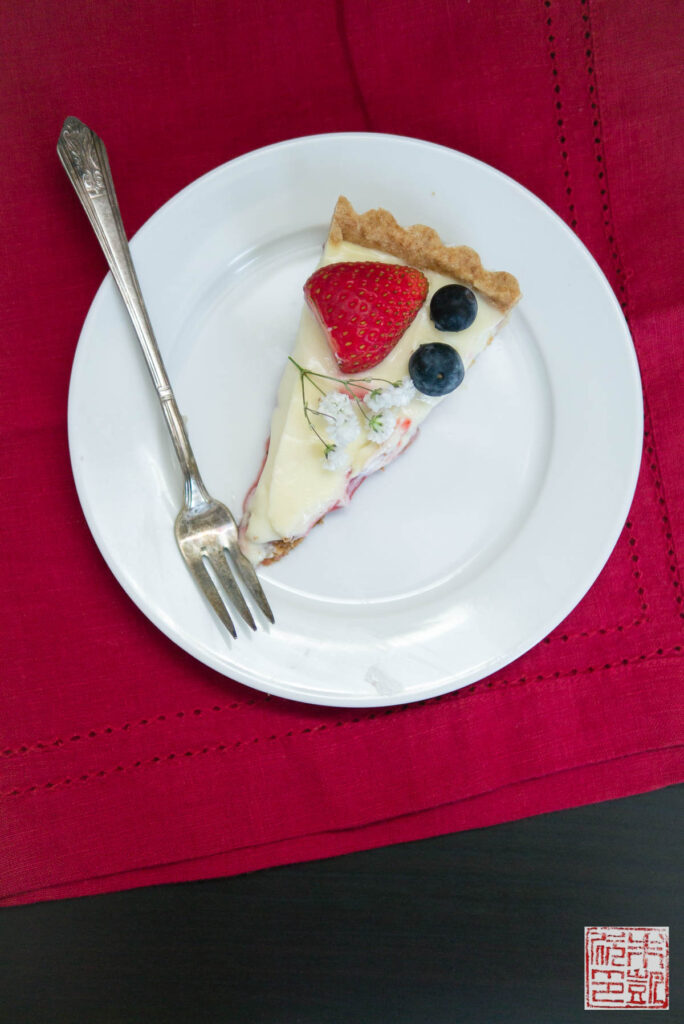 The idea for this tart, which is a bit of hybrid of a traditional cheesecake and a Parisian fruit tart filled with pastry cream, came from my parents' visit. My mom loves cheesecake, and I wanted to make a lighter version that didn't need baking in the oven. The inspiration struck to make a fruit tart, but with cream cheese added to the filling to give it that cheesecake flavor. How did this experiment pan out?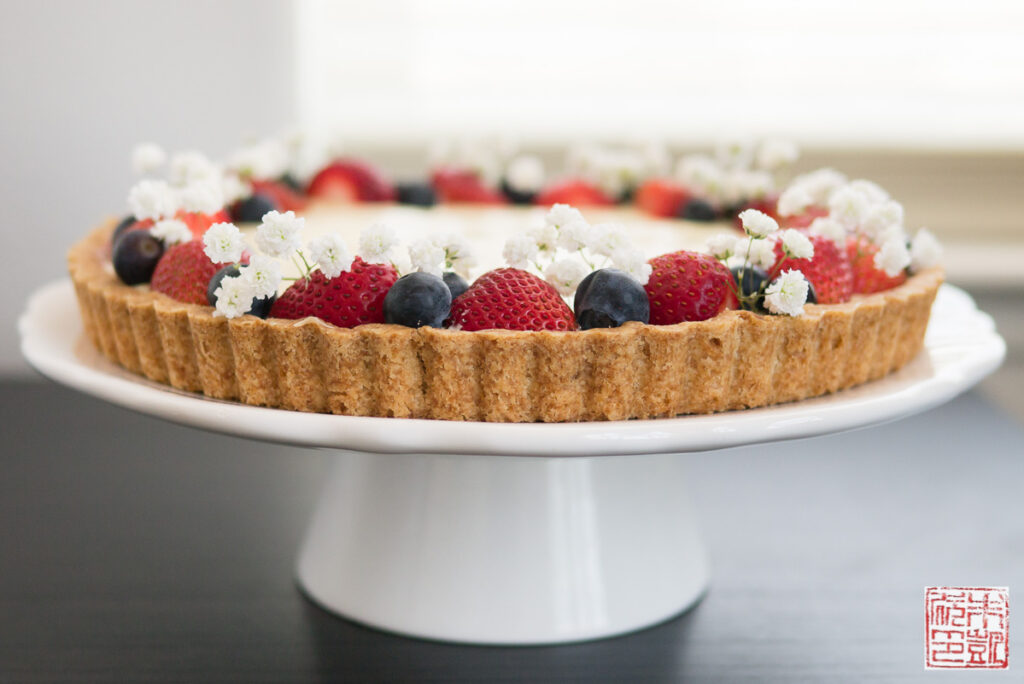 The filling for this tart is a traditional pastry cream made with milk, butter, and vanilla, with cream cheese folded in at the end. It's noticeably thicker and richer than a regular pastry cream, and has the satisfying tang of cream cheese which sets off fresh berries beautifully. Like many pastry creams, it's soft and more fluid when just made, and sets to a firmer consistency after refrigeration. So if you're looking for a denser, more cheesecake-like texture, you can leave this tart in a refrigerator overnight. Once brought to room temperature, it will become softer and more creamy.
I originally tried out a press-in cookie crust, but in the end I found I preferred a sturdier pate brisee tart crust: since the pastry cream is softer than a baked cheesecake, having a more robust crust worked better as a contrast. I also spread a layer of fresh strawberry coulis on the bottom, since I can't resist strawberry season. However, it did make it considerably trickier to pour in the cheesecake pastry cream without mixing the two components together. If you omit the strawberry coulis, it's much easier to pour in the pastry cream and spread it around. Use my lessons learned and combine the different parts of this tart as you will!
After all this kitchen testing, I (and my mom) were pretty happy with this updated take on a classic fruit tart. I was using strawberries and blueberries to be patriotic (and I'll probably do so again for July 4th) but you can of course put any combination of fruit on top. Summer tarts are one of my favorite desserts to make and I think I'll be adding this to the repertoire. Hope you give it a try with summer just upon us! Also watch this space for what I made for Father's Day, right after we got home from our trip. I guess I missed my kitchen while I was away on vacation!
Berry Tart with Cheesecake Pastry Cream
Ingredients
PÂTE BRISÉE
1 cup (120 g) all-purpose flour
1 tablespoon granulated sugar
¼ teaspoon salt
½ cup unsalted butter, cold, cut into 1-in pieces
1 tablespoon cold water
½ teaspoon vanilla extract
¼ teaspoon almond extract
Strawberry Coulis
½ cup strawberries, hulled and quartered
¼ cup sugar
½ teaspoon lemon juice
Cheesecake Pastry Cream
1 cup (230 g) milk
3 large egg yolks
¼ cup (50 g) sugar
2 Tablespoons (14 g) cornstarch
1 teaspoon vanilla
1 tablespoon unsalted butter, room temperature
4 oz (113 g) cream cheese, softened
Fresh berries for decorating
Instructions
For the PÂTE BRISÉE:
Place the flour, sugar and salt in bowl of a food processor, and process to combine.
Add in the butter and process until mixture resemble coarse crumbs - don't let it turn into a solid ball of dough.
Add the water, vanilla and almond extracts and process just until the dough starts to clump together.
Turn out the dough onto a clean surface and form into a disk. Wrap and refrigerate for about 30 minutes or until it has firmed up and is no longer sticky. Refrigerate longer if needed, or you can also store the dough in the refrigerator until you are ready to use it.
Preheat the oven to 375 degrees F. Press the dough into the bottom and sides of a 9½" tart tin, trying to keep the thickness even. If the dough gets soft and sticky, you can put it back in the refrigerator for 5-10 minutes.
Refrigerate the tart shell for 30 minutes before baking.
Prick the bottoms of the tart shell with a fork. Bake for 25-30 minutes until golden brown and dry. Remove from oven and let cool.
For the strawberry coulis:
In a medium saucepan, combine the strawberries, sugar, and lemon juice. Bring to a boil over medium-high heat.
Pour strawberries into a food processor. Purée until smooth. Chill in refrigerator until needed.
For the pastry cream:
To make the pastry cream, place milk in a small saucepan. Heat on the stove over medium heat until bubbles appear on the edge of the pan.
Meanwhile, whisk together the egg yolks, sugar, and cornstarch in a bowl.
Pour half of the hot milk into the egg mixture, whisking constantly to prevent the eggs from cooking.
Return the milk and egg mixture to the saucepan and cook over medium heat, whisking constantly until the mixture thickens. Stir in the vanilla. Let mixture sit for about 5 minutes to let it cool slightly.
Add in the butter and whisk until it is incorporated. Add in the cream cheese and whisk until it is fully incorporated and mixture is smooth.
Scrape the pastry cream into a bowl, press a piece of plastic wrap to the surface, and refrigerate until needed.
To assemble the tart:
Spread the coulis in an even thin layer at the bottom of the tart shell.
Pour the cheesecake pastry cream over the coulis. If you have been chilling the pastry cream for a while it may have firmed to the point where it is difficult to pour. Loosen it up by whisking briskly or whirling it in a food processor for a few seconds. Note if you do this the pastry cream may become very soft and runny; you can refrigerate the filled tart for 20-30 minutes to let it firm up again.
Decorate the top with additional fresh berries before serving.