Isn't it lovely when some inspiration shows up in your mailbox? King Arthur Flour sent me a care package containing their White Whole Wheat Flour, Active Yeast, and some ground cinnamon. Perfect timing as I was looking for some inspiration for Father's Day. While the hubby has always been an enthusiastic and game taste tester for all my baking experiments, I do try to give him he really likes on his special day. This Cinnamon Chocolate Monkey Bread not only was a perfect way to use my new ingredients, but it holds a special meaning for us: monkey bread was one of the first things we baked together when we first started dating. Wow, it seems like a long trip down the hallways of memory to life before kids. We were looking for something easy to try since he wasn't very familiar with baking, and we found this recipe for the intriguingly-named monkey bread. As I remember, it turned out delicious. We haven't made it recently, so I thought it the right time to give it an update.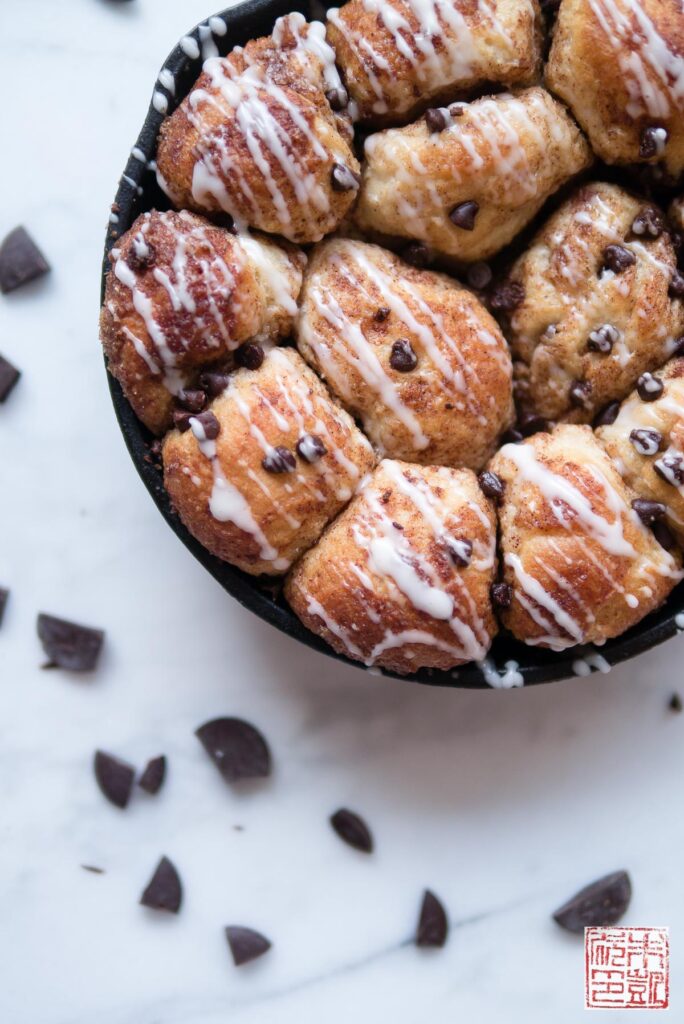 Most classic monkey bread recipes call for regular all-purpose flour, but substituting in King Arthur White Whole Wheat flour was a cinch. It's milled from white spring wheat, which gives it a lighter color and milder taste than traditional whole wheat flour, while providing the same nutritional value. As a baking guideline, you can use white whole wheat flour in any recipe that calls for regular whole wheat flour. If you're using a recipe that calls for all-purpose flour, like this monkey bread recipe, start by substituting half with white whole wheat flour and go from there. Another tip is to let the dough rest for 10-15 minutes to let it absorb the wet ingredients fully, which will help make the final product lighter. A dough made with whole wheat flour may also be stiffer and drier than one made with all-purpose flour; if you find your dough too stiff, try adding a teaspoon or two of water or orange juice.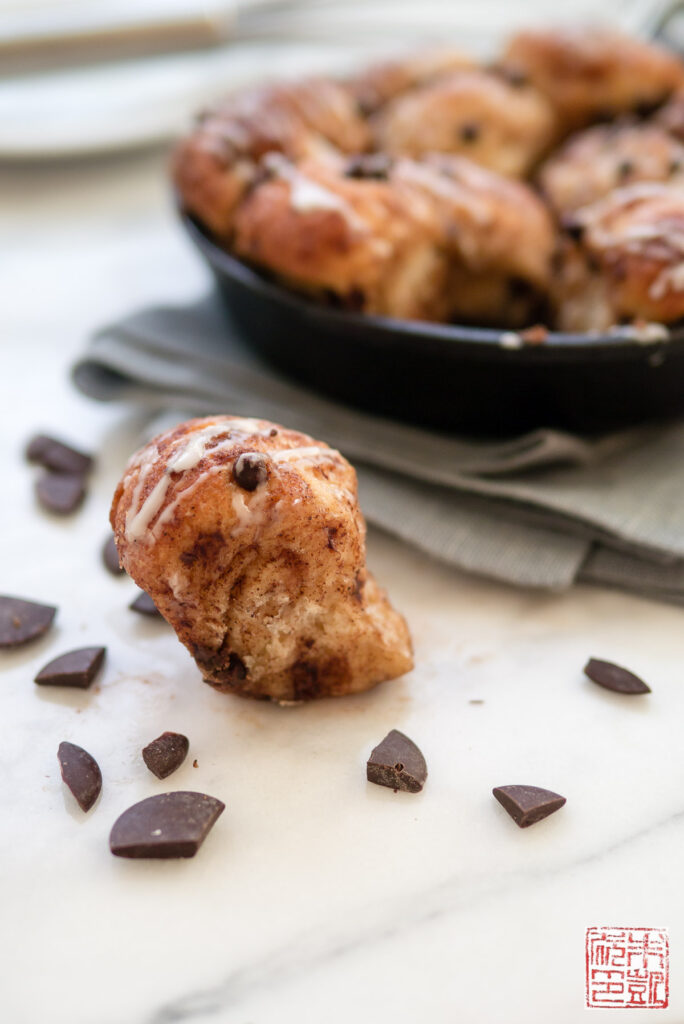 I thought monkey bread was a good choice for substituting in some white whole wheat flour: it's moist and sweet with the added sugar and butter, which helps counteract any of the dryness or bitterness whole wheat might impart. While cinnamon's a natural addition for monkey bread, I also added some chocolate pieces for extra decadence. We did mini chocolate chips at first but I found that chocolate chunks melted more thoroughly for that real ooey-gooey experience.
Although monkey bread is typically made in a bundt pan, I found using a cast iron pan works perfectly well. The hot pan also helps create a wonderfully crisp caramelized crust of sugar on the exterior of the bread, making it extra delicious when you bite in. I'm a fan, and I think everyone else in the household became a fan once they tried a piece.
Of course Isabelle had to get in on the baking action. She's become such a good little helper. I shaped the balls of dough and she dipped them in the butter and sugar mixture before placing in the pan. When she asked what we were making, she giggled that "that's a silly name!" when I told her monkey bread. But she was proud to present it to Dad when he came home and tell him she had a hand in making it. Who knows, maybe monkey bread will become one of our treasured family recipes – I look forward to creating all these new memories around these dishes every time I make them anew with Isabelle.
Thanks to King Arthur Flour for inspiring me to make a delicious update to an old favorite, and for a very happy Father's Day in our household!
Disclosure: I received products from King Arthur Flour for review. I was not compensated for this post and all opinions are my own.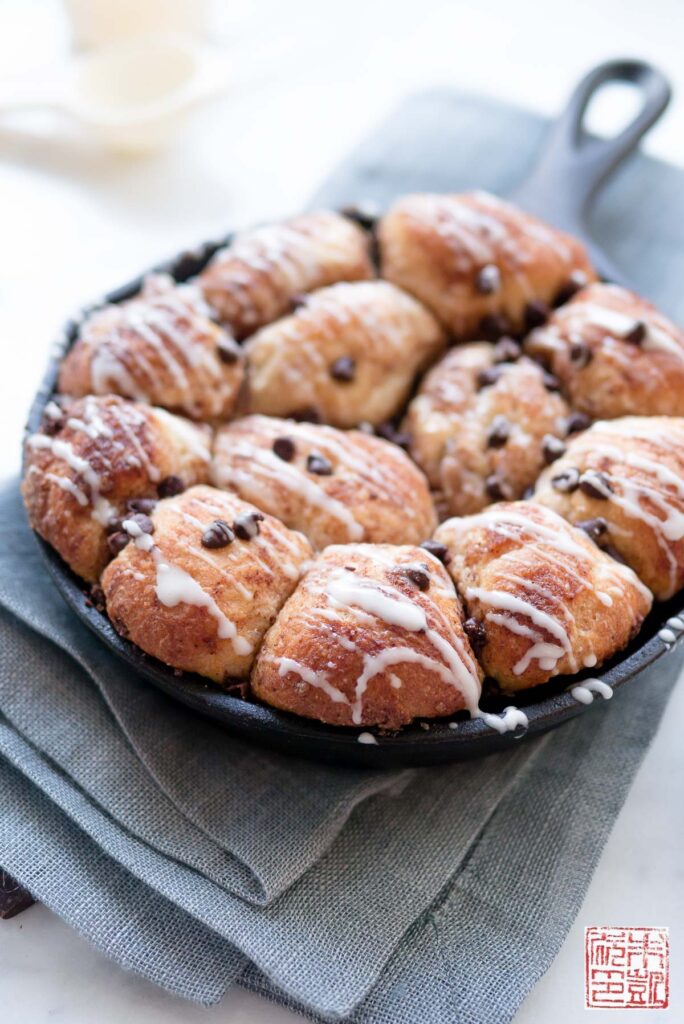 Cinnamon Chocolate Monkey Bread
Note: I used King Arthur White Whole Wheat flour in this recipe. If you use regular whole wheat flour, the bread may have a more "rustic" taste and texture. If you don't want to use whole wheat flour, you can simply replace the amount of whole wheat flour with all-purpose flour.
Ingredients
Dough
½ cup (115 g) water, room temperature
½ cup (115 g) whole milk
1 large egg
2 tablespoons (28 g) sugar
1 tablespoon (14 g) vegetable oil
2 teaspoons (8 g)instant yeast
1 teaspoon salt
1¾ cups (220 g)King Arthur Unbleached All-Purpose Flour
1 cup (120 g) King Arthur White Whole Wheat Flour
¼ cup (2 oz)semisweet chocolate, roughly chopped, or chocolate chips
Topping
½ cup (113 g) unsalted butter
¼ cup (50 g) granulated sugar
¼ cup (50 g) light brown sugar
2 teaspoons ground cinnamon
Glaze
1 cup (110 g) confectioner's sugar
2 tablespoons (30 g) whole milk
1 teaspoon vanilla extract
Instructions
For the dough:
Combine water, milk, egg, sugar, oil, yeast, and salt in a medium bowl and stir together until fully mixed.
Add the all-purpose flour, stirring to blend.
Add the whole wheat flour, stirring to blend. Add in the chopped chocolate. Let the dough rest for 5 minutes.
Scrape dough into bowl of stand mixer fitted with dough hook. Knead on high speed for about 5 minutes until soft and smooth.
Place the dough in a lightly greased bowl, cover it, and let the dough rise for 30 to 60 minutes, until doubled in size.
While the dough is rising, prepare the topping.
For the topping:
Melt butter in microwave.
Combine sugars and cinnamon in a separate small bowl.
To finish:
Place dough on clean counter or surface lightly dusted with flour. Divide it into pieces about 1½" in diameter. I find it easiest to weigh each piece for consistency; I make my pieces about 20 g each. You should get about 24 pieces.
Lightly grease an 8" round cake pan or a cast iron skillet. Dip each piece in melted butter, then roll it in the cinnamon-sugar mixture to coat.
Place the pieces in a single layer in the prepared pan. Pour any of the remaining topping mixture over the bread.
Cover the pan, and let the bread rise for 30 to 60 minutes, until it is visibly puffy. Towards the end of the rising time, preheat the oven to 350°F.
Uncover the pan, and bake the bread for 20 to 25 minutes, until golden brown and feels set.
Remove from the oven, and immediately turn the pan over onto a cooling rack. Lift the pan off the bread, and scrape any leftover topping in the pan onto the bread.
For the glaze:
Whisk together the confectioner's sugar, milk, and vanilla extract in a small bowl until combined. Add a little more confectioner's sugar if it seems too watery and you want it thicker, or add a little more milk if it seems too thick and won't pour.
Drizzle the glaze over the bread.
Pull the bread apart to serve. Serve warm, or at room temperature.