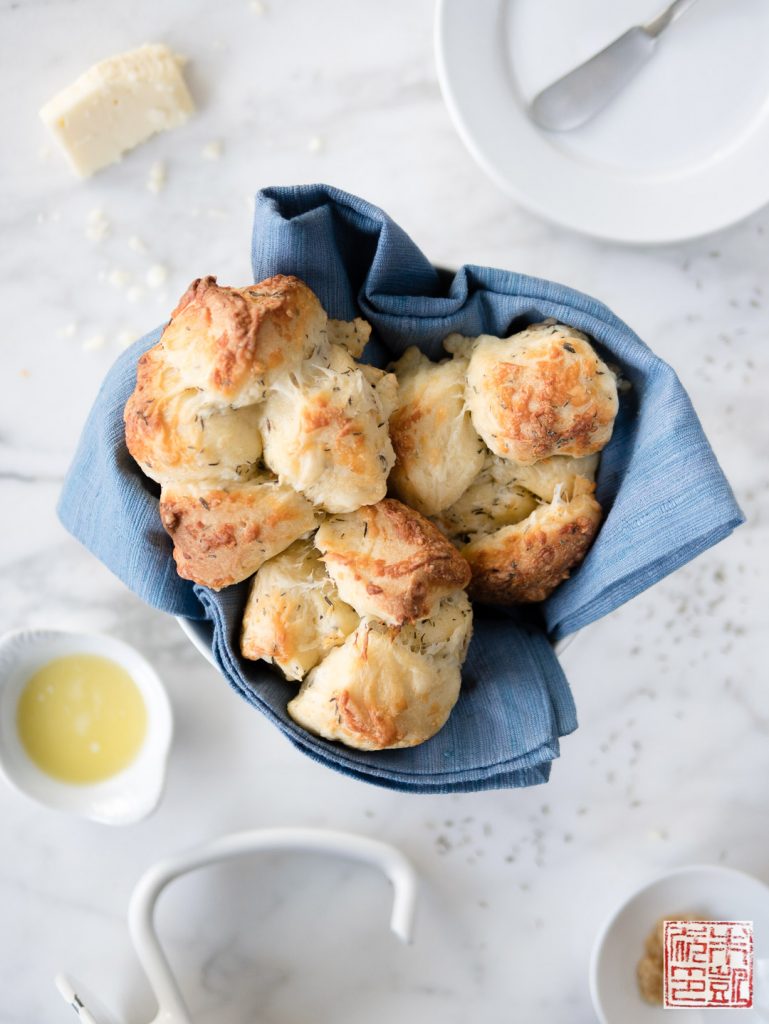 I first made this Garlic Cheesy Monkey Bread from Joanne Chang's Pastry Love earlier this year when we started shelter in place and I was in serious need of some comfort food, and it turns out that comfort food craving continued as this year kept going. I'd never made a savory version of monkey bread before, but this was so good I couldn't help making it again – and again. This monkey bread takes a bit of pre-planning to make the dough the day before, but it's absolutely worth the effort and the wait.
Click here to jump to recipe
This monkey bread uses a rich, pillowy brioche as its base. I've adapted the recipe slightly to use my usual recipe for brioche; if you'd like the full original recipe you can get it from Joanne's book. You can make the dough the day before and let it proof overnight in the refrigerator. It's then cut into little nuggets, dipped in a garlic, cheese, and thyme- infused butter, and assembled into mini breads in individual muffin cups. I really love the idea of individual monkey breads as opposed to one big one; they remind me a bit of popovers or the cloverleaf dinner rolls, and they also make them easier to serve at dinner. Everyone gets their own little monkey bread! They bake up puffy, golden, and smelling gloriously of cheese and butter. They are almost filling enough to be a mini meal on their own. 
This is a fantastic bread to break out for the upcoming holiday dinners, or just any time you need a good dose of buttery, cheesy, herby carbs. We're almost at the end of the year, and while we may not be able to celebrate in the same ways we've done in the past, I'm still looking for ways to bring some joy and happiness and remind us to stay positive and have hope. 
Garlic Cheesy Monkey Bread
adapted from Joanne Chang's Pastry Love
Ingredients
Brioche
1 cup all-purpose flour
1 cup bread flour
1½ teaspoons (6 g) active dry yeast, about ½ packet
¼ cup (50 g) sugar
1 teaspoon salt
¼ cup cold water
2 large eggs, room temperature
10 tablespoons (140 g) unsalted butter, room temperature, cut into 1-in pieces
Monkey Bread
4 tablespoons (60 g) unsalted butter
1 garlic clove
½ teaspoon salt
1¼ cups (65 g) shredded fontina cheese
½ teaspoon dried thyme
Instructions
For the brioche dough:
In a stand mixer fitted with the dough hook attachment, combine the all-purpose flour, bread flour, yeast, sugar, salt, water, and eggs.
Beat on low speed for 3 to 4 minutes until combined. The dough will seem very stiff. Be sure you scrape the sides and bottom to incorporate all the ingredients.
Add butter, a couple pieces at a time, letting them combine into the dough while the mixer is still running. Stop the mixer occasionally to scrape the sides and bottom of the bowl. Mix until dough becomes smooth and shiny, and masses around the dough hook, making a slapping sound against the mixer bowl, about 15-20 minutes.
Place the dough in a large oiled bowl or plastic container and cover it with plastic wrap, pressing the wrap directly onto the surface of the dough. Let the dough proof in the refrigerator for at least 6 hours or overnight.
To make the monkey bread:
Line 6 cups of a regular muffin tin with muffin liners, and spray generously with pan spray.
Melt the butter in a small saucepan. Smash the garlic clove and add to the butter along with the salt, and stir to combine. Set aside.
Remove the brioche dough from the refrigerator and divide into six equal pieces with a sharp knife or bench scraper.
Shape each piece on a clean work surface into a rectangle, and then cut into six equal pieces.
Remove the garlic from the butter and pour about three-quarters of the butter in a medium bowl, reserving the rest.
Place all the small brioche pieces into the butter and toss to coat.
Add the fontina cheese and thyme to the bowl and toss to mix evenly.
Distribute the brioche pieces evenly among the six muffin tin cups (six pieces per cup).
Cover lightly with plastic wrap and let proof in a warm spot in the kitchen for about 2 hours, until the dough has grown pillowy and soft.
Preheat oven to 350 degrees F. Bake monkey breads for 25 to 28 minutes, rotating halfway through, until they are golden brown on top.
Remove and let cool on wire rack for a few minutes, then remove monkey breads from muffin liners. Brush the breads with the remaining garlic butter. Serve warm.
The monkey breads will keep for a day at room temperature in an airtight container. You can reheat them in a 300 degree F oven for 4 to 6 minutes.