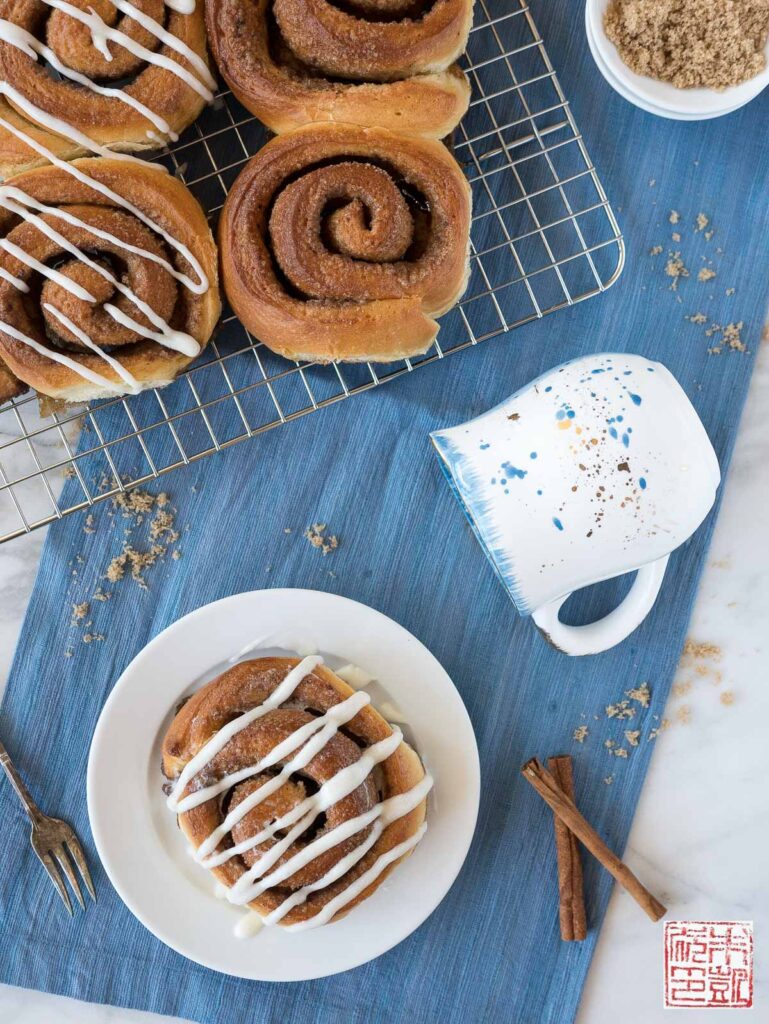 Happy almost-Christmas! These brown butter cinnamon rolls from Joanne Chang's new cookbook Pastry Love are on the list for the Christmas morning breakfast menu. They're one of my favorite recipes from her latest book, and there were a lot of contenders to choose from – I almost earmarked the entire table of contents! If you haven't finished your gift shopping yet, this is definitely one of my picks as best baking book of 2019.
I've been collecting all of Joanne Chang's cookbooks since she started writing them, and I heartily recommend them all, whether you're a fan of her Flour bakeries in Boston, or just a fan of baking in general. I've been baking and collecting baking cookbooks for quite a long time, and as anyone with a even a modest book collection knows, you settle into your favorites. I may enjoy browsing my cookbook collection for inspiration or research, but when I need go-to recipes that I can trust to work on the first try, I tend to circle back to the same few books again and again. Joanne Chang's books fall in the latter category.  The recipes cover a wide range of pastries so you can always find something that suits your mood, are clearly written and easy to follow, and most importantly are always delicious.
Click here to jump to recipe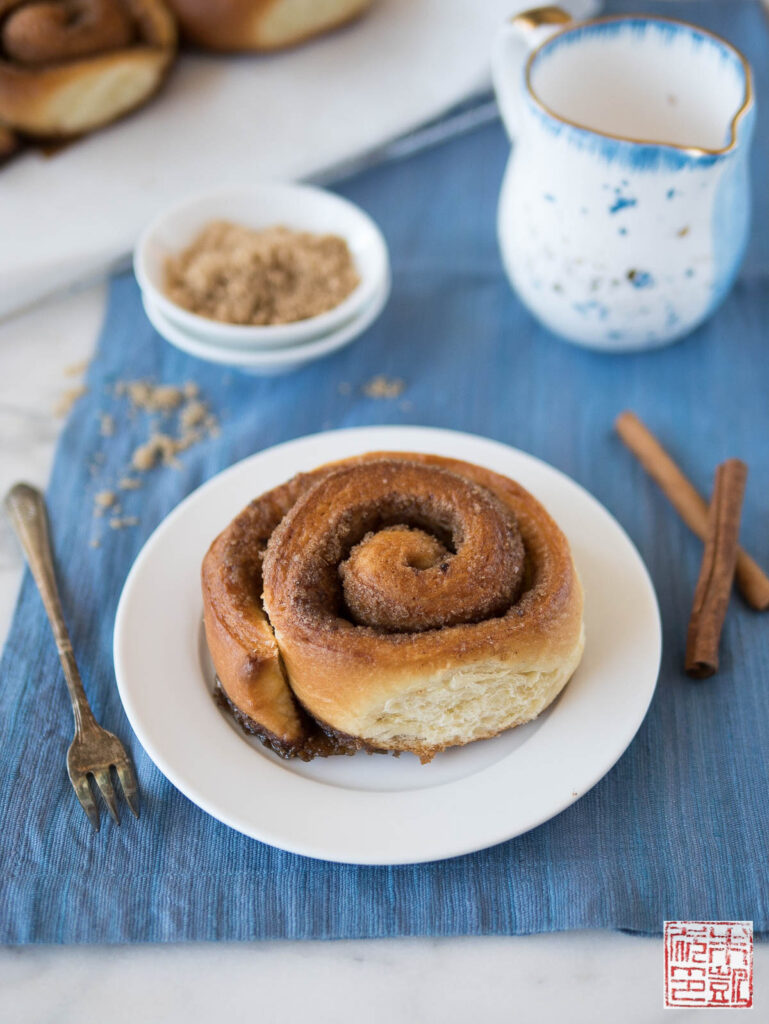 I seem to be drawn to Joanne's brioche buns quite often, which is probably not surprising given that her sticky pecan buns are her most famous creation. She includes several new versions of these buns in Pastry Love, including Apple Cider Sticky Buns, truly magnificent looking Sticky Buns Kouign Amann that I plan to tackle in the new year, and these Brown Butter Cinnamon Rolls with cream cheese frosting. They are a nut-free version of her sticky buns covered in cream cheese frosting instead of caramel goo, but are just as rich and enticing.
The brown butter cinnamon rolls consist of a basic brioche dough spread with browned butter and sprinkled with cinnamon and brown sugar, then rolled up into little spirals of goodness. If you are a fan of cream cheese frosting, Joanne's original recipe has the rolls slathered in it to add extra creaminess and tang. I prefer a little less frosting on my rolls so I make do with a little drizzle. Either way, these are some really good cinnamon rolls. Joanne's version of brioche is also super easy as it doesn't require a separate sponge or starter; you can throw everything into the mixer and make the dough right away, then let it rest in the refrigerator. If you make the dough the day before and let it proof overnight, you can prep the rolls in the early morning, let them rest for a second rise, and have cinnamon rolls for Christmas breakfast. Or just regular breakfast any other time – these rolls are too good to only have once a year.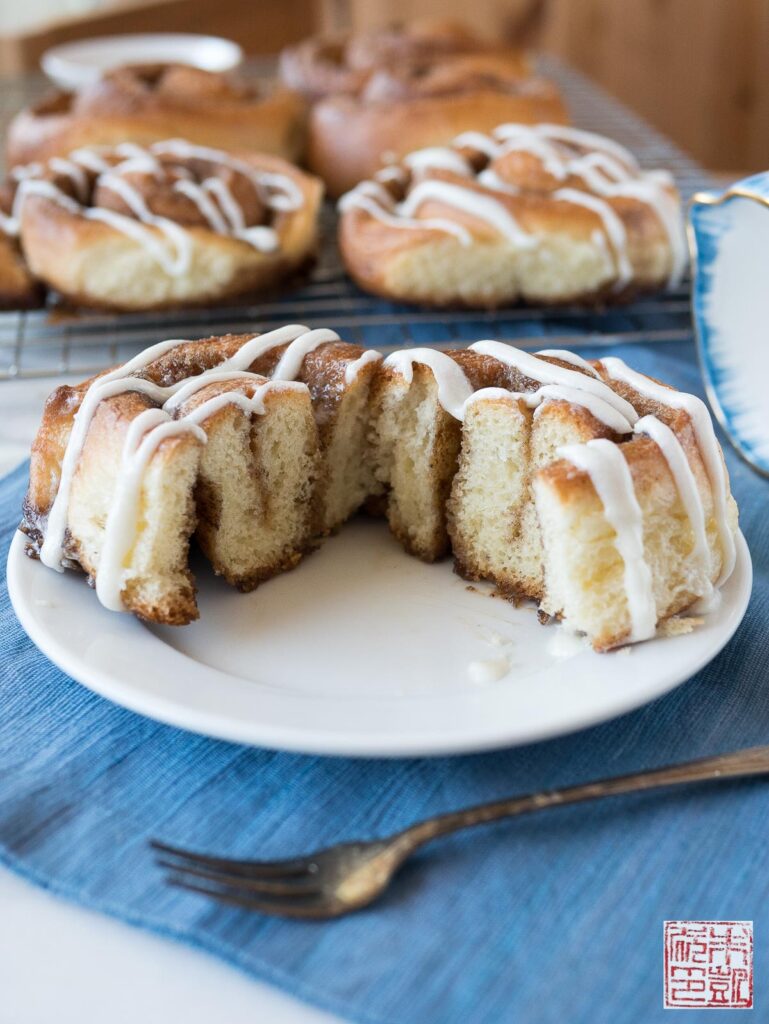 Besides buns, Pastry Love has a plethora of other wonderful recipes to try, from updated versions of some of Flour's most popular items to desserts that Joanne has been dreaming of and refining for years. Even in the middle of the busiest baking time of year, her cookbook has me itching to bake more, which is no small feat! Congratulations to Joanne for writing another beautiful, heartfelt cookbook that reignites my passion for pastry every time I open it. I hope your holiday baking is coming along and you're enjoying the season – I can't believe Christmas is only days away!
Brown Butter Cinnamon Rolls
from Pastry Love by Joanne Chang
Ingredients
Brioche Dough
1 cup (123 g) all-purpose flour
1 cup (150 g) high-gluten bread flour
1⅛ teaspoons (3.5 g) or half of a ¼ ounce packet of active dry yeast
⅛ cup (33 g) sugar
1¼ teaspoons salt
2 large eggs, room temperature
9 tablespoons (128 g) unsalted butter, room temperature, cut into 1-in pieces
Filling
6 tablespoons (85 g) unsalted butter
Seeds scraped from ½ vanilla bean
¾ cup (165 g) firmly packed light brown sugar
1 teaspoon ground cinnamon
¼ teaspoon salt
Cream Cheese Frosting
4 tablespoons (55 g) unsalted butter, room temperature
½ cup (110 g) cream cheese, room temperature
1 cup (120 g) confectioners' sugar
½ teaspoon vanilla extract
⅛ teaspoon salt
3 tablespoons (45 g) fat free buttermilk
Instructions
For the brioche dough:
Combine flours, yeast, sugar, salt, ¼ cup (60 g) cold water, and eggs in bowl of stand mixer fitted with the dough hook attachment.
Mix on low until dough comes together, about 3 to 4 minutes, scraping down any ingredients on the sides. Mix for another 3 to 4 minutes. The dough should be very stiff.
Add in butter to dough a piece at a time while the mixer is still running, letting each piece incorporate before adding in the next one.
Increase speed to medium after all butter has been added and mix for another 15 minutes until dough becomes soft, shiny, and sticky. It should come together into a cohesive mass and make a slapping sound as it hits the side of the bowl. If you do the windowpane test by pulling a piece of dough, it should stretch and thin out instead of breaking off instantly.
Gather dough into a ball and place in a large bowl. Cover with plastic wrap pressed directly to surface of dough.
Place dough in refrigerator for at least 6 hours or overnight to proof.
To make the filling:
Combine butter and vanilla seeds in a small saucepan and heat over medium on stove until butter is melted.
Continue to let butter heat until it starts to bubble and turn brown. Watch the butter carefully at this point so it doesn't burn. Swirl the saucepan occasionally.
After about 5 minutes, the butter should be brown and nutty smelling. Remove from heat and let cool at room temperature until it has firmed up enough to spread, about 2 hours.
To make the rolls:
Take out brioche dough from refrigerator and roll out on a lightly floured surface into a rectangle about 10 inches by 12 inches by ¼ inch thick. The dough should be fairly soft and easy to roll out.
Spread browned butter evenly over the top of the dough.
Stir together brown sugar, cinnamon, and salt in a bowl. Sprinkle evenly over the browned butter.
Starting from the top of the dough rectangle, roll the long edge down towards you like a jelly roll, turning the dough into a spiral.
Trim off ¼ inch from each end. Using a bench scraper or sharp chef's knife, cut the roll crosswise into eight equal pieces.
Line a baking sheet with parchment paper or a silicone baking mat. Arrange rolls on the baking sheet about 1 inch apart. Cover with plastic wrap and let rolls proof at warm room temperature, until they have turned large, puffy, and pilllowy.
Preheat oven to 350 degrees F. Bake rolls for 20 to 30 minutes, rotating the sheet halfway through. The rolls should be golden brown and done on top. Let cool on wire rack before frosting.
For the frosting:
Cream butter and cream cheese together in a stand mixer fitted with the paddle attachment.
Add in the confectioners' sugar, vanilla, and salt and mix until fully combined.
Add in the buttermilk and mix until combined and smooth.
Spread or drizzle the frosting evenly over the cooled rolls.