Brown Butter Cinnamon Rolls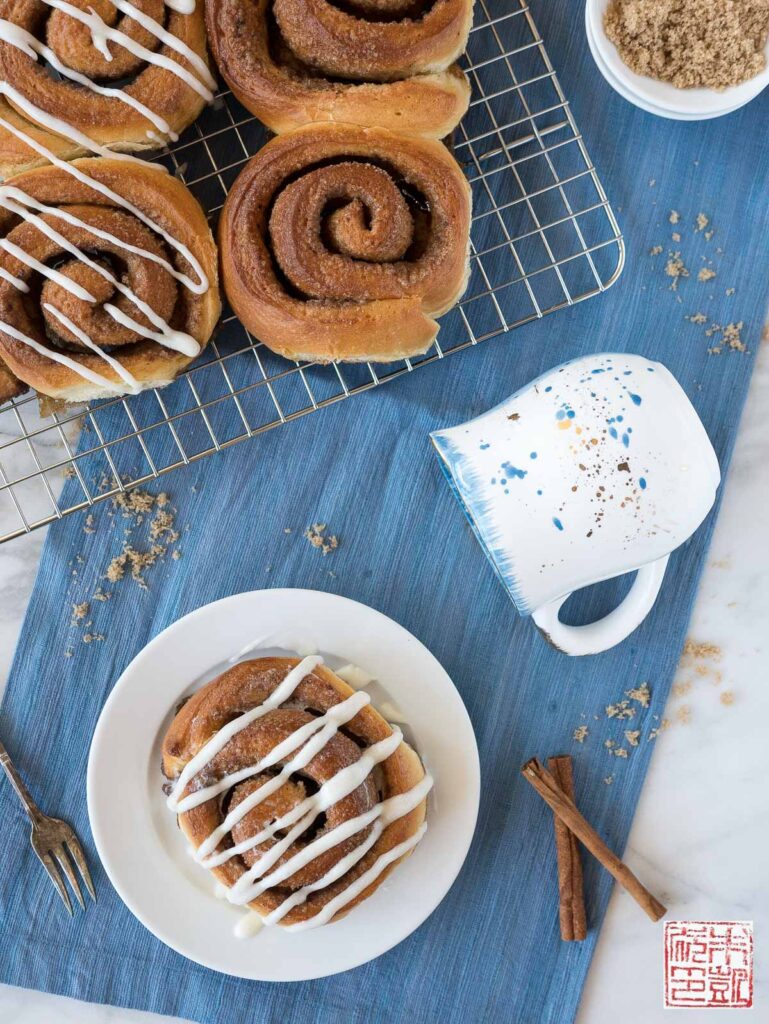 1 cup (123 g) all-purpose flour
1 cup (150 g) high-gluten bread flour
1⅛ teaspoons (3.5 g) or half of a ¼ ounce packet of active dry yeast
⅛ cup (33 g) sugar
1¼ teaspoons salt
2 large eggs, room temperature
9 tablespoons (128 g) unsalted butter, room temperature, cut into 1-in pieces
6 tablespoons (85 g) unsalted butter
Seeds scraped from ½ vanilla bean
¾ cup (165 g) firmly packed light brown sugar
1 teaspoon ground cinnamon
¼ teaspoon salt
4 tablespoons (55 g) unsalted butter, room temperature
½ cup (110 g) cream cheese, room temperature
1 cup (120 g) confectioners' sugar
½ teaspoon vanilla extract
⅛ teaspoon salt
3 tablespoons (45 g) fat free buttermilk
Combine flours, yeast, sugar, salt, ¼ cup (60 g) cold water, and eggs in bowl of stand mixer fitted with the dough hook attachment.
Mix on low until dough comes together, about 3 to 4 minutes, scraping down any ingredients on the sides. Mix for another 3 to 4 minutes. The dough should be very stiff.
Add in butter to dough a piece at a time while the mixer is still running, letting each piece incorporate before adding in the next one.
Increase speed to medium after all butter has been added and mix for another 15 minutes until dough becomes soft, shiny, and sticky. It should come together into a cohesive mass and make a slapping sound as it hits the side of the bowl. If you do the windowpane test by pulling a piece of dough, it should stretch and thin out instead of breaking off instantly.
Gather dough into a ball and place in a large bowl. Cover with plastic wrap pressed directly to surface of dough.
Place dough in refrigerator for at least 6 hours or overnight to proof.
Combine butter and vanilla seeds in a small saucepan and heat over medium on stove until butter is melted.
Continue to let butter heat until it starts to bubble and turn brown. Watch the butter carefully at this point so it doesn't burn. Swirl the saucepan occasionally.
After about 5 minutes, the butter should be brown and nutty smelling. Remove from heat and let cool at room temperature until it has firmed up enough to spread, about 2 hours.
Take out brioche dough from refrigerator and roll out on a lightly floured surface into a rectangle about 10 inches by 12 inches by ¼ inch thick. The dough should be fairly soft and easy to roll out.
Spread browned butter evenly over the top of the dough.
Stir together brown sugar, cinnamon, and salt in a bowl. Sprinkle evenly over the browned butter.
Starting from the top of the dough rectangle, roll the long edge down towards you like a jelly roll, turning the dough into a spiral.
Trim off ¼ inch from each end. Using a bench scraper or sharp chef's knife, cut the roll crosswise into eight equal pieces.
Line a baking sheet with parchment paper or a silicone baking mat. Arrange rolls on the baking sheet about 1 inch apart. Cover with plastic wrap and let rolls proof at warm room temperature, until they have turned large, puffy, and pilllowy.
Preheat oven to 350 degrees F. Bake rolls for 20 to 30 minutes, rotating the sheet halfway through. The rolls should be golden brown and done on top. Let cool on wire rack before frosting.
Cream butter and cream cheese together in a stand mixer fitted with the paddle attachment.
Add in the confectioners' sugar, vanilla, and salt and mix until fully combined.
Add in the buttermilk and mix until combined and smooth.
Spread or drizzle the frosting evenly over the cooled rolls.
Recipe by
Dessert First
at https://dessertfirstgirl.com/2019/12/brown-butter-cinnamon-rolls.html