These matcha creme brulee tarts from Tartine's latest cookbook are gorgeous and capture everything I love about this landmark San Francisco bakery: they're classic, updated with a twist, and come together perfectly.
The original Tartine cookbook is a long time favorite of mine, a lovely ode to this institution that's served up sweet bites of joy to SF for so many years. Thirteen years after its publication, Chad Robertson and Elizabeth Prueitt have revised their cookbook with updated versions of their most famous creations, and new recipes for all the new pastries they've introduced since. It's a wonderful study of how great artists in any medium never stop growing and changing. In the headnotes for many of the recipes, Elizabeth will describe how her tastes have changed over the years, and how she's adapted favorite recipes to reflect them.
Although I'm excited to tackle some of their most famous items like their morning buns and banana cream tart (my personal favorite from the bakery), I chose one to make one of their more unusual recipes that caught my eye – the matcha creme brulee tarts.
Click here to jump to recipe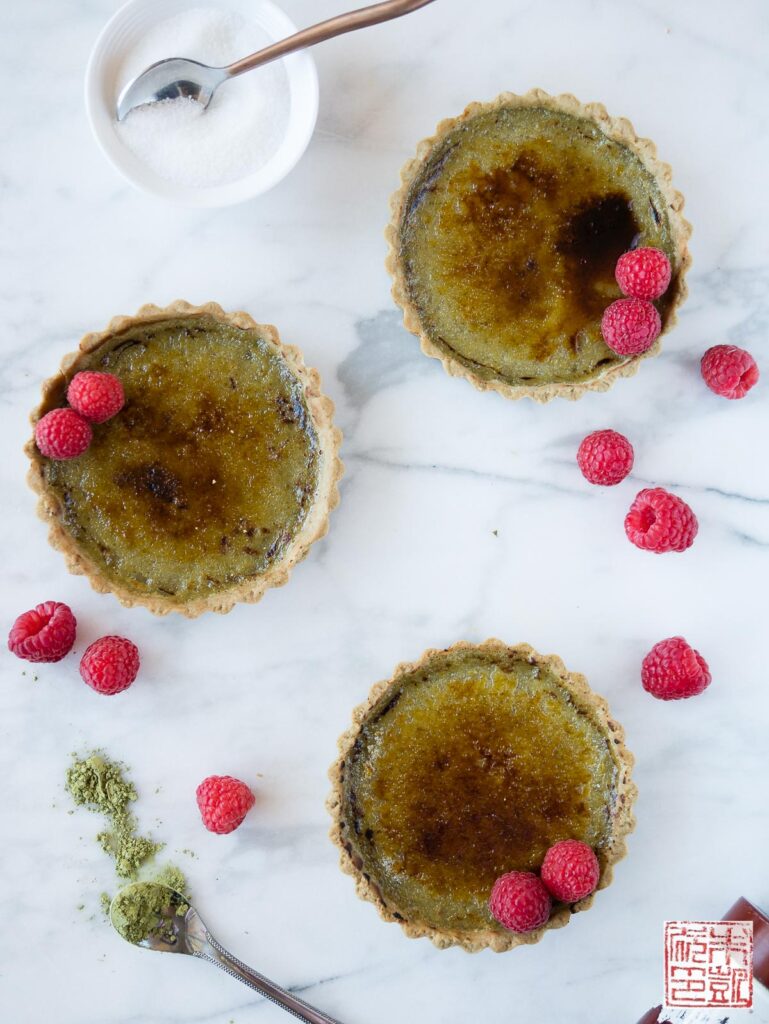 Creme brulee is one of the simplest desserts to make, and Tartine's recipe is delightfully rich and silken, featuring the notes of matcha quite prominently. Putting it in a tart shell ups the kitchen time quite a bit, but I think it's worth it to see all the components come together at the end. The tart dough is fairly simple to put together but is extremely soft, so you do have to be patient with it; if it starts getting hard to work with it's better to stick it back in the fridge and let it firm up rather than struggle with it. Fortunately with this (slightly) cooler weather I didn't run into too much trouble. It does bake up into a crisp, shortbread-like tart shell with just a hint of matcha to echo the filling. Another tip: try to make the shells as uniformly thin as you can to leave more room for the creme brulee! I think the proportions work better when there's more creme brulee vs crust.
I found checking the doneness of the matcha creme brulee in tart shells a little trickier since I wasn't used to baking them like this, but after a first couple tries I got it down. You may want to do a tester first as well and watch it more closely, but you're looking for the same result: that just-set, barely jiggling center of the custard. After baking, cooling, and brûlée-ing, you get a meltingly unctuous custard under a crisp sugar crust, framed by a just-sweet, buttery crust.
If you want to make just the matcha creme brulee itself without the tart shell, you can do that too. I poured the custard into shallow, wide ramekins and put them in a baking pan, then filled the pan with water to come up to halfway up the sides of the ramekins. I baked the creme brulee for slightly less time, about 35 minutes (keep baking if they're not set) and the result was lovely as well. Either way, it's a winner of a recipe.
Congratulations on the beautiful new edition of your cookbook Tartine, and I look forward to seeing many more innovative and delicious pastries in the years to come!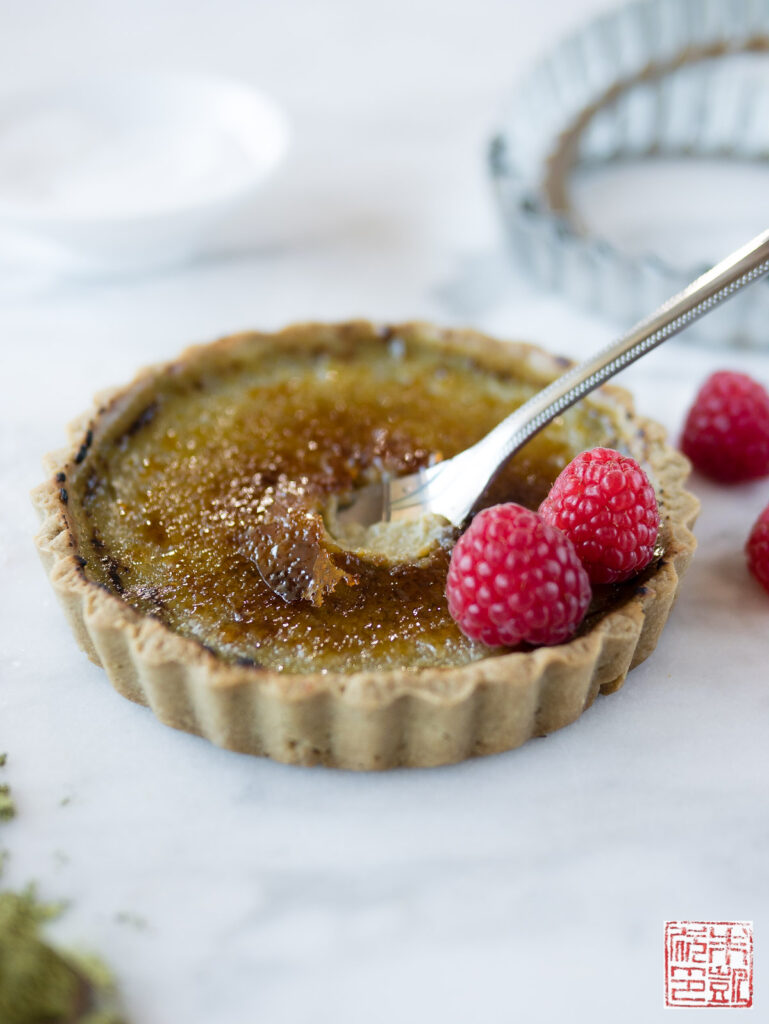 Matcha Crème Brûlée Tarts
from the Tartine cookbook
Serves:
(6) 5-in round tarts
Ingredients
Matcha Tart Dough
1¾ cups + 2 tablespoons (345 g) all-purpose flour
¼ cup (30 g) almond flour
1 tablespoon + 1 teaspoon matcha powder, sifted
⅔ cup + 1 tablespoon (160 g) unsalted butter, room temperature
¾ cup (95 g) confectioner's sugar, sifted
1 large egg, room temperature
1 large egg white, beaten
Filling
2 cups + 2 tablespoons (530 ml) heavy cream
5 tablespoon sugar plus more for topping
6 large egg yolks
1 teaspoon matcha powder, sifted
Instructions
For the tart dough:
Sift flours and matcha powder into a bowl and set aside.
Combine butter and confectioner's sugar in bowl of stand mixer fitted with paddle attachment. Beat on low speed until smooth and combined.
Add the egg and beat until combined, scraping down as necessary.
Add the flour mixture and mix just until combined.
Turn out dough onto lightly floured surface, divide into two portions, wrap in plastic wrap, and refrigerate for at least two hours to let them firm up.
To make the tart shells:
Lay out six 5-inch round tart shell tins, preferably ones with removable bottoms.
Take out tart dough one portion at a time and roll out between two silicone baking mats to ⅛" thickness.
Cut out circles of dough after 2 in wider than the tart tins. If the dough gets too soft at any time, return it to the refrigerator to let it firm up. This dough gets soft very quickly.
Carefully fit the dough circles into the tart tins, pressing into the bottom and sides. Do not stretch the dough, or it will shrink down while baking. Trim off any excess dough around the top of the tin with a sharp knife.
Chill the filled tart tins in the freezer for 15 minutes before baking.
To bake the tart shells:
Preheat the oven to 325 degrees F.
Prick the bottom of the tart shells with a fork.
Bake tart shells for 8 to 10 minutes, checking halfway through, until dry to the touch.
A minutes before the 8 to 10 minute baking time is finished, remove the tartlets from the oven and carefully brushed the bottoms with some beaten egg white. This will help keep them from getting soggy.
Rotate tart shells and bake another 12 to 15 minutes until golden brown with still a bit of green showing.
Let shells cool completely on wire rack before filling.
For the filling:
Combine half the cream and half of the sugar in a saucepan and heat over medium-high heat just until it comes to a boil.
Meanwhile, place the egg yolks into a bowl and whisk in the remaining sugar and matcha powder.
Pour about a third of the hot cream mixture into the eggs, whisking constantly to prevent the eggs from scrambling.
Pour the egg mixture back into the remaining cream mixture and return saucepan to stove.
Heat for another 30 seconds on medium-low heat, stirring constantly. The mixture will not change much in consistency.
Remove saucepan from heat and pour mixture through a sieve into a clean bowl. Press any remaining matcha powder through the sieve into the mixture.
Pour the remaining half of the cold cream into the custard and stir to combine. You can use the custard now or store in refrigerator for up to five days.
To bake the tarts:
Heat the oven to 275 degrees F.
Place tart shells on a baking sheet. Fill the shells about three-quarters full with the custard.
Place the tarts in the oven and top off the shells until the custard is just below the tart rim.
Bake the tarts for about 45 minutes to 1 hour, rotating halfway through. The custards should be still just wobbly in the center.
Let tarts cool on wire rack for 15 minutes, then refrigerate for at least 2 hours or until ready to serve.
To serve the tarts:
Spread an even layer of sugar over the of custard, about 1/32" thick.
Use a kitchen torch to caramelize the sugar until it is deep amber in color.
Serve immediately.