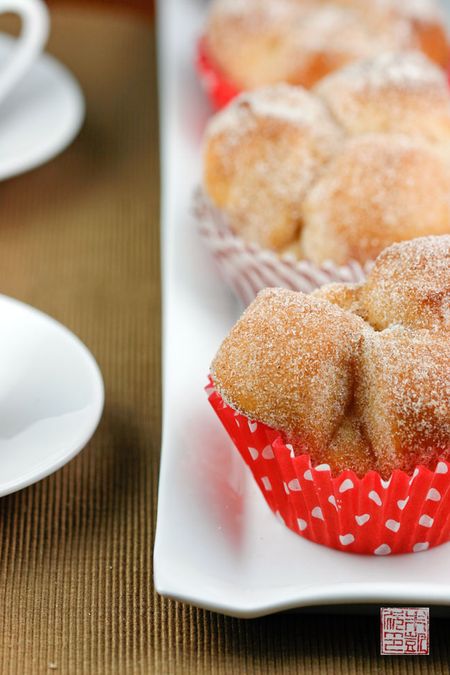 To see the winners of last week's Blackboard Eats contest, see the bottom of this post!
We're spoilt for choice of bread in San Francisco, where there's enough artisan bread bakeries around that not having freshly baked bread with dinner almost seems enough reason to turn in your foodie membership card. I must confess that I'm not the hugest bread person, probably because there's stiff competition for Most Ardent Bread Lover in this town, and my carbohydrate of choice tends to be rice, since it was a fixture of the dinner table while I was growing up.
I will make an exception for brioche, though. I like that it inhabits some undefined but utterly delicious middle ground between bread and cake. I like it even though it's so rich because you are literally shoving as much butter as possible into the dough before it loses all structural integrity, people still tend to enjoy it by putting even more rich items on, like…more butter, or eggs, or pâté. I also like brioche because it's so very easy to make. There may be many breads that intimidate me, but brioche? You make it once and you realize, that's all there is to it? And that's the dangerous part because you'll want to make it again and again.
There's many very fine brioche recipes out there, both simple and gussied up. My longstanding favorite happens to be based off of this one by Alice Medrich. But when I got a copy of pastry chef Joanne Chang's Flour: Spectacular Recipes from Boston's Flour Bakery + Cafe
and saw her Sugar and Spice Brioche Buns, I figured there were worse lots in life than a surfeit of brioche recipes.
What I like about the Flour cookbook is the clean and very modern typography, which makes the book a joy to browse, and Chang's talent for writing charming, engaging headnotes that make every recipe sound like a must-try. How many different ways can you find to say, "These cookies are delicious!"?  But she manages to avoid that trap and weaves anecdotes from her childhood and her stints at Payard and other restaurants with tales of the daily routine at her Boston bakery to provide an entertaining glimpse into her life, enticing the reader to try these milestone recipes from her career. The majority of the recipes are accessible standards of the all-American bakery, with a refined presentation from Chang's background in French pastry.
Her basic brioche recipe is straightforward; it does not rely on a separate sponge (or poolish) but rather an overnight rest in the refrigerator to allow the fermentation process to occur. Because brioche dough is so rich with eggs and butter, it slows down the development of the yeast. Having a separate sponge free of fats ensures that enough fermentation happens, but I generally have no problem with brioche doughs developing overnight, with a final rise after shaping. If it's cold in the kitchen (like mine this last rainy, blustery weekend), I'll turn on the oven and place the shaped dough near it to help it rise faster. Other people have placed the dough directly in the oven, or in the warming drawer, but be careful to keep the temperature below 140 degrees F, or else you'll kill the yeast and have prematurely dead bread.
The classic French form for brioche is either a loaf or brioche à tête, but the Flour recipe has you cutting the dough into little squares and piling them into muffin cups. I finally figured out that the end result was supposed to resemble the traditional cloverleaf dinner rolls, making this recipe a nice amalgam of French and American. I wish illumination had come before I baked the brioche though, so I could have arranged the squares a little more neatly; the recipe was not entirely clear.

Recall what I said earlier about brioche being best enjoyed with other non-diet-food items: These buns are brushed with melted butter right out of the oven and then rolled in a mixture of sugar and spices. The never-fail combination of cinnamon, nutmeg, and cloves make these buns taste very similar to the cinnamon-sugar doughnuts from the doughnut shops of my childhood.  The knobbly, pull-apart construction of these buns also tricks you into thinking you can eat just part of it, or maybe half and a bit more, until you give up and just cram the whole thing in your mouth and think, well, I'll just eat dinner a little later. Dangerous – but brioche is one yeasted bread that's got a permanent spot in my kitchen.
Finally, thanks for all who participated in the Blackboard Eats contest and gave me a bunch of restaurants to add to my list of places to try. The two winners of a one-year membership to Blackboard Eats, chosen entirely at random, are Annie and Christyna! Congrats and enjoy!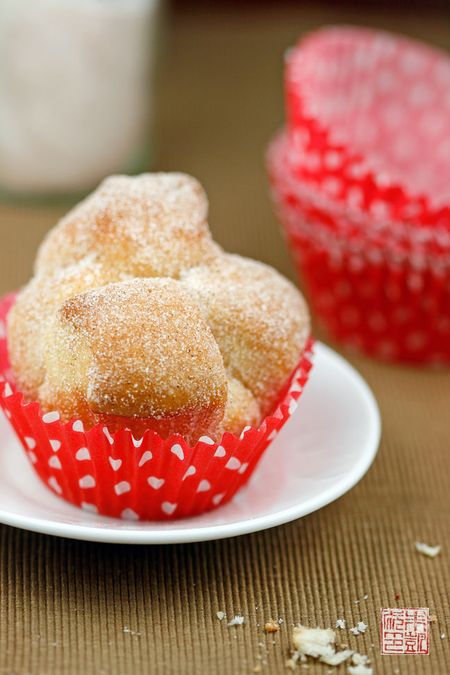 Brioche
2 1/4 cups (315 grams)

all purpose flour

2 1/4 cups (340 grams)

bread flour

1 1/2 packages (3 1/4 teaspoons)

active dry yeast

1/2 cup plus 1 tablespoon (82 grams)

sugar

1 tablespoon

salt

1/2 cup (120 grams)

cold water

5

large eggs

1 cup plus 6 tablespoons (2 3/4 sticks/310 grams)

unsalted butter, at room temperature, cut into about 12 pieces
Topping
1/2 cup (100 grams)

sugar

1/2 teaspoon

ground cinnamon

1/4 teaspoon

ground ginger

1/4 teaspoon

ground nutmeg

Pinch

ground cloves

Pinch

salt

1/4 cup (56 grams)

unsalted butter, melted
For the brioche dough: In a stand mixer fitted with the dough hook, combine the all-purpose flour, bread flour, yeast, sugar, salt, water, and eggs.
Beat on low speed for 3 to 4 minutes, or until all of the ingredients have come together.
Once the dough has come together, beat on low speed for another 3 to 4 minutes. The dough will be very stiff and seem quite dry.
On low speed, add the butter one piece at a time, mixing after each addition until it disappears into the dough. It's important to wait until each piece is fully mixed in before adding other, or you'll have a greasy mess.
Continue mixing on low speed for about 10 minutes, stopping the mixer occasionally to scrape the sides and bottom of the bowl. It is important for all of the butter to be mixed thoroughly into the dough. If necessary, stop the mixer occasionally and break up the dough with your hands to help mix in the butter.
Once the butter is completely incorporated, turn up the speed to medium and beat for another 15 minutes, or until the dough becomes sticky, soft, and somewhat shiny. It will take some time to come together. It will look shaggy and questionable at the start and then eventually will turn smooth and silky.
Increase speed to medium-high and beat for about 1 minute. You should hear the dough make a slap-slap-slap sound as it hits the sides of the bowl. Test the dough by pulling at it: it should stretch a bit and have a little give. If it seems wet and loose and more like a batter than a dough, add a few tablespoons of flour and mix until it comes together. If it breaks off into pieces when you pull at it, continue to mix on medium speed for another 2 to 3 minutes, or until it develops more strength and stretches when you grab it. It is ready when you can gather it all together and pick it up in one piece.
Place the dough in a large oiled bowl or plastic container and cover it with plastic wrap, pressing the wrap directly onto the surface of the dough. Let the dough proof in the refrigerator for at least 6 hours or up to overnight. At this point, you can freeze the dough in an airtight container for up to 1 week.
When you're ready to make the brioche buns: take out half of the dough. Line 10 cups of a 12 cup standard muffin tin with paper liners or generously butter and flour them.
On a floured work surface, press dough into a 10 inch x 5 inch rectangle.
Using a bench scraper or knife, cut dough into 10 equal 1 inch x 5 inch strips. Cut each strip into 5 pieces. You should now have 50 squares of dough.
Place 5 squares in each prepared muffin cup. Cover with plastic wrap and place in a warm spot for about 1 1/2 hours, until the dough has risen and feels puffy and soft.
Heat oven to 350 degrees F and place rack in center of oven.
Bake for 25 to 35 minutes, until golden brown. Let buns cool for 5 to 10 minutes on a wire rack until cool enough to handle. Meanwhile, combine sugar, spices, and salt in a small bowl.
Brush tops of buns with the melted butter. Roll the buns in the sugar mixture to coat evenly.
Buns are best served within 4 hours of baking. They can be stored in an airtight container for up to 1 day, then rewarmed in a 300 degree oven for 5 minutes.