I was lucky enough to visit Bloom Chocolate Salon, the tea room inside Dandelion Chocolate's new 16 St factory, shortly after it opened. Dandelion Chocolate's massive new expansion has been eagerly anticipated by craft chocolate fans in the Bay Area, and while the sparkling new space is impressive in every aspect, for many foodies the best part is Bloom. This salon located inside the factory is a wonderful homage to the cafés and salons of Europe, and an entirely new way to experience Dandelion Chocolate.
The exterior of the new factory in the Mission. This 107-year-old building has been extensively renovated to house all the machinery used by Dandelion to sort, roast, and process cacao beans and turn them into bars of chocolate. If you've been to their original Valencia St. shop, you may have already seen some of this process, but with this new space, Dandelion Chocolate will be able to increase their current chocolate production by 1o times.
Look at the row of melangers on the main factory floor. These machines grind down roasted cacao beans with sugar to form a smooth paste, which is then tempered and formed into bars. To see so many of these all going at once makes you realize that there's going to be a lot of chocolate being made here. It's an impressive leap forward for Dandelion Chocolate, and apparently one that's been needed for a while, as their bars have been consistently popular ever since they've opened. You can see most of the factory and the other spaces in the building, and learn about the chocolate making process, on Dandelion Chocolate's factory tour. Or, if you're in Bloom, you can also step through the back door and see the factory floor as well. Dandelion did a lovely job of putting the actual process front and center for customers to see.
The retail portion of the factory features the familiar wall of chocolate bars and other treats similar to their Valencia St. store.
There's also a small café space that sells Dandelion's signature pastries and chocolate drinks, including their brownie bite flight and their European style drinking chocolate. There's limited counter space or you can get your drink to go.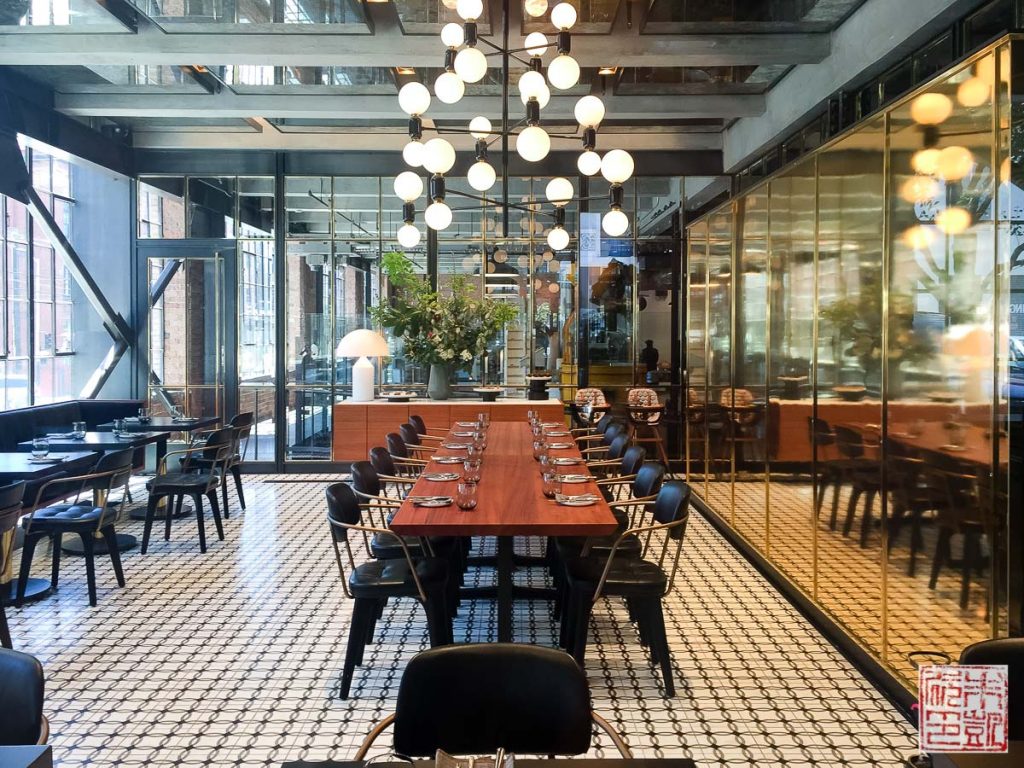 After touring the rest of the factory, I got to sit down and experience the centerpiece of the place, Bloom. The elegant interior is a unique confluence of classic European cafe design and Dandelion's modern San Francisco aesthetic: brass fixtures, burnished mirrors, brick walls, warm wood. I love all the thought that went into creating such a clear and striking aesthetic for this room. It's relaxing and luxurious place to enjoy a cup of hot chocolate on a sunny afternoon.
The menus at Bloom. Along with a full selection of chocolate drinks, coffee, and tea, Bloom also offers a breakfast menu which includes items like chocolate granola, brûléed brioche, and cake for breakfast, and a teatime menu in the afternoon. Since we was there after lunch, we got the teatime menu.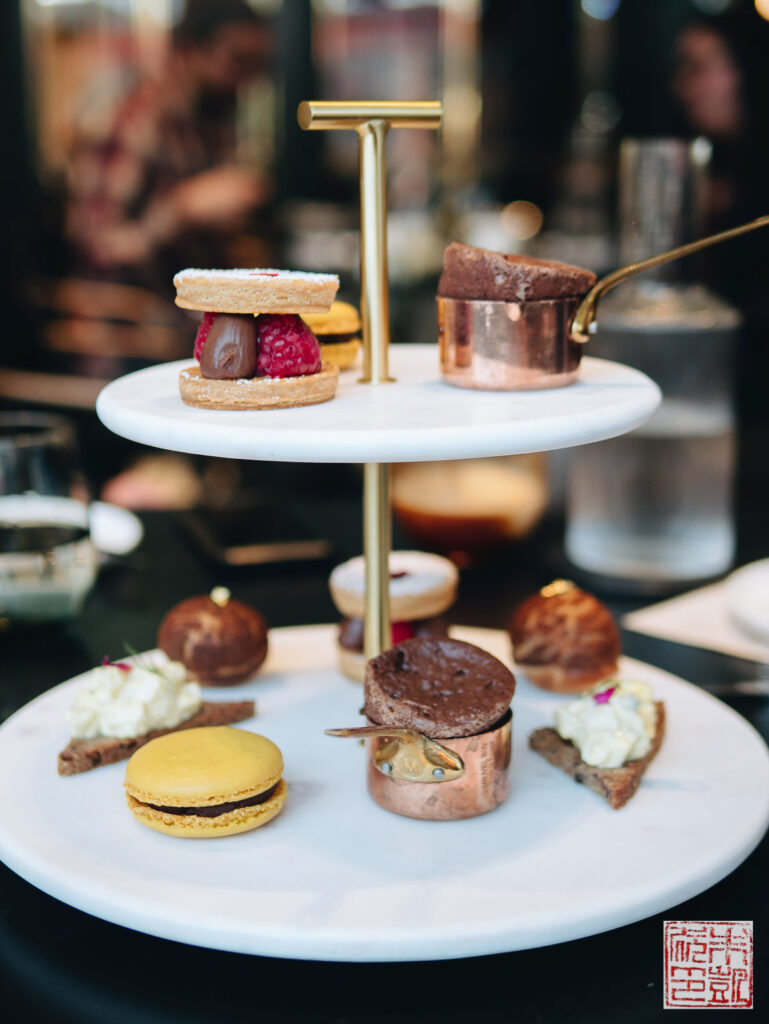 Since I'm a big fan of teatime, I had to try Bloom's afternoon chocolate tea service. Bloom presents a sampler of five sweet and savory bites all made with various Dandelion chocolates, served with tea or their hot chocolate. The treats are all modern takes on traditional French pastries, and all very chocolatey, of course. If you and your dining companion both get the tea service, they come on a tiered serving stand in classic teatime fashion.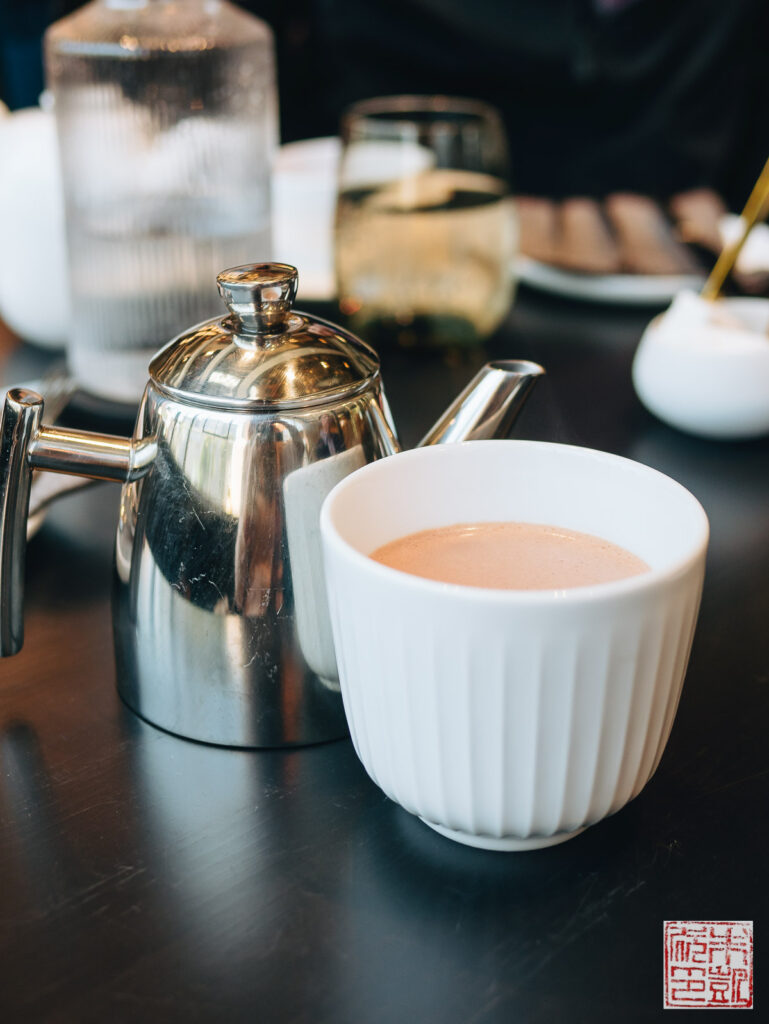 A cup of Dandelion's hot chocolate to prepare you for all the chocolate to come. I couldn't pass it up even knowing how much more chocolate I was going to consume. I will say I did feel a bit of a chocolate buzz at the end, but that's probably because I had had a cup of hot chocolate, shared the afternoon chocolate tea, and had the ice cream tasting afterwards as well! See the following photos documenting my journey:
Citrus macaron with chocolate cremeaux, cacao pulp, Meyer lemon, and mint jam. I know for some the pairing of chocolate and citrus might seem odd, but this macaron will absolutely change your mind. It's a perfect juxtaposition of bright, tart lemon and velvety, rich chocolate. The cacao pulp adds an extra subtle grace note of creaminess.
Cut (or bitten, I think, in my eagerness!) open to show the inside. One of the most thoughtful macaron flavors I've come across in a while.
Petit chocolate soufflé served in a copper pot. This was another one of my favorites. The presentation is adorable – I want those little pots for myself! – and the soufflé is perfectly puffy and crisp on the outside, while soft and just short of melting on the inside.
The server does encourage you to eat this first when it's served, while it's still warm. I'd highly recommend that instead of spending too much time taking photos!
Profiterole filled with Earl Grey pastry cream. I never say no to a cream puff, especially when it's as perfectly constructed as this:
Look how perfectly it's filled. The Earl Grey in the cream is pretty subtle, but it's satisfyingly dense and velvety, pretty much the platonic ideal of a teatime bite.
Almond raspberry napoleon made of puff pastry layered with chocolate almond cream and raspberries. This combines so many of my favorite pastry elements: flaky dough, creamy filling, and fresh fruit.
Egg salad tea sandwich with capers and dill on sourdough rye with cocoa nibs. I like how they figured out how to work chocolate into a savory nibble – and a teatime classic, no less. Altogether this collection of five treats is an eloquent and quite delicious statement on the many forms chocolate can inhabit.
The look of someone about to seriously indulge. Kudos to Bloom for a beautiful presentation.
Besides the chocolate tea, Bloom also offers a three course ice cream tasting that also features Dandelion chocolate. I was lucky enough to be able to try that as well!
Root beer float with housemade root beer soda and cocoa nib ice cream. They actually bring the glass with ice cream to the table and pour the root beer over it tableside but I didn't realize what they were doing so I missed the shot! Here's the final float; I'm not a big root beer drinker but my companion loved it.
This was the highlight of the Bloom experience for me – a perfectly conceived and executed dessert. Dandelion Chocolate's take in the iconic It's-It ice cream sandwich puts their chocolate ice cream between two chewy oatmeal cookies. A layer of chocolate ganache on top gilds the lily, and the cinnamon ice cream over cookie crumbles elevates it to full dessert status. I'd happily eat this every day this summer.
I also really enjoyed this imaginative take on the banana split: caramelized banana bread with cherry ganache, chocolate ice cream and a peanut tuile on top. This wouldn't be out of place at any fine restaurant in this town. I loved it. In my opinion, you don't want to miss the ice cream tasting, and the portions are big enough that you can share.
Thanks again to Dandelion Chocolate for inviting me to their wonderful new factory and salon. Their chocolate has long been a part of what makes San Francisco's gastronomic culture so unique and delicious, and I'm thrilled that they continue to grow and expand. I'm looking forward to seeing where they go next. And, I'll be back for brunch at Bloom.
2600 16th Street
SF, CA 94103
415-349-0942
Factory tours can be booked in advance
Reservations recommended for Bloom