This S'mores chocolate whiskey pudding tart served double duty this year – I made it for Pi (e) Day yesterday, and to celebrate St. Patrick's Day. I'm constantly multitasking this days, so why shouldn't my desserts as well? As if s'mores in tart form isn't tempting enough, the added punch of whiskey takes this really over the top. Although I'm not much of a whiskey drinker, I'm happily surprised at how much I enjoy it in my desserts!
Click here to jump to recipe
This s'mores chocolate whiskey pudding tart is adapted from a favorite cookbook of mine, Baked Elements by Matt Lewis and Renato, founders of the famous Baked bakery in New York City. The recipe in the cookbook is for a straight pudding, with graham cracker crumbs and marshmallow topping. I decided to make a tart crust out of the graham crackers instead and fill it with the chocolate pudding, with a puff of marshmallow-y meringue on top.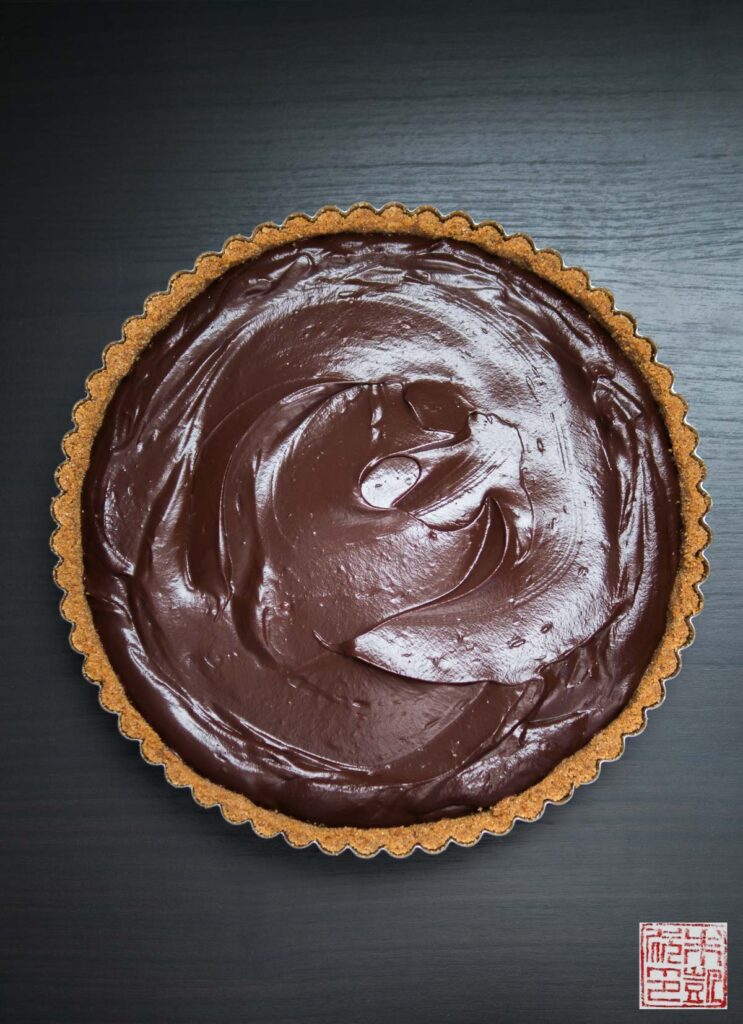 Baked celebrates quintessentially American desserts like brownies, bundt cakes, and birthday cake, so it's not surprising they have a soft spot for pudding. I'm so used to falling back on my old reliable French chocolate ganache tart, that it was fun to make chocolate pudding again and re-experience the amazing, comforting texture of a perfect spoonful of pudding. Look how gorgeous the gleam of freshly made, silky smooth pudding is. Using a strainer is key; you want to make sure any little overcooked bits get caught and strained out. The two tablespoons of whiskey are definitely enough to be noticeable in the pudding, so use a good quality one that you enjoy: I used Glenfiddich. If you want to leave it out, it's certainly delicious all on its own. But try it if you can; as I said even a non-whiskey drinker like me was surprised at how much it added to the pudding.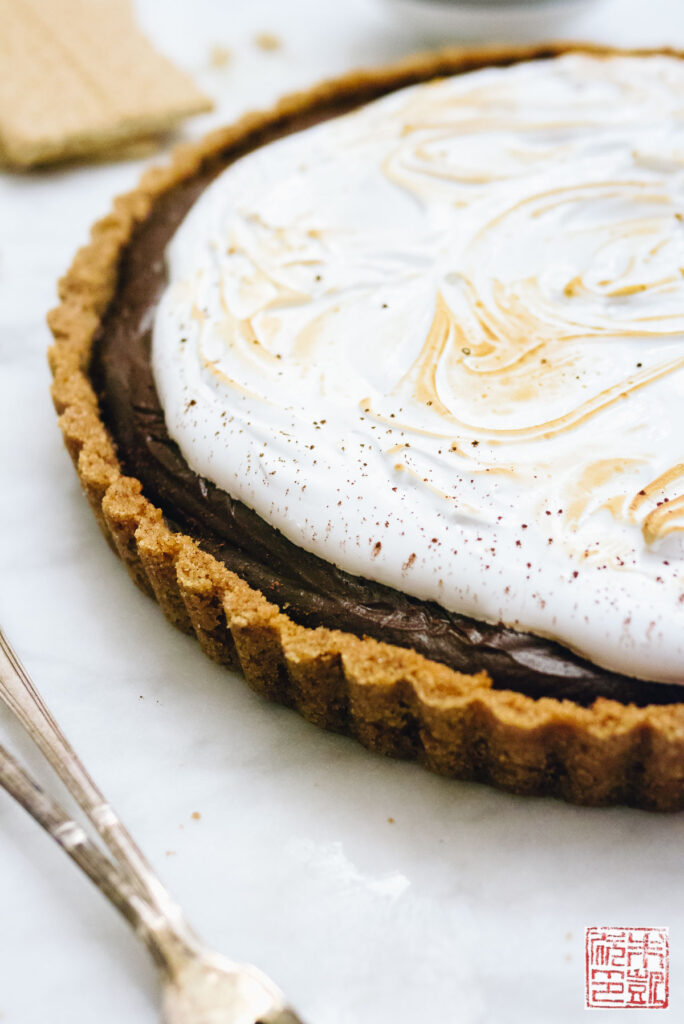 When you combine the chocolate pudding with the cinnamon-spiced graham cracker crust, it is remarkably s'mores-like. This is definitely a dessert that is much more impressive than its humble-sounding origins. Add in the marshmallow topping and you have a legitimate show-stopper for the dinner table. Although it's fun to bring in the complete dessert to oohs and aahs, you can also keep the marshmallow meringue separate, spoon it on each slice as it's cut, and torch it at the table – another memorable way to end dinner – or celebrate the St. Patrick's holiday.
Whether it's St. Patrick's Day, Pi Day, or any other day, I hope you have the chance to try this tart out. It's good enough to not need any particular reason to make and enjoy, other than it's really, really good.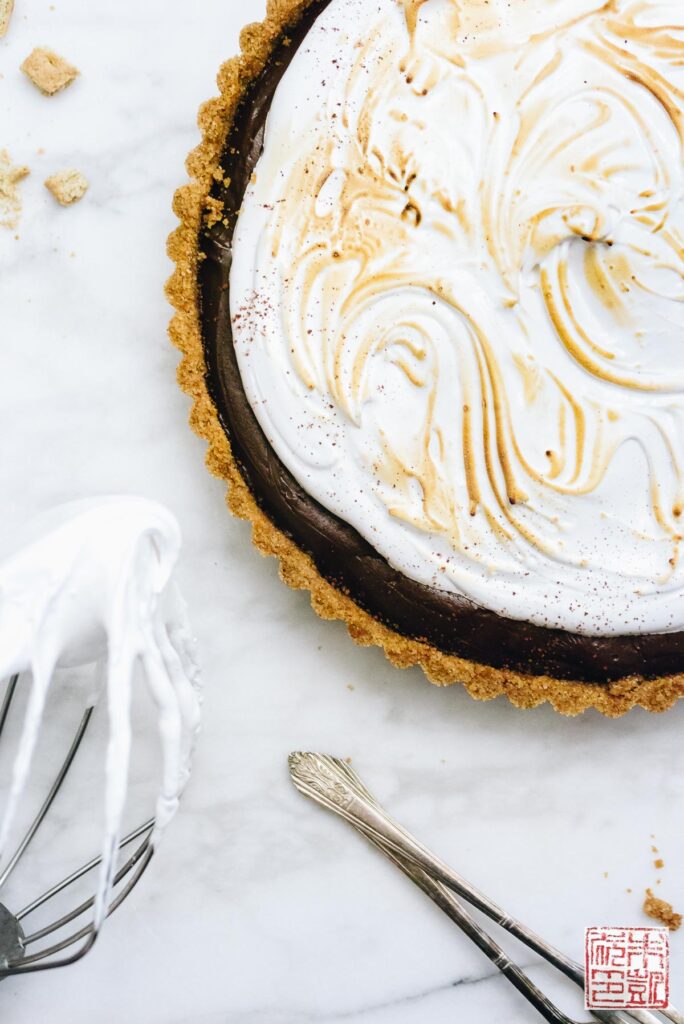 S'mores Chocolate Whiskey Tart
adapted from the Baked Elements cookbook
Ingredients
Tart Crust
2 cups (about 8 crackers) graham cracker crumbs, finely ground in food processor
⅓ cup sugar
1 teaspoon ground cinnamon
½ cup (113 g) unsalted butter, melted
Chocolate Whiskey Pudding Filling
8 ounces bittersweet (60%-72%) chocolate, coarsely chopped
1 cup (200 g) sugar
3 tablespoons cornstarch
2 tablespoons Dutch cocoa powder
1 teaspoon instant espresso powder
pinch of salt
3 large egg yolks
2 cups whole milk
½ cup heavy cream
2 tablespoons whiskey
1 tablespoon unsalted butter, room temperature
Marshmallow Meringue Topping
2 large egg whites
1 cup sugar
1¼ teaspoons whiskey
½ teaspoon vanilla extract
¼ teaspoon cream of tartar
Instructions
For the tart crust:
Preheat oven to 350 degrees F.
Combine graham cracker crumbs, sugar, and ground cinnamon together in a medium bowl.
Add melted butter and stir with a wooden spoon to combine.
Press mixture into the bottom and up the sides of a 11" round tart tin with removable bottom.
Bake tart crust for 10 minutes until crust feels dry to the touch. Remove from oven and let cool on wire rack while you make the filling.
For the chocolate whiskey filling:
Place chopped chocolate in a large bowl and place strainer over the top. Set aside.
Combine sugar, cornstarch, cocoa powder, espresso powder, and salt in a large bowl.
Add in the egg yolks and whisk to combine.
Add in the milk and whisk to combine, dissolving any of the lumps that might have formed with the egg yolks.
Add in the cream and whisk to combine.
Turn mixture into a large saucepan and place on stove over medium heat, whisking constantly, until mixture begins to thicken and bubble.
Whisk for another 30 seconds while the mixture is bubbling (you want to cook out the taste of the cornstarch), then remove from heat and whisk another 15 seconds to get rid of any excess heat.
Pour mixture through the strainer over the chocolate. Whisk to combine and melt the chocolate.
Add in the whiskey and butter and stir until butter and chocolate are fully melted and combined.
Let the pudding cool slightly, about 10 minutes, whisking occasionally.
Pour pudding into cooled tart crust. Press a piece of plastic wrap directly onto the pudding surface, and refrigerate the tart for at least 6 hours.
For the topping:
Combine all the ingredients in the bowl of a stand mixer.
Place bowl over saucepan filled with a couple inches of simmering water. The bottom of the bowl should not touch the water.
Cook the mixture over the water, whisking constantly, until mixture thickens and reaches a temperature of 160 degrees F.
Place bowl back on stand mixer and whisk with whisk attachment on high speed until mixture cools and meringue is stiff and glossy.
To finish:
Spread cooled meringue over the top of the tart.
Use a kitchen torch to lightly toast the meringue. Serve immediately.