This apple rose frangipane tart is a perfect welcome to spring! I couldn't think of a better time to try my hand at this popular and gorgeous tart technique. I've been wanting to make this for quite a while, but I felt like I had to set aside a good chunk of time to dedicate to rose-making. In reality, it was easier than I thought it would be; it definitely took a couple hours to figure out the best workflow for assembling the roses and to actually put them all together, but nowhere near as long as I thought. It also helps to make the tart shell and frangipane ahead of time; breaking down baking projects into separate tasks I do over the course of a couple days makes it easier to fit them into my crazy schedule! So don't be intimidated – this is simpler than it looks!
Click here to jump to recipe
It's hard to choose between the before-baking and after-baking shots isn't it? I like how after baking the apple slices curl and open even more like rose petals.
The tart crust is a traditional pâte sablée, and is filled with my favorite frangipane filling. It makes a perfect canvas for decorating with the apple roses. Although I made only a few full roses to make it look like they are blooming out of the background, you can make whatever design you like. As I noted above, it's easy to make the tart crust and frangipane earlier, perhaps the night before, and bring them out when you're ready to assemble the tart. I also got to break out my new square tart pan, which I totally love. It's a fun change from my regular round ones!
A mandoline is essential for creating the uniform, wafer-thin apple slices. I have an older version of this one, but there are plenty of great options available today. The other critical step is softening the apple slices so they roll up easily without cracking. I found that slicing the apples one at a time was easier than trying to do them all at once; there's less chance of them browning, and you can focus on doing a few slices at a time instead of rushing to use them all before they dry up.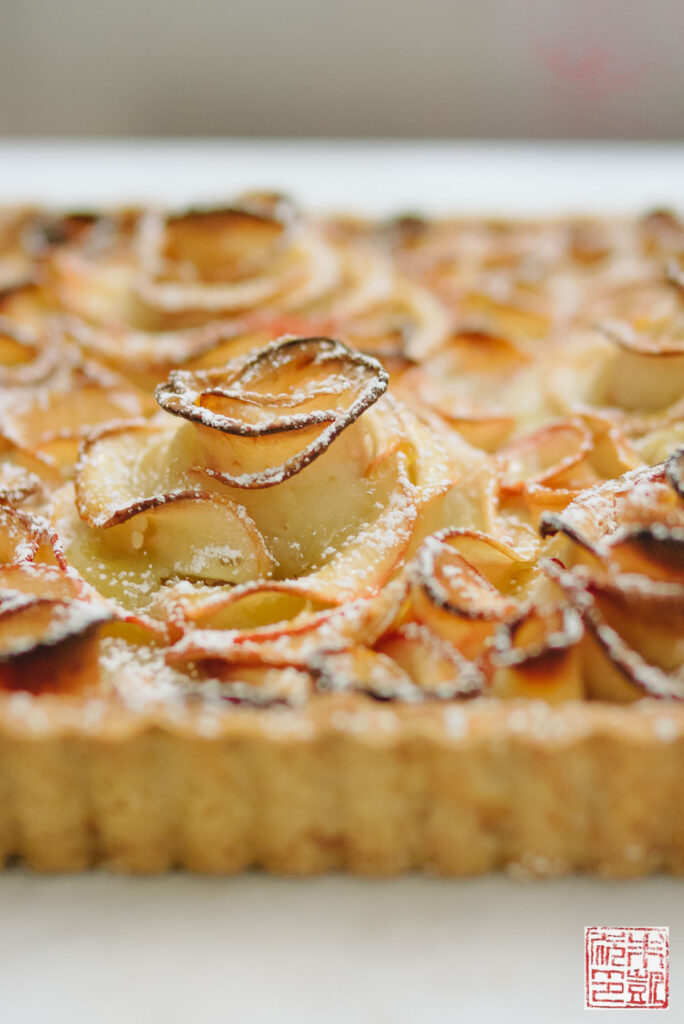 Most individual apple rose tart recipes call for using strips of puff pastry or pie dough to roll up apple slices and form them into a rose shape. Since this is a frangipane-filled tart, it made more sense to use strips of rolled-out marzipan or almond paste (I used Odense, the brand most commonly found in grocery stores). If you're skilled, I've seen some recipes where just rolled-up apple slices are placed in the frangipane filling, which is thick enough to hold them in place. Using marzipan to hold the slices does give you a bit more security though.
By the way, I totally forgot to take in-process photos of rolling up the roses – total oversight on my part! If you're having trouble figuring out how to do it, a quick internet search should show you plenty of images. It's surprisingly simple!
One of the challenges with making a large tart instead of the individual apple rose tartlets is getting the frangipane to fully bake without overcooking and burning the apples. Make sure to dry off the apple slices well as excess water can make the frangipane filling too watery and take longer to bake. Also, I covered tops of the apples with some foil to protect them from burning.
After about an hour of baking, this work of art came out of the oven. It's almond-y and custard-y, both things I love, and just smells of spring. It's been so lovely to see the sun around here after weeks of dreary weather, so this first day of spring really does have the feel of celebration. Everyone's a bit sun-drunk and just smiling more than usual. I hope you're having a beautiful first day of spring too!
Apple Rose Frangipane Tart
Serves:
(1) 9" square tart
Ingredients
Pâte Sablée
1½ cups (210 g) all-purpose flour
½ cup (55 g) confectioners' sugar
¼ teaspoon salt
9 tablespoons (128 g) unsalted butter, very cold, cut into small pieces
1 large egg yolk
1 teaspoon vanilla extract
Frangipane
6 tablespoons butter, at room temperature
½ cup (100 g)sugar
¾ cup ground blanched almonds
2 teaspoons all-purpose flour
1 teaspoon cornstarch
1 large egg
1 large egg white
1 teaspoon vanilla extract
2 teaspoons almond extract
Apple Roses
4 large red apples
Juice from ½ lemon
7 oz marzipan or almond paste
Instructions
For the pâte sablée:
Combine flour and confectioners' sugar in a food processor. Process until combined.
Add in the salt and process to fully combine.
Add in butter and process in quick pulses until the mixture resembles coarse crumbs - it should not be fully combined into a ball.
Add in the egg yolk and vanilla extract and process in quick pulses just until the dough starts to form larger clumps. Again don't let it fully combine into a solid ball of dough. If the dough holds together when you press some small pieces together, it's done.
Butter a 9" square tart tin with removable bottom.
Gently press the dough into the bottom and sides of the tart tin. You may have some dough left over.
Freeze the tart shell for 20 minutes before baking.
Preheat oven to 375 degrees F.
Butter the shiny side of a piece of foil and press it down over the crust.
Place tart pan on a baking sheet and bake for 25 minutes, until crust is dry and lightly browned. If the crust has puffed up, press it down with a spoon or dough tamper.
Let crust cool on cooling rack.
For the frangipane:
Combine the butter and sugar in the food processor and combine until smooth.
Add the ground almonds and blend together.
Add the flour and cornstarch, and then the egg and egg white. Process the mixture until it is very smooth.
Add in the vanilla and almond extracts just to blend. The frangipane can be used immediately or you can store it in the refrigerator for up to 2 days.
For the apple roses:
Working with one apple at a time, wash and slice apple in half, discarding the core.
Slice thinly with a mandoline. Cut slices into halves and place in a microwave safe bowl.
Fill bowl with enough water to cover the slices. Squeeze in a few drops of lemon juice.
Microwave for 2 minutes on high.
Drain apple slices and pat dry between paper towels.
Roll out about 2 oz of the marzipan into a ⅛" thick rectangle about 2" high.
Lay apple slices down the long side of the marzipan so the curved tops of the slices stick out beyond the edge.
Fold the marizpan up to cover the bottoms of the apple slices, then roll up from one of the short edges so the tops of the apple slices form the petals of a rose. Press the marzipan together to seal the edges and hold the rose together.
Repeat with rest of the apples and marzipan. You should be able to get about four to five roses with the marzipan. The rest of the apple slices can be arranged around the roses.
To assemble the tart:
Preheat the oven to 350 degrees F.
Fill the tart shell about three-quarters full with the frangipane.
Place the apple roses in the frangipane where you like. Fill in the rest of the tart with the rest of the apple slices.
Cover the tops of the roses with foil to prevent burning.
Bake for about 45-55 minutes, until the frangipane is puffed and golden.
Remove and let cool before serving.