Cinnamon Chocolate Monkey Bread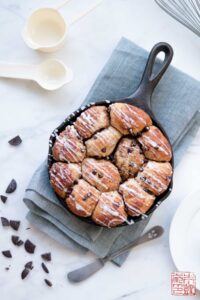 ½ cup (115 g) water, room temperature
½ cup (115 g) whole milk
1 large egg
2 tablespoons (28 g) sugar
1 tablespoon (14 g) vegetable oil
2 teaspoons (8 g)instant yeast
1 teaspoon salt
1¾ cups (220 g)King Arthur Unbleached All-Purpose Flour
1 cup (120 g) King Arthur White Whole Wheat Flour
¼ cup (2 oz)semisweet chocolate, roughly chopped, or chocolate chips
½ cup (113 g) unsalted butter
¼ cup (50 g) granulated sugar
¼ cup (50 g) light brown sugar
2 teaspoons ground cinnamon
1 cup (110 g) confectioner's sugar
2 tablespoons (30 g) whole milk
1 teaspoon vanilla extract
Combine water, milk, egg, sugar, oil, yeast, and salt in a medium bowl and stir together until fully mixed.
Add the all-purpose flour, stirring to blend.
Add the whole wheat flour, stirring to blend. Add in the chopped chocolate. Let the dough rest for 5 minutes.
Scrape dough into bowl of stand mixer fitted with dough hook. Knead on high speed for about 5 minutes until soft and smooth.
Place the dough in a lightly greased bowl, cover it, and let the dough rise for 30 to 60 minutes, until doubled in size.
While the dough is rising, prepare the topping.
Melt butter in microwave.
Combine sugars and cinnamon in a separate small bowl.
Place dough on clean counter or surface lightly dusted with flour. Divide it into pieces about 1½" in diameter. I find it easiest to weigh each piece for consistency; I make my pieces about 20 g each. You should get about 24 pieces.
Lightly grease an 8" round cake pan or a cast iron skillet. Dip each piece in melted butter, then roll it in the cinnamon-sugar mixture to coat.
Place the pieces in a single layer in the prepared pan. Pour any of the remaining topping mixture over the bread.
Cover the pan, and let the bread rise for 30 to 60 minutes, until it is visibly puffy. Towards the end of the rising time, preheat the oven to 350°F.
Uncover the pan, and bake the bread for 20 to 25 minutes, until golden brown and feels set.
Remove from the oven, and immediately turn the pan over onto a cooling rack. Lift the pan off the bread, and scrape any leftover topping in the pan onto the bread.
Whisk together the confectioner's sugar, milk, and vanilla extract in a small bowl until combined. Add a little more confectioner's sugar if it seems too watery and you want it thicker, or add a little more milk if it seems too thick and won't pour.
Drizzle the glaze over the bread.
Pull the bread apart to serve. Serve warm, or at room temperature.
Recipe by
Dessert First
at https://dessertfirstgirl.com/2016/06/cinnamon-chocolate-monkey-bread.html