I have an especial weakness for brunch; it probably comes from a childhood of dim sum weekends. Fortunately the Bay Area seems to be filled with plenty of like-minded people as it's a mecca of brunch options ranging from old school to modern, across a range of cuisines. Last weekend I was invited to visit the Verge Restaurant in Los Gatos to try out their new brunch menu and it was one of my favorite brunches I'd had in a while.
The Verge restaurant is located in the Toll House Hotel in downtown Los Gatos. The restaurant was recently remodeled last year and now boast a refined, relaxed elegance. You can sit in the lounge or at the bar for a drink, or eat in the main dining area. I also love the elevated communal table in center of the room.
I love the interior, but the patio overlooking the courtyard was too pretty to resist on a sun-drenched Saturday morning. Here's Isabelle happily awaiting her brunch! The staff went out of their way to accommodate her, including bringing her milk in a straw cup, coloring paper and crayons, and moving shade over when she complained about the sun getting too hot. She definitely got the little princess treatment at Verge!
Sitting outside also allowed us to bring Snickers in as well. The staff also doted on Snickers and brought her water and doggie treats as she relaxed under our table. We were so glad that Verge let us make brunch a true family affair.
Verge offers a modern Californian take on brunch with some cute takes on classic dishes. To start things off, the waiters wheeled out their signature Mimosa and Bloody Mary cart. You can create your own custom mimosa or Bloody Mary with Verge's housemate vodkas, fresh squeezed juices, and garnishes including fresh berries, "pickled everything", and a bacon bar! I love this concept.
Here's our server making me a mimosa with strawberry lemonade and champagne.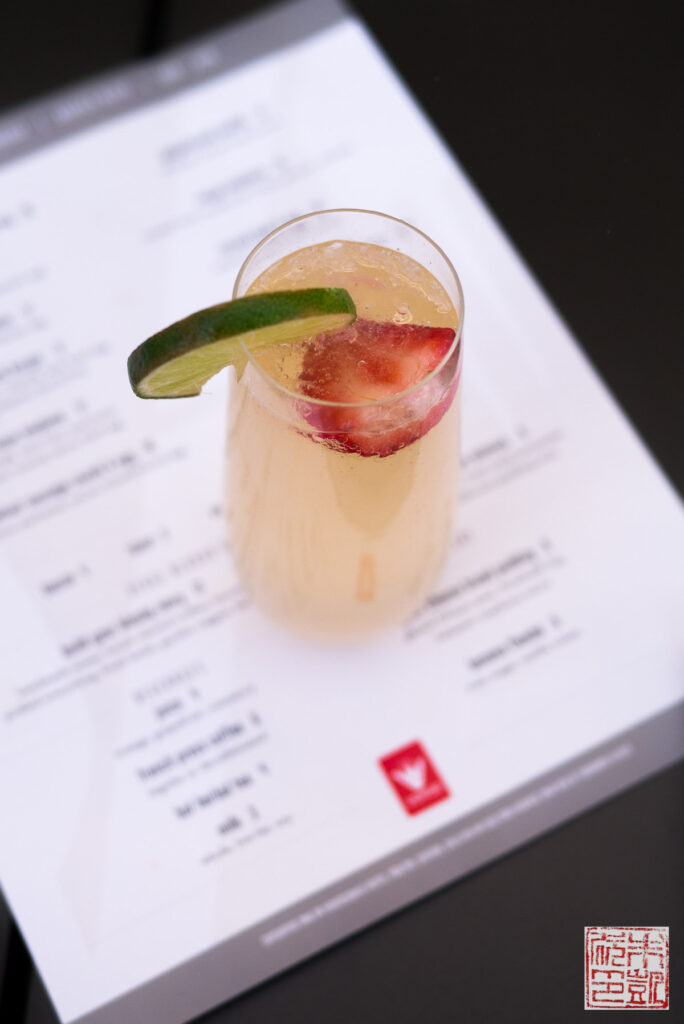 Refreshing and a perfect accompaniment for the rest of the meal. Verge's brunch menu has a great mix of sweet and savory dishes: following are my favorites from what we sampled.
Pancake souffle with strawberries and maple syrup. The Verge's version of Dutch baby is light, fluffy, and all the strawberries make it such a lovely summer weekend dish.
This was Isabelle's favorite dish. I think she might have eaten ninety percent of the strawberries and the very nice staff brought her more after they overheard her asking for more!
Breakfast sausage ravioli with breaded fried egg. Mike and I agreed this was the standout winner of the bunch. Delicate ravioli stuffed with breakfast sausage, covered in a cream sauce and dusted with parmesan and pecans. So addictive.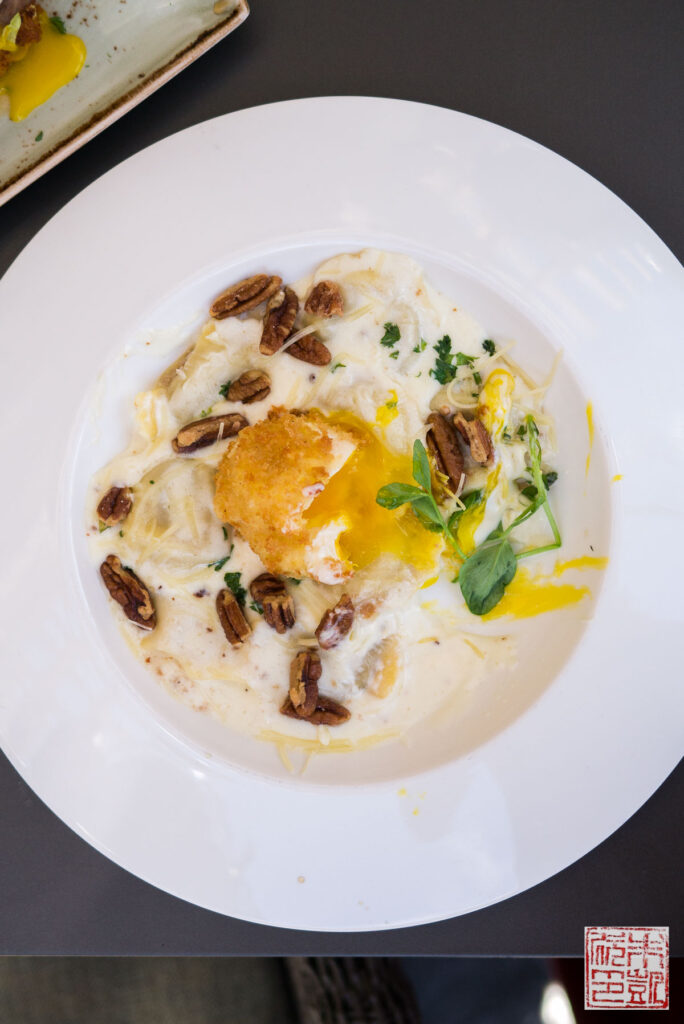 The crowning touch was a breaded fried egg; cutting through released perfectly runny yolk to mix with rest of the pasta. Definitely a dish I'd go back for in the future!
Every brunch menu needs a waffle option: Verge serves up gingerbread waffles with fresh berries and cream.
I really loved the plating of all the dishes. Beautiful choices of plates and serving ware.
Another showstopper of a dish: a pork and duck burger with a mac and cheese bun, chipotle aioli, and fried egg. It's served with a side of jalapeño fries. Thanks to @karentran_sf and @bethlayne.eats , fellow bloggers who generously let me grab a shot of this dish!
Even all this indulgence, we still made room for dessert. I turned down the bananas flambe for a very intriguing sounding Humboldt Fog goat cheese bread pudding with glazed pears and balsamic raspberry sauce. Mike is a huge fan of goat cheese and I always love when restaurants take risks with different desserts instead of the same old chocolate cake and lemon tarts. This bread pudding was well done, with the goat cheese coming through without being overpowering. Mike polished the entire thing off in minutes.
Thanks to Pam, Tyler, and the rest of the staff at Verge and Toll House Hotel for hosting me and my family for a fantastic brunch  – such a wonderful way to start off a beautiful sunny weekend! Verge also offers regular breakfast, dinner, and lounge menus. Stop by the next time you're in Los Gatos…and the staff might send you on a way with a chocolate chip cookie!
Verge Restaurant 
in the Toll House Hotel
140 South Santa Cruz Avenue
Los Gatos, CA 95030
408-884-1054
Online: vergerestaurant.com