When it's full-on summer and the air is redolent of ripe fruit and full blooms, why not combine both in a dessert?
Seriously, I just wanted to make a peach tart out of some peaches before they got gobbled up by other, more impatient members in my household. Ironic then that I ended up making a peach rose tart that's essentially a zen exercise in patience. But so worth the photo-worthy presentation at the end.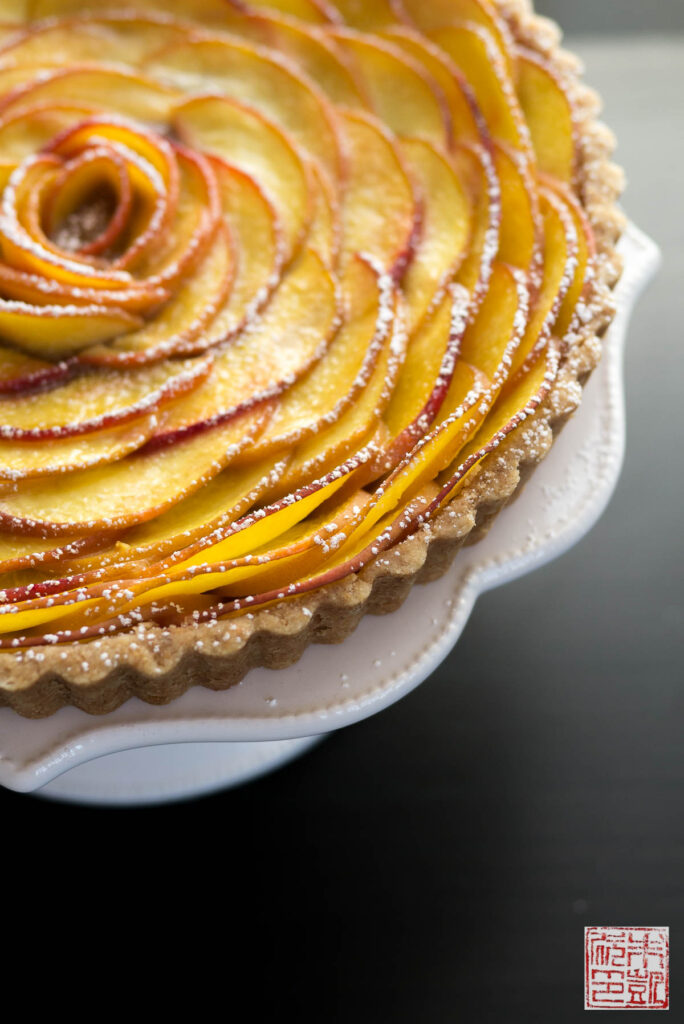 I'm team tart over team pie, now and forever. If you look at the recipe for this tart, you'll find that it's also so, so simple and virtually foolproof, even for those with the biggest of pie anxieties. There's no rolling and working of dough – this is a magical melted butter-and-almond-meal crust that you press into the tart pan and which bakes up perfectly flaky and crumbly. There's no complicated filling to make – like the very best summer desserts, it's pared down to the simplest of elements to allow the fruit to shine. A brushing of peach preserves is the only bed required for the peaches.
If you haven't the time or inclination to spend arranging peach-petals in the tart, you can always cut the peaches into thicker 1/2″ slices and arrange in a more conventional side-by-side pattern, and it will bake up just a beautifully and deliciously. But it you've got some time, maybe a dreamy golden weekend afternoon, you can make an edible bloom out of your peach tart.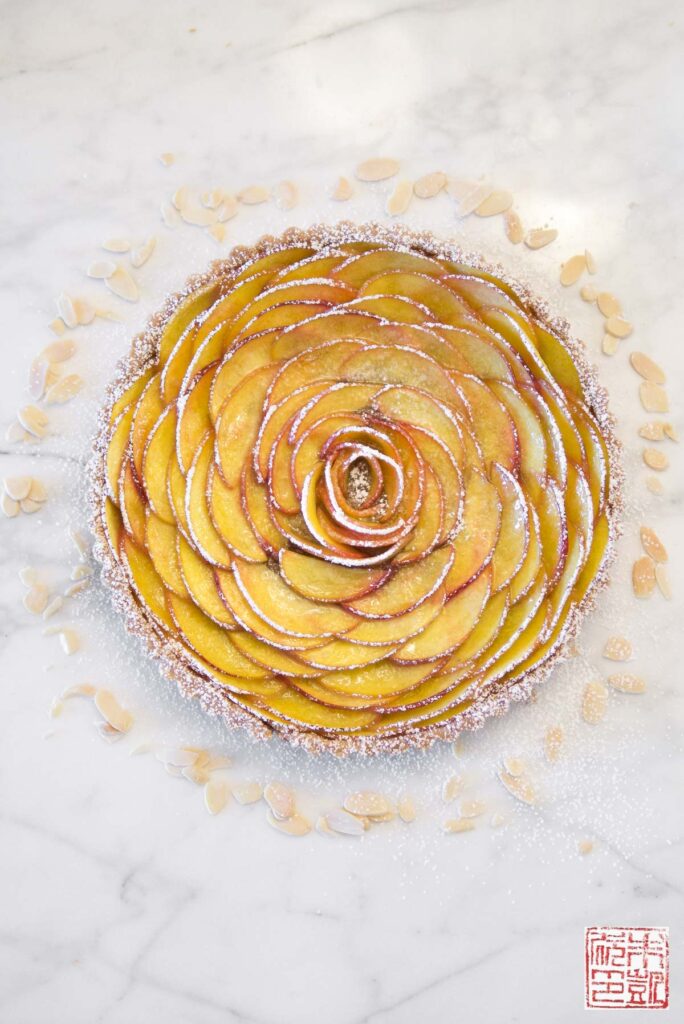 A few tips: you want ripe peaches, because there's nothing worse than unripe fruit in a tart, but it the peaches are too ripe and soft it gets trickier to slice them neatly and evenly. Look for ripe but still firm-ish peaches. Try not to slice them too thin; 1/4″ thick at a minimum.
Also, if your peaches are too juicy they could end up making the crust soggy. The peach preserves are there to both enhance taste and to provide a bit of protective layer for the crust from the peach juices. I added a bit of cinnamon for spice; you could throw in a bit of nutmeg or allspice too if you like. This tart would also work wonderfully with nectarines, plums, or other stone fruit: it's easily one you could make from now through fall.
I haven't made as many tarts this year as I have previously, but I'm making efforts to catch up. Looking forward to creating some more sweet (and maybe savory!) tarts for the months and changing seasons to come. It's lovely to rediscover a passion for an old love. I don't know why I stayed away for so long.
Peach Rose Tart
Ingredients
Crust
8 Tbsp (113 g) unsalted butter
1 cup (125 g) all purpose flour
¼ cup (50 g) sugar
3 Tbsp ground almonds
⅛ teaspoon salt
¾ teaspoon almond extract
Filling
3 to 4 ripe medium peaches
¼ cup peach preserves
⅓ cup sugar
¼ teaspoon ground cinnamon
Confectioners' sugar
Instructions
FOR THE CRUST:
Preheat oven to 350 degrees F. Melt the butter in a saucepan or microwave.
Combine the flour, sugar, ground almonds, and salt in a medium bowl.
Pour in the melted butter and almond extract. Use a fork to combine ingredients until it forms a solid dough.
Press the dough into the bottom and up the sides of a 9-inch tart pan with removable bottom. A dough tamper can help you press out the dough evenly.
Bake the tart shell for about 25 to 30 minutes until the shell is golden brown. Let cool on wire rack.
For the filling:
Wash and pit the peaches. Slice each peach in half and then slice thinly into ¼" thick slices.
Preheat oven to 350 degrees F.
Brush the peach preserves evenly across the bottom of the tart shell.
Arrange peach slices in a circular pattern or pattern of your desire on top of the preserves.
Sprinkle the sugar and ground cinnamon evenly over the peach slices.
Bake tart for 25 to 30 minutes until the preserves look thick and start bubbling around the peaches.
Let cool on wire rack. Dust with confectioners' sugar before serving.