Hello dear readers and happy fall! This honey cheesecake piled high with some of my favorite fruits of the season is my way of saying farewell fo summer. Apologies for my absence but has life suddenly gotten really, really busy again? Although the winter months are nearing, it feels like things are springing back to life. I've also had a few life developments that have kept me from being in the kitchen as much as I wanted. I hope to get back in there and get some more creations out before the end of the year!
Click here to jump to recipe
This simple honey cheesecake was a fun little weekend baking project for me and my daughter Isabelle – it's easy enough for her to do on her own, and she enjoyed picking out the fruit to decorate the top of the cheesecake. You can use any honey you like for the cheesecake – I used a wildflower honey that I've been enjoying all summer. 
To make sure your cheesecake is as smooth as possible, make sure the cream cheese is at room temperature so it's soft and beats up easily without hidden lumps. Also, don't overbake the cheesecake so it becomes overly firm and dense; the center should still be a little jiggly when you remove it from the oven. It will finish setting in the refrigerator to that smooth, creamy texture you're looking for when you bite into cheesecake.
I used some of my favorite fall fruit that I'd just picked from the store, including nectarines, figs, and grapes. Raspberries probably aren't around any more – we got the last of them. But whatever you find, play with to make a vibrant display of fall's colors. Enjoy the sweetness before it's gone.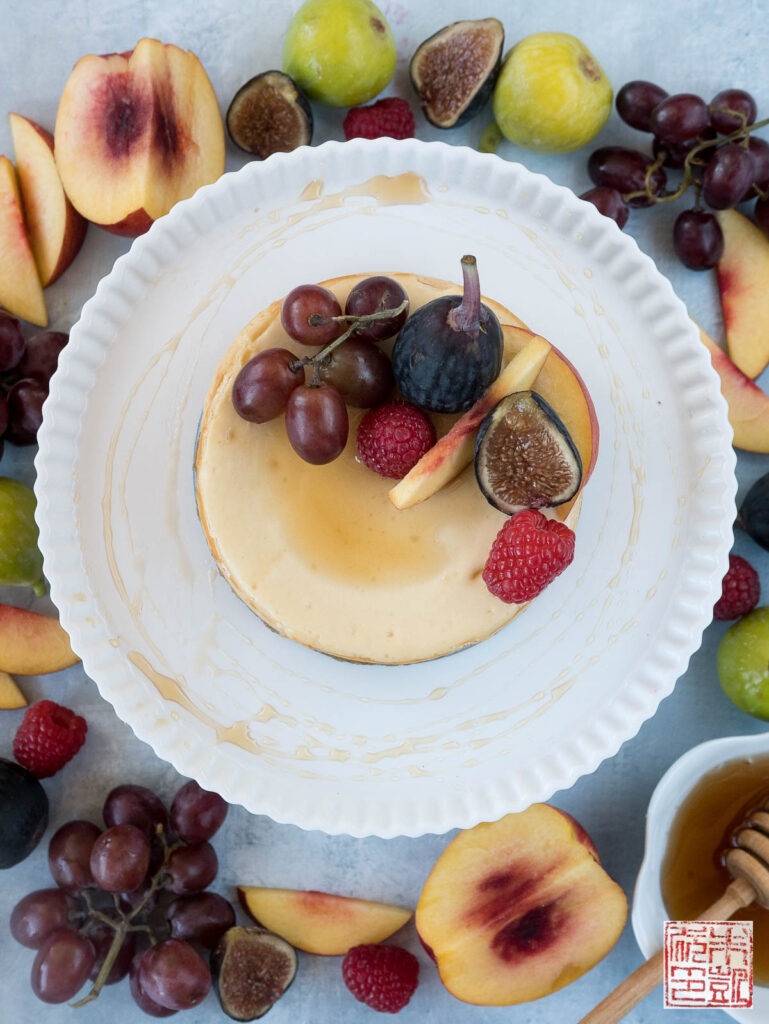 Honey Cheesecake with Fall Fruit
Serves:
(4) 4" round mini cheesecakes
Ingredients
Crust:
2 cups (170 g, or about 8 crackers) graham cracker crumbs, finely ground in food processor
⅓ cup (67 g) sugar
½ cup (113 g) unsalted butter, melted
⅛ teaspoon salt
Filling:
Two 8-ounce packages (452 g) cream cheese, room temperature
⅓ cup (67 g) sugar
⅓ cup (113 g) honey
2 large eggs, room temperature
1 teaspoon vanilla extract
Instructions
For the crust:
Preheat oven to 350 degrees F.
Combine graham cracker crumbs, sugar, butter, and salt together in a medium bowl, and stir with a wooden spoon to combine.
Press mixture into the bottom and up the sides of (4) 4" round mini springform pans.
Set the pans on a sheet pan and set aside while you make the filling.
For the filling:
Place cream cheese and sugar in bowl of a stand mixer and beat with paddle attachment until smooth.
Add in the eggs and vanilla and beat until smooth.
Pour filling into prepared pans. Bake in oven for about 30 minutes until edges look firm and center is still slightly jiggly. Remove from oven and let cool on wire rack to room temperature.
Refrigerate, covered, until ready to serve.