Honey Cheesecake with Fall Fruit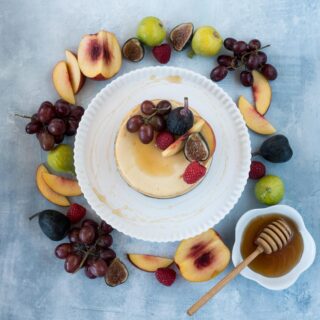 Serves:
(4) 4" round mini cheesecakes
2 cups (170 g, or about 8 crackers) graham cracker crumbs, finely ground in food processor
⅓ cup (67 g) sugar
½ cup (113 g) unsalted butter, melted
⅛ teaspoon salt
Two 8-ounce packages (452 g) cream cheese, room temperature
⅓ cup (67 g) sugar
⅓ cup (113 g) honey
2 large eggs, room temperature
1 teaspoon vanilla extract
Preheat oven to 350 degrees F.
Combine graham cracker crumbs, sugar, butter, and salt together in a medium bowl, and stir with a wooden spoon to combine.
Press mixture into the bottom and up the sides of (4) 4" round mini springform pans.
Set the pans on a sheet pan and set aside while you make the filling.
Place cream cheese and sugar in bowl of a stand mixer and beat with paddle attachment until smooth.
Add in the eggs and vanilla and beat until smooth.
Pour filling into prepared pans. Bake in oven for about 30 minutes until edges look firm and center is still slightly jiggly. Remove from oven and let cool on wire rack to room temperature.
Refrigerate, covered, until ready to serve.
Recipe by
Dessert First
at https://dessertfirstgirl.com/2021/09/honey-cheesecake-with-fall-fruit.html