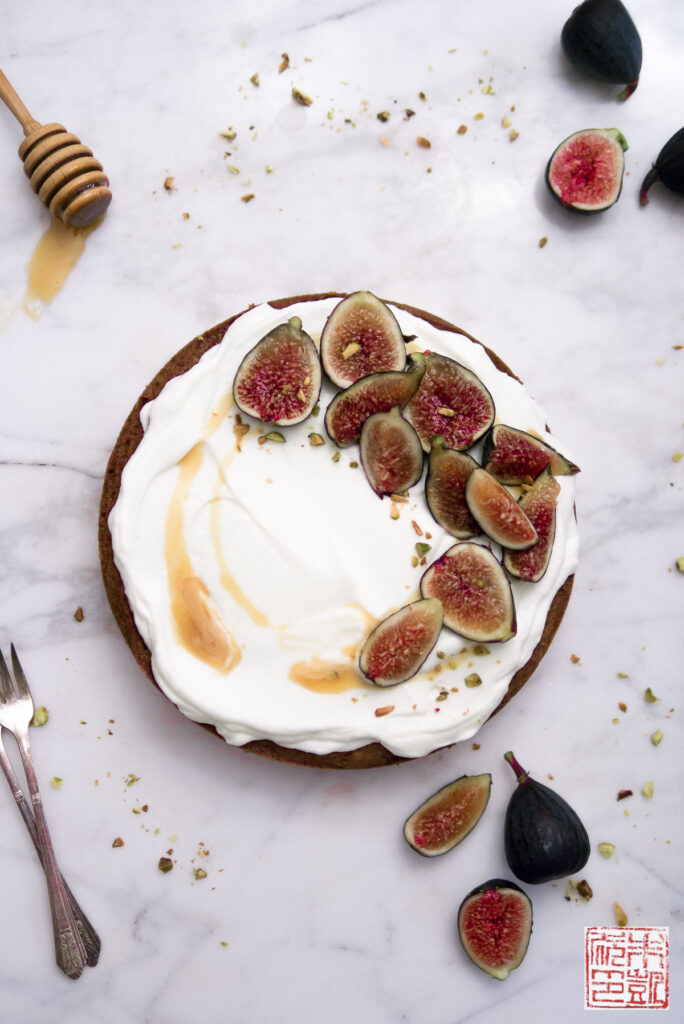 This fig and honey cake is my official farewell to fig season. I know, I'm late, it's already October and I should be moving on to pumpkin everything. But there was still a bevy of gorgeous, ripe figs at the market last week, and we're still in the midst of Indian summer here, so I had to do a last bit of baking with them.
Click here to jump to recipe
This cake is richer and subtler than the sweet cakes of summer; it's flavored with honey and has a hint of cinnamon (I experimented with adding more spices but it started edging into full spice cake territory – perhaps better for the holidays!). The frosting is whipped cream mixed with a bit of crème fraiche to give it some tang, and some more honey. It might be a bit gilding the lily, when the figs are already devastatingly ripe and sweet, but I love swirling honey over them. When I bite into it, it's like tasting the last memory of summer.
I'm going to be a little honest here, too: pumpkin isn't really my favorite thing (I know! the horror!) so I may be a bit slow in getting some pumpkin-y recipes out, but if you're already planning for Halloween, may I suggest:
Pumpkin Spice Caramel Lollipops
and just so your furry friends don't get left out:
Pumpkin and Peanut Butter Dog Treats
Happy October!
Fig and Honey Cake
Ingredients
Honey Cake
1 cup (125 g) all-purpose flour
1 teaspoon ground cinnamon
¾ teaspoon baking powder
¼ teaspoon salt
6 tablespoons (85 g) unsalted butter, room temperature
½ cup (100 g) sugar
¼ cup (85 g) honey
1 teaspoon vanilla extract
2 large eggs, room temperature
¼ cup (60 g) whole milk
Honey Crème Fraîche Whipped Cream
¼ cup (2 oz) crème fraîche
2 tablespoons honey
½ cup (110 g) heavy cream
Topping
About 6-7 ripe figs, halved and quartered
Instructions
For the cake:
Preheat oven to 350 degrees F. Grease and flour a 9" springform pan or cake tin with removable bottom.
Whisk the flour, cinnamon, baking powder, and salt together into a medium bowl. Set aside.
Combine butter and sugar in a stand mixer bowl. Beat on medium speed until light and fluffy, about 5 minutes.
Add honey and vanilla extract to mixer and beat until combined.
Add eggs one at a time to mixer and beat until combined.
Add flour mixture and milk in 3 alternating additions, starting and ending with the flour mixture. Beat until well combined.
Pour batter into prepared pan. Bake for 40-45 minutes. Remove when a tester inserted in the center comes out clean. Let cool on wire rack.
For the whipped cream:
Whisk the crème fraîche together with the honey in a small bowl.
Whip the heavy cream in a stand mixer until it reaches firm peaks.
With a rubber spatula, gently fold half of the whipped cream into the crème fraîche and then gently fold in the remaining half.
To assemble the cake:
Remove cake from the pan. Spread the whipped cream over the top. Arrange cut figs over the top. Serve immediately.