Ozumo Santana Row brunch is the most fun I've had at brunch recently. I've been to Ozumo in San Francisco a few times for their classic Japanese menu, but to not their San Jose branch. When I heard that Ozumo Santana Row was now offering a Japanese-influenced brunch on the weekends, it seemed the ideal time to finally make a visit.
Ozumo's brunch menu. Visit their website for updates to their offerings. It's full of Japanese-inspired interpretations on classic brunch items from steak and eggs to avocado toast to pancakes. And lots and lots of sushi – this alone already makes brunch at Ozumo a stand out.
Make your own mimosas with orange, grapefruit, peach, and cranberry juices. I like the touch of the champagne carafe in the wooden tub.
They also have perfect brunch cocktails like Bloody Marys or what I had, the Giddy Geisha, a lychee and passionfruit martini.
After drinks, the parade of sushi began, starting with the Hanabi, a plate sliced hamachi and avocado in a warm jalapeno-ginger ponzu sauce. This was one of my favorite dishes of the brunch.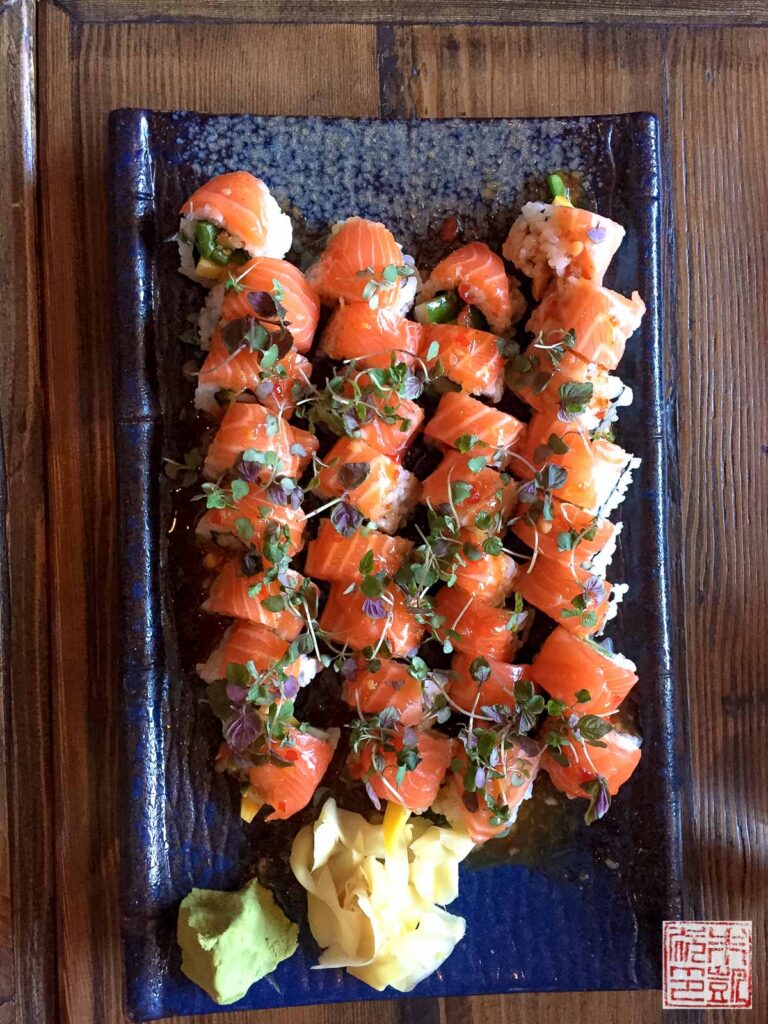 An eye-popping platter filled with Ozumo 2.0 – salmon, jalapeno, cucumber, and mango rolls in a yuzu sauce. Lush and pleasingly spicy.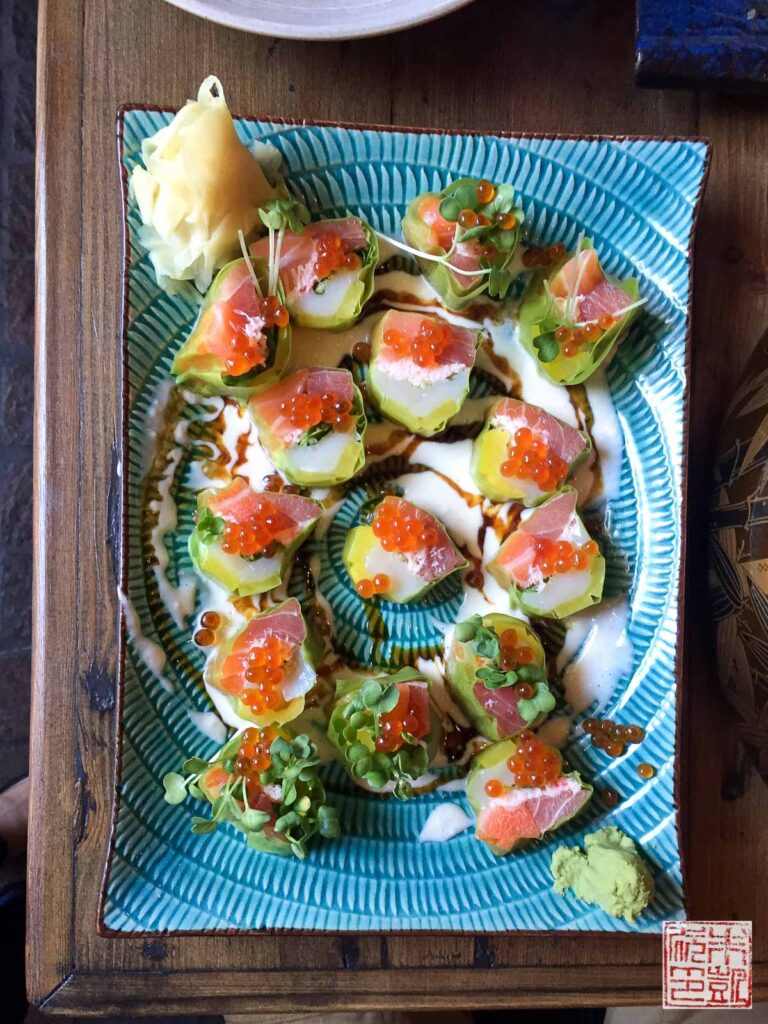 I also really liked their Shacho – salmon, tuna, scallop, and crab salad wrapped in soy paper, with lobster sauce.
The pièce de résistance – the chef's choice of nigiri over ice. The plating at Ozumo is absolutely on point. I hope these photos are properly conveying the beautiful presentation of every dish.
Onto the hot dishes. (Yes, we were barely halfway through brunch!) Pancakes with red bean, raspberries, and matcha powdered sugar. The matcha flavor was subtle and the pancakes were as fluffy and melt in your mouth as you could ask for.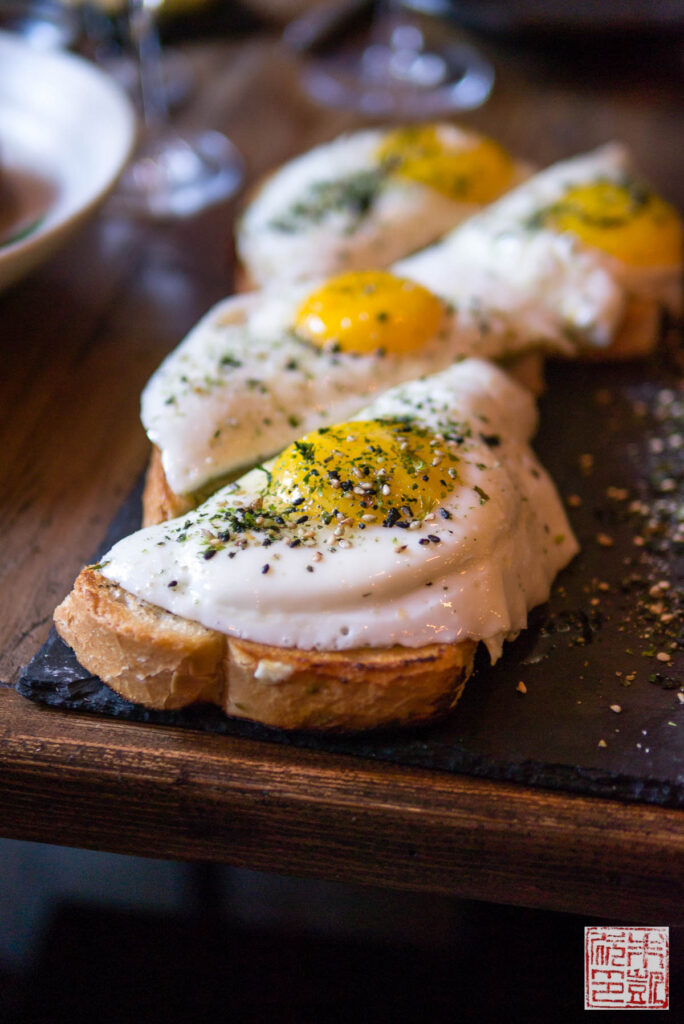 Ozumo's take on avocado toast with sourdough, shishito-avocado puree, eggs, and nori furikake.
Side view lets you see the avocado better. This is a really nice take on avocado toast.
Another favorite dish of our whole group was the popcorn crab and shrimp with furikake and yuzu mango aioli. Ethereally light tempura batter and that mango aioli made this dish super addictive. I might have eaten the whole thing if I wasn't already almost full from all the other dishes.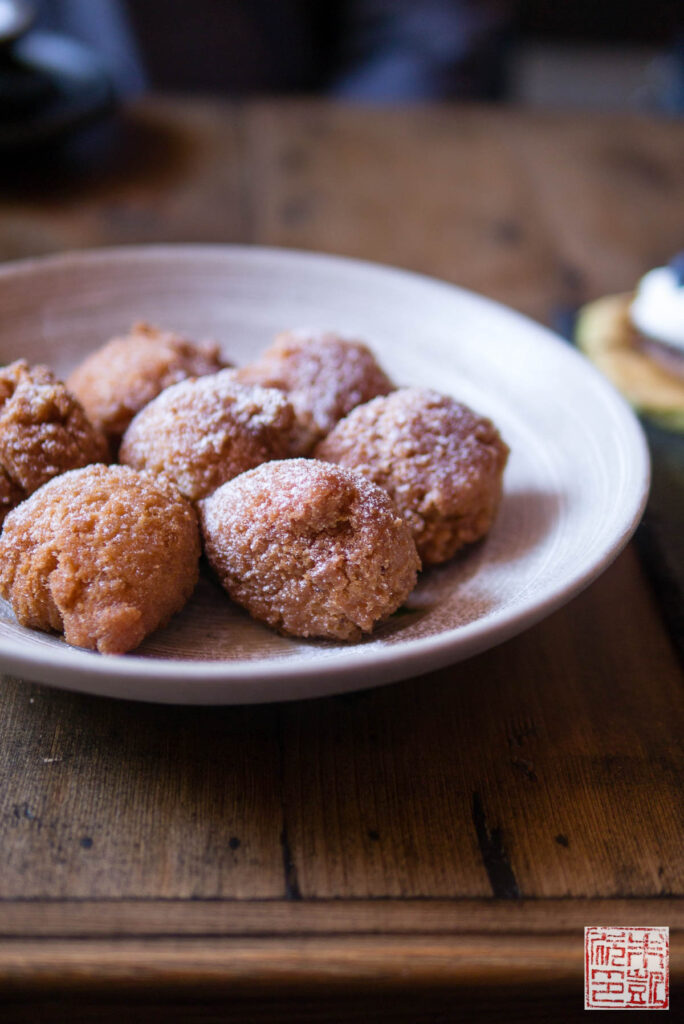 Okinawan style fried donuts. These reminded me so much of Hawaiian malasadas, but they are a classic Okinawan dish. Deep fried  donut balls tastes as amazing as it sounds. Crisp and sugary on the outside, and sweet cake on the inside. Don't skip this dish.
Finally, for those of us who still had room in our stomachs, Ozumos' spin on steak and eggs, with salt and pepper filets topped with sunny side up eggs and ozumo hash. There's a dish for everyone's taste on this menu, and it's all really good. I waddled away from the table planning my return visit.
Ozumo Santana Row brunch is served on the weekends from 11:30 am – 3 pm. Try to get a seat in their beer garden, which is airy and lets you people-watch shoppers passing by while you enjoy your brunch. Thanks to Ozumo for hosting us and making our weekend eating so memorable!
Ozumo Sushi Izakaya
355 Santana Row
San Jose, CA