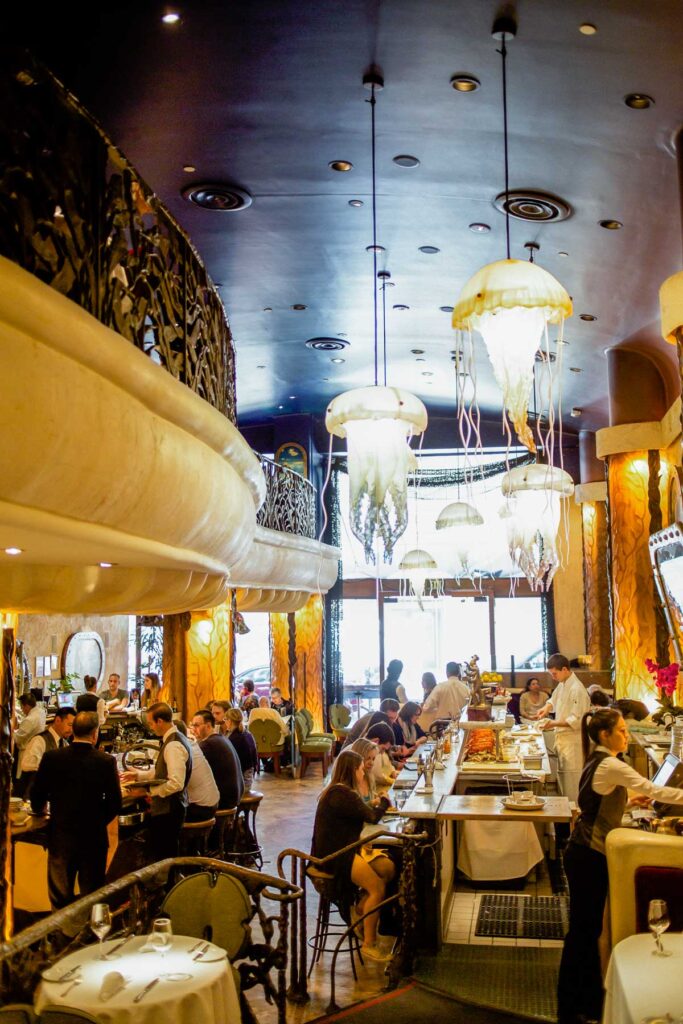 photo courtesy of Farallon.
Twenty years after its opening, Farallon remains one of San Francisco's most famous and celebrated restaurants.  Farallon holds a special place in my heart; it's one of the first "grownup" dining experiences I had after graduating college and starting my first job in the city. As restaurants go, Farallon is undoubtedly sui generis; entering the restaurant is like diving into an underwater fantasy, with glowing jellyfish lights hanging from the ceiling, tile fish swimming across the floor, and kelp-wrapped pillars holding up a seashell-hued balcony. Few other restaurants can match the sheer whimsy and immersiveness of the experience.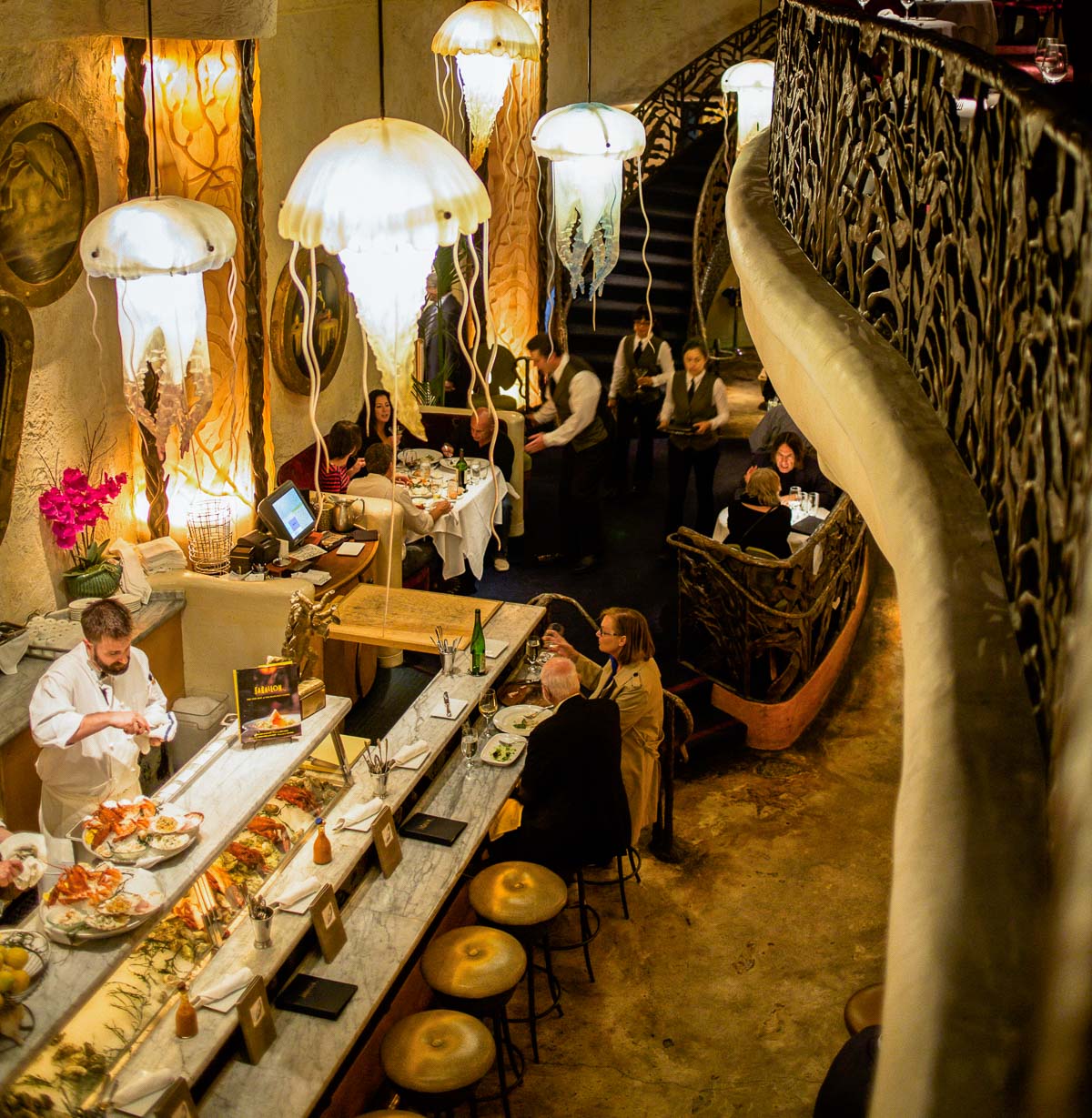 photo courtesy of Farallon.
I was invited by the restaurant to visit for their 20th anniversary year. Farallon's signature coastal cuisine features modern seafood dishes, with an emphasis on freshness. They also have an impressive wine and spirits program, with a cellar of over 500 wines, and a collection of over 140 single whiskeys. For our dinner, we were treated to a curated, summer-to-fall menu from chef Jason Ryczek, with wine pairings for each course. To say I was looking forward to this evening is a bit of an understatement.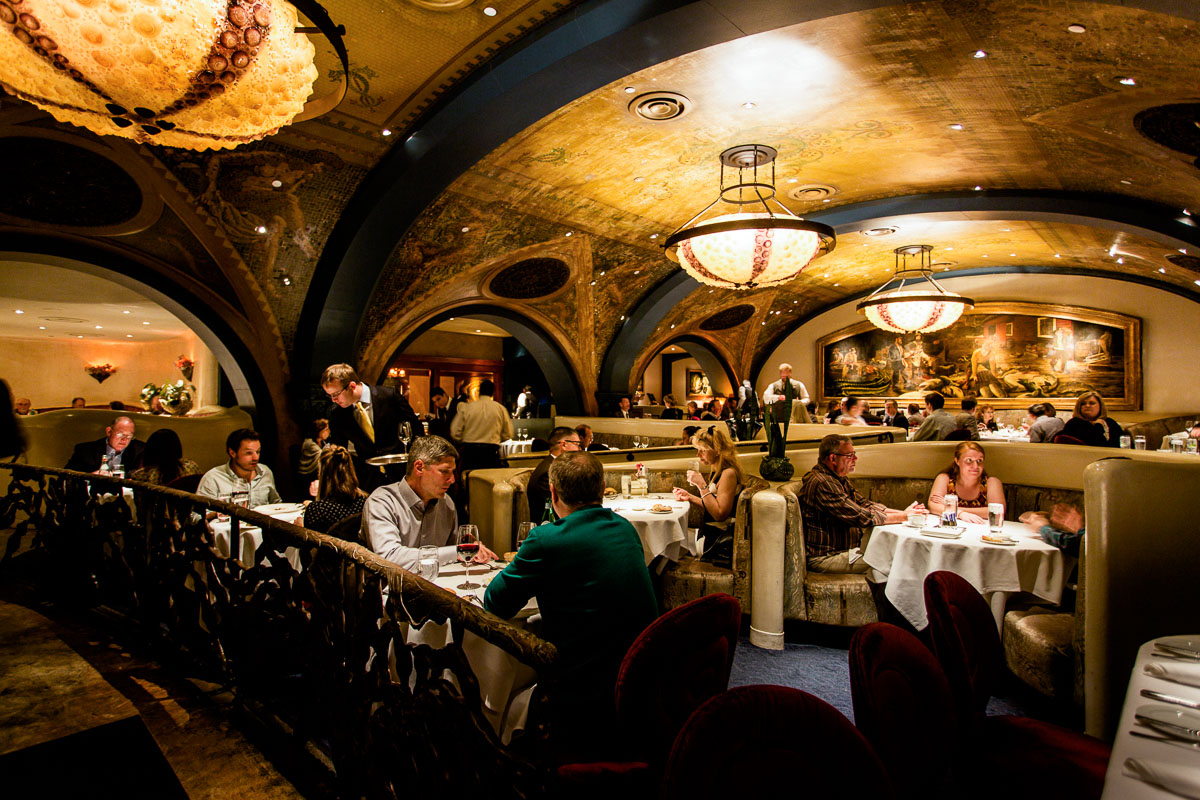 photo courtesy of Farallon.
There isn't a bad seat in Farallon; for our visit we were seated in the Pool Room. The space for the restaurant was originally built in 1925 for the Elk's Club, and the swimming pool was located back in this room. The original arched ceiling is now painted with a gorgeous mermaid mosaic and hung with sea urchin-esque light fixtures, so you really feel like you're dining in an underwater grotto. The open kitchen is also on one side of the Pool Room, so we could watch chef Jason and his team working throughout the evening.
The house started us off with Amethyst oysters from Humboldt with caviar. The Jelly Bar in the front of the restaurant hosts a daily happy hour, which is a lovely way to get a taste of Farallon. A rotating selection of oysters and chilled shellfish, paired with cocktails and caviar, under the glow of jellyfish lights, makes a most magical experience.
The oysters were paired with: André Clouet Grand Gru Brut Rosé, Champagne, France. No surprise that I love champagne rosé. This one is rich and sweet, with berry and floral notes and a delicate finish. Perfect aperitif, paired with oysters and with the lobster salad.
Maine lobster tail with burrata, baby beet salad, hazelnuts, mint, and white balsamic.
This is where I began to feel seriously spoiled. The lobster is the scene-stealer, but the beets mixed with the burrata and the balsamic were a gorgeous combination and so perfectly late summer. I could easily imagine myself eating this while overlooking the Amalfi coast, under fall sunshine. Just stellar.
Cayacos abalone and chestnut ravioli with brown butter, sage, and purple cabbage. Chef Jason came out to say hello to us and to talk about this dish, of which he was quite proud, and justifiably so. This was hands down our favorite dish of the evening. Jason grew up on the Central Coast of California, near Cayacos and the farm where he sources this abalone. If you have a chance to go to Farallon and try this, do! The abalone was amazingly tender and buttery, and the chestnut ravioli was robust, sweet, and earthy. It felt like walking through an autumnal forest next to the Pacific coastline. If I could have asked for a second helping of this, I would have.
Paired with: 2015 Malat Grüner Veltliner, Kremstal, Austria. Lots of the classic citrus and spice notes typical of Grüner Veltliner wines, pleasantly light and crisp, ideal with seafood. I am a fan of Austrian white wines and this one proved no exception.
Butter Poached Petrale sole from Half Moon Bay with Dungeness crab, cranberry beans, endive, and sauce americainé.  This is another perfectly California dish to me: super fresh local ingredients simply prepared, accoutrements that highlight rather than overshadow, and every element coming together with nothing extraneous or out of place. Elegant and clean.
Paired with: Deux Montille 2012 Saint-Romain " Le Jarron", Saint-Germain, France. This lovely white burgundy makes a stellar companion for the sole. Light-bodied, citrus and cream, and a soft finish.
Braised Nebraska short rib with honey glazed baby carrots, confit pearl onions and preserved Meyer lemon persillade. Farallon also has a selection of meat and game dishes on the menu; this short rib completed our journey during dinner from summer to fall. I was too full at this point to do the short rib justice, but my husband polished the whole thing off. A cozy fall blanket of a comfort dish.
Paired with: Bedrock Wine Co. 2015 Old Vine Zinfandel, California 2015. I'm more of a white wine drinker, so when a red catches my attention, I know it's special. This Zinfandel is lush but not overwhelming, full of red fruit and a peppery notes and a long, elegant finish. A dream match with the short rib.
Watermelon sorbet as the palate cleanser before dessert.
The staff knew of my affinity for all things sweet so they gave me two standouts from the dessert menu: the first was their chocolate Mousse with hazelnut crumble, pomegranate compote and meringue. I love pairing rich and chocolatey with tart and sweet, and the hazelnuts and pomegranates are a beautiful ode to fall. And so pretty.
The second was their cinnamon marzipan cake with caramel poached apples and Calvados ice cream. Nothing more autumnal than apples, caramel, and cinnamon. Soft, velvety spice cake and sweet juicy apples, and a scoop of ice cream, that universal ribbon that ties everything together – magic out of the simplest things to end the meal.
I have to admit I get very excited when it's dessert wine time.  Farallon gave us two : Blandy's 15 year Malmsey a Madeira from Portugal; and the 2013 Donnafugata Ben Rye Passito di Pantelleria, Sicilia, Italy 2013. The Malmsey is fabulous with the cinnamon marizpan cake; it has wonderful butterscotch and honey notes that echo the caramel, and it's enjoyably heady without being too syrupy or cloying.  The Donnafugata is a passito wine, made with Muscat d'Alexandria grapes dried on straw mats in the sun in an ages-old tradition. The Italian sun and wind give the dried grapes and the resulting wine an intense, honeyed sweetness. No surprise that I loved this wine and would have liked to walk home with the entire bottle.
photo courtesy of Farallon.
A big thank you to Farallon for a fantastic evening of sublime food and superb service. Thanks to chef Jason and his crew for some gorgeous dishes, and thanks to GM Dale and his staff for putting together a seamless experience. You made my husband and I feel incredibly spoiled and gave us lovely flashbacks to our first visit here.  After 20 years, Farallon remains one of San Francisco's most unique restaurants and a must on every food lover's bucket list.
Disclaimer: I was invited to a dinner at Farallon. I was not compensated for this review and all opinions are my own.
Farallon
450 Post Street
San Francisco, CA 94102
415-956-6969
Online: farallonrestaurant.com