The days are getting shorter, the nights are getting crisper, and fall baking season is fully underway.  I've spent the last few weekends baking various things with apples because it just feels so properly autumnal, and also because Isabelle, at four and half, declared herself capable of learning how to peel apples. She was right; with the proper peeler she went to town on the apples in our kitchen and left me with a pile of peeled apples and need for some recipes to use them up.
Click here to jump to recipe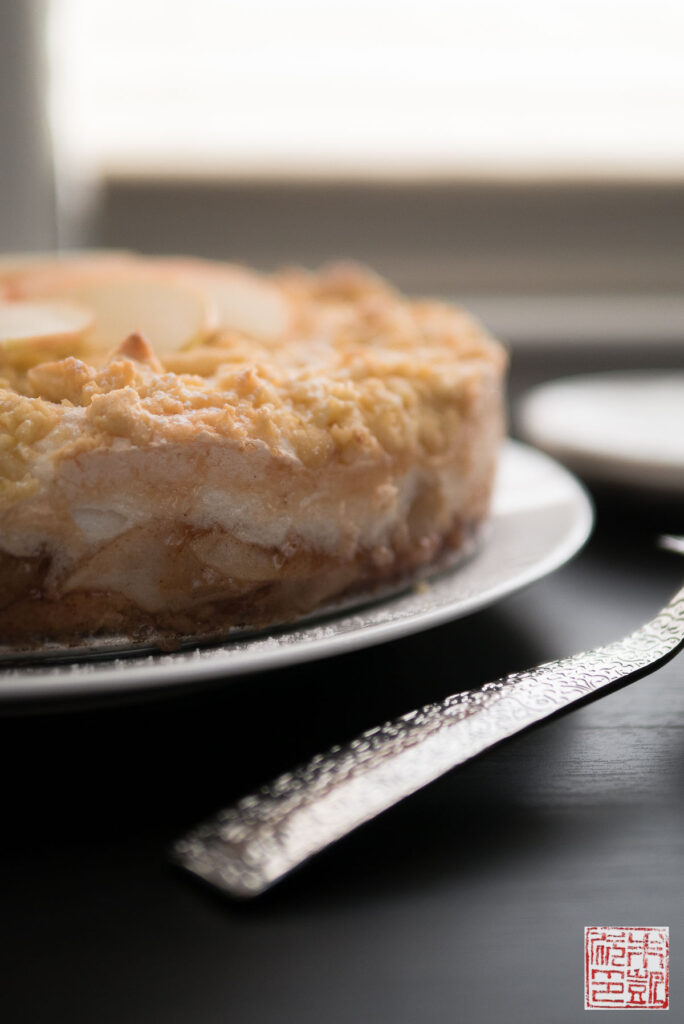 One recipe, this apple meringue crumb cake from Traditional Jewish Baking by Carine Goren, caught my eye since I've never made something like this before. Cinnamon spiced apples are layered on top of a short crust, covered with a decadent cloud of sweet meringue, and then sprinkled with a streusel-y crumb topping. It looks like a version of Goren's signature plum cake recipe, with apples substituted for the plums. The cake is low-fuss and simple to assemble, although the lack of crust on the sides might throw you. Don't worry: after baking, it becomes a gloriously cohesive whole and a wonderful progression in textures, from the crisp, crackly meringue to the juicy, spicy apples to the buttery, crumbly crust.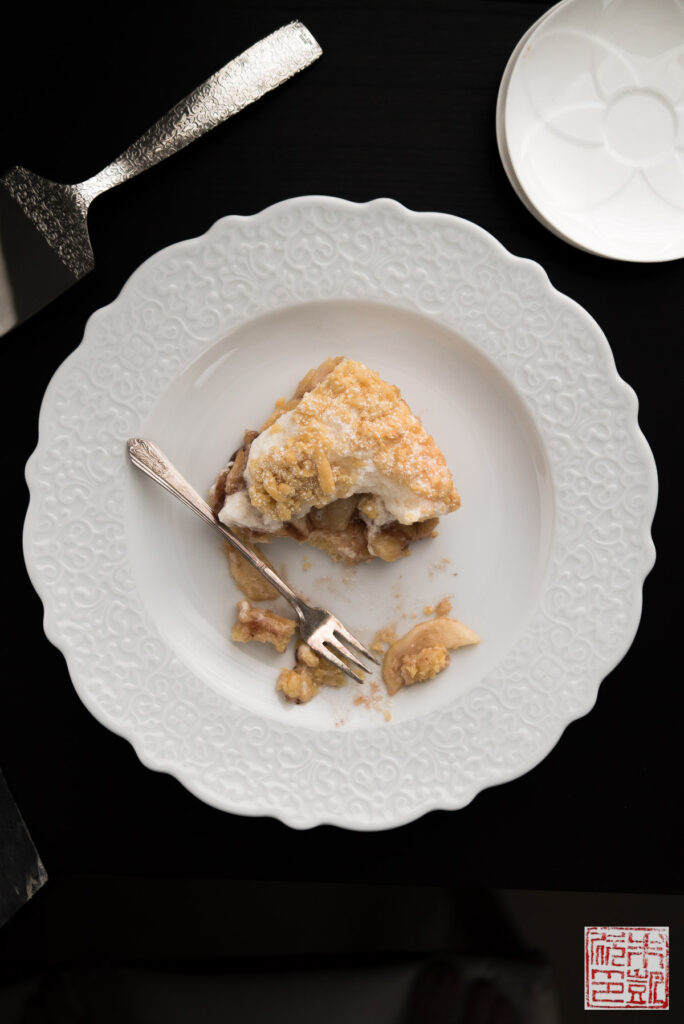 The neat time-saving thing about this recipe is that the same dough is used for the cake base and for the topping. There seems to be more dough than is needed, so feel free to wrap up and freeze the leftover dough for another time. As I mentioned, I've seen similar recipes for fruit-filled cakes, so you could use sliced plums or peaches, or even rhubarb or berries in the summer. It's a simple, cozy, comfort dessert  – perfect for the autumn baking season.
Other apple desserts:
Chocolate Cake with Apples and Salted Caramel Buttercream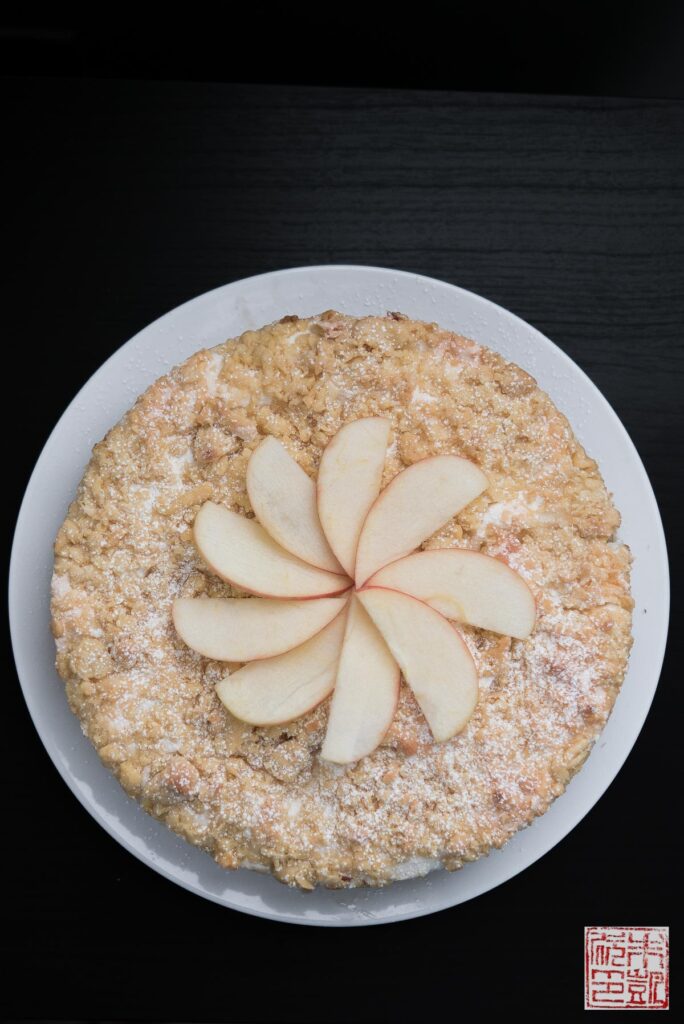 Apple Meringue Crumb Cake
adapted from Traditional Jewish Baking by Carine Goren
Ingredients
Pastry Base and Crumbs
2½ cups (350 g) all-purpose flou
5 tablespoons (60 g) sugar
2 tsp (8 g) baking powder
7 ounces (200 g) unsalted butter, cold, cut into 1-in dice
5 large egg yolks (use whites for the meringue)
Apple Filling
6 large apples
3 tablespoons (45 g) apricot jam
¼ cup (40 g) vanilla instant pudding mix
1 teaspoon ground cinnamon
Meringue
5 large egg whites
1 cup (200 g) sugar
¼ cup (40 g) vanilla instant pudding mix
Instructions
For the pastry base:
Preheat oven to 350 degrees F. Grease a 10-inch round springform pan.
Combine flour, sugar, baking powder, and butter in food processor. Process until mixture resembles dry crumbs.
Add in egg yolks and pulse just until dough starts to come together.
Wrap one-fourth of the mixture in plastic wrap and place in freezer to chill - this portion will be used to make the crumb topping.
Press the remaining dough together and press into the bottom of the springform pan. You may have more dough than you need - use enough dough to make an approximately ¼" thick layer on the bottom of the pan.
Bake crust for about 15 minutes until golden brown and firm to the touch.
Remove from the oven and let cool while you prepare the filling.
For the filling:
Wash, peel, and core the apples. Cut into ⅛" thin slices.
Place apple slices in a large, wide pan. Add the apricot jam.
Cook on medium heat over 5-10 minutes, stirring occasionally, until apples are coated with jam and are very soft.
Remove from heat and let cool for a couple minutes.
Add vanilla instant pudding mix and cinnamon and stir until liquid thickens into sauce consistency.
for the meringue:
Place egg whites in very clean bowl of a stand mixer.
Whisk with whisk attachment until frothy, about a minute.
With mixer running on low, add in the sugar in a slow, steady stream and watch it become firm and glossy.
Add in the pudding mix and whisk for another few seconds until combined.
Spread the cooled apples over the pastry crust base.
Spread the meringue over the apples.
Take the frozen pastry out from the freezer and grate over a grater to produce small bits of dough to use as topping on the meringue.
Return to 350 degree oven and bake for about 30-35 minutes, when the meringue has risen very high and looks golden.
Remove from oven and let cool before unmolding and serving.