Thanks to all my readers for your well-wishes – it's been a hectic, topsy-turvy couple of weeks but we are starting to get settled into our new home and we love it! It's no surprise, is it, that the first area to get organized was the kitchen?
This is going to be a mini-digest of a post, since there's so much I'd love to catch you up on but just couldn't find the time amid the whirlwind of moving. Here is one of many highlights of the last two weeks:
Yes, Field Guide to Candy: How To Identify and Make Virtually Every Candy Imaginable
is officially out!! It's available on Amazon
, Chronicle Books, and Quirk Books, my publisher. I haven't seen it on bookshelves in brick-and-mortar retailers but I am sure they will show up very soon! I hope to provide a proper introduction to the book when I get back from Hong Kong. Hong Kong? Er, yes, I might have forgotten to mention that. Guess who will be lugging about 15 copies of the book overseas for her family?
So, back to the new kitchen and my desire to break it in before I left for vacation. What would be the inaugural dessert? Well, a couple of weeks before we moved out, we went up to Sebastopol for the Gravenstein Apple Festival and a heaping slice of summer and Americana – a last little road trip before the moving madness.
It was full, flush summer up in wine country, unlike fog-clad San Francisco. Children in shorts and sandals ran through a hay maze and petted baby goats, while their parents pored over the vintage farm machinery on display and listened to mellow, loose-limbed country music from the stage. And all around, bushels of red and green striped apples.
Gravenstein apples are a baker's dream, and there were apple pies in abundance at the festival, along with apple tarts, turnovers, and cobblers – a veritable golden orchard of apple-y delights waiting to be eaten.  We also had some marvelously thick, rich cider, the color of old pennies and icy cold for a hot summer afternoon.
The first bite into a ripe Gravenstein is pure sensory pleasure: the sharp crunch as teeth bite through pleasantly firm flesh; the sweet-tart fragrance of the apple's juices rushing into your nose, and finally, the crisp, assertive tang of the fruit tickling your tongue. How pallid and pedestrian, by comparison, the experience of eating those mealy, one-dimensional, inoffensively but insipidly sweet apples found en masse at some groceries. Eating a Gravenstein is a stirring reminder of what real food tastes like, and why it's better, even essential, to have variety and heterogeneity in the crops we grow, and not just one over-bioengineered, mass produced variety of tomato or corn or peach at the store.
In fact, the distinctiveness of the Gravenstein apple has been recognized by Slow Food Nation: It has included Gravenstein apples in its Ark of Taste, a list of unique foods that are in danger of extinction and merit preservation. Unfortunately, Gravensteins only grow for a short period of time (they are mostly harvested in July and August), and their relative delicacy compared to other apple species has led to a steady decline in the number of orchards inSonomaCounty growing them. Today there are only about six commercial growers of these apples left inSonoma. Although Gravensteins can be found in a few other places around the US and the rest of the world, they are an especially cherished tradition inSonoma, and there was a definite sense of pride among the locals at the festival, a joy in celebrating this piece of their heritage.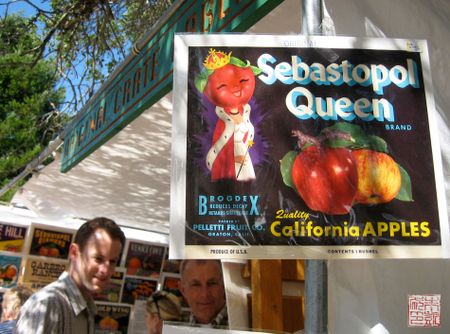 I lugged home two big bags of gorgeously candy-striped apples home and put them in our brand spanking new refrigerator – refrigeration recommended for keeping the apples longer. While pondering what to make, of course I had to eat one to get an idea of the flavor – and one turned into another, until I had to stop! These are wonderful apples for eating – they can be very tart when they're green and not fully ripe, but find the perfect one and it's a wonderful, full-bodied, full-flavored beauty. The texture is so wonderfully crisp, as well, although I recommend if you want to eat them, you should do so as soon as possible. They will get softer the longer they sit; still great for baking, but perhaps not as much for eating.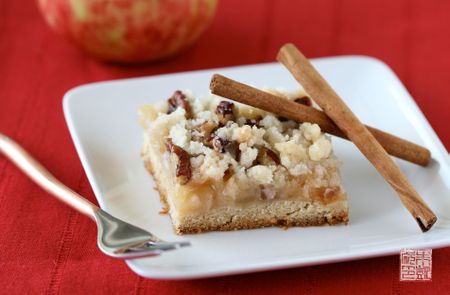 While a pie would be the classic option (and I saw many a mouthwatering pie at the festival), the kitchen was still too much of a mess and equipment still packed away, for me to attempt the Zen exercise of the perfect pie crust. I opted instead for a shortcut version: apple crumble bars from my Field Guide to Cookies book. The apples are cooked in butter and sugar with a sprinkling of cinnamon until they're translucent and just-soft, then spread over a brown sugar crust. A sprinkle of pecan-laced stre usel, strewn over the top, provides a crunchy golden crown to the bars. The assertive Gravenstein apples really stand out in these bars – you can take out some of the sugar if you want to preserve their tartness, but I found this just the right balance. They're obviously best fresh out the oven, when the apples are still gooey and the crust nicely crisp. You can reheat the bars in the oven for a day or so afterwards, but it's best to eat them as soon as possible before they get soggy – not the most onerous of tasks!
I feel like I'm just starting to get used to the new place, and already I'm off! I'm going to be in Hong Kong for the next week and a half, and when I return I hope to be freshly inspired to make the best use of my new kitchen!
You can stay updated on travels via my Twitter feed. I'm looking forward to spending some time with my family, eating some really good dim sum, and of course checking out as many bakeries and dessert places as possible! It's also going to be super hot weather-wise there, so I'll be doing my best to stay cool!
Have a great Labor Day weekend, and I'll look forward to sharing my adventures when I get back in a week and a half!
Filling
5-6

large tart apples (about 3 lb total)

12 tablespoons

unsalted butter, room temperature

1 1/2 cups

sugar

3 tablespoons

lemon juice

4 tablespoons

all purpose flour

1 1/2 teaspoons

ground cinnamon
Crust
2 cups

all purpose flour

1 teaspoon

baking powder

1/2 teaspoon

salt

6 tablespoons

unsalted butter, room temperature

3/4 cup

light brown sugar

1

egg, room temperature
Streusel
1/4 cup

sugar

1/3 cup

all purpose flour

1/8 teaspoon

salt

3 tablespoons

unsalted butter, cold, cut into 1-in pieces

1/4 cup

pecans, roughly chopped
For the filling:
Peel, core, and chop the apples into 1/2-inch cubes. Set aside in a bowl.
Melt butter in a sauté pan over medium heat. Add the apples and sauté for about 8 minutes until the apples are semi-soft.
Add sugar, lemon juice, flour, and cinnamon to the apples and stir to combine.
Cook until mixture begins to bubble, then turn heat to low and cook for another 3 minutes, stirring constantly. Transfer filling to a bowl and let cool while you make the crust.
For the crust:
Line a 9 by 13 inch pan with aluminum foil, leaving enough to hang over the edge and act as handles to remove bars after baking. Grease foil.
Whisk flour, baking powder, and salt together in a bowl and set aside.
In a stand mixer, cream butter and sugar together on medium speed for several minutes until light and fluffy.
Add egg and mix to combine.
Add flour mixture and mix to combine.
Pour about half the dough into the prepared pan and gently press into the bottom of the pan, making sure it is level. Add in more dough as necessary to cover the bottom of the pan, but you will probably not use it all. (You can use it all if you want a thicker base for your bars. Set pan aside while you make the streusel.
For the streusel:
In a stand mixer, combine sugar, flour, and salt and mix to combine.
Add butter and mix until crumbly and the butter pieces are very small.
Add pecans and mix just to combine.
To finish the bars:
Preheat oven to 350 degrees F. Spread cooled apple filling evenly over the crust, leaving about 3/4" between the pan sides and the filling.
Sprinkle the streusel evenly over the filling. Bake for about 35-40 minutes until the top layer is golden. Cool completely on wire rack before removing.