Want to know what the highlight of my last week was? Here's a clue:
Yes, that's me standing next to my brand-new stove in my brand-new place. Excuse the ridiculous glare from the flash of the little handheld camera we brought to document any issues in the home walkthrough (fortunately, none). Needless to say, I'm very very excited by my new kitchen and all the shiny new appliances just waiting to be used. I'm really hoping I don't make the oven explode or burn down the place during the inaugural session! When all my baking equipment is moved in and the place is all prettified, I'm sure you'll be seeing some more pictures of space in all its glory!
Before this new chapter can begin, though, we've still packing up everything for the big move this weekend. I'm starting to feel little flutters of nostalgia for our old apartment already – it's hard to give up living right in the heart of San Francisco, where you're but footsteps away from anything and everything. I might even miss all the acrobatic maneuvering I did to bake in the kitchen, juggling sheet pans and bowls on every flat surface possible – well I'm going to miss it in the way you miss something you know you'll never have to deal with again:)
This little tart might be one of the last things I'll ever bake in this kitchen; maybe next-to-last, if I'm able to squeeze in some baking time this week. In keeping with the theme of cleaning out the cupboards and uncovering ingredients begging to be used, I pulled out a package of phyllo dough from the freezer. This apple phyllo napoleon of Emily Luchetti's is still one of my favorite recipes, and I've always tried to keep some phyllo dough on hand for whenever the urge for its fabulous flaky lightness struck. This time, inspiration came from an old issue of delicious. magazine: Roasted Pluot Tarts with Almond Sugar Phyllo.
This recipe turns the phyllo sheets into a beautiful bloom of a tart shell: brushed with butter and sprinkled with ground almonds and sugar, the phyllo bakes into a wonderfully flaky and delicate bowl, perfect for filling with a lemon mascarpone mixture, and topped with pieces of roasted pluot. You can pretty much use any of the stone fruits that are in abundance at the market now – peaches, nectarines, plums. I happened to pick these pluots because they were the most brilliant, luscious ruby hue, and they were fantastically, sublimely sweet.
Forming the phyllo cups is simply a matter of draping/lightly pressing the dough into some regular tart tins – you aren't trying to mold it to the tin, just propping up the dough so that it bakes into a bowl shape. I found that tins with removable bottoms will let you push out the baked shells easily without breaking them. The filling, a mixture of mascarpone, whipped cream, and lemon zest, manages to taste rich and creamy yet feel ethereally light in the mouth. It also provide the perfect pillow for the slices of pluots, sprinkled with sugar and roasted in the oven. Altogether a delicious frame for some of my favorite summer fruits. And you don't even need to roll out any tart dough! I polished this tart off pretty quick, with only a couple of crispy shards left on the plate.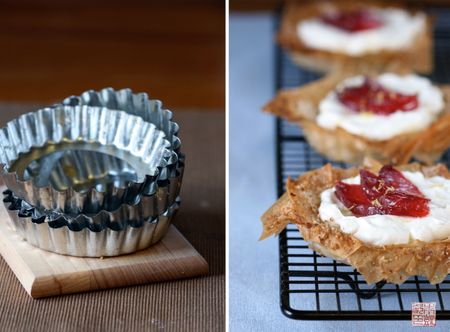 So I've been packing up the kitchen while typing up this post, and now almost all my kitchen gear has been packed away – gasp! It's weird to see my shelves lonely and bereft of the pans and plates stacked precariously on them, and I'm having funny panicky pre-withdrawal symptoms, wondering what I'll do in the remaining days before I can unpack in the new place. Wish me luck with the rest of the move – if all goes well I'll be my new home next week!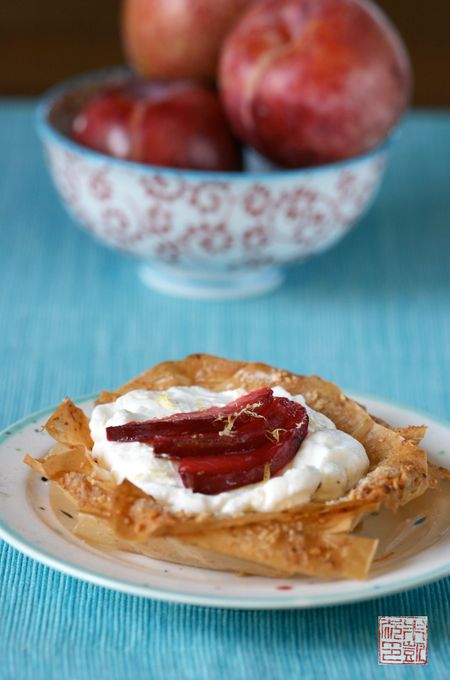 Roasted Pluot Phyllo Tarts
Pluots
4 pluots, plums, peaches, or nectarines
1 1/2 tablespoons unsalted butter
1/2 cup sugar
Phyllo
1/2 cup sliced almonds
1/4 cup sugar
4 sheets phyllo, defrosted (I used Athens brand from the store – follow instructions on box)
3 1/2 tablespoons butter, melted
Lemon Mascarpone Filling

10 1/2 ounces (1 1/4 cups) heavy cream
1/4 cup confectioners' sugar
8 1/2 ounces (1 cup) mascarpone cheese
zest from 1 lemon
Preheat the oven to 400 degrees F. Lightly grease four 4-5 inch round tart tins – ones with removable bottoms work best.
Finely grind the almonds and sugar in a food processor.
You will need a fairly large surface to work with the phyllo. Stack the phyllo sheets and cut into four even sheets. Trim each stack into 5 inch squares.  Take a single sheet of phyllo and lay it flat on the work surface. Keep the sheets you are not using to the side under plastic wrap and damp towel.
Brush the phyllo with some of the melted butter and press it, buttered-side down, into a tart tins. Lightly brush some butter over the top, then sprinkle with some of the almond sugar.
Butter a second sheet of phyllo and place on top of the first sheet at a slight angle to form a star shape. Brush butter over the top and sprinkle with some of the almond sugar.
Do the same with the other two sheets of phyllo.
Repeat this with the remaining phyllo and tart tins.
Place tins on a baking sheet and chill for about 10 minutes.
Meanwhile, wash and slice the pluots into 1/4″ thick slices. Line a baking sheet with parchment paper and spread the pluot slices out on it.
Dot the tops of the pluot slices with butter and sprinkle with sugar.
Bake in the oven for about 10 minutes until the pluots are soft and the edges slightly browned. Remove from oven and let cool while you make the filling. Reduce oven temperature to 350 derees F.
Whip the cream in a stand mixer until it forms soft peaks. Add in the confectioner's sugar and whip to combine.
Beat the mascarpone cheese in a medium bowl until softened. Fold in the whipped cream until well combined. Add in the lemon zest and fold in.
Place tart tins in oven and bake about 10 minutes or until they have turned golden brown and crispy. Remove and let cool on wire racks before removing tart shells from tins.
Place tart shells on plates. Spoon in some of the mascarpone filling and top with pluots. Serve immediately.