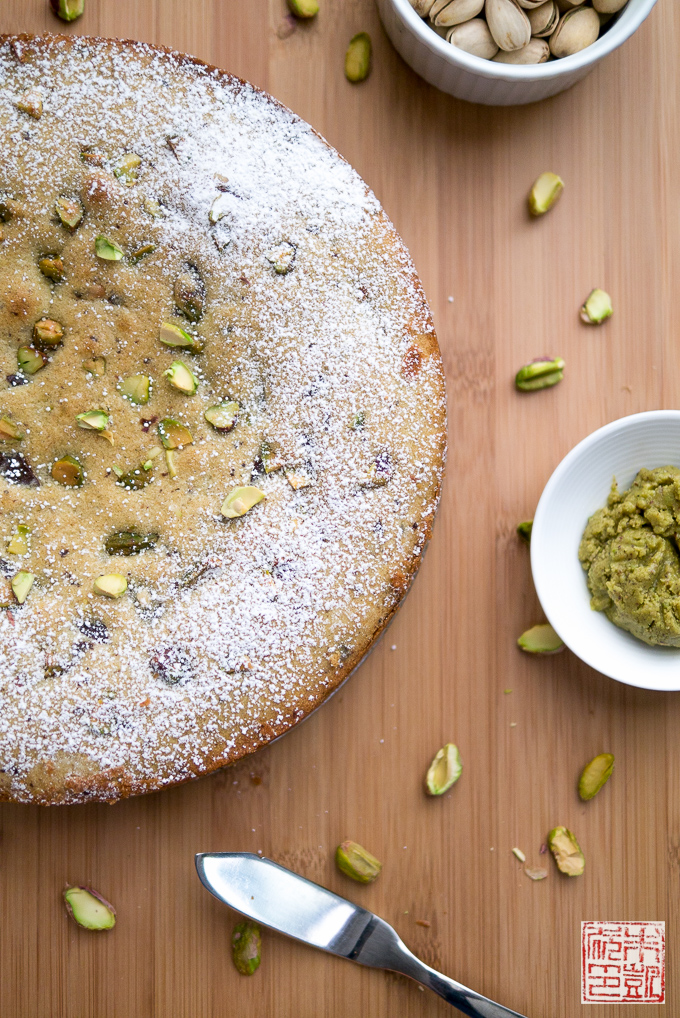 After a ridiculously steamy (even by Bay Area Indian summer standards) heat wave last week, we're finally settling down into some autumnal baking weather. There's even rain in the forecast! What better setup for a warm cozy afternoon in the kitchen making something sweet and rich and comforting?
It's also fall cookbook season, so I have a new huge pile of books in my bedroom that I'm happily perusing and bookmarking. See the right sidebar on this blog for a list of my current favorites (disclosure: these are Amazon affiliate links) that I hope to bake from in the next couple of months. One that I've already tried and love is Samantha Seneviratne's The New Sugar and Spice
.
Samantha is a fellow dessert blogger and an amazing baker – check out her gorgeous site. Her debut cookbook showcases her love of spices with unusual, inspired twists on classic baked goods quite literally spiced up with everything from peppercorns to nutmeg to cloves. She draws on her Sri Lankan heritage, using stories of her life to illustrate how the flavors of the food she grew up eating have influenced her baking. Although you may be used to making a batch of gingerbread or mixing chiles with chocolate, Samantha brings her own delightful perspective and presents some very original combinations.
I was immediately drawn to the Pistachio and Chocolate cake, before I even knew it was the cover image of the book. It's the sort of simple, homey-looking butter cake that's anything but plain when you taste it. The pistachios make it incredibly rich and moist, but it's the cardamom that lends a spark of the unfamiliar, and makes you reach for a second piece before you know it.
I had all the ingredients for the cake on hand save the pistachio paste. Every time I go into a professional pastry kitchen I drool over what's in their pantry, like giant boxes of Valrhona chocolate and tubs of ground almonds and pistachio paste. In the regular consumer world, pistachio paste can be a little harder to find (or frustratingly expensive – pistachios aren't cheap!) You can always order online, but if you can find raw pistachios, you can make pistachio paste yourself. I did so because I didn't want to wait for an online order, plus there's something viscerally satisfying in seeing these vibrant green nuts get turned into a rich, smooth paste and then get folded into a golden, fragrant cake.
If you can find shelled pistachios, it will make your life easier and shorten the prep time. But if you can't, that's fine – you get some meditation time in the kitchen while you shell the nuts. Once that part is done, the rest is fairly quick. Although you can probably make pistachio paste just by grinding them up in the food processor with a bit of oil, I like using the praliné method, where you coat the nuts in hot cooked sugar, and then grind the caramelized nuts into powder. A bit of oil and that's all you need to create a beautifully smooth pistachio paste.
Note that in looking up methods on the internet I've seen some pistachio pastes that turned out more on the brownish side. If you want your paste to stay as verdantly green as possible, try to remove as much of the pistachio skins as possible as they are what's adding the brownish tint. If you're having trouble removing the skins, you can blanch the pistachios and rub them in a dishtowel to get them off.
Here's the cake ready to bake in the oven. It's already gorgeous with the pistachio paste folded in to give it a pale green hue, and more nuts sprinkled on top. There are bits of chopped chocolate swirled in as well. As this is not an extremely sweet cake, I find the recommendation of 60-70% cacao chocolate to be spot on. You don't want to use too bittersweet a chocolate as there isn't much sugar in the rest of the cake to balance it out.
The finished pistachio and chocolate cake. A dusting of confectioners' sugar on top and it's ready for afternoon teatime, dessert after dinner, or anytime snacking. As a note, because the pistachio paste is very rich and moist, make sure you let this cake fully bake or the center may remain soft and mushy. Overbaking is not as big a concern with this cake; when done perfectly it has a beautiful compact crumb that's very tender. A delightful, subtle poem of a cake to usher in the cooler season. I'm looking forward to making more from this book.
Disclosure: I received a copy of this cookbook for review.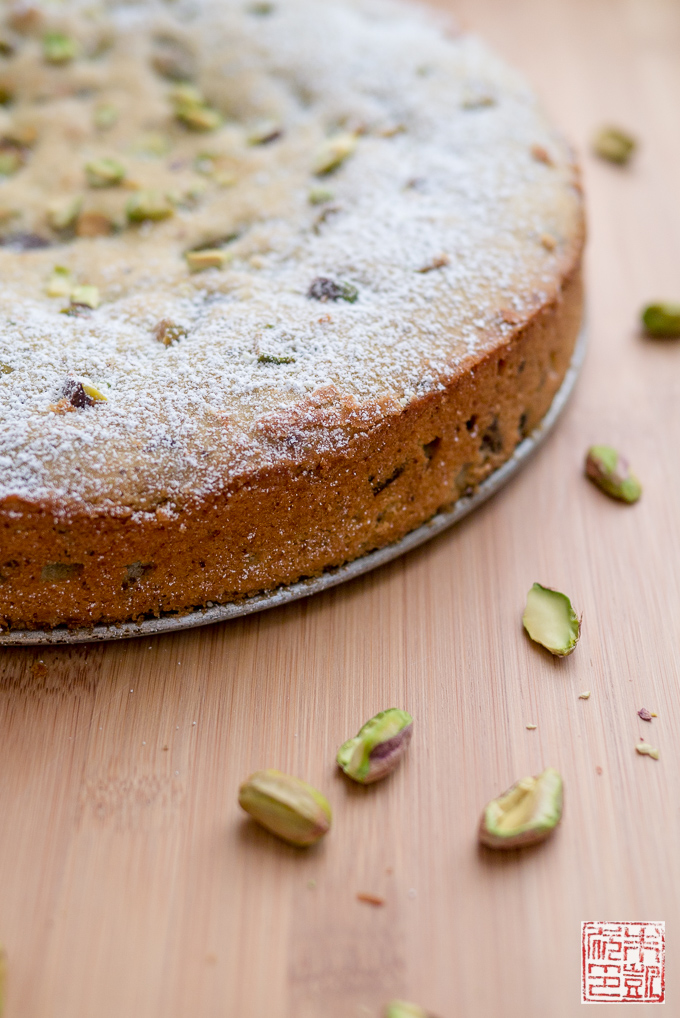 Pistachio and Chocolate Butter Cake
Adapted from Samantha Seneviratne's The New Sugar and Spice cookbook.
Serves:
(1) 9-in round cake
Ingredients
Pistachio Paste
⅓ cup (75 g) sugar
2 tablespoons (25 g) water
150 g shelled pistachios, with as much skin removed as possible
½ cup (40 g) almond meal or ground almonds
1-2 tablespoons sunflower oil
Cake
1¾ cups (220 g) all-purpose flour
1¾ teaspoons baking powder
1 teaspoon freshly ground cardamon
½ teaspoon salt
⅓ cup (75 g) sugar
½ cup (113 g) unsalted butter, room temperature, cut into 1-in pieces
2 large eggs, room temperature
¾ cup (7 oz) pistachio paste, either store bought or from recipe above
½ cup (120 g) whole milk, room temperature
3 ounces chopped bittersweet (60-70% cacao) chocolate
¼ cup (1¼ oz) shelled raw pistachios, coarsely chopped
Confectioners' sugar for sprinkling
Instructions
For the pistachio paste:
Combine sugar and water in a heavy saucepan. Cook on high heat until sugar dissolves and temperature reaches 250 degrees F.
While sugar is cooking, place pistachios in a heavy heatproof bowl.
Pour sugar over the pistachios, tossing to coat evenly.
When sugar has solidified and cooled down, place coated pistachios in a food processor and pulverize to a powder. Add in almond powder and process to combine.
Process until nuts are ground up and mixture is rough and crumbly.
Add in oil, a tablespoon at a time, and process until paste is smooth.
This recipe makes about 9¾ ounces, slightly more than you need for the cake. Store the rest in an airtight container and and keep in refrigerate for a couple of months.
For the cake:
Preheat oven to 350 degrees F. Butter the bottom and sides of a 9-in springform pan.
Whisk together flour, baking powder, cardamon, and salt in a medium bowl and set aside.
Place butter in stand mixer bowl and beat with paddle attachment until soft and creamy, about 3 minutes.
Add sugar and beat another 3 minutes or so until very light and fluffy.
Add eggs, one at a time, beating to combine.
Add in pistachio paste and beat to combine.
Add in the dry mixture and milk in five alternating additions, starting and ending with the dries. Beat each addition just to incorporate.
Add in the chocolate and fold into batter.
Scrape batter into prepared pan and smooth out the top. Sprinkle the chopped pistachios over the batter.
Bake for 35-45 minutes, rotating halfway through. Remove when top is golden brown and springs back to the touch, and a tester inserted into the center comes out moist with a few crumbs.
Let cool on wire rack for 10 minutes. Run a butter knife around the cake to separate from the springform pan sides. Remove springform ring and let cake cool completely.
Dust with confectioners' sugar before serving.