Pistachio and Chocolate Butter Cake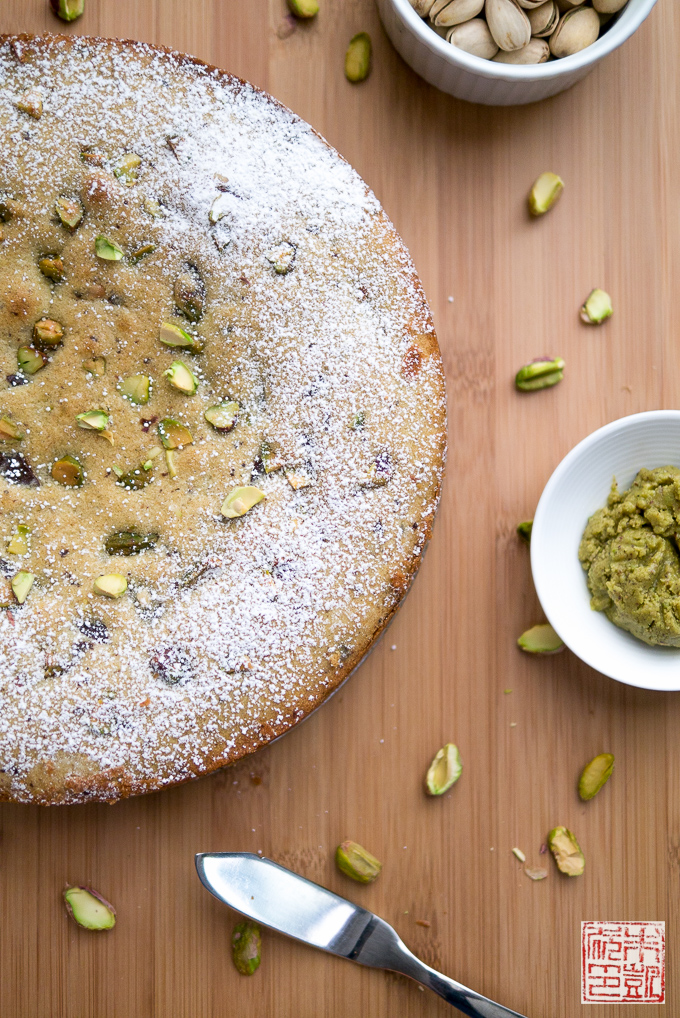 Serves:
(1) 9-in round cake
⅓ cup (75 g) sugar
2 tablespoons (25 g) water
150 g shelled pistachios, with as much skin removed as possible
½ cup (40 g) almond meal or ground almonds
1-2 tablespoons sunflower oil
1¾ cups (220 g) all-purpose flour
1¾ teaspoons baking powder
1 teaspoon freshly ground cardamon
½ teaspoon salt
⅓ cup (75 g) sugar
½ cup (113 g) unsalted butter, room temperature, cut into 1-in pieces
2 large eggs, room temperature
¾ cup (7 oz) pistachio paste, either store bought or from recipe above
½ cup (120 g) whole milk, room temperature
3 ounces chopped bittersweet (60-70% cacao) chocolate
¼ cup (1¼ oz) shelled raw pistachios, coarsely chopped
Confectioners' sugar for sprinkling
Combine sugar and water in a heavy saucepan. Cook on high heat until sugar dissolves and temperature reaches 250 degrees F.
While sugar is cooking, place pistachios in a heavy heatproof bowl.
Pour sugar over the pistachios, tossing to coat evenly.
When sugar has solidified and cooled down, place coated pistachios in a food processor and pulverize to a powder. Add in almond powder and process to combine.
Process until nuts are ground up and mixture is rough and crumbly.
Add in oil, a tablespoon at a time, and process until paste is smooth.
This recipe makes about 9¾ ounces, slightly more than you need for the cake. Store the rest in an airtight container and and keep in refrigerate for a couple of months.
Preheat oven to 350 degrees F. Butter the bottom and sides of a 9-in springform pan.
Whisk together flour, baking powder, cardamon, and salt in a medium bowl and set aside.
Place butter in stand mixer bowl and beat with paddle attachment until soft and creamy, about 3 minutes.
Add sugar and beat another 3 minutes or so until very light and fluffy.
Add eggs, one at a time, beating to combine.
Add in pistachio paste and beat to combine.
Add in the dry mixture and milk in five alternating additions, starting and ending with the dries. Beat each addition just to incorporate.
Add in the chocolate and fold into batter.
Scrape batter into prepared pan and smooth out the top. Sprinkle the chopped pistachios over the batter.
Bake for 35-45 minutes, rotating halfway through. Remove when top is golden brown and springs back to the touch, and a tester inserted into the center comes out moist with a few crumbs.
Let cool on wire rack for 10 minutes. Run a butter knife around the cake to separate from the springform pan sides. Remove springform ring and let cake cool completely.
Dust with confectioners' sugar before serving.
Recipe by
Dessert First
at https://dessertfirstgirl.com/2015/09/pistachio-and-chocolate-cake.html