Dorie Greenspan's Normandy apple tart makes a perfect canvas for some tart crust creativity. Baking confession: although I love making pies and tarts, I haven't gotten on the elaborate works-of-art crust decorating trend until now! But with a daughter who loves turning any activity into an art project, I figured what better time to start.
Click here to jump to recipe
I think of this lovely, simple tart from Dorie Greenspan's Baking From My Home to Yours as a French version of apple pie. Unlike many other fruit tarts which have a base of pastry cream, frangipane, or other sweet filling, this tart is pretty much all apples. It's been a favorite in our household since I made it way back when, and if I'm pressed for time with an impatient toddler in the kitchen, it can be made even faster by substituting applesauce from the store for making your own from scratch. If you have the time though, do follow the directions for the applesauce: the smell in your kitchen will be pure autumn.
Blame age or mommy distraction, but when I set out to make this tart I forgot to make extra tart dough for rolling out decorations, even though that was the whole reason for making it! Fortunately, I find that the tart dough recipe makes more than enough for a 9″ round tart pan. I saved a lump a little smaller than the size of my fist to use for patching the baked shell as Dorie recommends; it fortuitously turned out to just enough to roll out and cut some leaves from. It wasn't quite as much as I would have liked; as you can see from the photos if I'd had a little more I could have done some overlapping or some other more elaborate design. I'd recommend that the tart dough recipe is more than enough for a single tart shell; if you want to make sure you have enough for decorations I would double the recipe and freeze the reminder to use at another time.
I used these leaf cookie cutters to make the border, but of course you can use any designs you like. Because of the long baking time for the apples, I would check about halfway through and cover the edges of the tart if it looks like they are browning too much.
Traditionally this tart is served with a dollop of crème fraiche. The applesauce and the decorated crust already guarantee its kid appeal, but a bit of whipped cream wouldn't hurt either. Happy November!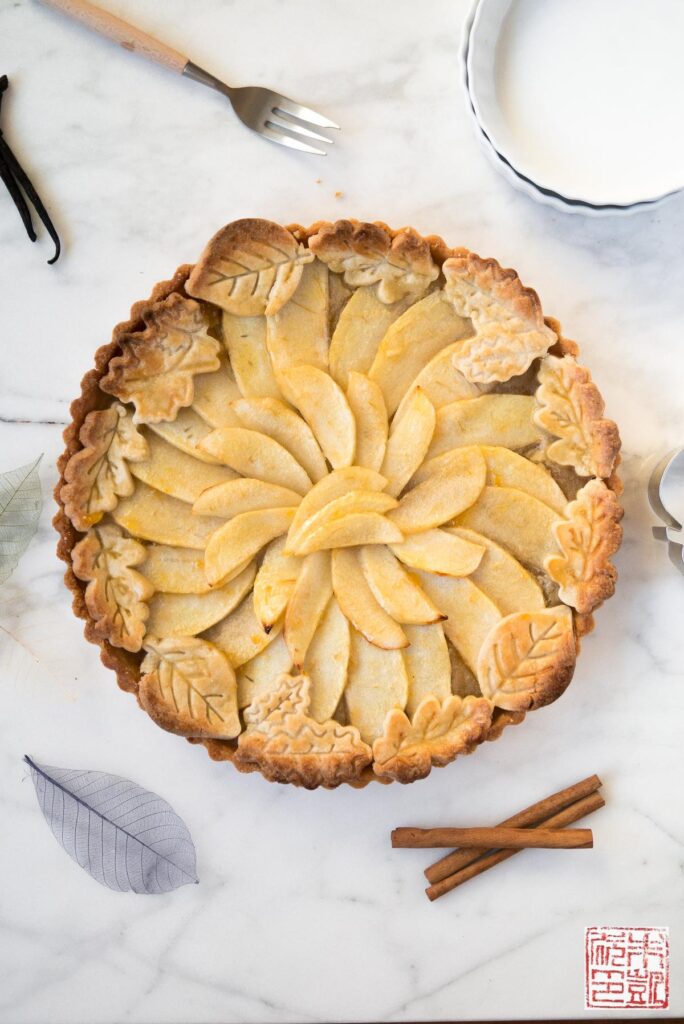 Normandy Apple Tart
Ingredients
Applesauce
2 lbs (about 6 medium) red apples such as Empire, Cortland, or McIntosh
¼ cup water plus more as needed
1 tablespoon (14 g) light brown sugar
1-4 (12 - 50 g)tablespoons sugar
½ teaspoon vanilla extract
Crust
1½ cups (188 g) all-purpose flour
½ cup (60 g) confectioners' sugar
¼ teaspoon salt
1 stick plus 1 tablespoon (4½ ounces) (128 g) very cold (or frozen) unsalted butter, cut into small pieces
1 large egg, separated
Topping
2 medium Golden Delicious apples
1 large egg, beaten with ½ teaspoon water for egg wash
Glaze
⅓ cup apple jelly
1 teaspoon water
Instructions
For the applesauce:
Peel and core apples, then cut into chunks.
Place in a 2 to 3 quart heavy bottomed saucepan with the water and brown sugar.
Cover and cook on medium low heat, stirring the apples regularly to prevent scorching, for about 15-20 minutes, until apples are soft enough to be mashed with a spoon.
Remove from heat and pass apples through a food mill or press through a strainer into a bowl.
If applesauce seems thin, return to saucepan and cook for a few minutes, stirring constantly, until thick enough to mound on a spoon.
Remove applesauce from heat and pour into a bowl. Taste and add in sugar as desired. Stir in vanilla.
Press a piece of plastic wrap to the surface and refrigerate until no longer warm. Store in refrigerator for up to 4 days.
for the crust:
Put the flour, confectioners' sugar and salt into a food processor and pulse a couple of times to combine.
Scatter the pieces of butter over the dry ingredients and pulse until the mixture resembles pea-size crumbs.
Stir the egg yolk, just to break it up, and add it a little at a time, pulsing after each addition. When the egg yolk is in, process in long pulses – about 10 seconds each – until the dough forms clumps and curds.
Turn the dough out onto a work surface. Very lightly and sparingly knead the dough just to incorporate any dry ingredients that might have escaped mixing.
Butter a 9" round fluted tart pan with a removable bottom, and lightly press the dough evenly over the bottom and up the sides of the pan. Don't be too heavy-handed – you want to press the crust in so that the pieces stick to each other, but don't want to press so hard that the crust loses its crumbly texture.
Freeze the crust for at least 30 minutes, preferably longer, before baking.
Preheat the oven to 375 degrees F.
Butter the shiny side of a piece of foil and press it, buttered side down, tightly against the crust.
Place tart pan on a baking sheet and bake for 25 minutes.
Carefully remove the foil and press down the crust gently if it has puffed up.
Brush the egg white over the bottom of the tart shell. Let cool on wire rack.
To finish the tart:
Preheat oven to 400 degrees F. Fill tart shell almost to the top with the applesauce. Place on a baking sheet lined with parchment paper or a silicone mat.
Peel and core apples, Cut into thin (about ⅛") slices. Arrange in overlapping concentric circles over the applesauce.
Brush the egg wash over the apple slices.
Bake for about 50 minutes until the applesauce has risen a bit and the apple slices are golden, a little burnt around the edges, and can be pierced with a sharp knife. If the crust gets too dark before it is finished baking, cover the edges with foil.
Remove from oven and let cool. Combine jelly and water and bring to a boil. Brush a thin layer of the glaze over the tart. Let cool before serving.
SaveSave
SaveSave
SaveSave
SaveSave
SaveSave