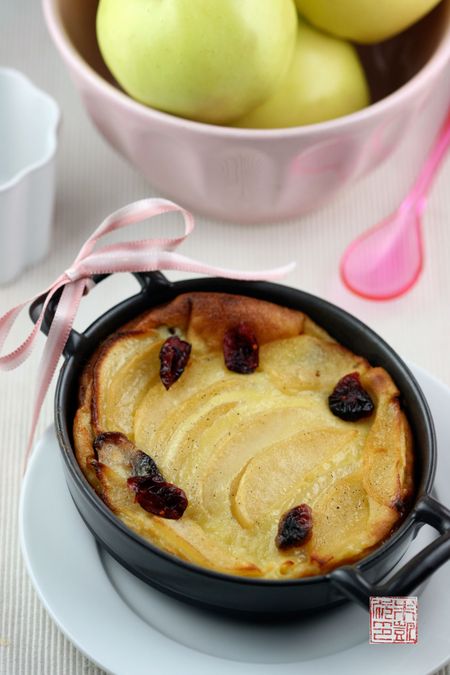 A dear friend of mine just returned from Africa and brought me a wonderful gift: a literal bag of whole vanilla beans! Apparently vanilla beans are much less expensive in Africa (no doubt due to the vanilla bean powerhouse Madagascar) so thanks to my friend R I now own more vanilla beans that I thought I could bear to purchase in one go! Isn't it great to have friends like that?
The vanilla beans (or, at least one of them, as I plan to luxuriate in my vanilla bean-plentitude for a nice long while) came in perfect for an apple and cranberry clafouti I made this week. Since we're finally getting some fall-style weather here, I made a German apple pancake for breakfast the other week, a kind of pancake on overdrive made of eggs, sugar, and spiced apples that puffs up into a golden cloud in the oven. The boyfriend loved it, and I decided to translate it into a dessert version – in this case, some individual clafoutis made with Fuji apples, cranberries, and the heady sweetness of vanilla bean. (For more on my love for clafoutis, go here.)
These Fuji apples I got at an Asian supermarket were adorable – not quite ladyapple-sized, but small enough to cup in my hand, and faintly red-stippled chartreuse. Any sort of tart baking apple will work well with these clafoutis, like Granny Smith, but I really liked these scaled-down apples because it made the slices easier to fit into the baking dishes. (Btw, the dishes are by Revol, and I picked them at Sur la Table on sale – one of my favorite finds!)
Clafoutis are so simple to put together, that they're a cinch to make even as a last-minute dessert on a chilly evening. Clafoutis can be fantastically light and airy when made with summer fruit, but the addition of stewed apples gives it a downright cozy twist. I scraped the vanilla bean seeds straight into the skillet to infuse with the melting butter, and perfuming the kitchen at the same time. The vanilla-scented butter give the apples a warm richness (If you look closely, you might see specks of vanilla bean in the photos). The cranberries add the puckery bright counternote to keep the clafoutis from being one-dimensionally sweet, and also continues the fall theme.
Although clafoutis can be eaten hot or cool, this one is definitely best straight from the oven, with a dollop of cinnamon-sprinkled whipped cream on top, maybe some mulled cider for accompaniment, and soft susurrus of autumn swirling outside the window.
Apple, Cranberry, and Vanilla Bean Clafoutis
Makes (4) 5 ounce clafoutis
3 eggs
3/4 cup milk
6 tablespoons sugar
3 tablespoons flour
1 teaspoon vanilla extract
2-3 tart apples like Granny Smith
2 tablespoons unsalted butter
1 vanilla bean
1 tablespoon sugar
1/3 cup dried cranberries
Preheat the oven to 400 degrees F. Grease 4 creme brulee dishes with butter and set aside.
Whisk together the eggs, milk, and sugar in a medium bowl. Add in the flour and whisk to combine. Add in the vanilla and whisk to combine.
Wash and peel the apples. Cut into 1/8 thick slices.
Place butter in a medium skillet and melt over medium heat.
Cut the vanilla bean open and scrape the seeds into the melting butter. Swirl to combine.
Add in the apple slices and toss to coat. Sprinkle the sugar over the apples. Cook for about 5 minutes until the apples have softened.
Fill each of the creme brulee dishes about halfway with the clafouti batter.
Divide the apple slices among the dishes. Do not overfill, about 8 slices or so should be fine. Sprinkle some of the cranberries on top.
Fill the creme brulee dishes with the rest of batter, to a little below the rim.
Place in oven and bake for about 20-25 minutes, until the clafoutis have puffed up, the edges are golden, and the centers are just set. Do not overbake.
Remove from oven and let cool for a couple of minutes before serving. You can top with confectioners' sugar or whipped cream if you like.