edited to add recipe on request!
This is one of the desserts that I've had on my to-make list for a very long time. When I first saw this recipe in Claudia Fleming's The Last Course
, I remember feeling awe at her skills in creating a sophisticated twist on a dessert classic, and astonishment at the beauty of the accompanying photo. An elegant row of tarts stretching down a mirrored platter, showcasing her creation perfectly: the fine, ruler-straight edge of her tart shells, the plushy cream filling, the ripe berries. It was one of those moments where I realized exactly how great good pastry can be. (The photo must have been one her favorite shots too, since it shows up on the cover of the book!)
For many years I was afraid to tackle the recipe, not because any of the individual components was impossible, but because I didn't think my results would come anywhere close to that wonderful photo. There's a part in the foreword by Tom Colicchio, chef/owner of Gramercy Tavern where Fleming worked:
"What I most appreciate about Claudia's desserts is that in the smallest ways, each and every component is that much finer than everything else out there. Compare Claudia's shortcrust to anyone else's in New York – it's that much thinner, and, again…finer. These are small distinctions, but in the world of pastry, they are everything."
I didn't want to make her dessert with a ragged, too-thick, tart shell, or clunky, lumpy pastry cream – so I didn't do it at all.
But after pastry school, many hours of home baking, and many a burned pie crust and separated ganache under my belt, I felt it was finally time. I knew it was a sign when I saw the organic blueberries at the farmers' market.  They were so big and round and plump, they made me cry for all their sad shrunken cousins at the grocery store. And when I also spotted the perfect tart tins at the cooking store, it knew it was going to happen.
The tart shell is a graham cracker crust, redolent of honey and cinnamon. If you've never made your own graham crackers, you should – so different from the grocery store version! The dough is quite supple and workable, and bakes up into a sweet crispy delight.
Here I must confess to a twist of my own. With all the beautiful Meyer lemons at the farmers' market, I couldn't not use them. So instead of the cream cheese filling Fleming calls for, I used the Meyer lemons and made Pierre Hermé's famous lemon cream, thinking it would pair nicely with the blueberries. Hopefully Fleming won't mind!
Did you see just how perfectly big and round all the blueberries were in the photo? They hardly needed any refinement at all, just a dip in a little glaze made from cooking some sacrificial berries with some sugar.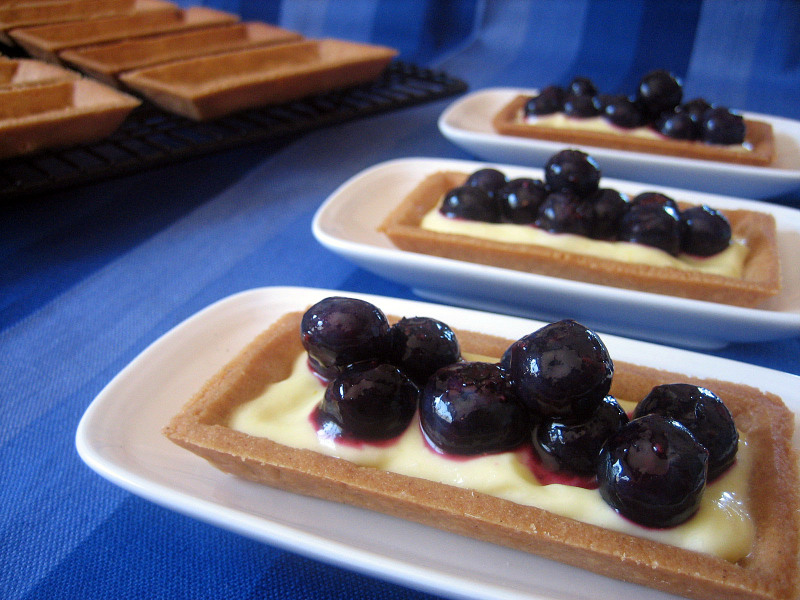 So how do I feel about the results? Pretty happy. In comparing my pictures with the one in the book, I think her tart shells are still a little thinner – drat!  But tastewise, I think it's good – the crust is crisp and buttery and snaps easily, the cream is lemony unctuous pleasure, and plays off those blueberries quite well.
There's always a higher pinnacle to aspire to (hey, I went to Paris – I know exactly how far away I am from perfection!) But sometimes it's also nice to look back and see how far you've come.
Graham Cracker Tart Shells
adapted from Claudia Fleming's The Last Course
makes about 16 3-in round tart shells or 24 2×4 in rectangular tart shells
1 cup butter, room temperature
1/4 cup firmly packed dark brown sugar
1/4 cup granulated sugar
1/4 cup honey
2 cups all purpose flour
1/2 cup whole wheat flour
1 teaspoon salt
1/2 teaspoon ground cinnamon
Cream the butter in an electric mixer until smooth.  Add the sugars and continue mixing until the mixture is fluffy and light colored. Add the honey and beat until combined.
Combine the flours, salt, and cinnamon together in a bowl, and add to the butter mixture in two batches, scraping down the sides of the bowl between additions. Mix until the dough is well combined. Wrap the dough in plastic and form into a disk – the flatter the better. Chill until firm, at least an hour and up to two days.
Preheat the oven to 325 degrees. On a lightly floured surface roll out the dough to be 1/8 inch thick. Use either a 3 inch round cookie cutter to cut out circles of dough, or cut out rectangles of dough to fit your desired tins. A tip: try to cut out pieces of dough that are as similar in size and shape to the pan as possible (this applies to full-size tarts as well) so that they are easier to maneuver and fit in, and are less likely to warp and tear as you're moving them around.
Press the dough gently into the tins, prick dough with a fork all over, and let chill for 5-10 minutes or until the dough is firm enough to trim off the excess easily. Buttery doughs like this one always need to be chilled before baking so they bake up evenly, and I also find that it's easier to trim off the dough cleanly when the dough is firmed up. Chill longer if necessary.  When I trim off the excess dough, I usually use an offset spatula and run it flat against the top of the tart tin. Scraps can be re-rolled and re-used.
Bake tart shells until golden brown, about 18 minutes. Transfer to a wire rack to cool. You can store them in an airtight container for about a day or freeze them for up to 3 months.
Blueberry Topping
adapted from Claudia Fleming's The Last Course
2 1/2 cups blueberries
1 tablespoon sugar
In a medium saucepan combine 1 cup of the blueberries with the sugar. Cook over low heat until all the berries have popped and the juices come out (You can smoosh some of the berries if they won't pop).
Strain the mixture into a bowl and discard the solids. Add the rest of the blueberries into the syrup and toss to combine.
Lemon Cream
adapted from Pierre Hermé's Desserts
makes about 1 1/2 to 2 cups
1/2 cup sugar
zest from 2 lemons
2 eggs
1/2 cup freshly squeezed lemon juice
5 ounces butter, cut into 1 inch pieces, softened but not melting
Create a water bath by placing a saucepan of water over heat to simmer and placing a metal bowl unto the pan so its bottom does not touch the water. Combine the sugar and lemon zest together with your fingers and add to the metal bowl. Whisk in the eggs and lemon juice.
Cook the mixture over the simmering water, whisking constantly, until the cream reaches 180 degrees and thickens. Keep whisking while the mixture is heating up to prevent the eggs from cooking.
Once the cream is thickened – you should be able to make tracks in the mixture with your whisk – take the cream off the heat and strain it into the bowl of a food processor or blender. Let the cream rest for a bit until it cools to about 140 degrees.
Add in the butter pieces a few at the time and combine on high speed. Once all of the butter has been added, let the mixture combine for a few minutes longer to ensure the mixture is perfectly smooth. It is the addition of butter that changes this recipe from a simple lemon curd to a rich, satiny-smooth cream.
Once the cream is finished pour it into a container and let it chill in the refrigerator for about half an hour before assembly.
To assemble the tarts, spoon some of the lemon cream into the shells and then place about 2 tablespoons of the blueberries on top. Serve soon after assembly.
Local:
Blueberries – Triple Delight, Fresno
Lemons – Hamada Farms, Kingsburg
Butter – Clover Farms, Marin County
Tagged with: blueberry tart + lemon cream + Claudia Fleming