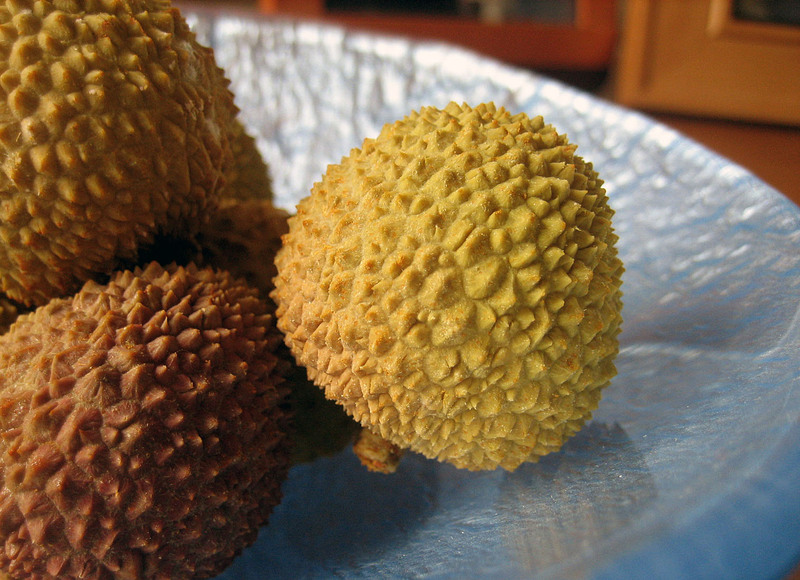 Although I grew up with a host of Asian fruits in my house, from persimmons to longans, it did take me a while to warm up to lychees. In their hard, forbiddingly pointy shells, they looked like miniature cousins of the fearsome durian. And the soft white fruit inside was jelly-like and gushy, with a disturbing resemblance to our ocular organs (in fact, longans, which look quite similar to lychees, are named so because the word means "dragon eye" in Chinese).
Fortunately, I managed to overcome this prejudice and discover that lychees are a delicious fruit, delicately sweet and fabulously fragrant, like most tropical fruits. One of my favorite lipglosses is probably so beloved because it smells like lychees – although fortunately for me, it doesn't taste anything like it.
Lychees pair well with a host of tropical and spicy flavors, such as coconut, lime, and ginger, providing a sweet counterpoint to the other notes. As the lucky recipient of some fresh lychees last week, I found a couple of ways to make use of these little gems, and create some submissions for this month's Sugar High Friday, hosted by the delicious life.
Strawberry Coconut Tapioca with Lychee Sorbet
Tapioca pearls are a very popular component of Asian desserts, from red bean and sesame sweet soups to those increasingly ubiquitous pearl tea drinks – they add thickness and textural interest without interfering with the flavors. In this Asian version of tapioca pudding, tapioca pearls are mixed with coconut milk, chilled, and poured atop a fresh strawberry pureé. Swirled together with a spoon, they form a rich, creamy dessert that is both elegant and comforting. The lychee sorbet adds a crisp, sweet note in contrast to the tartness of the strawberries and the voluptuousness of the coconut. I will admit that this dessert was partially inspired by one of the latest drinks at Tapioca-X(a pearl tea drink chain) – coconut and strawberry pearl milk tea!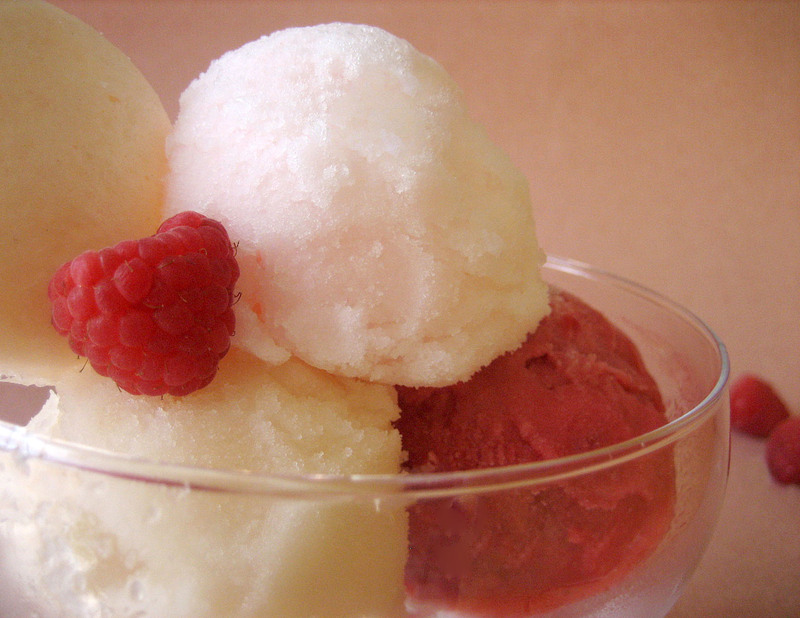 Tribute to Pierre Hermé's Ispahan
And halfway across the world, a completely different set of flavors to showcase the versatility of the lychee. Pierre Hermé's famous combination of raspberry, rose, and lychee has been featured in dozens of ways, from the original macaron to the Miss Gla'Gla – the fanciest ice cream bar imaginable. Here, a trio of sorbets in those three flavors, accompanied with a rose macaron for an ice cream sundae in all my favorite colors! While Hermé's recipe for the rose buttercream in his Ispahan calls for Sevarome rose paste, I found that using rose syrup gives a intensely rose flavor also, as well as imparting a delicate pink color to the sorbet – no other coloring needed! The mingling scents of rose and lychee make this dessert a feast for all the senses.
And would you believe I got rose petals for the dessert and then forgot to put them on? Now I'll have my boyfriend coming home and wondering why there are red roses on the table and who they're from!
Tagged with: Sugar High Friday #21 + Sugar High Friday + SHF#21 + lychee + sorbet + strawberry coconut tapioca + Pierre Herme + ispahan