It looks like I came back from New York just in time for Daring Bakers! I need to do a report on my favorite dessert spots in the Big Apple, but of course how could I not participate in this month's baking extravaganza, especially when it involves Dorie and a cake dear to my heart!
I made this cake before for my blog birthday, and I'm more than pleased to have a reason to make it again. It is a wonderful recipe that turns out a gorgeous cake with snowy good looks, elegant crumb, and pert, clean flavor. I'm afraid I didn't have time to get creative with the flavors as I'm sure many other Daring Bakers did; freshly home from my trip, I was just glad there was a jar of raspberry jam in the refrigerator and flour in the cupboard!
Never mind jet-lag woes: the cake is a snap to throw together even in a zombie-like post-trip trance. The cake is luxurious; moist and flavorful and yet firm enough to hold its form and cut cleanly. I was particularly enamoured with the pairing of lemon and raspberry flavors the first time I made it, so I was happy to repeat the combination – besides, the raspberry jam does look so pretty next to the pristine white of the cake. It also gives the cake a light freshness, even with four layers.
Dorie's buttercream recipe is also a winner to me; fast, simple, and nearly foolproof. No need to muck about with cooking sugar or whipping egg whites, and I find its buttery smoothness complements the cake as well. If you're looking for tips on frosting cakes, be sure to read my post on working with buttercream.
Thanks to Morven for reminding me of how much I adore this cake. And now, I should mention why I'm also so happy that a Dorie recipe got picked for this month – because I met up with Dorie in New York! Of course, I asked her if she knew about the Daring Bakers, and her immediate response was, "They're doing that Perfect Party Cake, the one where the cake doesn't rise!" Apparently she found that many people doing the recipe were using self-rising cake flour, which paradoxically led to collapsing cake layers that ended up flatter than intended. Note to all who attempt this recipe: DON"T use self-rising cake flour, and be sure you beat the butter and sugar together thoroughly, as well as the final combined batter, to properly aerate. I've never had a problem with having the cake layers rise – then again, when the cake is four layers, you don't need to worry too much about your layers being too thin! No worries Dorie, I'm a lifelong fan of this cake!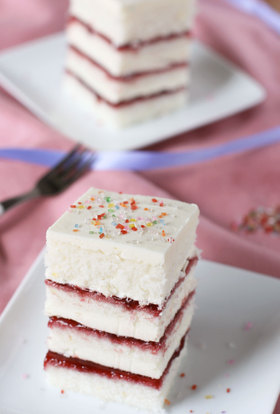 Dorie is basically the most awesome person ever – sweet, funny, ready to take on any pastry (we ate our way through several plates at Payard), and with the best taste in accessories! AND a Daring Baker fan! She was so excited to know that so many people in the blogosphere were being inspired to bake – and here's the proof!
My present to all you Daring Bakers out there from me and Dorie: Go Daring Bakers!
I'm looking forward to next month's recipe!
Perfect Party Cake
adapted from Dorie Greenspan's Baking: From My Home to Yours
makes 12 to 14 servings
Cake
9 oz cake flour
1 tablespoon baking powder
1/2 teaspoon salt
10 3/4 fl. oz. buttermilk
4 large egg whites
10 1/2 oz sugar
2 teaspoons grated lemon zest
4 oz unsalted butter, room temperature
1/2 teaspoon lemon extract
Buttercream
7 oz sugar
4 large egg whites
12 oz unsalted butter, room temperature, cut into 1-in pieces
2 1/4 fl. oz. fresh lemon juice
1 teaspoon vanilla extract
For finishing
2/3 cup seedless raspberry preserves
1 1/2 cups sweetened shredded coconut
Preheat the oven to 350 degrees F. Spray or butter two 9" x 2" round cake pans. Line the bottom of each cake pan with a buttered parchment circle.
For the cake: Sift together the cake flour, baking powder, and salt.
Whisk the buttermilk and egg whites together in a separate bowl.
Combine the sugar and lemon zest in a stand mixer bowl and rub together with your fingers until the sugar is moist and smells like the lemon.
Add the butter to the mixer bowl and beat together with the sugar for 3 minutes on medium speed until the mixture is fluffy and light.
Add in the vanilla extract.
Add in the flour and buttermilk mixtures in alternating additions, starting and ending with the flour mixtures. Be sure each addition is fully incorporated before adding the next.
When everything is added beat the batter for an additional 2 minutes.
Divide the batter between the two pans and bake for 30 minutes in the oven or until the tops are set and springy, and a cake tester inserted into the centers come out clean.
Transfer the pans to wire racks and let cool for a few minutes, then flip and unmold the cakes (run a knife around the sides of the cakes if necessary). Peel the parchment off and flip the cakes back over right side up on the wire racks to finish cooling.
The fully cooled cake layers can be wrapped in plastic and kept overnight or frozen for up to 2 months.
For the buttercream: Combine the sugar and egg whites in a medium heatproof bowl and place over a pan of simmering water.
Whisk the sugar mixture constantly over heat until the sugar is dissolved and the mixture looks smooth and shiny, about 3 minutes.
Remove mixture from heat and pour into a stand mixer bowl. Whisk on medium speed for about 5 minutes until the mixture has cooled.
Switch to the paddle attachment and with the speed on low, add the butter a few pieces at a time, beating until smooth.
When all the butter has been added, beat the buttercream on medium-high speed for about 6-10 minutes until it is very thick and smooth.
Add in the lemon juice and beat until combined. Add in the vanilla.
The buttercream is ready to be used. Place a piece of plastic wrap against the surface until you are ready to use it to prevent it from drying out.
To assemble the cake: Using a sharp serrated knife, slice each cake layer horizontally in half – see this post for tips on cutting cake layers.
Stir the raspberry preserves until it is loose and spreadable.
Place a layer on a cardboard cake round, cut side up. Spread about a third of the raspberry preserves on the cake layer.
Spread a layer of buttercream on top of the preserves. Top with a second cake layer. I found that if you have problems with this, you can spread the buttercream on a second cake layer and flip it over onto the preserve-covered layer – but you have to be very careful doing this or you'll break your cake layer!
Spread preserves and buttercream on the second cake layer as you did with the first. Top with a third cake layer.
Spread preserves and buttercream on the third cake layer as you did with the second. Top with the last cake layer, cut side down.
Use the rest of the buttercream to frost the sides and top of the cake.
Pr ess the coconut over the sides and top of the cake.
The cake is best served a couple of hours after it is assembled to let the flavors develop. You can refrigerate it for up to 2 days, but be sure it is well covered or the cake will dry out. You should also let the cake come to room temperature before you serve it as it does not taste as good cold.
Tagged with: Dorie Greenspan + party cake + birthday cake + daring bakers