I've been trying to pull together a report on New York City all week, and finally came to the conclusion that I'd have to split in two -there's just too much to talk about!
Here, then, the first part: a report of all the sweet spots I visited during my time in the city. I mentioned in an earlier post that this trip pushed my sugar-ingesting capabilities to the limit – it's hard to rein in indulgence in a place where temptations are not only omnipresent but of the quality and caliber that earns them the label, "Only in New York." When there are so many wonderful places to try and desserts to taste, made by some of the most talented people in the industry, restraint and prudence and skinny jeans all get pushed to the side.
I made it through four consecutive nights of multi-course dessert tastings, experiencing the dazzling spectrum of pastry in New York, from classic French to globally inspired to avant-garde. I also visited enough bakeries, chocolate shops, and candy stores during the day to fill one of my suitcases for the trip home. Although I came perilously close to sugar shock, my only real regret is that I couldn't stay longer to try all the other places I missed out on!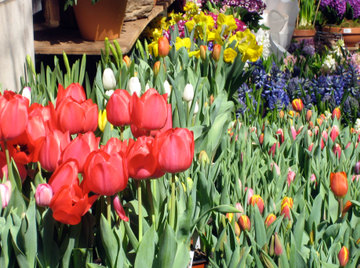 As a note, for all the restaurants below, I did not have a full dinner at any other them, choosing to focus my attention (and appetite) on the desserts. I also, unfortunately, don't have many pictures of the desserts I tasted either, out of consideration of the low light conditions of most of the places. I do hope my descriptions will help you envision the creations I tasted – or entice you to try them yourself!

Chanterelle
Dining at Chanterelle is like having dinner with an old friend – one with impeccable taste and style. Chanterelle is a New York fixture, and its history shows; from the moment you step in the door you are treated with an effortless grace and surety that comes from long experience. The dining room is classy and refined – warm-lit walls, high ceilings, sweeping flower arrangements – but the atmosphere is intimate and cozy, never snooty. Chanterelle is, of course, home of Kate Zuckerman's desserts and I was thrilled to finally get a chance to taste what her desserts were like made out of her pastry kitchen.
Favorites: I was thrilled to find so many of Kate's creations from The Sweet Life
on the menu. Her Madagascar Vanilla and Brown Butter Cake, which has been embraced by many a blogger, is a slice of warm buttery bliss, with a tantalizing crisp exterior giving way to a soft, velvety vanilla center – divine, especially with the crème fraîche ice cream. The Goat Cheesecake in Hazelnut Brittle also made an appearance – about as far from the traditional New York cheesecake as you can get, her refined rendition is almost soufflé-light, the slight tang of goat cheese set off by the sweetly crunchy hazelnuts and a piquant marmaladed kumquat sorbet. My other favorite was a coconut-cardamom rice pudding packaged in a crispy wrapper like a bonbon, drizzled with rose syrup, with a scoop of pistachio ice cream nestled nearby. This gorgeous interplay of colors, tastes, and textures made me wish Kate had included the entire dessert in her cookbook – she does give the recipe for the rice pudding, and it's certainly moved up several notches on my to-make list.
2 Harrison Street
(between Hudson Street and Staple Street)
(212) 966-6960
p*ong
Chanterelle may be classic New York dining at its most elegant and gracious, but p*ong is as modern and eclectic as its name, a funky, downtempo lounge of a place, with sleek white banquettes and a sweeping, angled bar – the preferred place to sit so you can watch the servers make your cocktails or plate your dessert.
Service was efficient, but the highlight, needless to say, was Chef Ong himself, who would materialize in the dining room like a mercurial firefly to exchange a friendly word or two with guests before vanishing again. We discovered that he had just opened his new bakery next door that morning – poor guy! But despite the stresses of opening day, he kindly took the time to show the bakery space to us and told us to come back the next day when they would be restocked. I must disclose here that I adore Pichet. He recounted how they opened the bakery at 11 in the morning, worried that no one would come. No one come to Pichet Ong's bakery? Hmm, right. In reality, they sold out by 1 in the afternoon. More on batch later. But Pichet is charmingly modest and slyly funny. Be warned, he has a habit of stopping by and checking on the progress of your dessert decimation. "Why didn't you finish the cake? Is it bad?" "No, of course not, it's delicious!" we'd demur. "Oh, well, you should really finish it. It's a special cake!" I don't think he's praising his own desserts so much as he's espousing the old Chinese virtue of cleaning your plate, which all my relatives always had me do. Of course, none of my relatives ever told me that I had to finish my dessert – so advantage to Pichet, I'd say!
Favorites: One of my favorite desserts from my trip came from p*ong: a warm date and ginger cake in a pool of rum toffee sauce, sprinkled with walnuts. It's like a cross between sticky toffee pudding and the best gingerbread I've ever had, the very definition of soul-satisfying. I liked it so much that I had to make it when I returned home. Other desserts that tickled the tastebuds included a chevre cheesecake and walnut croquette, a bit richer and earthier than Chanterelle's, and a grilled pear "steak" with hazelnut and caramel – again, desserts hitting that elusive combination of unexpected and intriguing and utterly satiating.
150 W 10th Street
(between Greenwich Avenue and Waverly Place)
(212) 929-0898
wd-50
It seemed fitting that I'd visited the MOMA earlier in the day before I went to wd-50. An afternoon of high-concept art followed by an evening of high concept food. Be prepared to go with an open mind and you'll be rewarded with some amazing, thought-provoking plates. wd-50 is surprisingly low-key and mellow for being a high temple of molecular gastronomy; my friend and I were seated at a row of two-tops placed so closely together that by the end of the evening we felt more like we were sitting at a communal table. It was amusing to see the diners seated next to us darting sideways glances as a new feat of whimsy was placed before us, just as we could not resist doing the same to them. Eager to experience as many of Alex Stupak's creations as we could, we chose the five-course dessert tasting, but be warned: each person at the table has to order the tasting, so it's a whole lot of sweets. Make sure you leave enough room!
Favorites: Needless to say, these were some of the most exactingly plated dishes I saw on my whole trip. Every dessert was a Japanese rock garden, little hills and dunes of cake and cream in a sea of sinuous curves and undulating swirls, amidst carefully calibrated scatterings of crunchy flourishes. The desserts that not only struck me with their art-museum aesthetic but also their successful exploration of the unusual and offbeat included a delectably soft cornbread pudding in a lemongrass sauce with prunes; it was homey and exotic at once and most importantly, delicious. Another winner was a gianduja dome with ice milk ice cream, fennel, and little chocolate truffles that oozed warm hazelnut filing when you cut into them. It's pretty hard to go wrong with chocolate and hazelnut, but the flavors were used in such untraditional ways that it made the dessert interesting and new, a pleasure to explore. The little chocolate covered chicory ice cream petit fours were scrumptious as well.
50 Clinton Street
(between Rivington Street and Stanton Street)
(212) 477-2900
Other sweet spots
Having only five days in New York City and one stomach, I could only visit a fraction of all the bakeries, pâtisseries, dessert bars, chocolate shops, and other sweet spots the city had to offer. New York demands your return, anyway, with its kaleidoscopic, ever-changing aspect – even if I'd visited 50 dessert places I'm sure another 50 will have opened by the end of this year. Here, some of the places I did get to try:
Amai Tea House
Tiny, but warm and serene. I love that all the display cases look like they came from an old Chinese apothecary, a perfect setting for all the Asian-inspired desserts. Although their green tea cookies are their signature item, I really like their white tea and strawberry cookies, which have a touch of ginger and peppercorn, and the red vanilla cookies, which are laced with rooibos tea.
171 3rd Avenue
(between 16th Street ad 17th Street)
(212) 863-9630
batch
This place was literally a day old when I walked in, but it already looks like it has its own quirky personality. I recognized many of Pichet Ong's creations from his The Sweet Spot
cookbook – the Dragon Devil's Food Cupcakes were there, as well as the coconut-lemon cupcakes and chocolate tarts. There are also puddings, cookies, brownies, and other delights by the batch. There's Pichet serving the customers; I also got to meet one of the bakers there – hi, Betty!
150b W 10th St
(212) 929-0250
Ceci-Cela
In the excitement of visiting new dessert places, I didn't have much time to spend revisiting ones I'd been to before, but I knew I really wanted to go back here. So narrow that customers are basically sandwiched between the wall and the display case, nevertheless I love this place because of the tiny dining room in the back, a brick-walled oasis plastered with vintage posters, resembling a cross between speakeasy and secret clubhouse, where you can tuck into your tart and coffee far away from the city bustle.
55 Spring Street
(between Cleveland Place and Lafayette Street)
(212) 274-9179
Financier
A perfectly apropos name, as all three branches of this pâtisserie are located in the Financial District. With its celery-green and cream-yellow decor and rattan chairs, you can almost think you are eating your pain au chocolate in Paris – until you see the skyscrapers outside the window.
35 Cedar Street
(between Pearl Street and William Street)
(212) 952-3838
Kee's Chocolates
Barely more than a storefront on a SoHo street, Kee's Chocolates is nevertheless a window into chocolate heaven. Kee Ling Tong's creations are masterpieces of flavor and texture, chocolate brought to a spellbinding zenith. I've never had any chocolates where the shell almost dissolves in your mouth to the filling inside – dreamy. Flavors I loved include passionfruit, lavender, and hazelnut praline.
80 Thompson Street
(between Broome Street and Spring Street)
(212) 334-3284
www.keeschocolates.com
Kyotofu
There are plenty of Asian-inspired desserts on menus nowadays, but Kyotofu the balance tips the other way, with Asian desserts just tempered with a French/Western edge. Their signature item is their homemade sweet tofu, which is light, silken, and refreshing, especially with a black sugar syrup poured over the top. Other sweets I liked included the chocolate matcha cupcake, sake cheesecake, and coconut-yuzu macaron. Different, and definitely worth a visit.
705 9th Ave
(between 48th Street and 49th Street)
(212) 974-6012
Payard
You can't get closer to a Parisian grand café in New York than François Payard's pâtisserie and bistro. Go to admire the gorgeous Belle Époque decor, all high ceilings, coffee-colored wood, and blown-glass fixtures. Stay as you try to choose from dual counters filled with cakes, tarts, macarons, chocolates, and cookies of every sort. Or perhaps the ice-cream cart is calling your name?
1032 Lexington Avenure
(between 73rd Street and 74th Street)
(212) 717-5252
Well, that's about it! I wanted to include a recipe for the Pichet Ong's date cake that I loved, but this post is already running long so it's going to show up in part 2! Stay tuned and have a good weekend!
Tagged with: Chanterelle + p*ong+ wd-50 + amai+tea+house + batch new york + ceci cela+ kyotofu+ kee's chocolates+ payard+ desserts new york+ bakeries new york