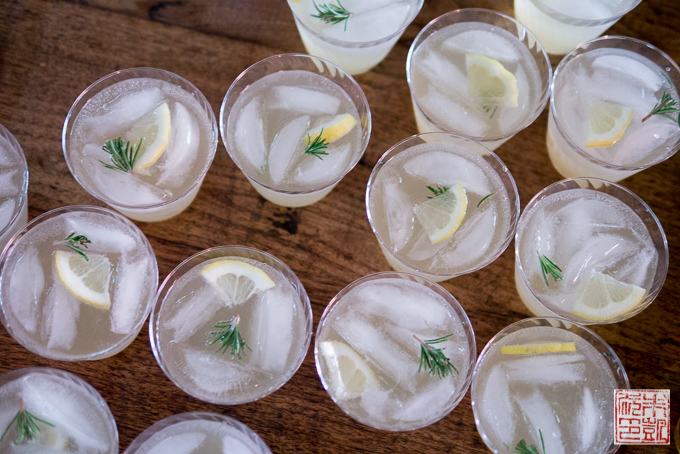 Sunset Magazine is practically synonymous with the good life in California: relaxed, open-air ranch homes, fresh, unfussy cooking, lush gardens filled with blooms, long drives up and down the coast. If you've been to Sunset's Celebration Weekends, you'll know their headquarters capture the essence of the West Coast perfectly.
This year Sunset Celebration Weekend was extra special because it was the final one at their beautiful Menlo Park campus. For years, this gorgeous sprawl of buildings and grounds have encapsulated Sunset Magazine's ideal of gracious West Coast living. From the buildings designed by Cliff May (the architect famous for creating the California Ranch House style) to the vibrant gardens curling around the campus in the shape of the California coastline to the indoor/outdoor test kitchens, the entire campus was essentially the magazine come to life. Celebration Weekend is Sunset's yearly open house, a way of opening their doors to their neighbors to share, enjoy, and be inspired by food, music, exhibits, and activities spread over the grounds.
You can read last year's recap of Celebration Weekend to see my personal highlights. This year, I wasn't able to attend the Celebration Weekend proper, but I was able to go on a behind-the-scenes tour with some other bloggers the day before the event. Below, some of my favorite moments.
The Backyard Cottage was a big draw in the home and garden area. This 400 sq. ft showcase featured modern ideas to decorate and landscape a backyard guesthouse. In both this photo and the top photo, you can see lots of creative ways to maximize small spaces and have greenery in your home during drought season. Drought is a big topic in California right now, so I applaud Sunset for putting this issue in the forefront and giving people ideas on how to be responsible with water but still find ways to enhance and decorate your home.
The interior were done by Orlando Soria of Homepolish; with a mix of Los Angeles boho, mid-century and vintage, he created a sleek and appealing space that felt light and airy. My tiny college apartment certainly didn't look this good!
Next we got a tour of Sunset's wine cellar, which houses their amazing in-house collection of wines, separate from the wines they review or use for the magazine. Above is a selection set out for us visitors to enjoy. Gracious living indeed!
Sunset's Nino Padova gave us a demo on how to make your summer camping trips more glamorous with some easy cocktails. Although shaking up some mixed drinks might seem incongruous with roughing it in the woods, Nino gave some tips on how a couple of bar essentials like simple syrup, bitters, and ice cubes prepacked in ziplock bags can cut down fuss and make it easy for anyone to be a mixologist in the great outdoors.
Two of the drinks Nino demonstrated: a Forest Negroni made with Gran Classico bitters and Lillet Blanc, and a non-alcoholic Fancy Rosemary Lemonade Spritzer. The recipe for the spritzer is at the end of this post if you're looking for some summer refreshment!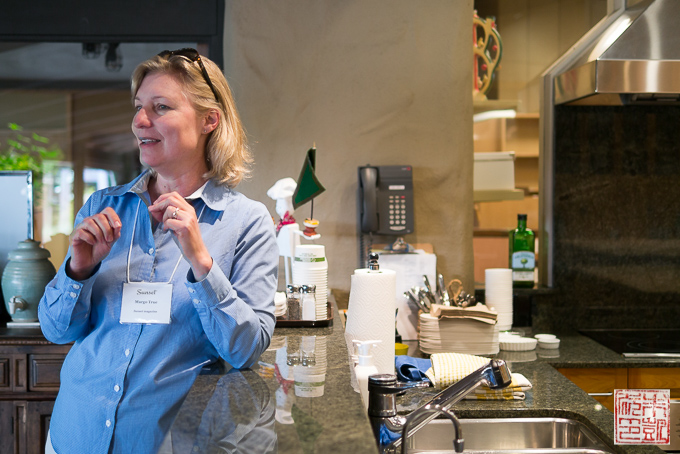 One of my idols, Sunset food editor Margo True, introducing us to the Sunset test kitchen – the very place where all those wonderful recipes in the magazine are created and perfected.
Margo explained that the equipment in the kitchen is meant to reflect the typical home kitchen, so there's not a lot of fancy high-end equipment. They test every recipe for a variety of common home issues, like an oven running too hot or a dish left on a stove a few minutes too long.
Most importantly, they also ask their testers if they enjoyed making the dish. If it's too tricky or bothersome, it won't go over well with readers. Margo was very proud of the fact that she's had letters from readers saying that Sunset recipes are the only ones that they trust to come out right the first time, every time.
A shot of the central campus grounds, almost ready for Celebration Weekend to start.
Our last stop was Sunset's test garden, where the garden staff test out new plants and gardening ideas. I don't have much of a green thumb, but I always desperately wish I did every time I visit Sunset's beautiful grounds!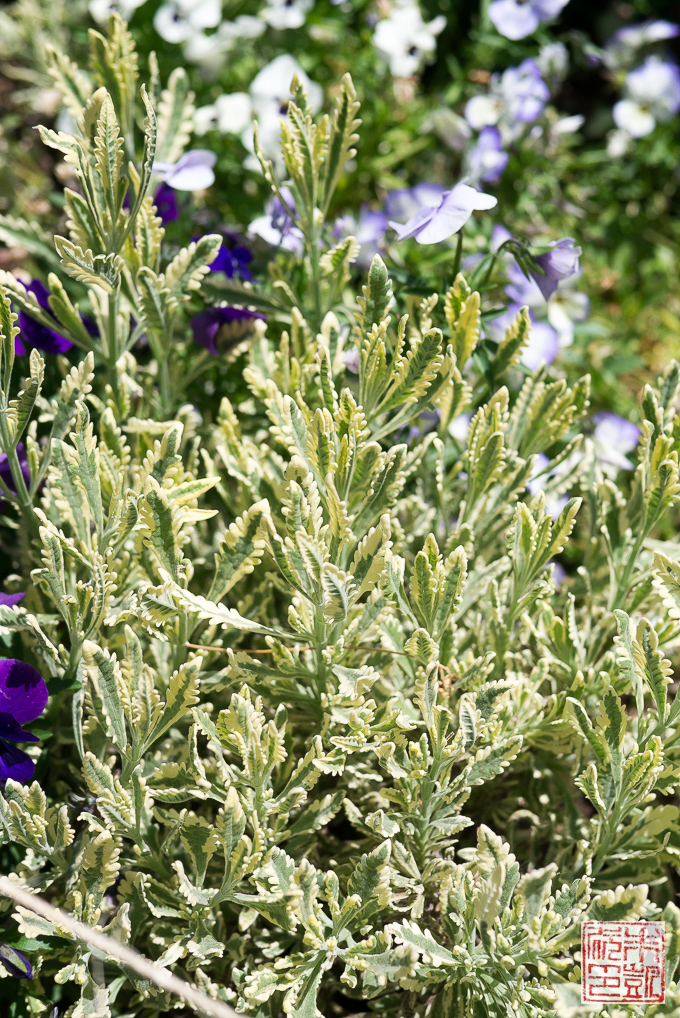 Again, drought-tolerant landscaping and water-wise gardening are big topics at Sunset, and we saw lots of different experiments in gardening responsibly yet creatively. This plant above caught my eye; the above plant is actually a different type of lavender that consumes less water. I love finding out about all of Sunset's latest discoveries!
Thanks to Sunset for having us on a last tour of their beautiful, historic campus! I'll miss it, but I'm looking forward to seeing what's in their future. At the end of this year the Sunset operation will move to Jack London Square in Oakland; their shiny new headquarters will include a test kitchen and a wine cellar, just like their old home. Also, Sunset will be moving their test gardens and outdoor kitchen up to Cornerstone, an event venue in Sonoma. I'm sure next year there will be a lot of fantastic new developments to show off at the next Celebration Weekend!
Rosemary Lemonade Spritzer
from Sunset's Celebration Weekend
Ingredients
1¼ cups sugar, divided
1 piece ginger, about 1¼" x 1¼", cut into ⅛" thick coins
2 sprigs rosemary, about 5" long, plus extra for garnish
1 cup fresh lemon (from about 5 lemons)
1 lemon
2 to 3 cups sparkling water
Instructions
In a medium saucepan, combine ¾ cup sugar, ginger, rosemary, and 2 cups regular (not sparkling) water.
Bring to a boil, then reduce heat and simmer, stirring occasionally, for 10 minutes.
Remove from heat, cover, and let steep for 20 minutes.
Strain in a pitcher or other container, discarding rosemary and ginger. Let cool and and stir in lemon juice.
Cut and quarter 2 thin slices from the lemon. Insert a 1½" rosemary sprig through the center of lemon quarters. Pour remaining ½ cup sugar on a plate. Moisten the rims of 5 or 6 tumblers and twist them gently in the sugar to coat.
Add ice cubes to each tumbler and fill halfway with lemonade. Top off with sparkling water and stir to combine. Garnish with rosemary lemon quarters.