Rosemary Lemonade Spritzer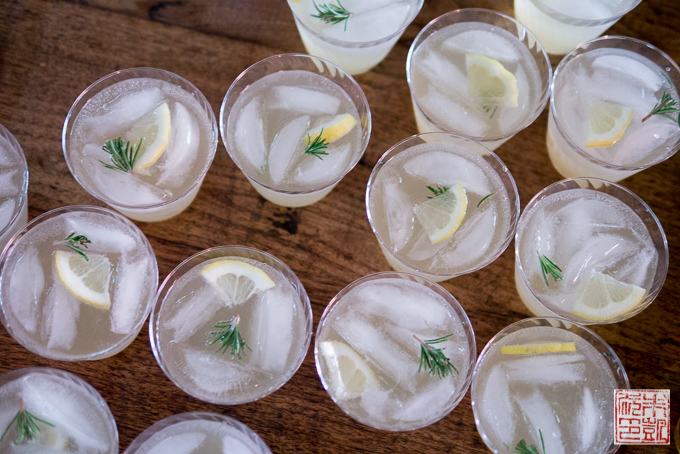 1¼ cups sugar, divided
1 piece ginger, about 1¼" x 1¼", cut into ⅛" thick coins
2 sprigs rosemary, about 5" long, plus extra for garnish
1 cup fresh lemon (from about 5 lemons)
1 lemon
2 to 3 cups sparkling water
In a medium saucepan, combine ¾ cup sugar, ginger, rosemary, and 2 cups regular (not sparkling) water.
Bring to a boil, then reduce heat and simmer, stirring occasionally, for 10 minutes.
Remove from heat, cover, and let steep for 20 minutes.
Strain in a pitcher or other container, discarding rosemary and ginger. Let cool and and stir in lemon juice.
Cut and quarter 2 thin slices from the lemon. Insert a 1½" rosemary sprig through the center of lemon quarters. Pour remaining ½ cup sugar on a plate. Moisten the rims of 5 or 6 tumblers and twist them gently in the sugar to coat.
Add ice cubes to each tumbler and fill halfway with lemonade. Top off with sparkling water and stir to combine. Garnish with rosemary lemon quarters.
Recipe by
Dessert First
at https://dessertfirstgirl.com/2015/06/sunset-magazine-celebration-weekend.html