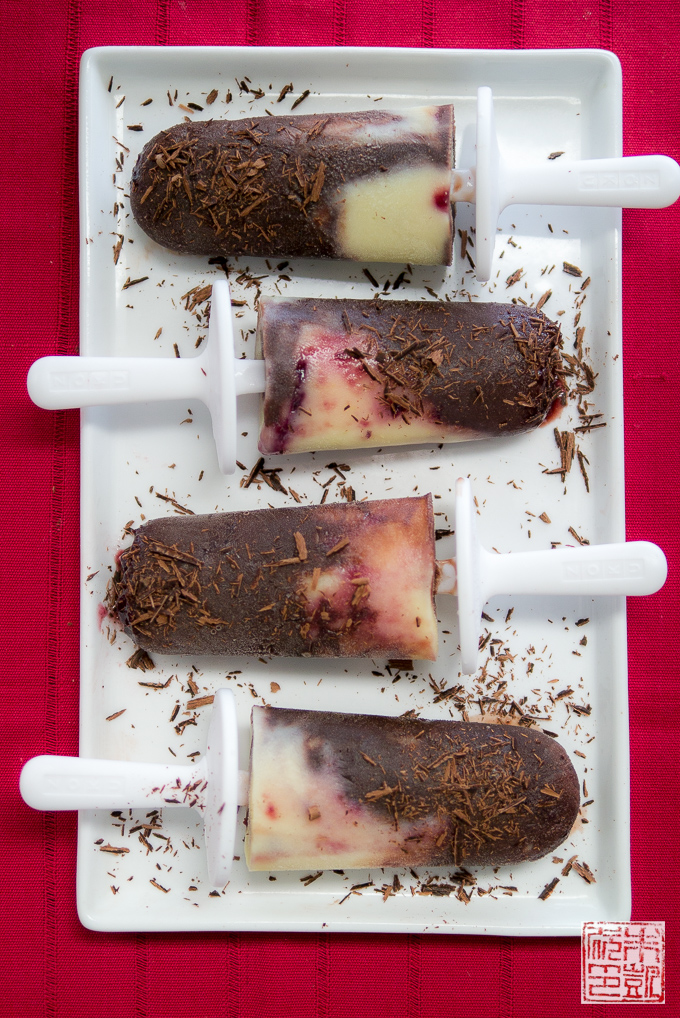 We've been having serious summer envy over here – while it seems like sunshine and blue skies are everywhere else, the bay area is experiencing its usual May grey and June gloom. I've been desperate for summer to get started!
So was it lucky chance that when I finally decided to ignore the weather and make some ice cream, we finally saw some blue skies? Or maybe the skies above saw the sweet treats as an offering and decided to clear up? Either, it's wonderful to finally feel a bit of that happy, joyful anticipation of summer coming and all it entails. Even if it goes back to overcast tomorrow, at least I'll have these pops to bring back the summer feeling.
Disclaimer: As a Rodelle ambassador I am given products to test and use in my kitchen. All post ideas are my own and all opinions within the post are my own. I am not compensated for these posts.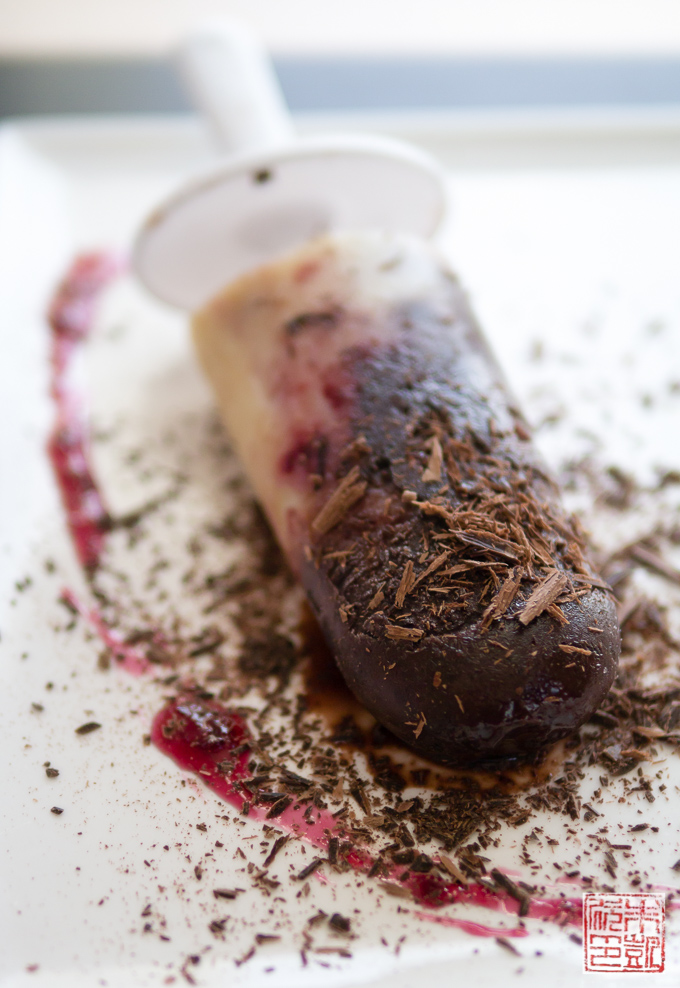 Even without the weather for barbecues and lazy evenings on the porch, we've been gobbling down as many cherries as we can before the season's over. I was determined to work them into at least one dessert – what better than cherries in ice cream?
Inspiration came from one of hubby's favorite desserts, black forest cake. Chocolate and cherry hasn't always been my favorite combination, probably due to bad childhood memories of cheap drugstore candies where the cherry flavor tasted like cough syrup. However, real cherries, ripe and roasted, are a different thing altogether, rich and tart and voluptuously sweet. Black forest cake is also a stellar example of chocolate and cherries working together as they ought; it's not meant to be cloyingly sugary, but a dark and decadent thing, with tart cherries, layers of chocolate cake soaked with kirsch, lightened only with whipped cream. Turning this into a popsicle seemed to be the ideal way to translate it for summer. As a Rodelle ambassador, I was excited that I could use some of their products in developing this recipe.
The chocolate layer of the popsicles is essentially a lovely rich fudgesicle. It's based on Alice Medrich's recipe, which is pleasingly simple and yields a fantastic rendition of the classic summer treat. I've become really fond of using Rodelle's chocolate extract: it works just like vanilla extract and adds an extra boost of chocolate flavor without your having to mess around with a recipe's proportions by adding more cocoa powder or chopped chocolate.
The vanilla layer follows a similar formula except I added an egg for a bit of body and to keep it from becoming too icy. Although I started with the chocolate layer first, since it's not as thick as the vanilla mix, it takes longer to start solidifying in the freezer. If you want to save time, I might start with the vanilla first next time, and then you won't have to wait as long to layer the cherry and chocolate on top. Feel free to layer and combine as you like, but don't skimp on the cherries, as they're what really make the popsicle the Black Forest flavor. Plus, I really like how the cherries streak throughout the popsicle – this is also one of the most dramatically-colored popsicles I've made!
I was really pleased with how the combination of flavors worked out. The clean fudginess of the chocolate and the creaminess of the vanilla, with a luscious ribbon of cherry tying it all together with a lush, nectarous bow. It's even better if you drizzle some extra roasted cherry sauce over the popsicle, turning it into a true dessert.
Thanks to Rodelle for helping kick off my summer dessert-making!
Styling inspired by the Artful Desperado
Black Forest Popsicles
Serves:
about (8) 3-oz pops
Ingredients
roasted cherries
2 cups cherries, pitted
½ cup sugar
1 teaspoon Kirsch (optional)
chocolate popsicle
½ cup sugar
½ cup cocoa powder
¾ tablespoon cornstarch
⅛ teaspoon salt
1½ cups milk
½ teaspoon chocolate extract (I use Rodelle)
vanilla popsicle
⅓ cup sugar
1 tablespoon cornstarch
⅛ teaspoon salt
1¾ cups milk
2 eggs
1 teaspoon vanilla extract (I use Rodelle)
Instructions
for the cherries:
Preheat oven to 400 degrees F.
Place cherries in a single layer in a baking dish. Sprinkle the sugar over the cherries.
Bake for about 20-25 minutes, stirring a couple times to make sure no sugar is burning. The mixture should bubble up and the cherries get soft and gooey.
Remove from oven and stir in the Kirsch if desired. Let cool. You can process them in a food processor to get a smoother puree if you like.
for the chocolate popsicle:
Whisk sugar, cocoa powder, cornstarch, and salt together in a saucepan.
Whisk in the milk until it forms a smooth mixture.
Heat over medium on the stove, whisking constantly, until the mixture begins to bubble at the edges.
Remove from heat and stir in the chocolate extract.
Fill popsicle molds about ⅓ full with the mixture. Place in freezer for about 2 hours or until the mixture has started to solidify but is not totally frozen yet.
for the vanilla popsicle:
Whisk sugar, cornstarch, and salt together in a saucepan.
Whisk in the milk until it forms a smooth mixture. Whisk in the eggs.
Heat over medium on the stove, whisking constantly, until the mixture begins to bubble at the edges.
Remove from heat and stir in the vanilla extract.
Scrape mixture into a measuring cup and chill in refrigerator for an hour. The chocolate popsicles should be in the freezer at this time.
When the chocolate popsicles have partially frozen, spoon in some of the cherries in each mold.
Fill the remaining space in the molds with the vanilla popsicle mixture.
Use a skewer or spoon to swirl the chocolate, cherry, and vanilla layers together slightly.
Place molds back in the freezer and let chill overnight.