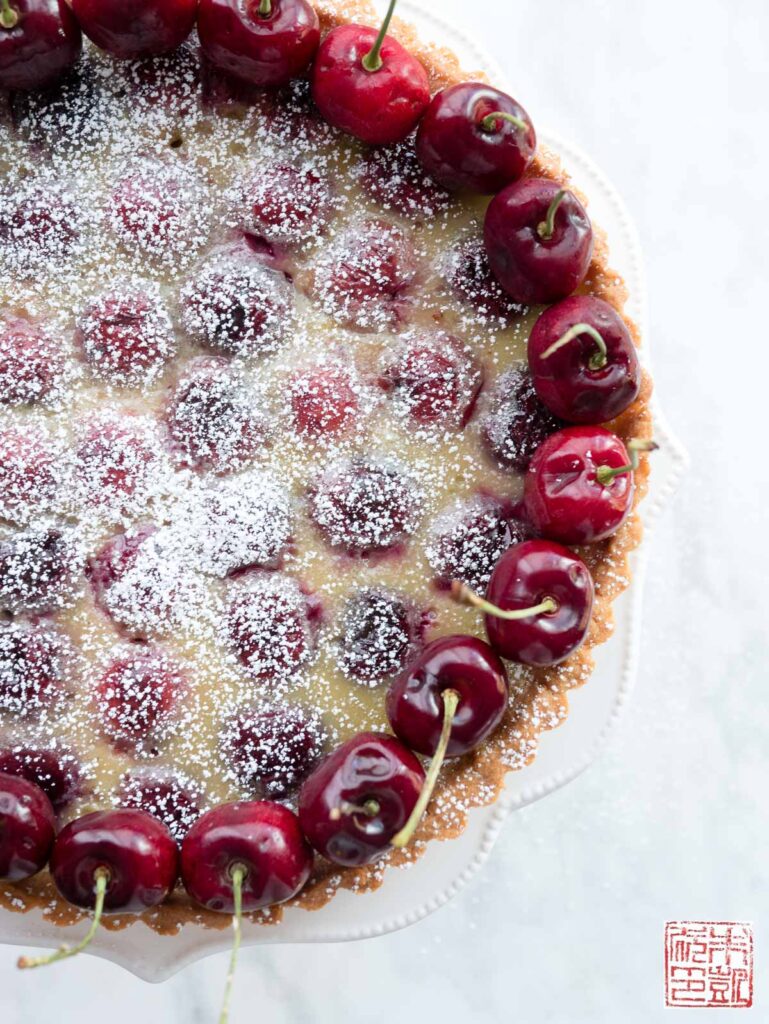 This cherry clafouti tart turns the classic French dessert up a notch from casual rustic to dinner party worthy. It's also something I'm surprised I didn't think of doing sooner since I love making tarts out of everything! I planned to include this recipe in my last post on Provence, but it ended up being so long that I decided to put it in its own post.
Click here to jump to recipe
The first time I made clafouti was after my first trip to Nice, so it seemed fitting that I revisit it after my second  visit. I didn't get a chance to have some clafouti this time around in France (too busy filling myself on gelato instead), so I really wanted to make up for it when I came back.
Clafouti itself is simplicity to make, so it seemed perhaps a little foolish to mess with perfection, but the addition of a buttery tart crust turned the clafouti into a different thing altogether. The crisp crust made a lovely contrast to the creaminess of the filling, and also made it easier to cut and serve. Although cherry clafoutis are traditionally made in France with griottes, or sour cherries, you can make them with regular cherries as well.  The tartness of the sour cherries provides a counterpoint to the sweetness of the clafouti custard, but I like it just as much with our cherries in their full flush of ripeness and lusciousness. In France, they also like to make clafouti with unpitted cherries, because the pits are supposed to impart an extra depth of flavor to the clafouti. However, because I'm lazy and don't want to accidently break a tooth on a rogue pit, I halve and pit my cherries before putting them in.
This tart is inspired by Gesine Bullock-Prado's Pie It Forward, a gem of a cookbook that's inspired me to see what new ways I can turn other classic desserts into tarts. The tart crust is based off my favorite pâte sablée or sweet shortcrust dough – easy to make and easy to press into the tin. You do want to try to keep the crust as even and thin as possible (about 1/8″ thick at the bottom) so the clafouti cooks completely without overbrowning on the top. It's best eaten fresh, after the clafouti has cooled just enough for a dusting of confectioners' sugar on top.
I'm sorry to see August go, but summer here isn't over yet – I'm looking forward to the abundance of stone fruit and a lot more good baking. In fact, you can even substitute peaches or plums, or other fall fruit, in the recipe – it's too good to only save for summer, cherries, or a trip to France. Hope you've enjoyed my last few posts about my vacation in Europe!
Cherry Clafouti Tart
Serves:
(1) 9" round tart
Ingredients
Tart Crust
1½ cups (210 g) all-purpose flour
½ cup (55 g) confectioners' sugar
¼ teaspoon salt
9 tablespoons (4½ oz) unsalted butter, very cold, cut into small pieces
1 large egg yolk
Filling
1 pound fresh cherries
3 large eggs
½ cup (115 g) whole milk
½ cup (115 g) heavy cream
8 tablespoons (100 g) sugar
3 tablespoons (42 g) all-purpose flour
1 teaspoon vanilla bean paste
Extra confectioners' sugar for dusting
Instructions
For the tart crust:
Combine flour, confectioner's sugar, and salt in bowl of a food processor and combine.
Add in cold butter and process until pea-sized lumps of dough form – do not overprocess into a ball of dough. It should be loose and crumbly.
Add in egg yolk and process until dough starts to come together. Turn the dough out of the bowl onto a work surface and lightly press together into a ball – if it's too loose, you can process a little more, but don't do too much – you want to work this dough as little as possible to have a light and crumbly texture.
Butter one 9-inch tart pan with a removable bottom. Carefully press the dough into the pans, working it over the bottom and up the sides. Again, try not to overwork the dough – press gently and work as quickly as possible.
Chill tart shell in freezer for about 15 minutes.
Meanwhile, preheat oven to 375 degrees F.
Bake shell for 15 minutes, then rotate and bake another 10-18 minutes until crust is golden brown and fully baked.
Let cool on wire rack while you make the filling.
For the filling:
Set aside about 25 cherries for decorating. Wash, stem, and pit the rest of the cherries. Slice them in half and set aside.
Whisk together the eggs, milk, cream, and sugar in a medium bowl. Add in the flour and whisk to combine. Add in the vanilla bean paste and whisk to combine.
Preheat the oven to 375 degrees F.
Arrange the cherry halves, cut side down, on the bottom of the tart crust.
Pour the batter into the crust, covering the fruit and coming up just under the edge of the shell.
Bake in the oven for about 35-40 minutes until the batter looks puffed and golden and is set in the center.
Let cool completely. Dust with confectioners' sugar and arrange the reserved cherries around the border of the tart.