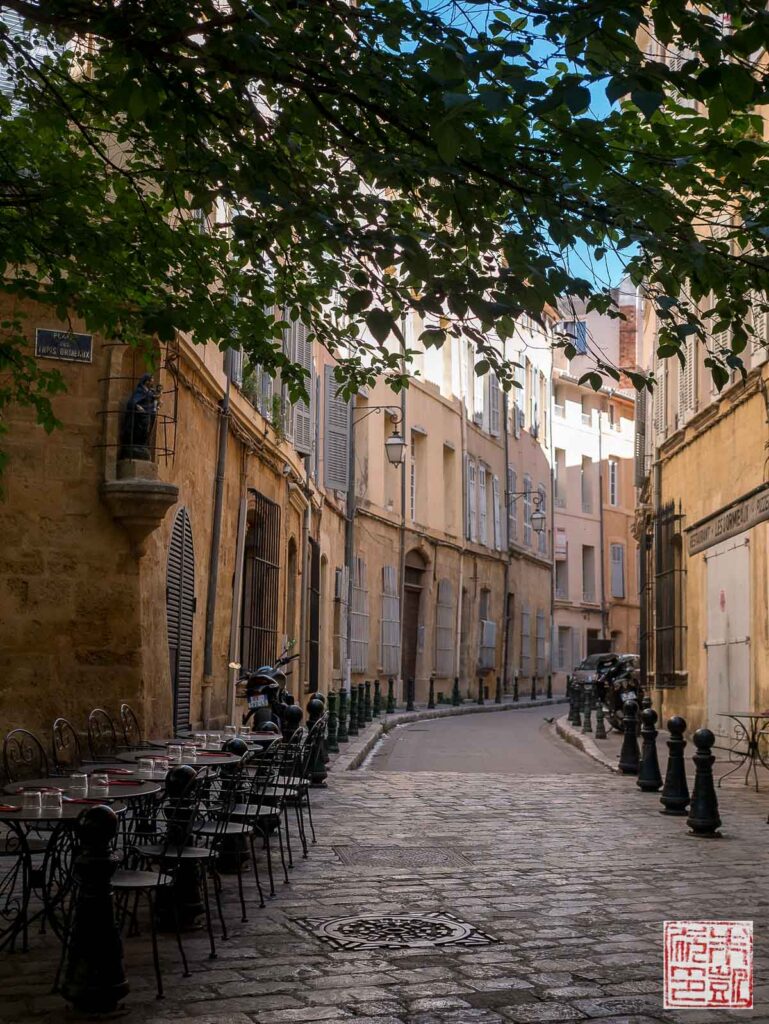 Our first time in Provence, and this post turned out a lot longer than I thought! I didn't think I took that many photos, but it ended up being quite hard to pick my favorites. Perhaps it shouldn't have been surprising that I would fall in love with Aix-en-Provence, a city that mixes the elegant urbanity of Paris with the relaxed weather of the Mediterranean, and the surrounding Provencal countryside known for some of the most stunning vistas in France. And not surprising that I'm eager to return as soon as possible!
Since this was our first visit to Provence and we had limited time, we decided to use a guide to help us get around. We used One Day in Provence, and I'm happy to say we had a wonderful experience. (This is not a sponsored post; we found One Day in Provence on our own and paid in full for their services. All opinions in this post are my own).
We spent most of our morning in the town of Aix-en-Provence. Formerly the capital of old Provence, it's now famed as a university town with several well-known educational institutes, and for its lively café culture. The streets of the old town, the historical district of the city, are a fascinating mix of Roman, Gothic, and medieval architecture, at turns imposing and charming. Above, the main boulevard of the town, Cours Mirabeau, essentially divides the older section from the newer area, and is a gorgeous place to stroll, to see and be seen.
One must-stop on Cours Mirabeau is Béchard, the oldest pâtisserie in Aix-en-Provence. Like any good pâtisserie, they have a dazzling array of pastries, chocolates, and even breads, but what they are most famous for are their calissons.
Calissons are a French confection made of ground almonds, candied orange and melon – a bit like citrus-flavored marzipan. They are traditionally formed into a rounded diamond shape and topped with a layer of royal icing. I first saw them in Nice, but Aix-en-Provence is commonly known as the home of calissons, so when Bechard says "Calissons" right below their store name you know they're serious about them.
You can buy them in bags of all sizes – perfect for gift giving back home.
It was really hard to not just buy everything in the place.
From Cours Mirabeau, you can walk through the Passage Agard to the rest of old town. I loved seeing the beautiful arches lining the passage.
This is a Sephora in a former church! The city laws required that they preserve the historic architecture of the space so you can see the old vaulted ceiling overhead. This might be the most gorgeous Sephora I've been in!
Aix-en-Provence was founded by the Romans, before the area became part of France. That's the reason there's so much Roman architecture in the city, and so many fountains, reminiscent of all the water fountains in Rome.
Such a pretty town to get lost in. I could wander all day through the streets.
Another favorite gastronomic discovery of the visit: Christophe Madeleines, a tiny shop serving the most perfect looking madeleines. They are so good fresh – a completely different thing from the packaged ones in the store.
They come in plain, lemon, chocolate, almond, and a host of other flavors.
Having a Proustian moment of my own with a madeline and – ok, so not tea, but hot chocolate. I had to get my chocolate fix while in France!
Aix-en-Provence is also known for its open air markets, and we came across one that had me stopping and lingering over nearly every stand: flowers, fruits, pâte de fruits, jams, herbs, everything you could imagine.
I thought about trying to bring some of this home. Too much goodness.
More scrumptious looking breads. Again, if I had been here for longer I would have definitely eaten my way through this city.
After a morning in Aix-en-Provence, we went into the surrounding Provence countryside to Domaine de Fontenille, a family estate converted to a hotel, for lunch. This part of Provence, called Luberon, is filled with dramatic ancient hilltop villages, sprawling vineyards, and lavender fields. It's about as picturesque and idyllic as you can imagine, and then some.
The interior of the hotel. It's undoubtedly luxe, but we ate lunch on the patio overlooking the beautifully landscaped grounds, which was definitely the best place to enjoy this glorious summer day.
The restaurant at the hotel, Le Champ des Lunes, has one Michelin star under Chef Jérôme Faure. We ate at the more casual outdoor bistro, featuring a tapas-style menu composed of numerous small plates meant for sharing.
Canadian lobster roll with black radish and tarragon mayonnaise.
Octopus and black pudding with cauliflower and olives.
Cod brandade with Marseille peach and fennel. All the dishes were beautifully put together and delicious – it was a definite highlight of the day, if not the whole trip, to be eating lunch in a gorgeous garden in Provence. Highly recommend visiting if you get a chance.
Dreaming of the day I can return. So amazingly pretty here.
Last stop of the day –  although the lavender fields weren't in full bloom yet in early June when we visited, we did manage to find some at Terre Ugo, an organic lavender farm. The sight of fields of blooming lavender is as stunning in person as you might imagine. We also learned about the different between different kinds of lavender. A lot of the lavender fields in Provence are actually lavandin, a hybrid of English lavender and spike lavender; it looks and smells very similar to true lavender, and yields much more essential oil per plant, so it's popular among growers. Either way, if you're a fan of lavender, stocking up on products here is a must!
The end to a beautiful day in Provence. Thanks to One to Day in Provence for arranging the perfect day for us – I highly recommend them for being so hospitable and accommodating with our requests, and for being the ideal guides to show us around this spectacular part of France. Looking forward to coming back one day!
Trip Notes
Bechard  (oldest pâtisserie in Aix-en-Provence)
12 cours Mirabeau
13100 Aix-en-Provence
Christophe Madeleines
4 rue Gaston de Saporta
13100 Aix-en-Provence
Domaine de Fontenille (lunch at Amélie's Kitchen)
Route de Roquefraiche
Lauris, 84 84360
Terre Ugo (lavender fields)
1885 route du Puy Sainte Réparade
13540 Aix-En-Provence