Cherry Clafouti Tart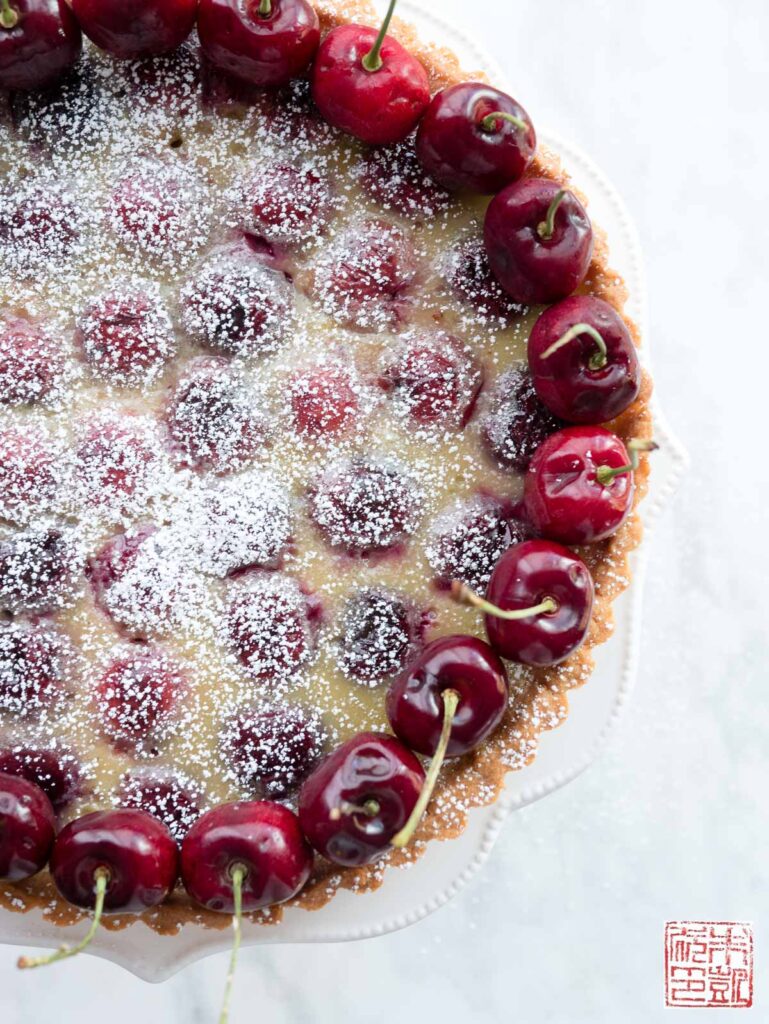 Serves:
(1) 9" round tart
1½ cups (210 g) all-purpose flour
½ cup (55 g) confectioners' sugar
¼ teaspoon salt
9 tablespoons (4½ oz) unsalted butter, very cold, cut into small pieces
1 large egg yolk
1 pound fresh cherries
3 large eggs
½ cup (115 g) whole milk
½ cup (115 g) heavy cream
8 tablespoons (100 g) sugar
3 tablespoons (42 g) all-purpose flour
1 teaspoon vanilla bean paste
Extra confectioners' sugar for dusting
Combine flour, confectioner's sugar, and salt in bowl of a food processor and combine.
Add in cold butter and process until pea-sized lumps of dough form – do not overprocess into a ball of dough. It should be loose and crumbly.
Add in egg yolk and process until dough starts to come together. Turn the dough out of the bowl onto a work surface and lightly press together into a ball – if it's too loose, you can process a little more, but don't do too much – you want to work this dough as little as possible to have a light and crumbly texture.
Butter one 9-inch tart pan with a removable bottom. Carefully press the dough into the pans, working it over the bottom and up the sides. Again, try not to overwork the dough – press gently and work as quickly as possible.
Chill tart shell in freezer for about 15 minutes.
Meanwhile, preheat oven to 375 degrees F.
Bake shell for 15 minutes, then rotate and bake another 10-18 minutes until crust is golden brown and fully baked.
Let cool on wire rack while you make the filling.
Set aside about 25 cherries for decorating. Wash, stem, and pit the rest of the cherries. Slice them in half and set aside.
Whisk together the eggs, milk, cream, and sugar in a medium bowl. Add in the flour and whisk to combine. Add in the vanilla bean paste and whisk to combine.
Preheat the oven to 375 degrees F.
Arrange the cherry halves, cut side down, on the bottom of the tart crust.
Pour the batter into the crust, covering the fruit and coming up just under the edge of the shell.
Bake in the oven for about 35-40 minutes until the batter looks puffed and golden and is set in the center.
Let cool completely. Dust with confectioners' sugar and arrange the reserved cherries around the border of the tart.