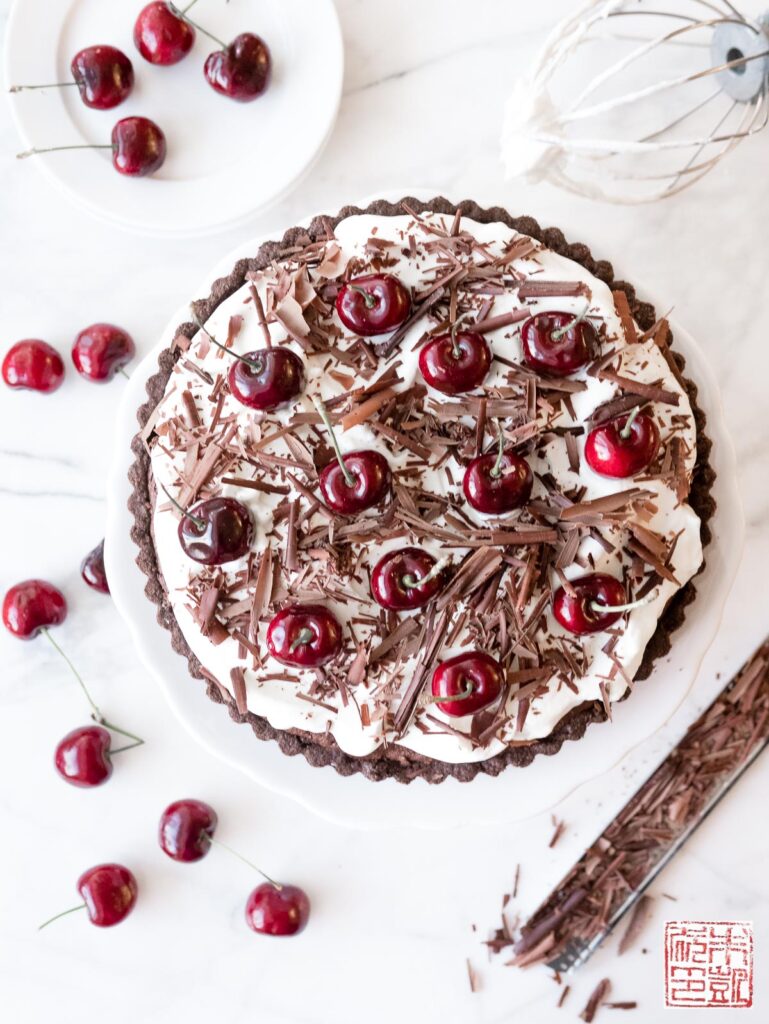 I was recently sent a shipment of cherries from Northwest Cherry Growers, and I've been baking my way through them for the last few weekends. Perfect timing, too, since my very favorite gelato memory from my trip to Rome is of an absolutely sublime cherry gelato at Gelateria del Teatro. We watched them pitting fresh cherries in the store window, and a few days later we returned to fresh cherry gelato on the menu. If you click on over to my instagram, I've made my own version of cherry sorbet and saved it to my stories if you'd like to watch. We used up a good portion of these cherries making that sorbet!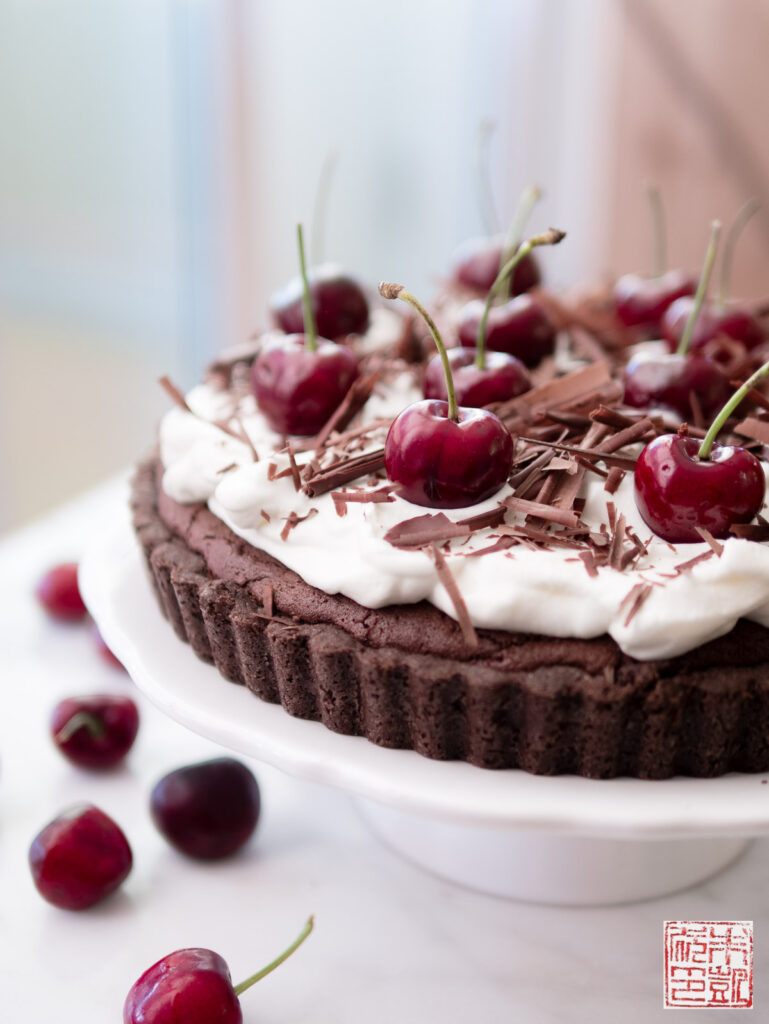 What to make with the rest of the cherries? Well, I used some to test out this tart loosely adapted from Gesine Bullock-Prado's Pie It Forward . I'm all for converting all manner of desserts into tart form, so why not black forest cake? It's one of my husband's favorite desserts and I thought it would be nice to try a slightly less elaborate version for the summer.
Click here to jump to recipe
The challenge, I discovered, was capturing the right balance of chocolate to cherry to whipped cream, which is perfectly done in the black forest cake. In the end, I settled on a rich, brownie-esque filling in a crisp chocolate shortbread crust, topped with a lush layer of stewed cherries and then a generous cloud of whipped cream. And, of course, a sprinkling of chocolate curls – it wouldn't be a black forest tart without them.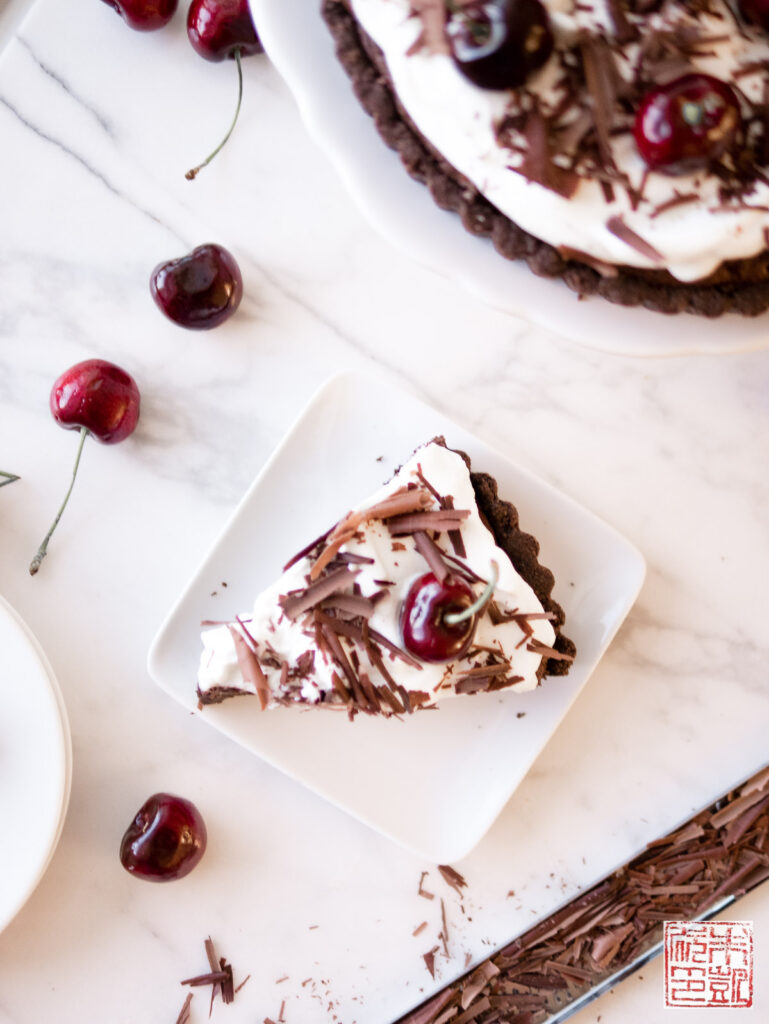 The recipe looks involved, but all the components are pretty quick to make. My favorite quick ways to make chocolate decorations is to run a vegetable peeler down the side of a bar of chocolate to make small, tight curls, or to scrape a sharp knife down the flat side of a large block of chocolate to make longer, flatter shavings like in the photo. It helps to warm up the chocolate very slightly to make it more malleable – I've used a hair dryer and as long as you're careful to do it in the kitchen so you don't blow chocolate flakes everywhere, it works well. Run the hair dryer over the bar a couple times just until you see it start to develop a slight sheen – you don't want to get shiny or it will be melted and too soft to work it. Just wait a little bit until it firms up again. I brush the curls onto a parchment paper or wax paper lined plate and store in the refrigerator until I'm ready to decorate. This is definitely a showstopper tart and a beautiful way to use up cherries.
Happy August!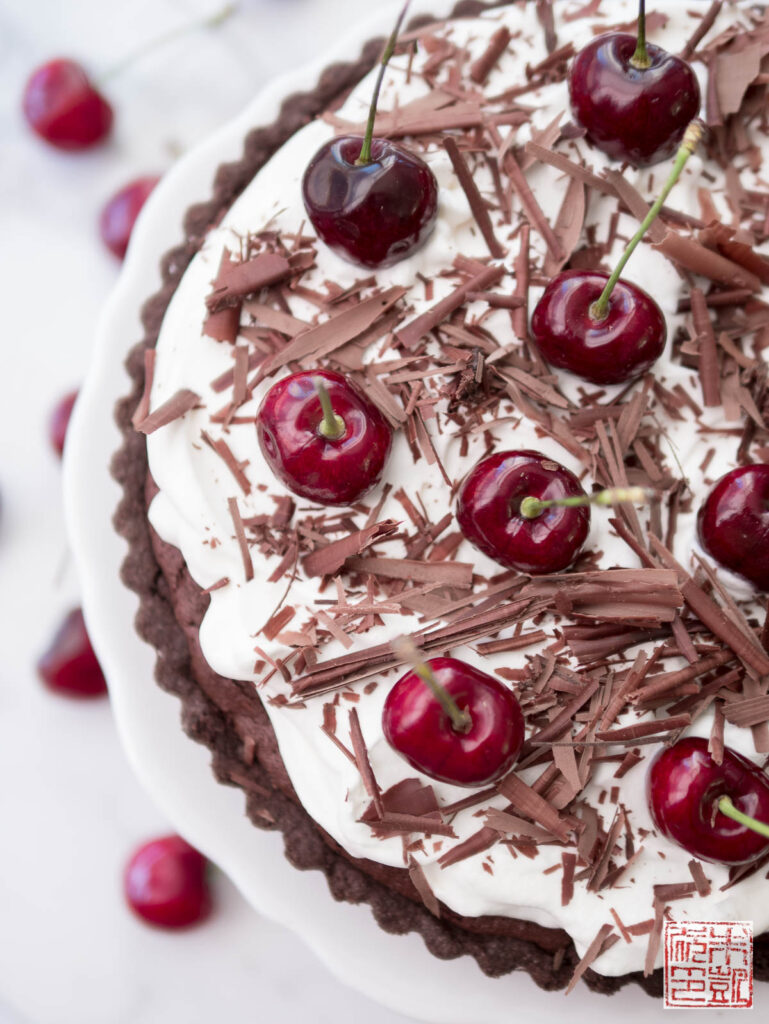 Black Forest Tart
Serves:
(1) 9" round tart
Ingredients
Tart Crust
1½ cups (185 g) all-purpose flour
½ cup (40 g) cocoa powder
¾ cup (150 g) sugar
¼ teaspoon salt
9 tablespoons unsalted butter, cold, cut into pieces
1 large egg yolk
Chocolate Filling
4 ounces (113 g) bittersweet chocolate, finely chopped
¼ cup (58 g) unsalted butter
1 tablespoon kirsch
2 large eggs, separated
½ teaspoon salt
¼ cup (50 g) sugar
1½ ounces (43 g) almond meal
Stewed Cherries
1 pound cherries
¼ cup (50 g) sugar
2 tablespoons kirsch
1 tablespoon lemon juice
1 tablespoon cornstarch
Topping
1 cup (230 g) whipping cream
¼ cup (28 g) confectioners' sugar
Instructions
For the tart crust:
Combine flour, cocoa powder, sugar, and salt in a food processor. Pulse to combine.
Add in butter and pulse until butter is in pea-sized pieces.
Add in the egg yolk. Pulse to combine just until the mixture resembles coarse crumbs – it should not be fully combined into a ball.
Turn out dough onto a lightly floured surface and press any remaining dry ingredients lightly together. Gently press and form into the bottom and sides of a 9" round tart tin with removable bottoms.
Chill tart shell in refrigerator for 30 minutes while preheating the oven to 375 degrees F.
Press a piece of lightly buttered foil buttered side down onto the tart shell. Bake for 25 minutes.
Remove the foil and bake until golden, 6 to 8 minutes more.
Remove from oven and let cool while you make the filling.
For the filling:
Preheat or set the oven to 350 degrees F.
Combine chocolate and butter in a heatproof bowl and set over a saucepan of gently simmering water. Stir until melted and combined.
Stir in the kirsch. Remove from heat.
Whip egg yolks in stand mixer with whisk attachment until very pale and thick. Set egg yolks aside.
Whip egg whites and salt in a clean bowl in stand mixer with whisk attachment until foamy. Slowly add the sugar while the mixer is still running and whip until soft peaks form.
Fold the almond meal into the melted chocolate mixture. Fold in the egg yolks until combined. Carefully fold in the egg whites.
Pour the filling into the tart shell and bake for 35 to 40 minutes, until the filling has set. Remove from oven and let cool while you make the cherries.
For the cherries:
Reserve several cherries for decoration if you like.
Wash, stem, and pit the cherries. Slice them in half. You should have about 2½ cups of cherries.
Combine cherries and all other ingredients in a saucepan. Cook on low heat, stirring occasionally, until the cherries have softened and released their juices and the mixture starts to thicken.
Set cherries aside and let cool before using.
To finish:
Spread the stewed cherries over the top of the tart.
Combine the cream and confectioners' sugar in bowl of a stand mixer and whip with whisk attachment to soft peaks.
Gently spread the whipped cream over the cherries. Top with the reserved cherries if you like.