Black Forest Tart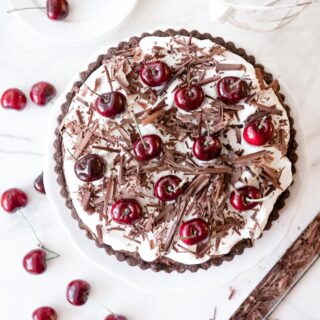 Serves:
(1) 9" round tart
1½ cups (185 g) all-purpose flour
½ cup (40 g) cocoa powder
¾ cup (150 g) sugar
¼ teaspoon salt
9 tablespoons unsalted butter, cold, cut into pieces
1 large egg yolk
4 ounces (113 g) bittersweet chocolate, finely chopped
¼ cup (58 g) unsalted butter
1 tablespoon kirsch
2 large eggs, separated
½ teaspoon salt
¼ cup (50 g) sugar
1½ ounces (43 g) almond meal
1 pound cherries
¼ cup (50 g) sugar
2 tablespoons kirsch
1 tablespoon lemon juice
1 tablespoon cornstarch
1 cup (230 g) whipping cream
¼ cup (28 g) confectioners' sugar
Combine flour, cocoa powder, sugar, and salt in a food processor. Pulse to combine.
Add in butter and pulse until butter is in pea-sized pieces.
Add in the egg yolk. Pulse to combine just until the mixture resembles coarse crumbs – it should not be fully combined into a ball.
Turn out dough onto a lightly floured surface and press any remaining dry ingredients lightly together. Gently press and form into the bottom and sides of a 9" round tart tin with removable bottoms.
Chill tart shell in refrigerator for 30 minutes while preheating the oven to 375 degrees F.
Press a piece of lightly buttered foil buttered side down onto the tart shell. Bake for 25 minutes.
Remove the foil and bake until golden, 6 to 8 minutes more.
Remove from oven and let cool while you make the filling.
Preheat or set the oven to 350 degrees F.
Combine chocolate and butter in a heatproof bowl and set over a saucepan of gently simmering water. Stir until melted and combined.
Stir in the kirsch. Remove from heat.
Whip egg yolks in stand mixer with whisk attachment until very pale and thick. Set egg yolks aside.
Whip egg whites and salt in a clean bowl in stand mixer with whisk attachment until foamy. Slowly add the sugar while the mixer is still running and whip until soft peaks form.
Fold the almond meal into the melted chocolate mixture. Fold in the egg yolks until combined. Carefully fold in the egg whites.
Pour the filling into the tart shell and bake for 35 to 40 minutes, until the filling has set. Remove from oven and let cool while you make the cherries.
Reserve several cherries for decoration if you like.
Wash, stem, and pit the cherries. Slice them in half. You should have about 2½ cups of cherries.
Combine cherries and all other ingredients in a saucepan. Cook on low heat, stirring occasionally, until the cherries have softened and released their juices and the mixture starts to thicken.
Set cherries aside and let cool before using.
Spread the stewed cherries over the top of the tart.
Combine the cream and confectioners' sugar in bowl of a stand mixer and whip with whisk attachment to soft peaks.
Gently spread the whipped cream over the cherries. Top with the reserved cherries if you like.