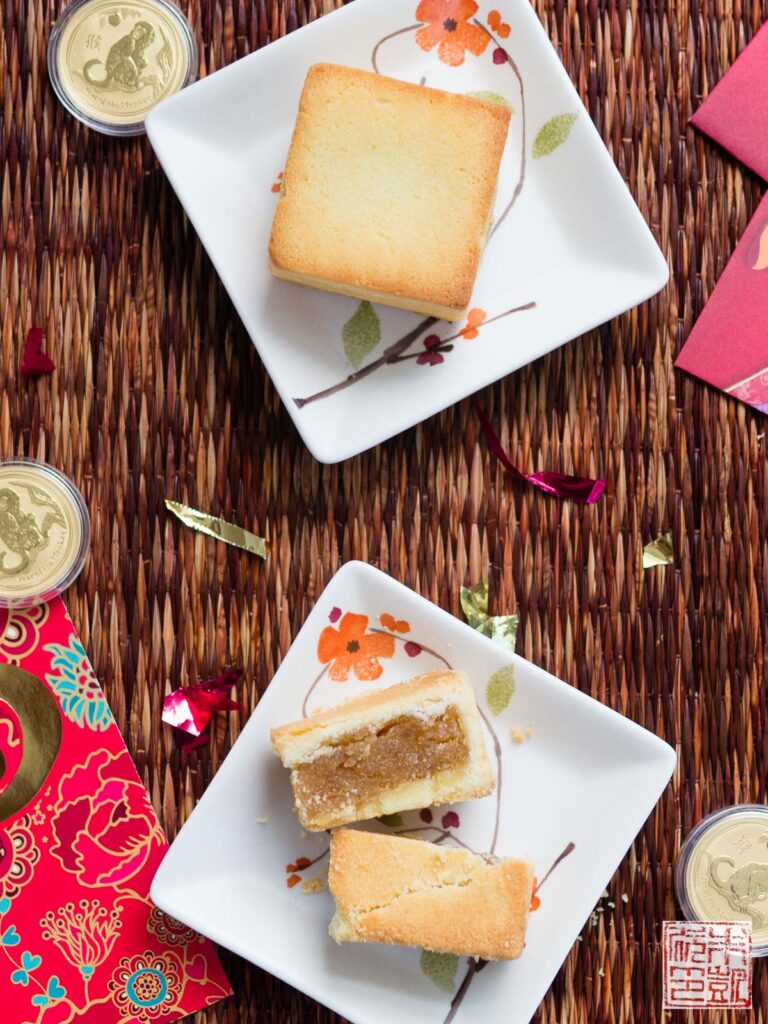 Happy Chinese New Year! I've just returned from Hong Kong, where preparations for the Year of the Monkey were fully underway. I'm sad I couldn't stay for the actual new year festivities, but I've brought back plenty of new year treats, including these traditional Chinese pineapple cakes that are a wonderfully simple baking project as well.
Some of my favorite night views are in Hong Kong.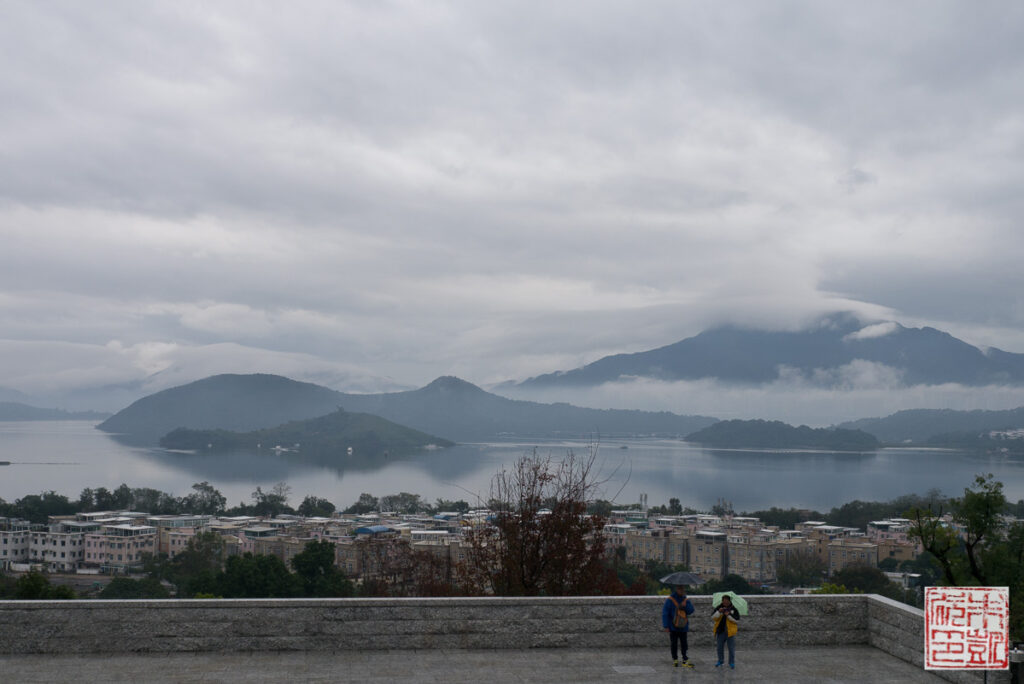 The amazing landscape view from Tsz Shan Monastery.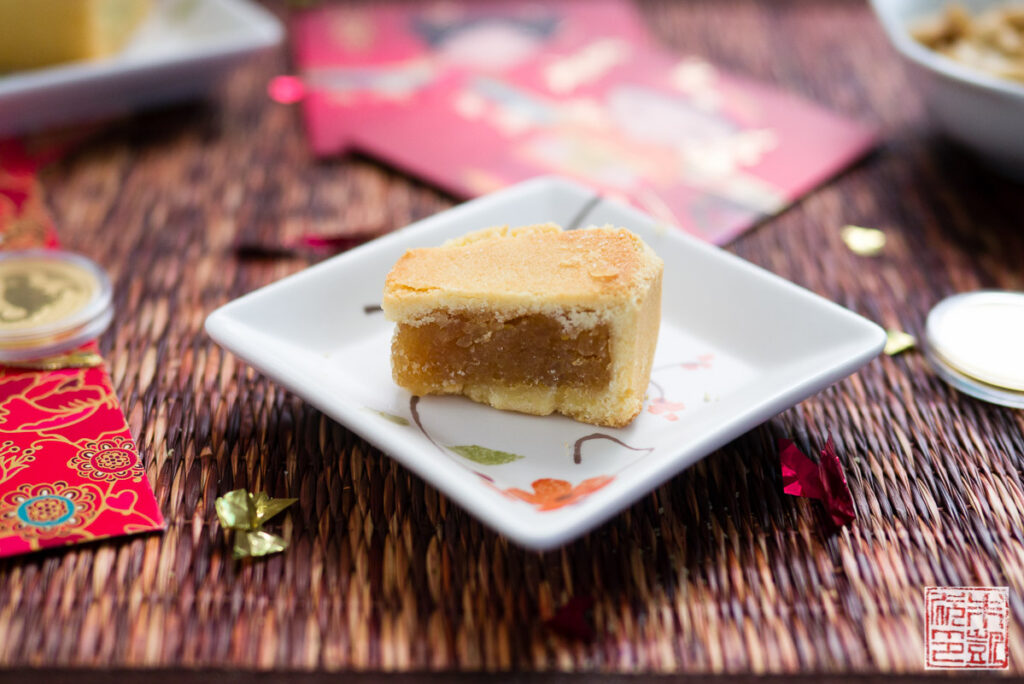 Chinese pineapple cakes, also variously called pineapple shortcakes or pineapple tarts, actually originated in Taiwan, where they are very popular as gifts. The pineapple cake consists of a very buttery shortbread crust wrapped around a thick, sweet pineapple filling; it really sort of a cross between a shortcake and a tart. Despite the delicate crumbly-ness of the shortbread, it actually is quite sturdy and doesn't crumble apart until you bite into the cake, so surprisingly theses cakes pack and travel quite well – probably another reason they are so popular for gift-giving. I kind of have a weakness for these pineapple cakes year round, so it's probably a good thing for me they aren't as readily available here!
Why pineapple? The word for pineapple in Chinese sounds very similar to the phrase for "good luck coming to you." So naturally, a gift of a pineapple expresses a wish for good luck, prosperity and happiness to the recipient. Fortunately, pineapple also happens to be quite tasty, so these pineapple cakes are probably popular because people find they delicious as well as a fortuitous homonym.
Unlike another traditional Chinese pastry, the mooncake, pineapple cakes are pretty much always filled with pineapple, because I guess otherwise you couldn't call them pineapple cakes and the lucky meaning would be lost! Most recipes for the filling consist of pineapple, sugar, and maltose syrup (similar to corn syrup). However, you can use ready made pineapple jam or preserves as a substitute, and premade pineapple paste can be found in some Asian markets.
Isabelle posing with one of the most famous monkeys in Asia, Sun Wukong or the Monkey King.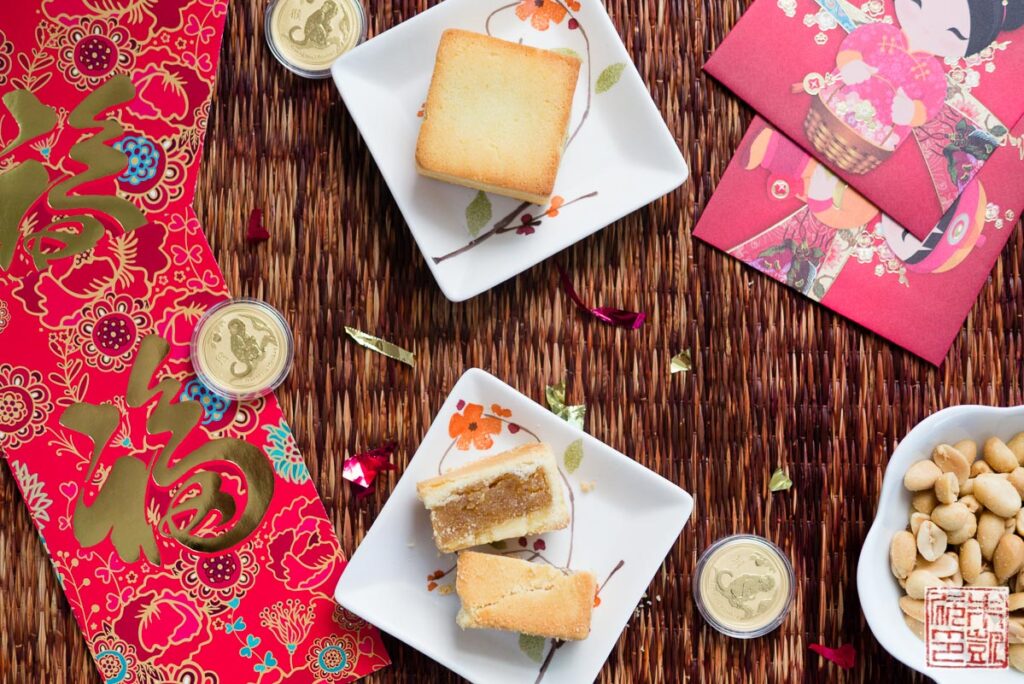 The process for making these cakes involves making the shortcrust pastry and wrapping it around the filling. Easy enough, so all the finesse comes in how good you are at forming the traditional cube shape. In Asia, hollow square molds are easily available – the easiest equivalent here in the US is to use a 2″ square molds like these pastry rings
. If that's a bit spendy, you can simply bake them as round balls, which also works fine. It takes a bit of practice to form the dough into a smooth surface, but the dough is fairly supple and forgiving, and even the imperfect ones are perfectly tasty.
Best wishes for a happy and lucky Year of the Monkey! I'll have some more posts soon about my trip to Hong Kong!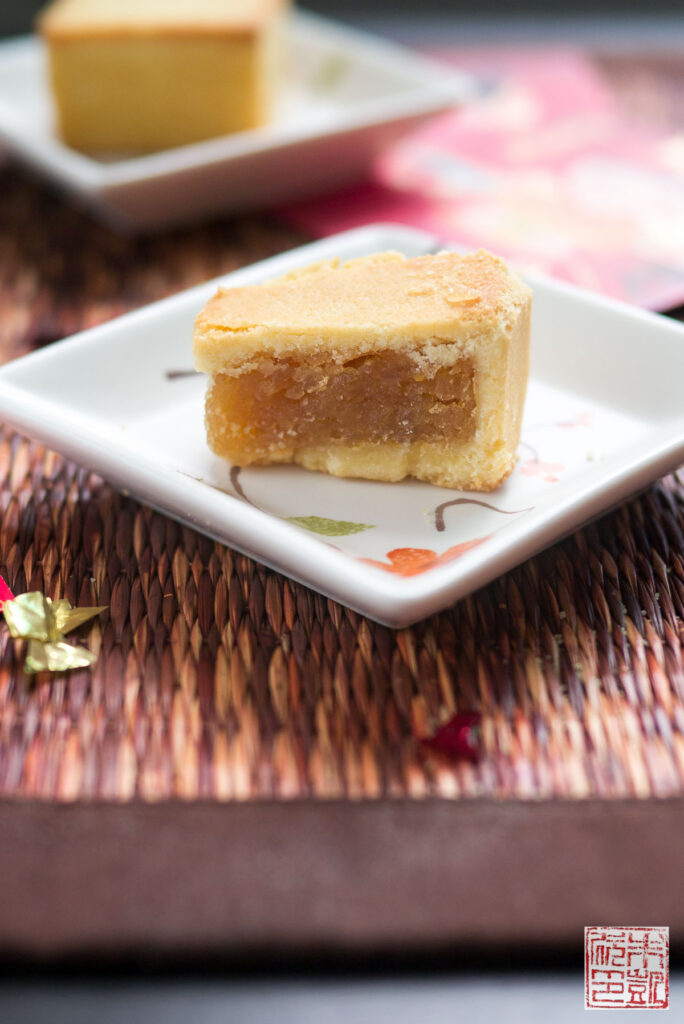 Chinese Pineapple Cakes (Feng Li Su)
Ingredients
1 cup (226 g) unsalted butter, room temperature
¼ cup (30 g) confectioners' sugar
2 large eggs
½ teaspoon vanilla extract
2½ cups (313 g) all-purpose flour
¼ cup (32 g) cornstarch
¼ teaspoon salt
1 cup pineapple jam or preserves
Instructions
Combine butter and confectioners' sugar together in bowl of stand mixer fitted with paddle attachment. Cream together on medium speed for several minutes until light and fluffy.
Add eggs and beat to combine.Add vanilla and beat to combine.
Stir flour, cornstarch, and salt together in a medium bowl and add to mixer. Beat to combine. The dough should be soft and pliable.
Turn out dough onto a piece of plastic wrap, wrap up and refrigerate for 30 minutes until firm.
Preheat oven to 325 degrees F. Line several baking sheets with silicone baking mats or parchment paper.
Roll dough into 1-in balls and place on baking sheets. Flatten each ball out and place about 1 teaspoon of pineapple jam in the center.
Pinch the edges of the dough around the jam to seal it in. To make a cube-shaped cake, press the dough into a 2" square mold to form. Place cake back on baking sheet.
Bake for 20-23 minutes, until cakes are golden brown. Place on wire rack to cool.