Chinese Pineapple Cakes (Feng Li Su)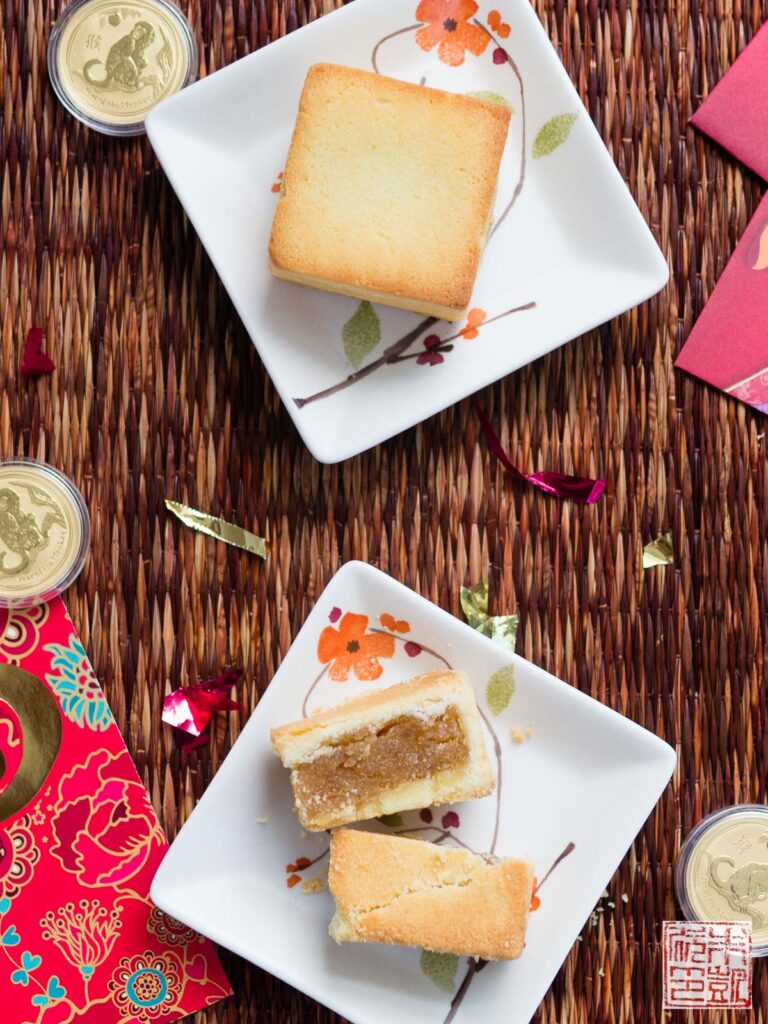 1 cup (226 g) unsalted butter, room temperature
¼ cup (30 g) confectioners' sugar
2 large eggs
½ teaspoon vanilla extract
2½ cups (313 g) all-purpose flour
¼ cup (32 g) cornstarch
¼ teaspoon salt
1 cup pineapple jam or preserves
Combine butter and confectioners' sugar together in bowl of stand mixer fitted with paddle attachment. Cream together on medium speed for several minutes until light and fluffy.
Add eggs and beat to combine.Add vanilla and beat to combine.
Stir flour, cornstarch, and salt together in a medium bowl and add to mixer. Beat to combine. The dough should be soft and pliable.
Turn out dough onto a piece of plastic wrap, wrap up and refrigerate for 30 minutes until firm.
Preheat oven to 325 degrees F. Line several baking sheets with silicone baking mats or parchment paper.
Roll dough into 1-in balls and place on baking sheets. Flatten each ball out and place about 1 teaspoon of pineapple jam in the center.
Pinch the edges of the dough around the jam to seal it in. To make a cube-shaped cake, press the dough into a 2" square mold to form. Place cake back on baking sheet.
Bake for 20-23 minutes, until cakes are golden brown. Place on wire rack to cool.
Recipe by
Dessert First
at https://dessertfirstgirl.com/2016/02/chinese-pineapple-cakes.html