There are few things that denote time spent in the kitchen and special celebration better than a multi-layered, immaculately frosted cake. Next to tart dough, this was probably one of the most intimidating hurdles I faced in pastry school.  The challenges in mastering this genre of dessert are manifold: to bake up nice even cake layers, and then to split them into perfect halves, so that all the layers are of equal thickness; to assemble the cake with the filling without the layers tilting off or one side rising higher than the other; to frost the cake without getting crumbs tangled in the frosting and without those unsightly ridges and edges in the finish from haphazard spatula-wielding. My teacher, who has a successful wedding cake business, of course split her cake layers with a few quick turns of the knife, assembled cake and filling layers with the ease of a toddler stacking rings on a post, and had the cake frosted with nary a stray lick of icing in the time it took to spin the cake stand around. Meanwhile, we students laboriously squinted at cake layers as we tried to saw through them evenly or worked the spatula over the cake again and again, trying to eliminate the last few errant swirls of frosting but never quite succeeding.
Creating an elaborate layer cake is a an exercise in patience, technique, and judgment: there's no way to make one in a hurry; you'll definitely see if you, like me, have not been keeping up on your frosting skills; and you also have to be able to step away and realize, after the umpteenth pass with your spatula, when to stop messing with your cake.
A few other lessons I took away from class?
A rotating cake stand is nice but not essential. Sure, it makes you feel all fancy and professional to have the spinny stand, and it does help in applying frosting, but you can do pretty well by putting your cake on any platter or stand that you can rotate by hand. If you're super talented like my teacher, you can balance and rotate the cake on one hand and frost with the other – not for the faint of heart!
Use a cardboard cake round under your cake. A cake round will provide a nice solid base and will make moving the cake much easier. It will also allow you to balance the cake on your hand if you want to do the frost-the-cake-in-the-air trick. If you need to transport the cake, placing a dab of frosting between the cake round and the serving stand/platter will help anchor the cake securely. Be sure you choose a cake round that is the same diameter as your cake so it will line up properly and the frosting will hide it.
Level your cake layers with a serrated knife and a circular sawing motion. If your cake layers have domed, trim them level first, then cut the layers horizontally into even layers. Don't try to slice straight across as you will most likely tear through the cake crumb and end up cutting unevenly. Instead, place the knife edge against the cake, cut in just slightly, and then start turning the cake while working the knife in a slow sawing motion. Once you make a complete circle and you're sure the cake is being evenly split, you can continue this turning, sawing the knife deeper and deeper until you finish splitting the cake layer.
Do a crumb coat first. Apply a very thin layer of frosting to the top and sides of the cake; this is to help seal in crumbs so they won't get mixed into the top application of frosting. After applying the crumb coat, put the cake in the refrigerator for a bit to let it set before you do the top layer. It's also a good idea to have a separate bowl for wiping off excess frosting from your spatula that has been contaminated with crumbs.  Keeping your main bowl of frosting crumb-free is key to a clean application and finish.
Finish frosting the sides, then do the top. Some people like to put a gob of frosting in the center of the top of the cake, while others like to just start on the sides. Regardless, it's best to smooth and finish the sides first, holding the spatula vertical and parallel to the cake, letting any excess frosting at the top edge spill over onto the cake top. When you move onto the top of the cake, you can smooth this excess into the rest of the frosting with the spatula. And really, know when to stop. If you're really unhappy with how the frosting is turning out, you can scrape it all off and try again; if you've applied a good crumb coat that set it should remain after you get rid of the rest of the frosting so you can have another go. But it's best to keep stepping back to get an overall view of your cake, and realize at some point that you'll only make things worse if you keep messing with the frosting. Honestly, most everybody will be in awe when they see your creation and not even notice a single flaw. That's the magic of these cakes.
Of course, when an occasion comes up that demands a fancy dessert, I get super excited. The celebration in question this last weekend was a picnic reception in the Berkeley hills for the wedding of a dear friend. The recipe I'd been itching to try was the Black and White Chocolate Cake from Dorie Greenspan's Baking: From My Home to Yours
. Layers of moist buttermilk cake are sandwiched between dark chocolate ganache and white chocolate whipped cream, then finished off with more white chocolate whipped cream. The cake is light and fluffy, the fillings smooth and rich, all the flavors blending together into a harmonious whole. I was quite pleased with the cake: it is surprisingly light in texture but satisfyingly substantial –  you can taste the richness of the chocolate, the delicate crumb of the cake, the weightless give of the frosting beneath your bite. This is really a cake where using good ingredients will make it shine.
I am also fond of the elegant look of the interior, with its alternating dark and light stripes. With a crown of chocolate shavings, this makes for a very photogenic cake! I was determined to document the weekend of labor for my blog, although I did feel a little self-conscious explaining to the groom that I needed to take some pictures of the cake before the gathering crowd could eat it, and that, yes, I would have to cut into it, but rest assured that besides that the cake would be unharmed.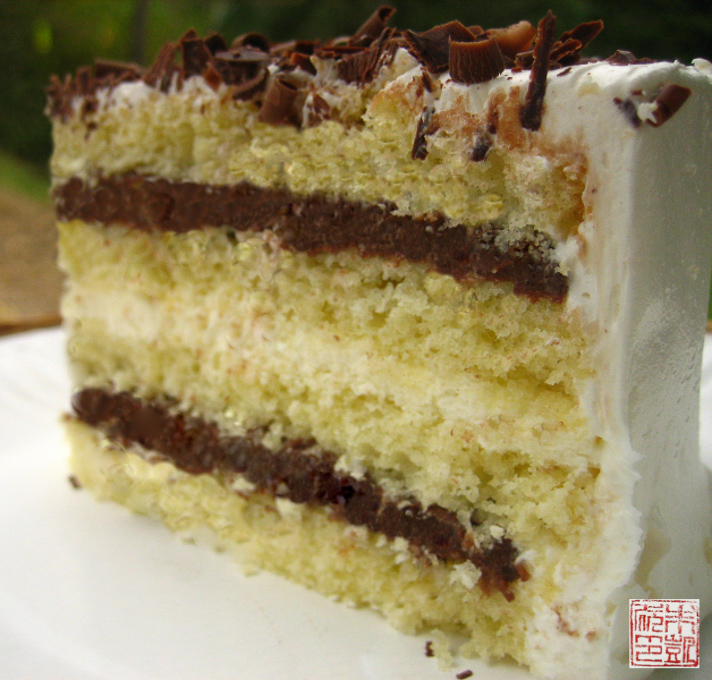 The skies may have been slightly overcast and the winds a bit nippy, but the barbecue was delicious, the guests merry, the happy couple glowing, and we had cake for dessert. Does it get any better than that?

Black and White Chocolate Cake
Adapted from Dorie Greenspan's Baking From My Home to Yours
Serves:
One 9" round cake
Ingredients
For the cake:
2 cups (220 g) cake flour
2 teaspoons baking powder
⅛ teaspoon baking soda
¼ teaspoon salt
10 tablespoons (142 g) unsalted butter, room temperature
1 cup (200 g) sugar
3 large eggs, room temperature
1 large egg yolk, room temperature
1 teaspoon vanilla extract
¾ cup (173 g) buttermilk
For the dark chocolate cream
2 cups (460 g) whole milk
4 large egg yolks
6 tablespoons (75 g) sugar
3 tablespoons cornstarch
¼ teaspoon salt
7 ounces (200 g) bittersweet chocolate, melted
2½ tablespoons (36 g) unsalted butter, room temperature, cut in ½ in pieces
For the white chocolate cream:
6 ounces (170 g) premium quality white chocolate (such as Valrhona Ivoire), finely chopped (Note: I find for the white chocolate cream it really helps to use a high quality white chocolate. Otherwise it is very easy for the white chocolate cream to curdle into a mess when you mix the chocolate and cream together because of the high fat content. Try a different white chocolate and keeping everything cold if you are having trouble with the white chocolate cream.)
1½ cups (345 g) heavy cream
Instructions
For the cake:
Preheat oven to 350 degrees F. Butter two 9" round x 2" high cake pans, dust lightly with flour, and line bottoms with rounds of parchment paper. Place pans on a baking sheet.
Sift together cake flour, baking powder, baking soda, and salt in a large bowl and set aside.
Beat butter in stand mixer with paddle attachment on medium speed until very soft and creamy, about 3 minutes.
Add sugar and beat until light and creamy, about 3 minutes.
Add eggs one by one, beating between additions. Add egg yolk and beat to combine.
Add in the vanilla and beat to combine.
Reduce mixer speed to low. Add dry ingredients and buttermilk in five alternating additions, starting and ending with the dry ingredients. Beat just to incorporate the ingredients.
Divide batter evenly between the two prepared pans and smooth out tops with a rubber spatula.
Bake for 28 to 30 minutes, rotating halfway through. The cakes should be golden brown and spring back in the centers when touched.
Remove from oven and cool for 5 minutes on a wire rack. Unmold from pans and finish cooling on rack.
For the dark chocolate cream:
Place milk in a saucepan and bring to a boil over medium high heat.
While milk is heating up, whisk egg yolks, sugar, cornstarch, and salt together in a separate large saucepan.
Pour about ¼ of the hot milk into the egg mixture, whisking constantly to prevent the eggs from cooking. When incorporated, add in the rest of the milk and whisk to combine.
Place saucepan over medium heat and cook, whisking constantly, until the mixture comes to a boil.
Let cook for another minute, whisking constantly. Remove from heat.
Add in the chocolate and whisk to combine. Let stand for 5 minutes.
Add in the butter and whisk to combine. Press a piece of plastic wrap against the chocolate cream and refrigerate until fully chilled.
For the white chocolate cream:
Place white chocolate cream in a heatproof metal bowl and put bowl over a saucepan of simmering water, making sure the bowl does not touch the water.
Stir the chocolate to ensure it melts evenly. Meanwhile, bring ½ cup of the cream to a boil.
Remove melted chocolate from the heat. Pour the cream into the chocolate and let sit for a minute.
Carefully stir the mixture until combined. Let sit on counter until it has cooled to room temperature. If it is still warm when you add the whipped cream it will melt the cream into a mess.
Beat the remaining 1 cup cream in a stand mixer with whisk attachment to soft peaks.
Add the cooled white chocolate mixture to mixer and beat until whipped cream holds firm peaks.
Press a piece of plastic wrap against the white chocolate cream and refrigerate until fully chilled.
To assemble the cake:
Use a long serrated knife to level the cake layers. Slice each layer horizontally in half to create four layers total.
Place one layer on a cake round or plate.
Remove dark and white chocolate creams from refrigerator and whisk to loosen up.
Using a long icing spatula, spread about 1 cup of the dark chocolate cream evenly over the cake layer.
Place a second cake layer over the cream. Spread about 1 cup of white chocolate cream over this layer.
Place a third cake layer over the cream. Spread the remaining dark chocolate cream over the top.
Place the final cake layer over the cream. Spread the remaining white chocolate cream over the top and sides of the cake to fully cover. See tips in my post for frosting a cake smoothly.
Decorate with chocolate shavings as desired.
Refrigerate for at least 3 hours or overnight before serving.
Tagged with: Black and White Cake + Dorie Greenspan