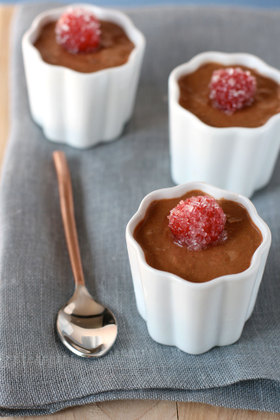 Hello from New York City! It's been a whirlwind the last two weeks – sorry about all the e-mails and comments I haven't responded to! I'll be back in San Francisco by the end of the week and I promise to redress the situation immediately! I can't wait to share news of how the book is going, as well as my experiences in the dessert paradise that is NYC – pastrygirl may have finally hit her sugar limit! It's been one sweet adventure after another here!
Meanwhile, I have a short post I started writing before I left and that I finally have a few spare moments to finish off, to tide you over until I return. This is twist on a traditional chocolate mousse from Donna Hay magazine, and encapsulates how I feel about desserts in New York: everything is taken just a little further, given a little unexpected fillip or turned wholly upside down – one moment you're eating the best date cake you've ever tasted, the next you're confronting white chocolate, potato crumbles, and beer ice cream on your plate. It's been Alice in Wonderland crossed with Cinderella with a dose of Sex and the City thrown in for good measure.
Back to the mousses, I've always been a proponent of mousse as ideal medium for playing with flavors – a winning strategy of creative tastes in comfort food trappings. The chocolate mousses here are spiced with cinnamon, star anise, and brown sugar, layered to produce a subtle, mysterious flavor hinting but not wholly revealing its origins. The cinnamon and brown sugar ground it in familiarity, while the star anise adds the perfect je ne sais quoi. I can think of many other spices or flavorings to experiment with in this recipe, although I would suggest keeping it to additions that will incorporate smoothly into the egg whites. If you use the star anise, be sure it's ground finely – you don't want chunks of anise to ruin the velvety smoothness of the mousse!
The mousse is also dreamily light and smooth, not heavy at all, due to the whipped cream and egg whites, so it is perfect spring dessert. Garnished with some sparkling sugar-encrusted fruit, this is a simple creation to make on a moment's whim, so you don't miss a second of the brand-new spring sunshine.
I hope you all enjoy the rest of your week I'm looking forward to coming home and baking in my own kitchen again!
Spiced Chocolate Mousses
from Donna Hay Magazine
makes about (8) 2 1/2- oz ramekins
4 large eggs, separated
2 tablespoons brown sugar
1/4 teaspoon ground star anise
1/2 teaspoon ground cinnamon
7 oz (200 g) chopped dark chocolate
1 1/4 cups heavy cream
4 1/4 oz raspberries
1 beaten egg white
white sanding or sparkling sugar for decoration
In a stand mixer with the whisk attachment, whisk egg whites to soft peaks.
Add sugar, star anise, and cinnamon to the egg whites and whisk to stiff peaks.
Melt the chocolate in a medium bowl set over a pot of simmering water. Remove from heat.
Add 1/4 cup of the cream and the egg yolks and whisk to combine.
In a clean mixer bowl, whisk the remaining cream to soft peaks.
Add in the melted chocolate mixture and fold gently with a rubber spatula to combine.
Add in the egg white mixture and fold gently to combine, trying not to deflate the mixture.
Scoop into eight 1/2 cup glasses and refrigerate at least 2 -3 hours till set.
Brush raspberries with egg white and sprinkle with sugar. Arrange on mousses before serving.
Tagged with: Donna Hay + Spiced chocolate mousses