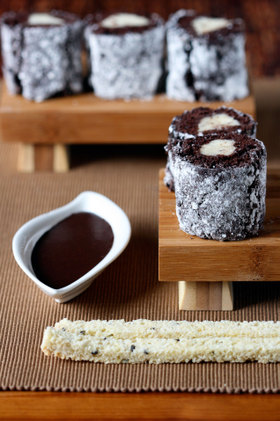 I've mentioned Elizabeth Falkner and her cookbook a few times already, I've even got to meet her last year, but it's not until now that I finally got to try out the recipes in Demolition Desserts
. Verdict? Baking with Falkner is like being told you can play with your food, literally any way you like. The results are surprising, imaginative, and – not least of all – delicious.
I made one of the first recipes that caught my eye when flipping through the book – it perfectly exemplifies the creativity and playfulness that infuses Falkner's desserts. What looks like oddly like a set of sushi rolls you'd find in a Japanese restaurant is actually a modern, deconstructed take on tiramisu. A chocolate roulade is wrapped around a sweet marsala mascarpone filling and sliced into neat litle rolls that are arranged next to a mocha-rum dipping sauce. Where are the chopsticks? Made of a sesame-flecked vanilla biscotti, natch. Falkner even suggested grated pear "ribbons" to imitate the pile of ginger that accompanies most sushi – I didn't do that part but her cleverness and attention to detail is amazing. And the name of the dessert – Tiramisushi – almost makes you wonder why someone else didn't come up with it before.
Making this felt like a cross between baking and art project – all the familiar elements were rendered new and exciting due to their unconventional uses – I'd never sliced biscotti into slender little stems or thought about adapting a traditional roulade form to a squatter sushi shape. It was all very intriguing and eye-opening, especially making the cake rolls. Having rolled up sponge cakes for jelly rolls and bûche de Noël before, I thought would be the easiest parts, but it turned out to be one of the tricker tasks. The problem I had was that Falkner has you bake the cake in a quarter sheet pan, or a brownie pan, which is smaller than a jelly roll pan and results in a thicker cake. I believe she did this so that the thicker cake would more closely resemble the solid layer of rice in a sushi roll – you don't want to cake to roll around itself several times like for a jelly roll, but only once to just enclose the filling.
It's harder to roll a thick piece of cake up than a thin one, especially if the cake is overbaked and drying out and cracking as you attempt to wrest it into a perfectly round form. So, it's important not to overbake this cake and keep it moist and soft to ensure it rolls up nicely. I also found that spreading the filling on the cake after letting it cool for a few minutes and then rolling it up also helped things. As you can see, I managed to get a few fairly shapely rolls out of this!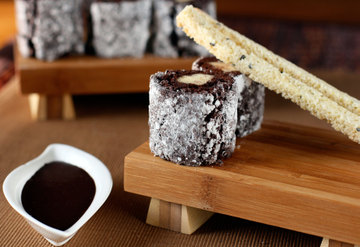 With all the pieces in place, this dessert is not just visually appealing but gustatorily satisfying as well. The chocolate cake is light but intensely chocolatey, marrying well with the creamy, sweet mascarpone filling; it's almost like a luxe version of one of those Hostess snack cakes. The slight bitterness of the espresso and rum laced chocolate sauce adds another layer of flavor to the combination as well as a providing an extra indulgent touch, and the biscotti chopsticks are the perfect crisp topper. All the parts of a classic tiramisu are in here, just in a jazzy new form. It's also very easy to play around with all the flavors of the different components, making this a very versatile and lovely dessert – one that's sure to inspire comments and smiles whenever you bring it to the table.
I heartily recommend Falkner's book – it's full of imagination-sparking creations like this, and it's wonderful fun to read as well. You may be inspired to come out with some sweet surprises of your own.
I'm getting ready to make a trip to the east coast for business related to my own book, so I'll be busy packing this weekend. I do have a post all ready for next though, so do stop on by – and I can't wait to share tidbits from my trip when I return!
I
Tiramisushi
adapted from Elizabeth Falkner's Demolition Desserts
Cocoa Roulade Sponge Cake
1/2 cup (2 1/2 oz) flour
1/4 cup plus 1 Tablespoon (1 oz) cocoa powder
1/4 teaspoon baking powder
3 large eggs
1/2 cup ( 3 1/2 oz) sugar
pinch of salt
2 Tablespoons (1 oz ) butter, melted butter
1 Tablespoon water
Confectioner's sugar for dusting
Marsala Mascarpone Filling
1 cup (8 oz) mascarpone cheese
1 Tablespoon confectioner's sugar, sifted
1 Tablespoon Marsala wine
Mocha-Rum Dipping Sauce
1/2 cup heavy cream
1 Tablespoon corn syrup
1 Tablespoon cocoa powder
4 ounces bittersweet chocolate, chopped into pieces
3 Tablespoons hot brewed espresso
2 Tablespoons (1 oz) butter
2 Tablespoons rum
pinch of salt
To make the cocoa roulade, preheat oven to 350 degrees F. Butter a 9"x13" baking pan well and line bottom with parchment paper.
Sift flour, cocoa powder, and baking powder into a bowl and set aside.
Whisk eggs and sugar together in a metal bowl. Set over a pot of simmering water on the stove and heat for a few minutes, whisking constantly, until the mixture is thick and warm to the touch.
Pour egg mixture into bowl of a stand mixer, add the salt, and whisk with the whip attachment on high speed for a few minutes until the mixture has cooled and tripled in volume.
Remove bowl from mixture and fold in flour mixture with a rubber spatula, trying not to deflate the batter.
Combine melted butter and water and add to the batter, folding in to combine.
Pour batter into prepared pan and spread out evenly with an offset spatula.
Bake for about 8 to 10 minutes, rotating halfway through. The center of the cake should bounce back when pressed with a fingertip.
Remove from oven and let cool for a few minutes on wire rack before unmolding onto a piece of parchment paper dusted with confectioner's sugar. Peel off the piece of parchment on the bottom of the cake.
Cut the cake lengthwise down the middle so you have two long skinny rectangles. Slide rectangles apart. Now, if your piece of parchment is really big, you can cut it in half so each cake rectangle is on its own piece of parchment that you will use to roll it up. If your parchment is small, prepare new sheets of parchment dusted with confectioner's sugar and place a cake rectangle on each one.
Here Falkner has you roll the cake up from the long side, using the parchment paper as a guide to help roll and keep it in place. Then you let the cakes sit overnight rolled-up before unrolling them, spreading with filling, and rolling them up again. I found that when I tried this the cake seemed to dry out and crack and not roll up very well. The easier method for me was to spread the filling onto the cake and then roll it up, and then store in the refrigerator. Make sure the cake is not still piping hot from the oven or it will melt the filling, but the sooner you fill it, the easier the cake is to roll. You can make the filling ahead of time so it's ready to go when the cake is out of the oven.
To make the filling, combine all the ingredients together in a bowl until evenly blended. Do not overmix.
Spread half the filling down the center of each cake rectangle. Using the parchment paper as a guide, roll up the cake from the long side into a cylinder. Store the parchment-wrapped rolls in the refrigerator
for at least an hour to chill and set. Be sure to set them against something so they don't unroll.
I haven't included the recipe for the biscotti chopsticks because it would make this entry too long, but you can simply use your favorite biscotti recipe. Form the dough into more of a rectangle than a long log. When you take the biscotti dough out of the oven the first time, let cool for about 10 minutes, and then cut into chopstick-size sticks instead of the regular biscotti shape. Return to the oven and bake again for the indicated time until they are firm and golden.
To make the dipping sauce, combine the cream, corn syrup, and cocoa powder in a saucepan. Heat on stove over medium heat until mixture starts to simmer.
Place the chocolate in a metal bowl and pour hot espresso over it. Pour the hot cream mixture over it and stir until chocolate is melted and everything is combined.
Add in the butter, rum, and salt, and stir until butter is melted.
When you are ready to serve the dessert, take the rolls out of the refrigerator and cut into rounds about 2 inches long. Arrange on a plate with the dipping sauce and biscotti chopsticks.
Tagged with: Elizabeth Falkner + Citizen Cake+ Demolition Desserts + tiramisushi + chocolate