Ok, so the title sounds a little dodgy, but no, I am not baking these days with stale old eggs! I am instead a lucky participant of the Traveling Egg Meme!
The beyond adorable half-dozen you see above was created by the talented Hannah of Bittersweet for Helene of Tartelette as a gift. Helene, being the generous soul she is, decided instead of keeping the eggs at home she would send them out on a worldwide journey! So these eggs have been making their way around to various bloggers, little eggy ambassadors of happiness.
The eggs arrived on my doorstep along with a host of other gifts from the wonderful Ivonne of Cream Puffs in Venice – thanks so much for everything! I was really thrilled to host these guys at my place, especially as I'd just used up a bunch of my own eggs (just kidding, Hannah and Helene!)
As it was, I was able to offer them some nice luxurious accommodations to sleep in!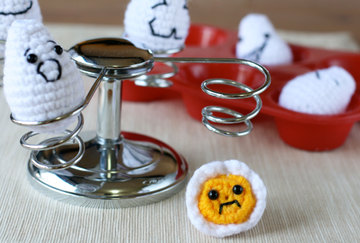 They also had a wonderful time in the playground I made for them…well, most of them anyway! Oops…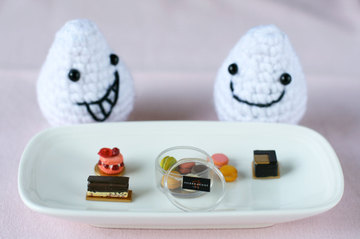 Ooh, do you recognize these little pastries? Yes, it's the Pierre Hermé miniatures that Carol and Helene have been talking about! I actually got my own full set a while back, but because my apartment is so small, I don't have anywhere to safely display the miniatures without fear of knocking them off a shelf accidentally and breaking them! So most of them are still sitting in their plastic bags until I can think of a storage solution. I did break out one set to offer the eggs though, and they seemed to enjoy them a lot!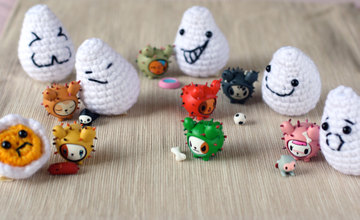 Speaking of miniatures, here are the eggs making friends with some other miniatures I have, the cute little cactus pups from Tokidoki. Tokidoki is an adorable Japanese-inspired brand that also vies for the contents of my wallet with their purses, clothing, and toys. I am particularly fond of these puppies dressed up in cactus suits – bizarre, offbeat, but very cute!
And, of course, the eggs helped me out in the kitchen! Here they are taste testing some of the cookies I made for decorating when reviewing Cookie Craft.
We had a wonderful time together and I really didn't want to part with them, but I knew I couldn't deny the meme and the eggs' wanderlust. They have been sent off back into the world, and I hope the next person who receives them will have as much fun with them as I did! Thanks Hannah, Helene, and Ivonne!
My blog has been a little light on recipes lately, I know, but I'm going to rectify that soon – look for another post early next week! Meanwhile, I'm happy to announce that my latest column has appeared in the Baking 911 March newsletter. If you sign up for the newsletter, you'll get my recipe for Lemon Lavender cupcakes – my welcome to spring and Easter!
Tagged with: traveling eggs + baking 911