This is a big post, and it's a big birthday for me. Last week I turned 40. (I actually made this cake in time for my birthday, I've just gotten to posting about it now). When I started this blog ten years ago, I was single, working full time as a design engineer in San Francisco, and my only camera was a tiny point-and-shoot. Now, I'm married with a three year old, I still live in the Bay Area, and I still love baking and writing about food.
If you're wondering if I'm building up to some kind of midlife crisis where I'm going to move to Fiji and start blogging about exotic fish, the answer is no. Nothing quite that dramatic. Although I'll take that trip to Fiji if someone offers. It's more of a realization of how much my life has changed in the last ten years, in ways I couldn't even imagine, and how much my life will probably change in the next ten. I have ideas, and hopes, certainly, for where I'd like things to go. But if there's anything I've learned at the grand old age of 40, it's that it's better not to worry too much about tomorrow, and to focus more on appreciating today.
I'd definitely been feeling like I'd reached some kind of age milestone in the last few months. I turn on the radio station and I don't recognize most of the popular artists (it used to be half, now I suspect it's creeping up to two-thirds). I hear about the next hot social media platform and I wince because I know it'll be an evening of figuring out how to use it if I get on. All these lovely new bloggers I meet at events seem so young…and energetic…with so much free time…
But then someone shared this Facebook post about some highly successful people who didn't find their biggest successes until after they turned 40. It definitely reminded me that I've still got so much to learn and do, and I still have a voice. I'm still here, sharing my love of baking and travel and my family and all things sweet the years to come, and I hope whether you're a first time visitor or cherished long time regular, that you'll still find something to enjoy on Dessert First. It's certainly been one of my happiest achievements in the last ten years.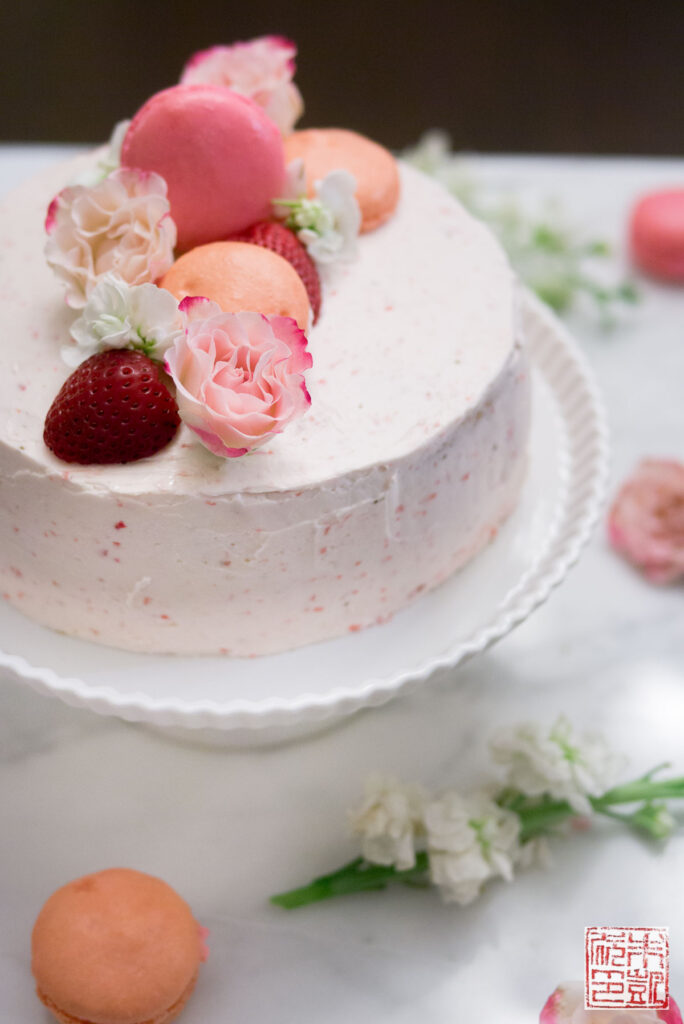 On to the baking portion of this post, which is my birthday cake: Strawberry Pink Velvet Cake. There are a lot of pink velvet cake recipes floating around on the internet; after a lot of research I've come to the conclusion that there isn't a formal definition for pink velvet cake because there doesn't appear to a consensus on its erstwhile predecessor, red velvet cake, either! Since red velvet cake is traditionally made with red food coloring and cocoa, neither of which is necessary in a pink velvet cake, I was left to assume that there's a similarity in cake texture to aim for – a certain velvety-ness, perhaps. However, descriptions of red velvet cake run the gamut from dense and moist to fluffy and light.  It seems like preferences on the ideal red velvet cake are quite individual and particular.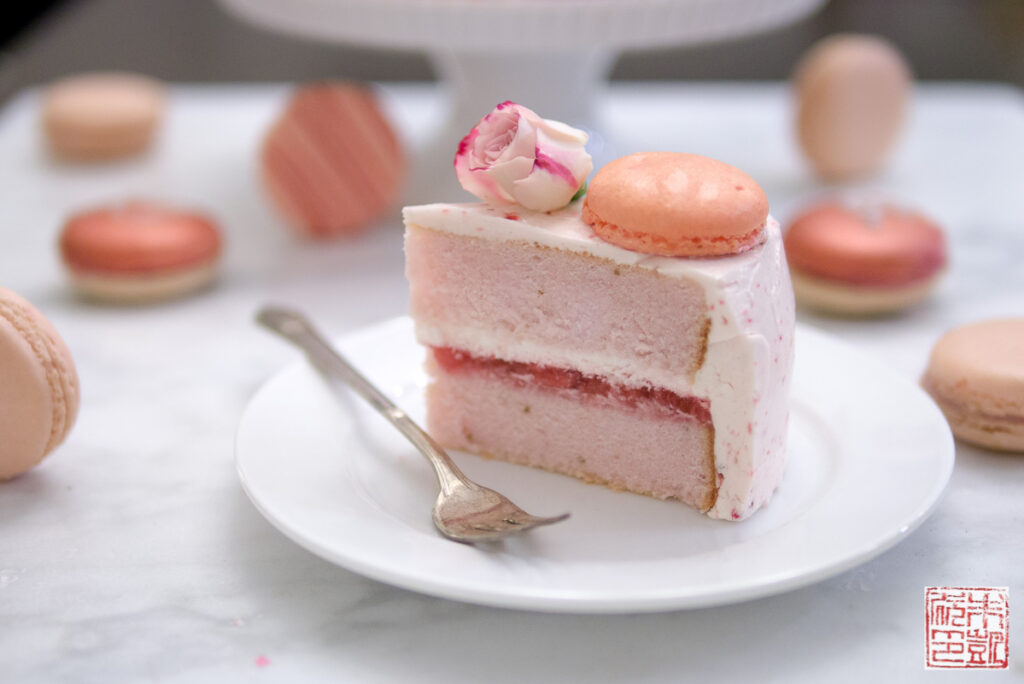 So, left to my own pastry preferences, I aimed for a pink velvet cake that would have as refined and velvety a crumb as possible. The best cake I've found for that purpose is the vanilla cake made via reverse creaming method. The classic layer cake method beats the sugar into the butter, which creates lots of little air pockets that create a lighter, fluffier texture. In the reverse creaming method, you combine all the dry ingredients first, then beat in the butter. This coats the dries evenly in a layer of fat, which acts as a protective barrier against the liquids (egg whites and milk) and slows the formation of gluten. The result should be a very tender, fine-crumbed cake – which sounds like my definition of velvety.
While many pink velvet cakes simply add pink food coloring to a vanilla cake, I wanted a strawberry cake, so all the color in the cake comes from pureed strawberries. I really wanted this cake to burst with strawberry flavor, so there are strawberries in the cake, strawberries in the filling, and strawberries in the buttercream. If you're not into strawberries, you can always use my original reverse-creamed vanilla cake and add coloring of your choice. But I think this cake is quite special as it is and I'm really happy with it. It's not too sweet (I purposely used swiss meringue buttercream instead of confectioners' sugar buttercream and used whipped cream for the filling to dial back the sweetness factor) and it lets the freshness of the strawberries really shine through. And it's so delicately pink, just right for spring and Mother's Day and little girls' birthday parties. I think I see myself making this again and again in the future.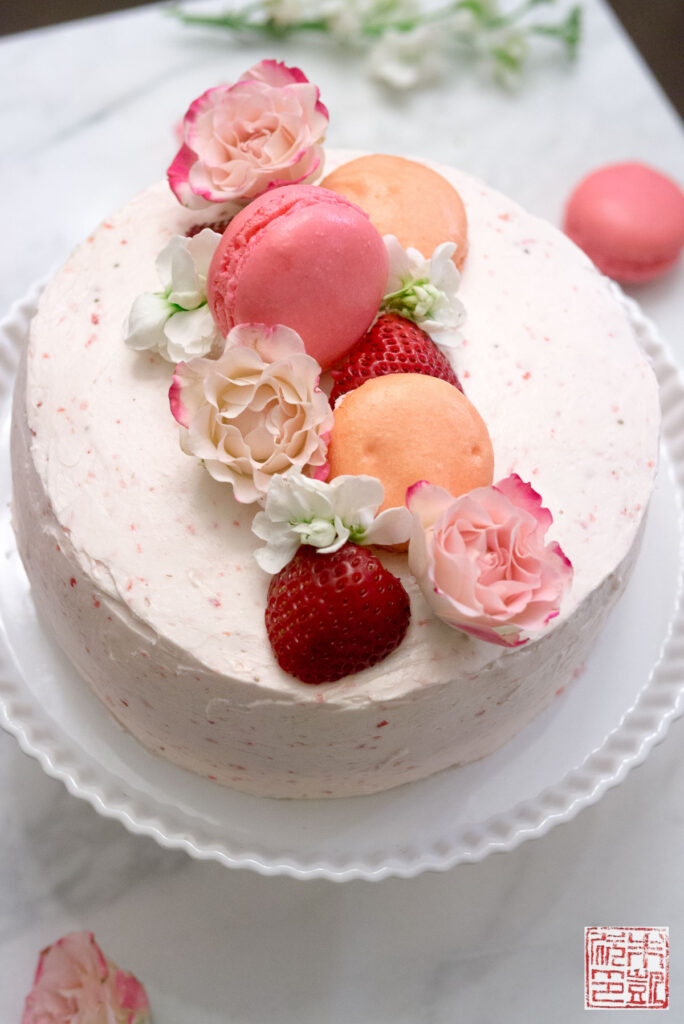 The finished cake is a relatively simple two layer, 6″ round affair with a filling of roasted strawberry puree layered with whipped cream, then frosted over with strawberry buttercream. I love the simple flower-and-macaron top decoration as well; I've just never been much of a talent with piping elaborate frosting embellishments, and this is just so perfectly sweet and springlike and romantic, just as I hoped for when I started putting it all together.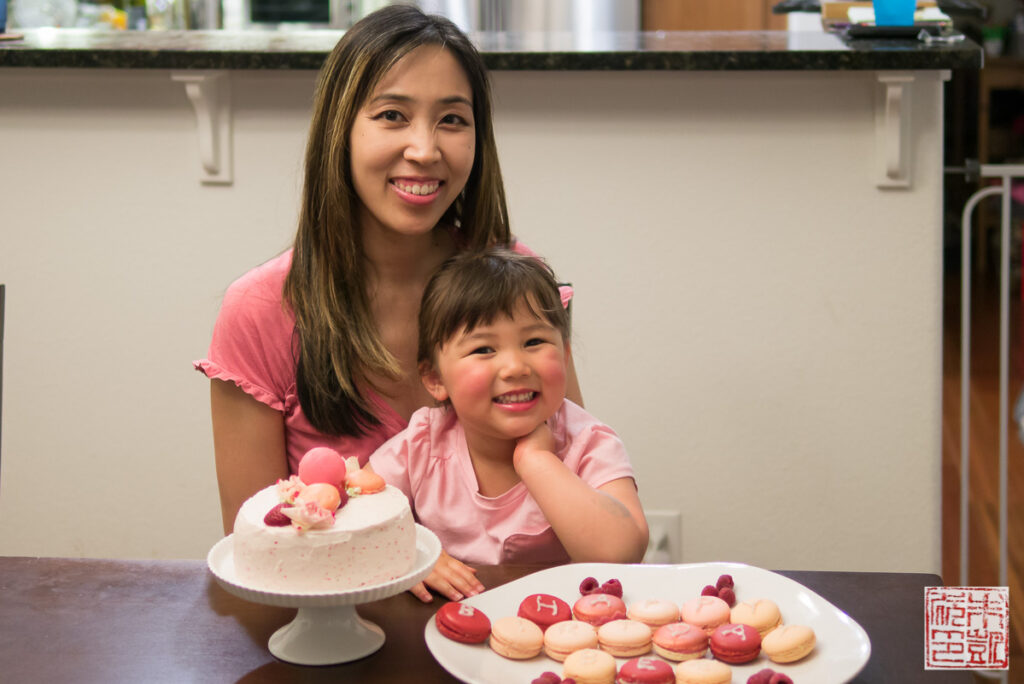 Mike and Isabelle also surprised me with the sweetest macaron message: an assortment of rosy-hued macarons from Chantal Guillon wishing me a happy birthday. How did they know to coordinate with my cake? Isabelle looks super happy here because she's surrounded by sweets. Strawberry is currently her favorite flavor so I kind of planned my cake out knowing there were two strawberry fans in the house. For the last week she's been constantly asking for "just one more slice of strawberry cake" – I might have an early front runner for her next birthday cake flavor!
Thanks so much for visiting! I'm looking forward to another exciting ten years of all things sweet.
Pink Velvet Strawberry Cake
Ingredients
Cake:
1⅓ cups (190 g) cake flour
1 cup (190 g) sugar
1½ tsp (8 g) baking powder
½ tsp salt
3½ ounces (100 g) unsalted butter, room temperature
2½ large whites (75 g), room temperature
½ cup (120 g) whole milk
1 teaspoon vanilla extract
½ cup (100 g) pureed strawberries
Pink food coloring (optional, if you want it more intense)
Strawberry Filling:
1 cup (6 oz) strawberries
¼ cup sugar
¾ cup whipping cream
Strawberry Buttercream:
¾ cup (125 g) sugar
2½ (75 g) large egg whites
7 ounces (200 g) unsalted butter, room temperature, cut into 1-in pieces
¾ teaspoon vanilla extract
¼ cup (50 g) pureed strawberries
Instructions
for the cake:
Preheat oven to 350 degrees F. Grease and flour two 6" round cake pans. Line the bottoms with parchment paper.
Combine cake flour, sugar, baking powder, and salt in a stand mixer fitted with the paddle attachment.
Add the butter and beat until a crumbly mixture forms, just starting to come together.
Add the egg whites one at a time, and beat to combine.
Combine milk and vanilla extract together in a measuring cup. Add to the mixer in three additions, beating well after each addition.
Add in the strawberry puree and beat to combine. You can add pink food coloring if desired, but I find the strawberry puree usually makes it pink enough for me.
Divide batter evenly between the two pans.
Bake for about 30-34 minutes, rotating halfway. The cakes should be set and a skewer inserted in the center should come out with a few crumbs on it.
Remove and place on wire racks. Run a knife around the edges for easier removal. Let cool for about 10 minutes and then invert pans to remove cakes. Let them finish cooling before decorating.
for the puree:
Preheat oven to 350 degrees F. Wash and hull the strawberries.
Place on a rimmed baking sheet lined with a silicone baking mat. Sprinkle the sugar over the strawberries.
Bake for about 20-25 minutes until the strawberries feel soft and mushy and the juices are coming out.
Put strawberries and any juices into a large bowl and let cool.
Mash the strawberries lightly with a fork or process in food processor to break up the larger chunks, but don't turn it into completely smooth puree. There should still be small pieces of strawberry in the filling.
Whip the whipping cream in a stand mixer to soft peaks. Chill while you are making the buttercream.
for the buttercream:
Combine the sugar and egg whites in a medium metal bowl and place over a pan of simmering water.
Whisk the sugar mixture constantly over heat until the sugar is dissolved and the mixture looks smooth and shiny. Continue whisking until the mixture reaches 160 degrees F.
Remove mixture from heat and pour into a stand mixer bowl. Whisk on medium speed for about 5 minutes until the mixture has cooled.
Switch to the paddle attachment and with the speed on low, add the butter a few pieces at a time, beating until smooth. Do not add the butter too quickly or beat too quickly or the buttercream may break.
When all the butter has been added, beat the buttercream on medium-high speed for about 6-10 minutes until it is very thick and smooth. It may appear to separate briefly but continue beating and it should come back together.
Add in the vanilla extract and beat to combine.
Add in pureed strawberries and beat to combine.
The buttercream is ready to be used. Place a piece of plastic wrap against the surface until you are ready to use it to prevent it from drying out.
To assemble the cake:
Level off cake layers if necessary. Place one cake layer on a cake board or cake decorating stand.
Spread some of the strawberry filling over the cake layer evenly. Spread a layer of whipped cream over the strawberry filling. Place the second cake layer on top.
Spread a crumb coat of buttercream over the top and sides of cake (see here for tips on doing a crumb coat). Refrigerate for about an hour to let the frosting set.
Spread the rest of the buttercream over the top and sides of cake with an offset spatula.