San Francisco is well known as a culinary destination, but there are plenty of gems spread throughout the rest of the Bay Area. I recently found one at the Sofitel San Francisco Bay hotel, about half an hour down the Peninsula in Redwood Shores. I was invited to try the menu at the hotel's Sofitel Bay 223 restaurant  Sofitel is a French inspired hotel chain, with properties around the world, and their San Francisco Bay hotel is all chic elegance, with a sleek, modern lobby overlooking the water. Bay 223 is immediately adjacent to the lobby lounge area and is a cozy, refined space to enjoy a meal.
The above shot is of one the appetizers we had, Ahi tuna tartare with wasabi-ginger sauce. I loved the tower presentation and wonton chip topping.
Our table in Bay 223, overlooking the lagoon next to the hotel. I love the serene setting for this hotel; imagine waking up to a lakeview.
One of the first things our server offered to do for us was a wine tasting flight. There are several flights offered on the menu, from champagnes to whites to reds. Our lovely server introduced us to this merlot that we both fell in love with and enjoyed throughout the meal.
Bay 223 also has an extensive cocktail menu. Here's their signature blackberry margarita with hand pressed blackberries, fresh thyme and citrus, and champagne.
I'm always a sucker for a mojito, and their mango ginger mojito with hand pressed mint and ginger puree was mighty fine.
The Bay 223 restaurant recently gained a new executive chef, David Clawson, so my dinner invitation was an opportunity sample his newly updated menu. Chef Clawson has worked under Daniel Boulud, and was also awarded "Best of Las Vegas" in 2015 for his first solo project, the "david clawson restaurant". This restaurant received stellar reviews, so I'm excited that he's bringing his talents to the Bay Area. We got to try out a generous selection from the very intriguing menu.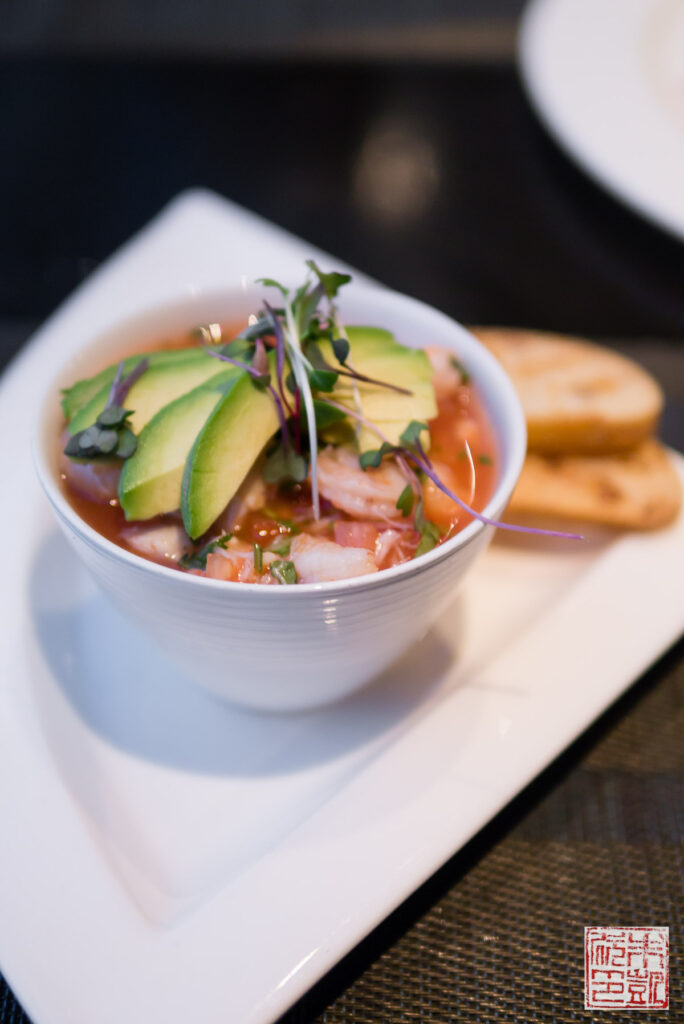 Among the appetizers we got, including the tuna tartare above, was a bright ceviche with Dungeness crab and shrimp with tomato and avocado.
I really enjoyed the pumpkin and carrot ravioli with candied walnuts, baby frisee, and sage beurre blanc. Although it was listed under appetizers it would have made a great meal on its own. There are plenty of satisfying vegetarian and gluten-free options on the Bay 223 menu.
A delicious way to get your veggies: roasted root vegetables with black truffle sauce and a poached egg on top. We loved the presentation.
On to the main courses: I can't resist scallops, and this was an indulgent take: caramelized sea scallops with gnocchi in a braised lobster sauce with green peas and spinach. My friend and I agreed the gnocchi were one of the best parts of the entire meal.
Roasted rack of lamb done perfectly, served with tomato confit, chickpea puree, fingerling potatoes, and a cumin red wine jus.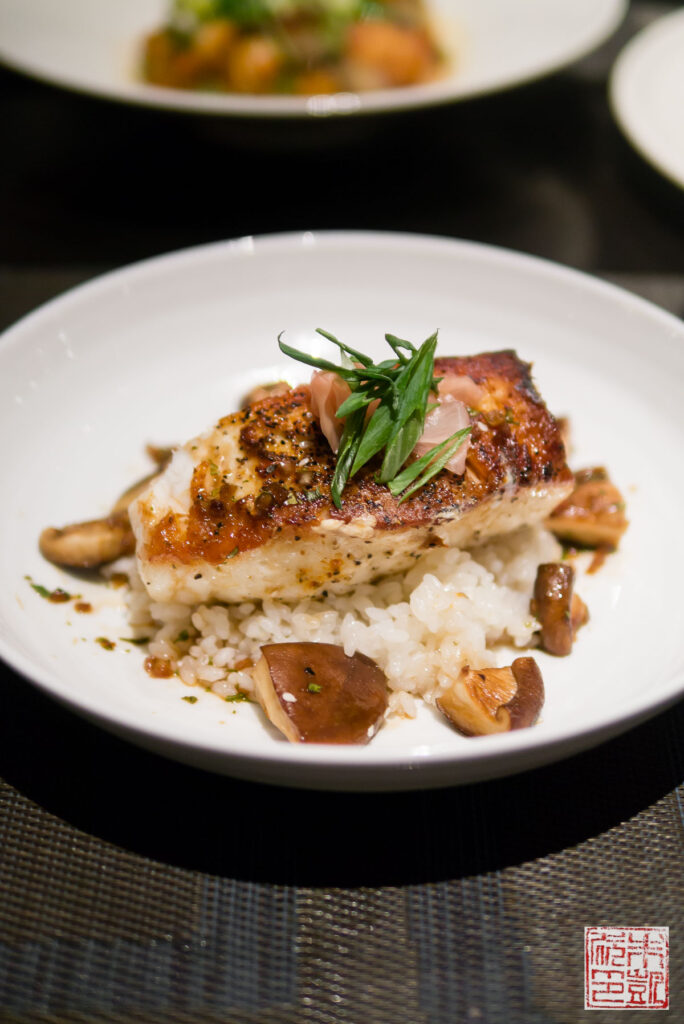 We were also encouraged to try out the chef's specials, and ended up with this seared sea bass with Chinese flavors, on a bed of rice and shiitake mushrooms. Delicate but richly flavored.
We were beyond stuffed by this point but couldn't say no to a dessert or two. My eye was caught by the Cafe Gourmand dessert plate, a kind of mini sampler with creme brûlée, espresso shot, chocolate eclair, and green tea macaron.
And a dreamy molten chocolate cake with praline chip and creme anglaise. Definitely glad we didn't skip dessert!
Thanks to Sofitel for a very delicious night out! Even if you aren't staying at the hotel, it's a lovely mid-Peninsula option for dinner or a drink at the lobby bar. Also, a last tip: don't miss their almond croissants for breakfast or from their cafe; they are a fantastic rendition of the French pastry.
Disclaimer: I was invited to a dinner at the Sofitel San Francisco Bay. I was not compensated for this review and all opinions are my own.
Bay 223 Sofitel San Francisco Bay
223 Twin Dolphin Drive
Redwood City, CA 94065