San Francisco is home to so many fantastic food events, and a couple weeks ago I got to attend one of the biggest ones of all: the 29th Meals on Wheels Star Chefs and Vintners Gala. This fundraising event has become an annual showcase of some of the biggest names in the food and wine scene in San Francisco and Napa-Sonoma wine country. With Chef Nancy Oakes of San Francisco fixture Boulevard restaurant serving as Gala Chair, the event never has any trouble attracting the best of the best.
Many thanks to Meals on Wheels for extending an invitation to me and my husband to be part of the evening. Below are images from the evening, from the cocktail and hors d'oeuvres reception, to the three-course dinner, and my favorite part, the dessert reception. Over 200 chefs and vintners contributed their talents to the spectacular spread – hope you enjoy this little taste of what we experienced!
The interior of the Festival Pavilion at Fort Mason where the gala took place.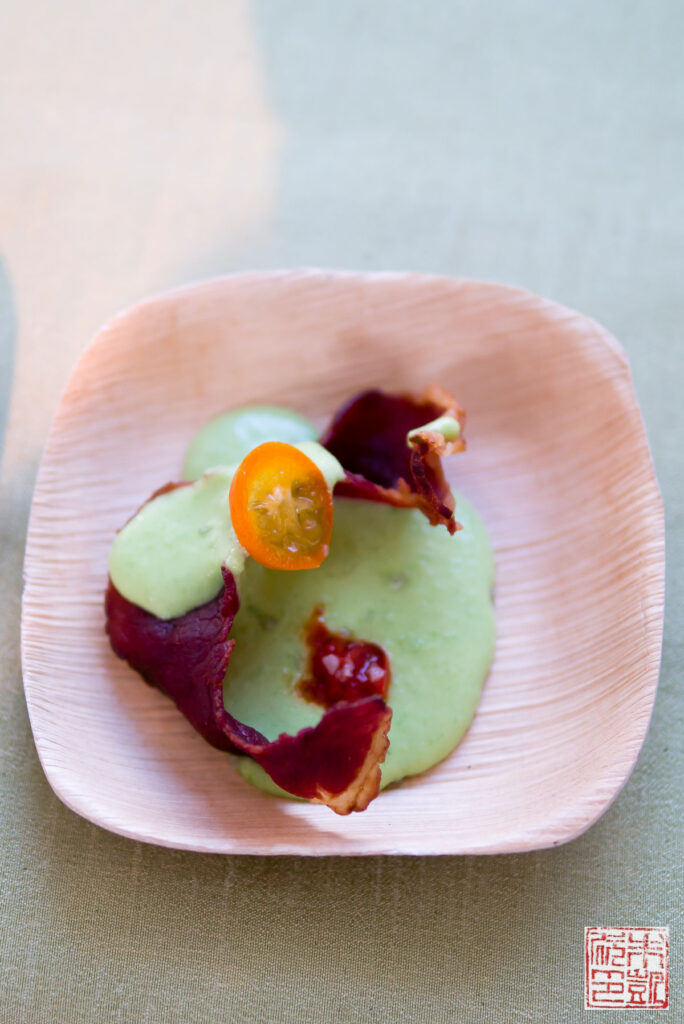 From the reception hour: Belcampo ham cracker, peas, ricotta, pickled pepper and kumquat from Belcampo Meat Co.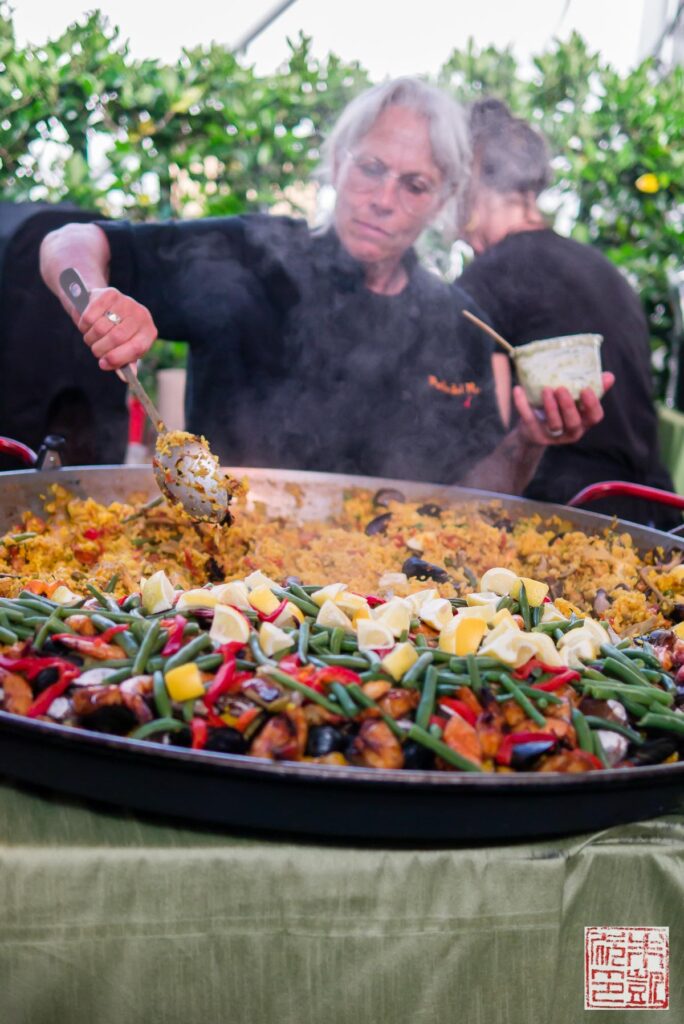 Paella del Reyes, dishing up servings of paella large enough to be dinner on their own. You had to really avoid overstuffing yourself and having no room left for the actual dinner!
Porchetta di Testa, English peas, and buffalo milk ricotta from Doc Ricketts.
Rabbit sausage with green curry, kumquat, and almond from Parallel 37 at the Ritz-Carlton San Francisco.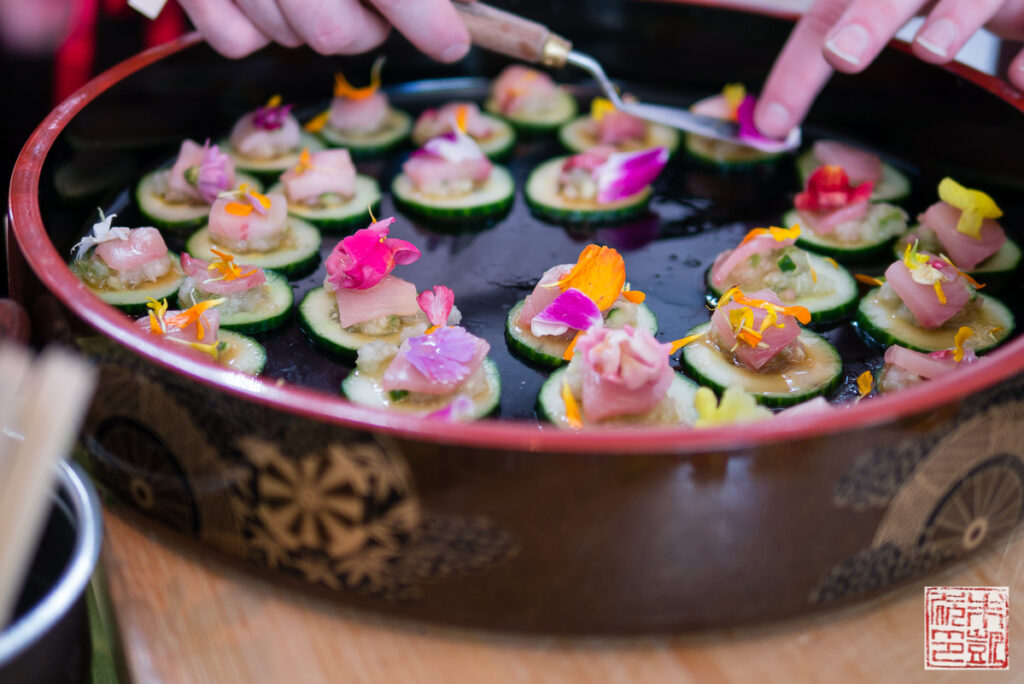 So gorgeous: Hamachi crude with edible flower garnishes from Ozumo.
A savory tart from Mugnaini that had the crispest tart shell I have ever tried.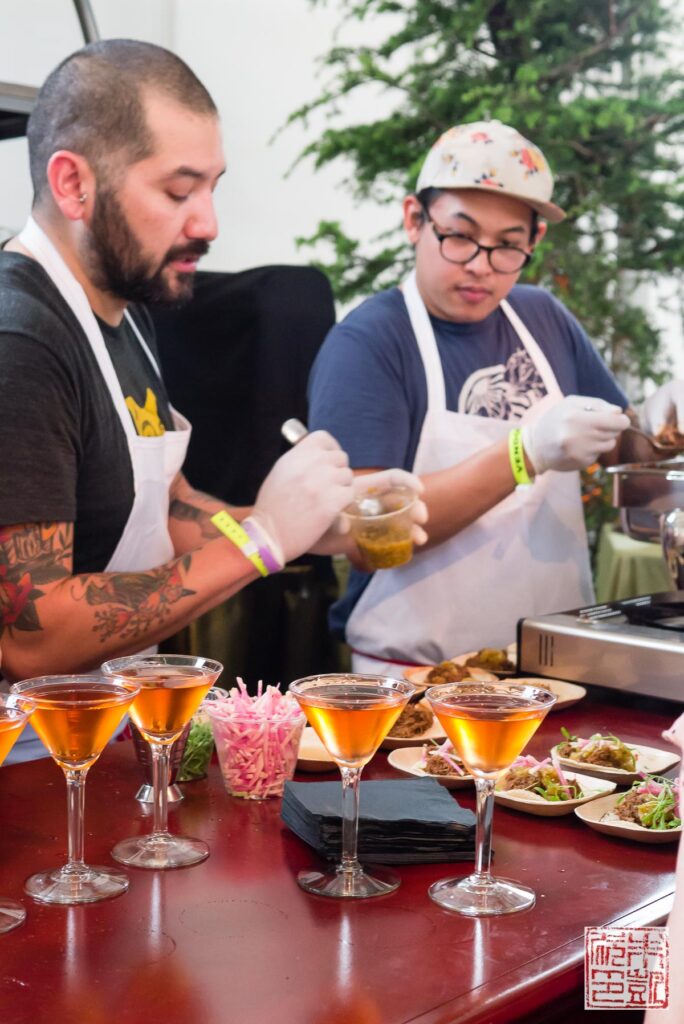 Rabbit rilles with strawberry relish and serrano chili from the Majestic Yosemite Hotel.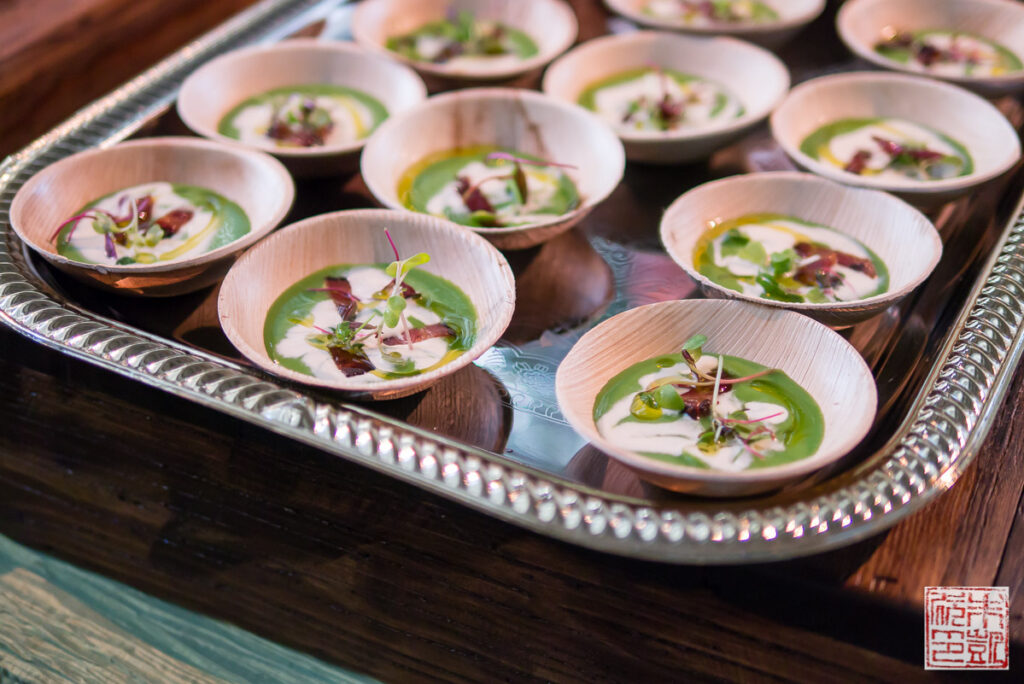 Absinthe captured the essence of spring with a chilled spring pea puree with smoked pork belly and tarragon cream.
I was so happy to see one of my favorite Peninsula restaurants, All Spice, make an appearance.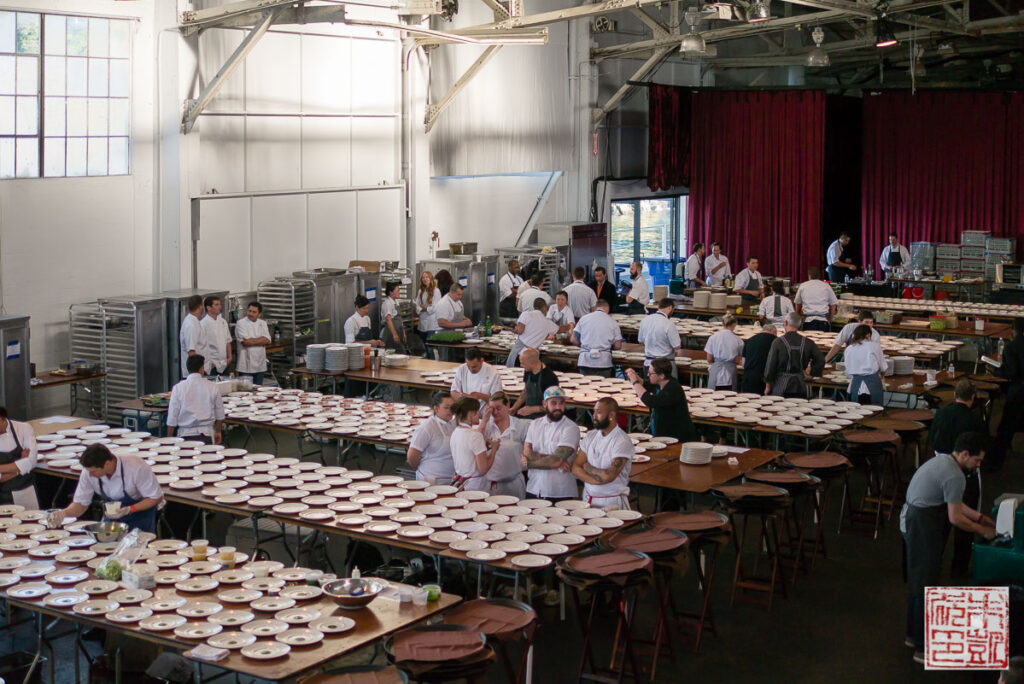 I got to peek at the back of the house – a section of the pavilion that was curtained off and transformed into an enormous production space. Here chefs from over 30 restaurants plated ten different three course menus that would be served to guests for dinner.
Chefs hard at work plating dinner.
At the far back of the space there was a hideaway bar for chefs only where they could go relax and celebrate after their work was done. At this moment, still pristine and waiting for the afterparty to begin.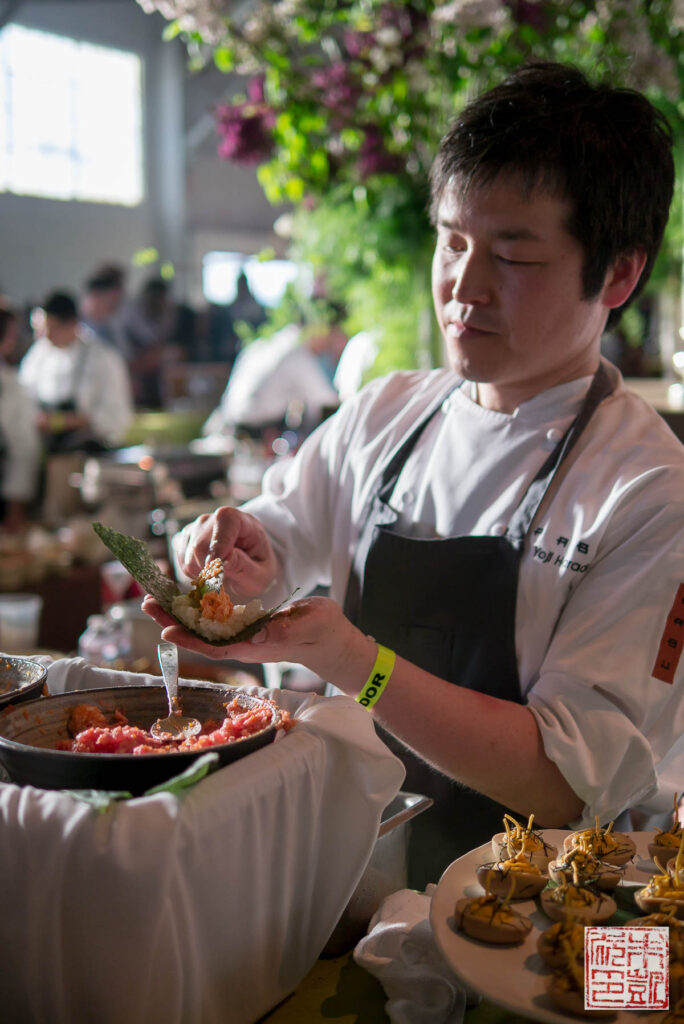 Back at the reception, sushi rolls made to order by Pabu Izakaya.
They also presented one of my favorite dishes, a ramen deviled egg.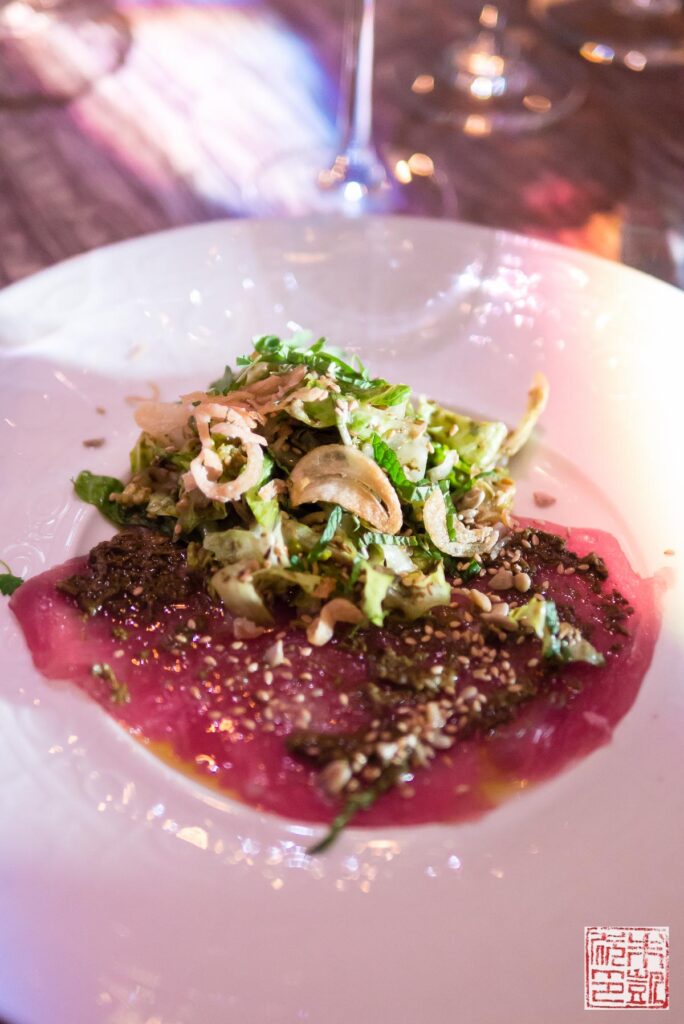 On to dinner. The first course was an ahi tuna carpaccio topped with tea leaf salad, sesame, and toasted garlic by Leo's Oyster Bar.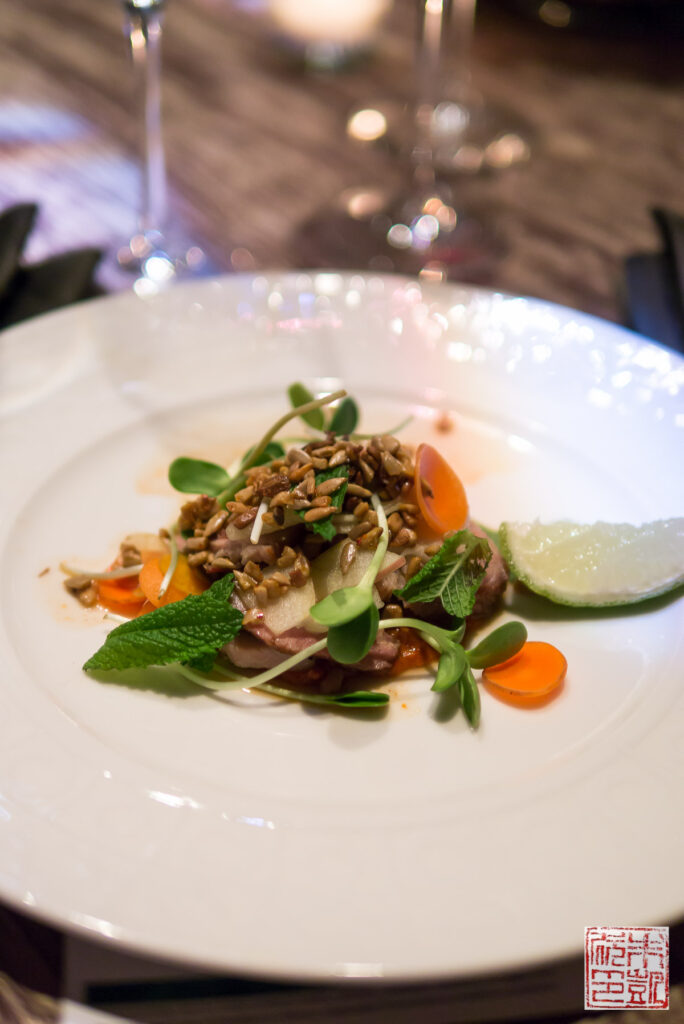 Second course was grilled pork shoulder with sunflower seed sambal and pickled carrots by Stuart Brioza's The Progress.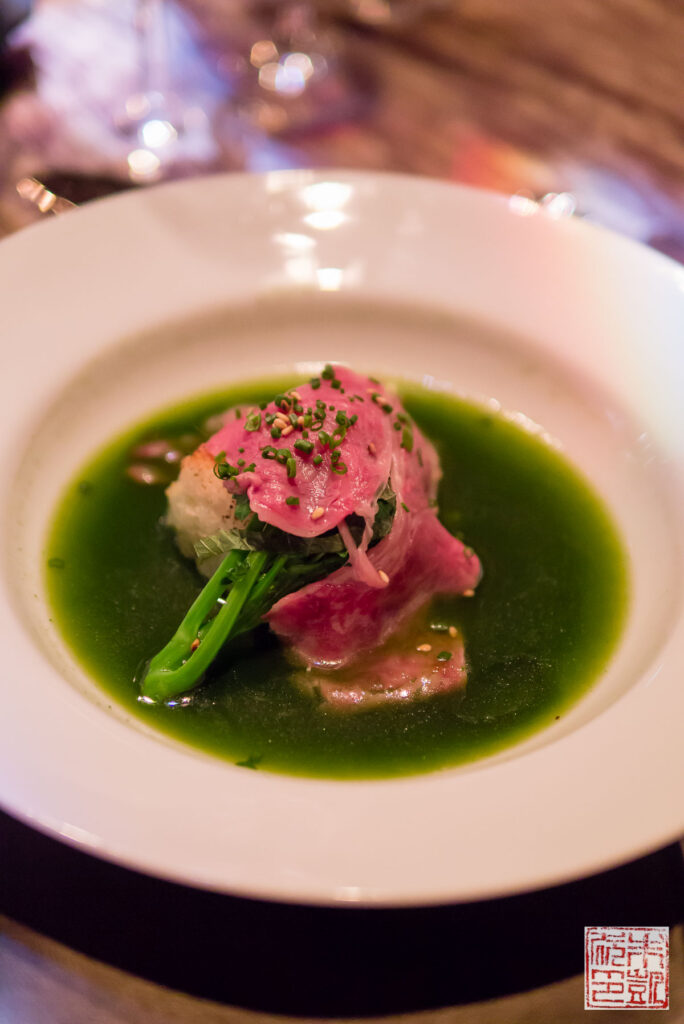 The third course was an intriguing dish by Chaya: Wagyu ochazuke with mentaiko, yakionigily, broccoli, and dashi. Ochazuke is a Japanese dish traditionally made by pouring green tea over rice and adding savory toppings. I knew nothing about this dish going in and it was delicious, subtle and layered.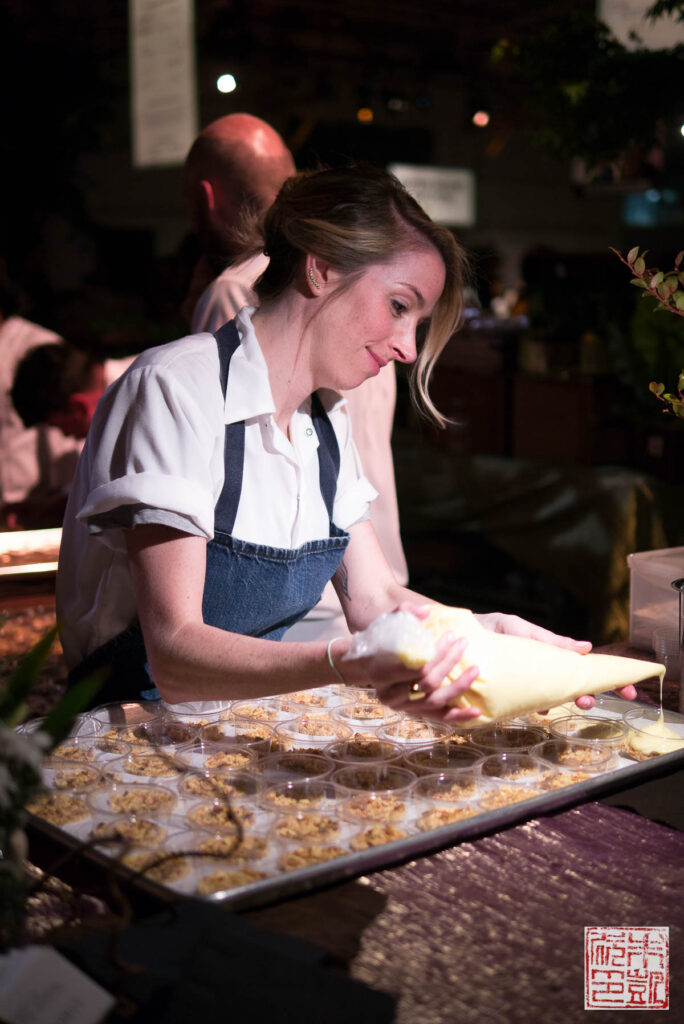 Although there was a live auction that started during the dinner portion, I ducked out early to get some shots of the dessert reception. The sweets did not disappoint.
Edible flowers were a theme of the evening – here they are adorning Wente Vineyards' strawberry and rhubarb dessert.
Strawberry season: chefs setting up for some strawberry themed desserts including strawberry margaritas!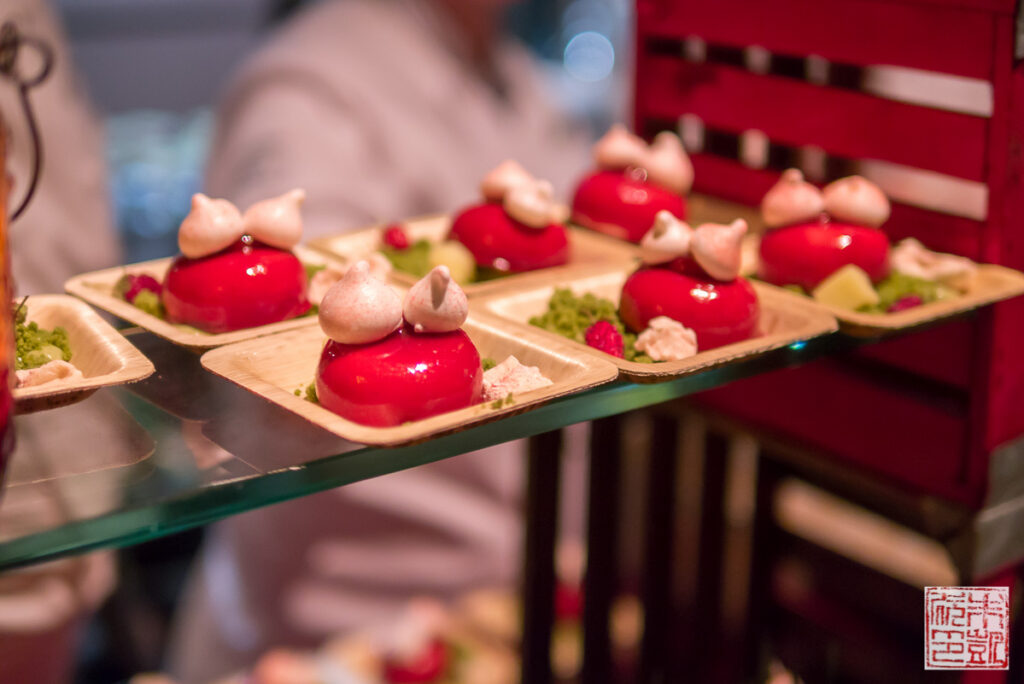 This strawberry hibiscus mousse with basil cremeux was pretty delicious too.
Vanilla matcha tartlets from Boulevard.
Adorable macaron presentation from Hakkasan. I loved the passion fruit ones.
Bonbons and other chocolatey goodies from my favorite SF chocolatier, Recchiuti Confections.
Strawberry panna cotta with mango gelee and puffed wild rice from La Urbana.
Chef from The Keystone working on coconut and chocolate tartlets.
The most elegant s'mores with graham crackers, chocolate custard, and toasted marshmallow mousse from Mayfield Bakery.
An edible field of candy: PB&J lollipops by Taste Catering.
More lollipops and petit fours from Tout Sweet Patisserie.
Altogether the evening was a gastronomic and charitable tour de force: I haven't eaten this luxuriously in quite a while, and the evening raised a record-breaking $3.3 million for Meals on Wheels – funds that will help provide meals to homebound seniors in San Francisco. It was truly gratifying to see so much support for such a worthy cause, and it was a treat to mingle and meet with so many of the Bay Area's star chefs. Visit the Meals on Wheels San Francisco site to learn more about their mission, and thanks again to the organization for their generous invitation to let me share in the gala!