This post is a bit belated but I couldn't not share pictures of a Pusheen birthday party! Isabelle wanted a Minnie Mouse party like she had last year – I think she's at the stage where she enjoys the comfort zone of repetition and wants to repeat the same fun experiences over and over again. I asked if she wouldn't like something different; in retrospect I feel like this was a rookie parent mistake since every experienced parent knows if you can recycle concepts you've done previously, that's like winning the brass ring in terms of saving time and money. But instead I encouraged my daughter to pick a different theme. When she chose the uber-adorable cat Pusheen, I thought, great. Although Pusheen isn't as prevalent in our house as Hello Kitty, I knew how popular this cat was and figured there would be plenty of themed decorations to choose from. Wrong again! Although there is Pusheen merchandise, it's limited and sadly on the pricey side – no dollar store goodies for this posh kitty. So I resigned myself to the oh-so-familiar evenings of parents who've dug themselves into a hole: frantically DIY-ing cat ear plates, cupcake toppers, and finding anything cat-related that might pass muster as party deco.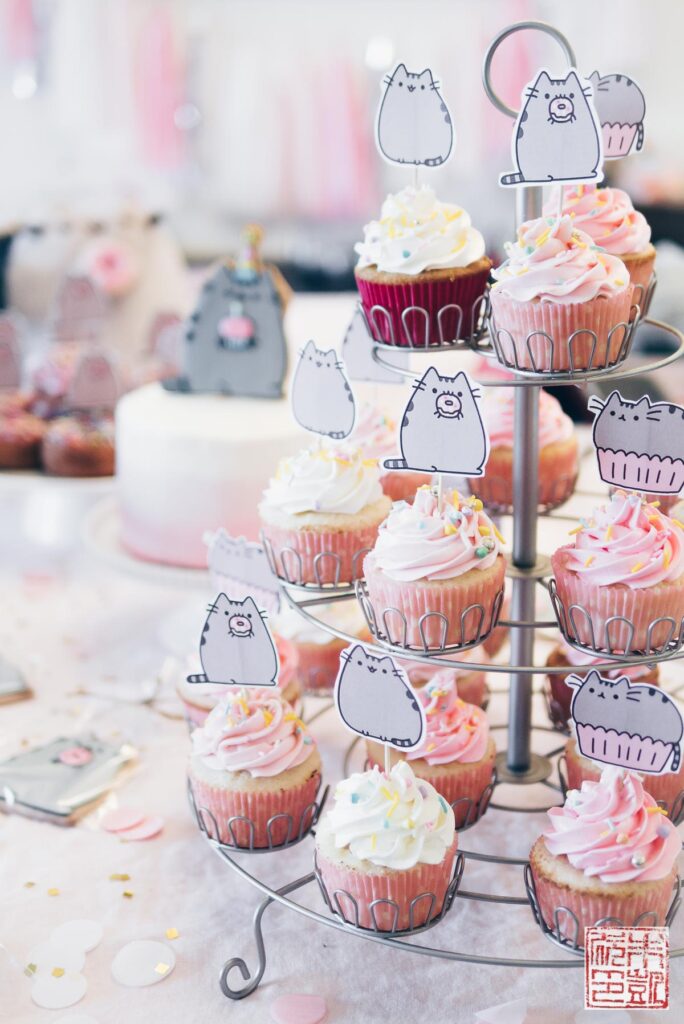 With some heroic help from hubby and friends, and some absolutely stunning work from my good friend Michele of I Heart Baking, I think we managed to pull off a pretty good Pusheen party! Isabelle's favorite color is still pink, so the pink color scheme her birthday is still in full effect. This is actually my favorite iterations – shades of pastel pink, grey, silver, and a splash of gold. I kind of want to use it for my own birthday!
For Isabelle's first two birthdays we had cake; for her third we had cupcakes. For her fourth birthday I finally went all out with cake and cupcakes, mainly because I didn't have time to make a cake big enough for all the guests coming to the party, so I decided to supplement with cupcakes instead of a big sheet cake. If you look at the top photo of this post, you can see I did some pink ombre with the frosting – a fun and simple way to decorate her cake.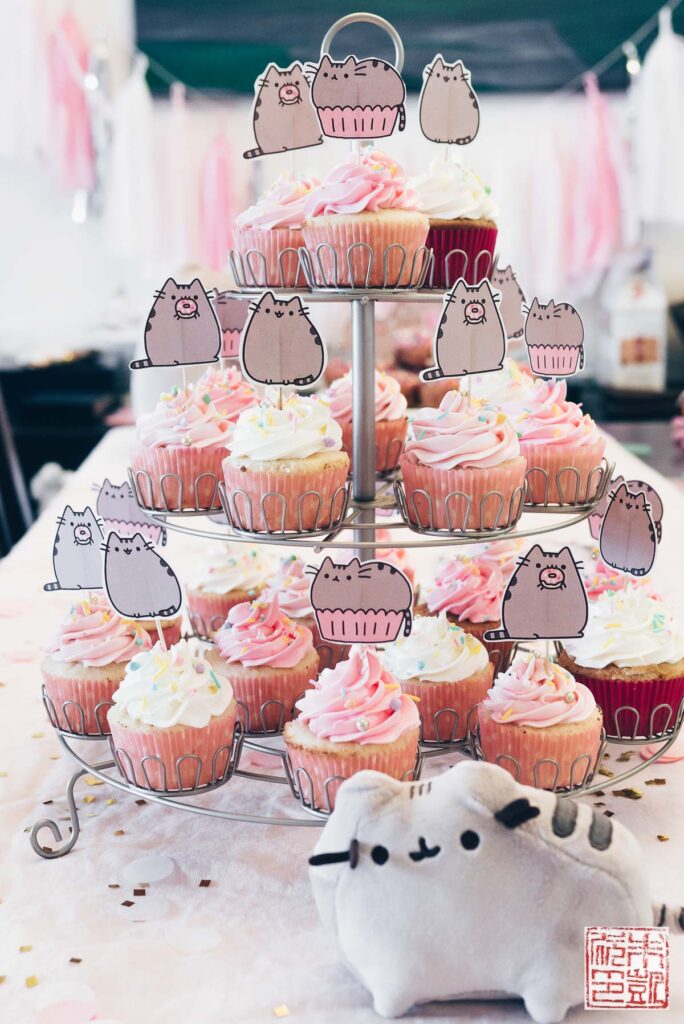 The cupcake tower is probably going to become a tradition for Isabelle's parties. She actually helped me with the sprinkles this time! I'm looking forward to when she will be able to help frost them as well. The cupcake toppers were made by printing out some images of Pusheen and then taping them to toothpicks – this is where having a couple friends to help comes in very handy. Little Pusheen is posing approvingly in front of the cupcakes.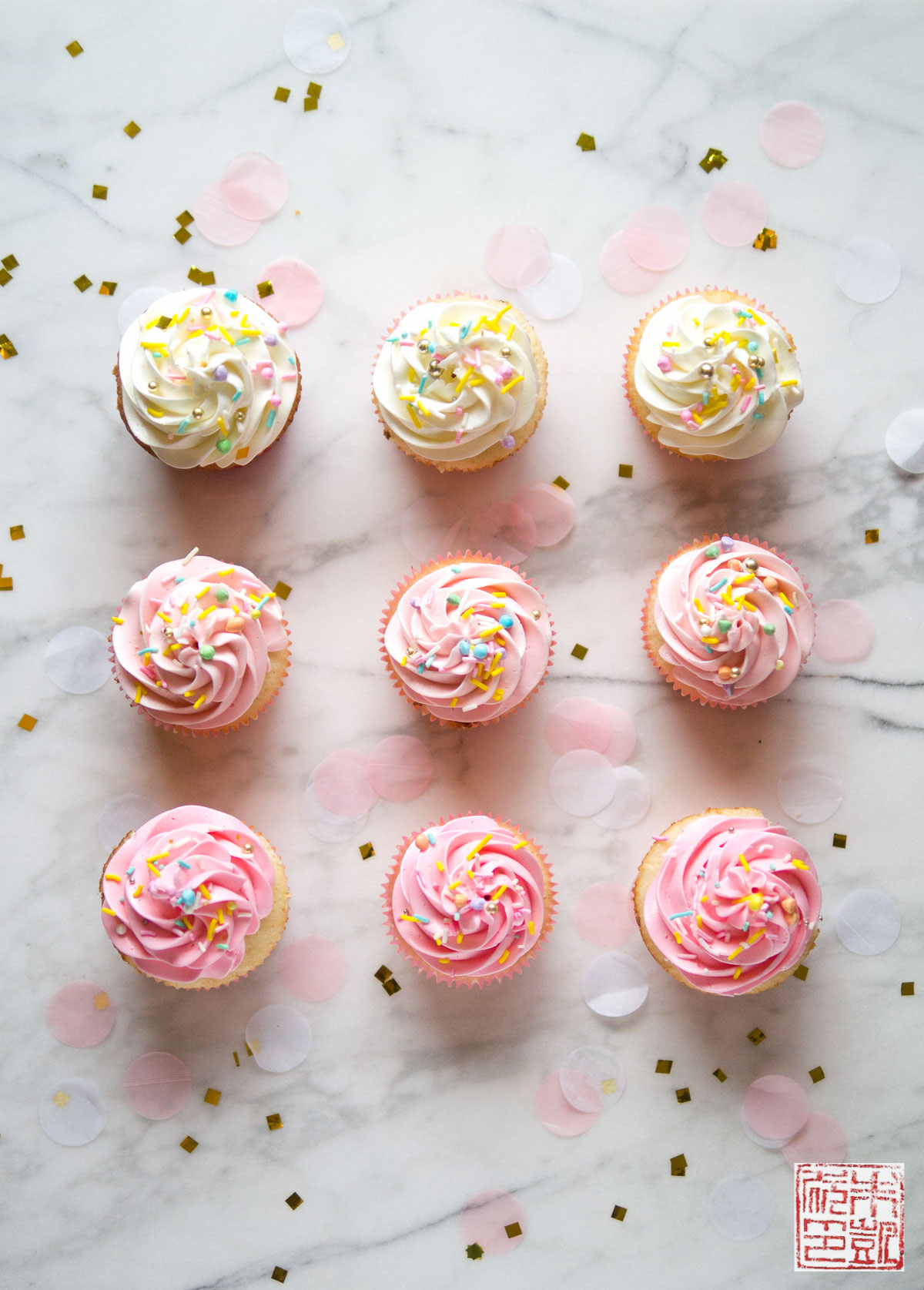 A overhead ombre view of the cupcakes, from white to rose to deep pink. Sprinkles are from Sweetapolita, confetti from here.
Ok, mommy failure admission time: I did have plans for more Pusheen-themed desserts, including making Pusheen donuts and macarons. But unfortunately some other life events intervened and left me with less time to pull this party together than I wanted. In the end I had to go with store bought donuts, but I am a little proud that I managed to get ones that looked almost exactly like the ones Pusheen is noshing on! Yes, if you've noticed, our Pusheen plush collection mysteriously kept increasing as party planning went on!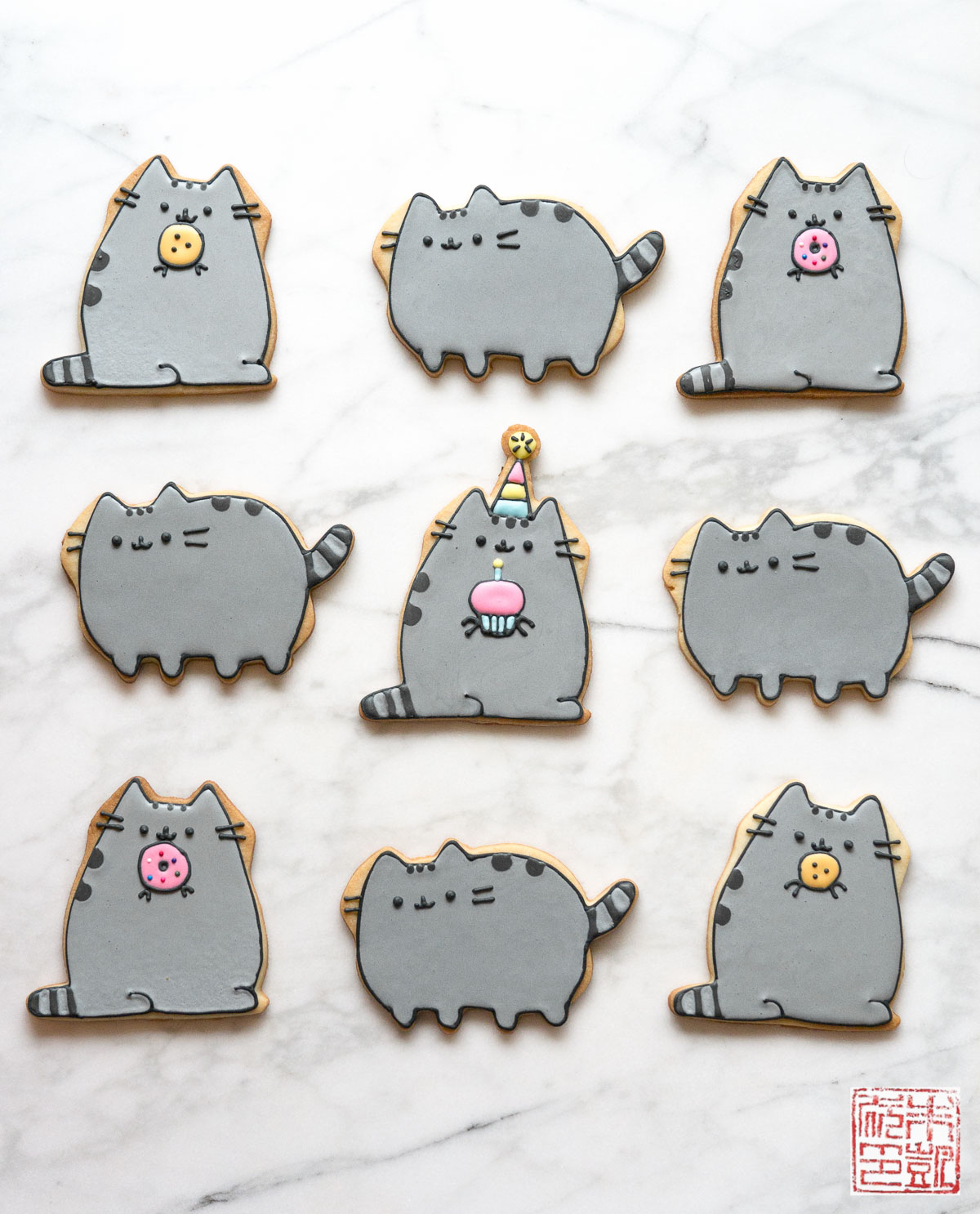 How AMAZING are these cookies by Michele of I Heart Baking! She's the author of the Hello Kitty Baking Book, so no surprise that she's an expert on crafting all manner of too-cute desserts. She helped me out by making these perfect Pusheen cookies as party favors – everyone loved them. Isabelle didn't want to eat hers at all!
Birthday girl before her party. She was SO excited to turn four – I think for the last six months she's been talking about how she can't wait to be four years old. When she woke up yesterday morning (her birthday), the first thing she said was, "Am I four yet?"
So now she's four, and she's really a Big Girl now. She's funny and independent (sometimes a little too much) and sassy (often way too much for mom and dad's liking). She's quite athletic and physically fearless: sh…e loves gymnastics, swimming, and jumping off any high place she can find (I have a fear she might end up being the kid in class who's always in a cast). She loves music and has a surprisingly keen ear for song: she can repeat lyrics after hearing them only once or twice, not just from kiddie shows but mommy's music, and usually remarkably on key. She must get it from her dad's very musical side of the family!
Best of all we love that she's very social and friendly to others – she has way more friends at preschool than I did at her age, and she's still so sweet and loving. She regularly tells us how much she loves her mom and dad, which I think must be one of the very best things about this age.
The dessert lineup at the party. I'm kind of digging how the teal blue wall is giving this photo a retro beach house vibe. We had our party at The Little Gym, which was perfect for working off the energy of 20 or so preschoolers. What I also loved about the The Little Gym is the wonderful service from the staff – they provide two instructors who supervise the kids and lead them through activities, so parents actually get a break, instead of having to track their kid through the chaotic free-for-alls of most playplaces. Also, they do virtually all the set up and clean up for the party – a parent's dream come true.
Gold sparkle cat ear headbands for all the kiddies. They all wore them too – the cutest thing ever! Side note: it was surprisingly hard to find cute cat ear headbands for kids that don't cost an arm and a leg (when you've got to multiply for 20 guests, everything adds up really quick) – this is where my lack of DIY skills is really showing. These headbands were actually my proudest score – I found them on sale at Gymboree and they were exactly what I was looking for.
Birthday girl Isabelle and me! After the party she told me that she loved it and she wanted to do it all over again! Hmm…should I record her saying that and tell her we're having a Pusheen birthday party next year? I guess we'll have to wait a year to find out! So glad I pulled this one off, and thanks again to all the family and friends who helped make it a success!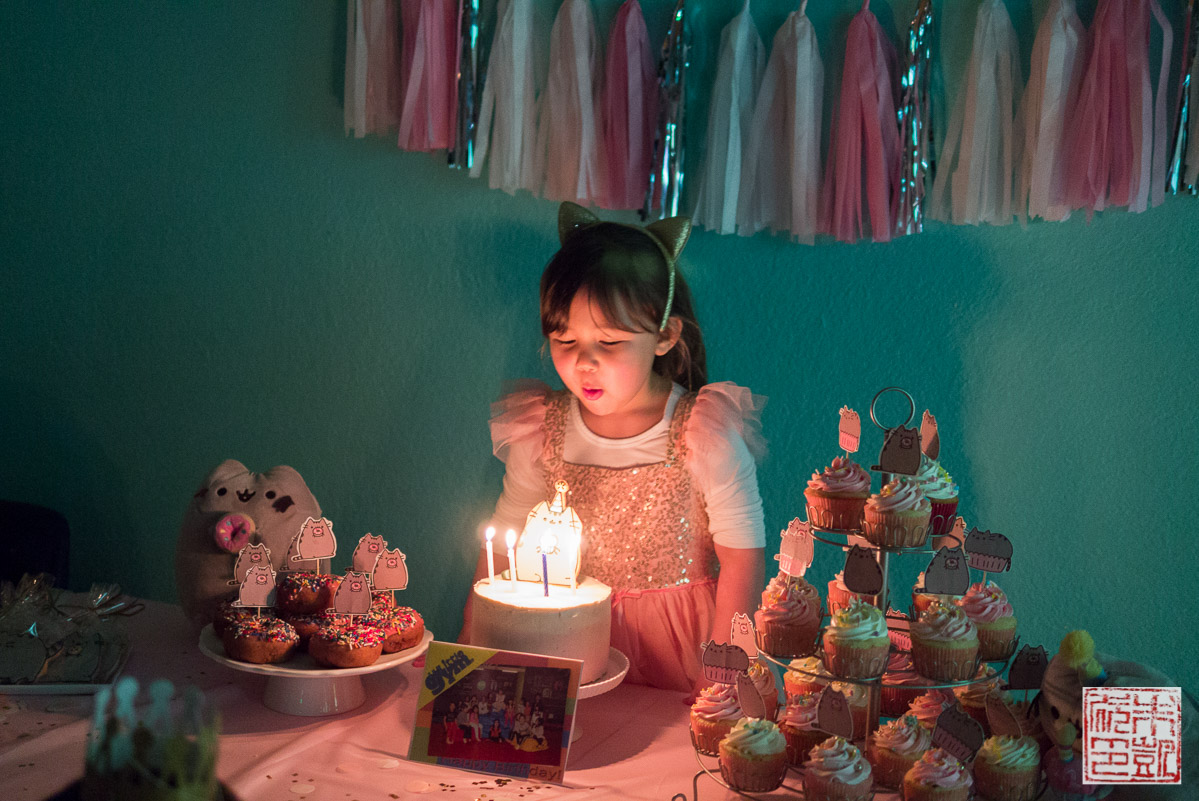 Tahitian Vanilla Bean Cupcakes
Ingredients
Vanilla Bean Cupcakes
3 cups (330 g) cake flour
2½ teaspoons baking powder
1 teaspoon salt
1 cup (230 g) whole milk
4 teaspoons Tahitian vanilla bean extract
1 cup (220 g) unsalted butter, room temperature
2 cups (400 g) sugar
3 large eggs plus 3 large egg whites
Vanilla Swiss Meringue Buttercream
1¼ cups (250 g) sugar
5 large egg whites
15 ounces (425 g) unsalted butter, room temperature, cut into 1-in pieces
1½ teaspoons vanilla extract
1 teaspoon almond extract
Instructions
For the cupcakes:
Preheat oven to 350 degrees F. Line two 12-cup muffin tin with cupcake liners.
Sift the flour, baking powder, and salt together into a medium bowl.
Combine the milk and vanilla bean extract together in another bowl.
Cream the butter and sugar together in a stand mixer with paddle attachment on medium speed until soft and creamy.
Add in eggs and egg whites, one at a time, beating thoroughly after each addition to combine before adding the next.
Add in the flour mixture and milk mixture in three alternating additions, starting and ending with the flour mixture. Beat just to combine each addition before adding the next.
Using an ice cream scoop or a spoon, fill each cupcake liner about ¾ full with batter. Bake in oven for 16 to 20 minutes, rotating the pan halfway through, until a toothpick inserted in the cupcakes comes out clean.
Let cupcakes cool in tin on a wire rack until cool before decorating.
For the buttercream:
Combine the sugar and egg whites in a medium metal bowl and place over a pan of simmering water.
Whisk the sugar mixture constantly over heat until the sugar is dissolved and the mixture looks smooth and shiny. Continue whisking until the mixture reaches 160 degrees F.
Remove mixture from heat and pour into a stand mixer bowl. Whisk on medium speed for about 5 minutes until the mixture has cooled.
Switch to the paddle attachment and with the speed on low, add the butter a few pieces at a time, beating until smooth. Do not add the butter too quickly or beat too quickly or the buttercream may break.
When all the butter has been added, beat the buttercream on medium-high speed for about 6-10 minutes until it is very thick and smooth. It may appear to separate briefly but continue beating and it should come back together.
Add in the vanilla and almond extracts and beat to combine. Add food coloring as desired.
Place buttercream in a piping bag fitted with a star tip (I use Ateco closed star 846). Pipe frosting onto each cupcake.