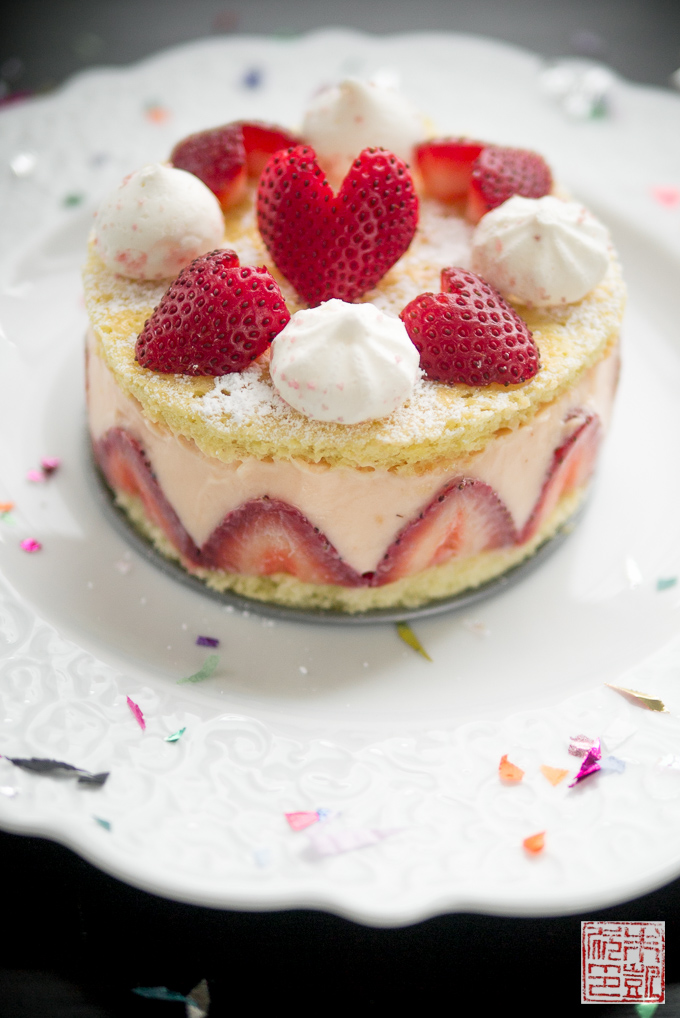 Yearly birthday confession time: in the last few years I've gotten really bad at remembering my birthday. Not in a I-don't-want-reveal-my-age way, but in a I've-got-so-much-to-do-I-just-plain-forgot way. I'm way past the age of all-night celebrations in a nightclub anyway, and once you have kids, all the elaborate party planning ends up going to their birthday instead. Mommy's birthday? When's that?
It didn't help this year that I've been sick – for longer and more intensely than I've been in a long time. I thought I had a pretty good immune system, but maybe age and probably a toddler bringing home germs from daycare will wear down anyone's defenses. I fought off a two week cold and debilitating cough just in time for us to make a short trip down to LA and Disneyland, then promptly got sick again after we got home. Ugh. At least I was well during vacation: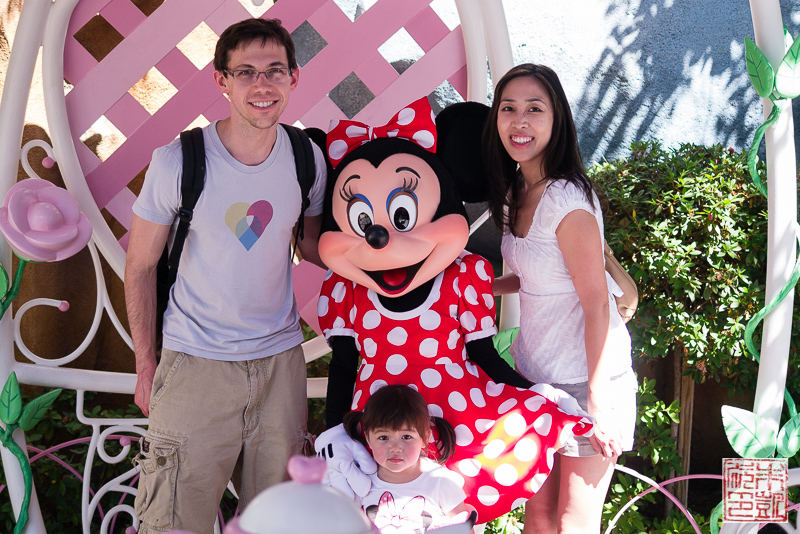 Meeting Isabelle's favorite character, Minnie Mouse. Thank God Isabelle doesn't know about Frozen yet.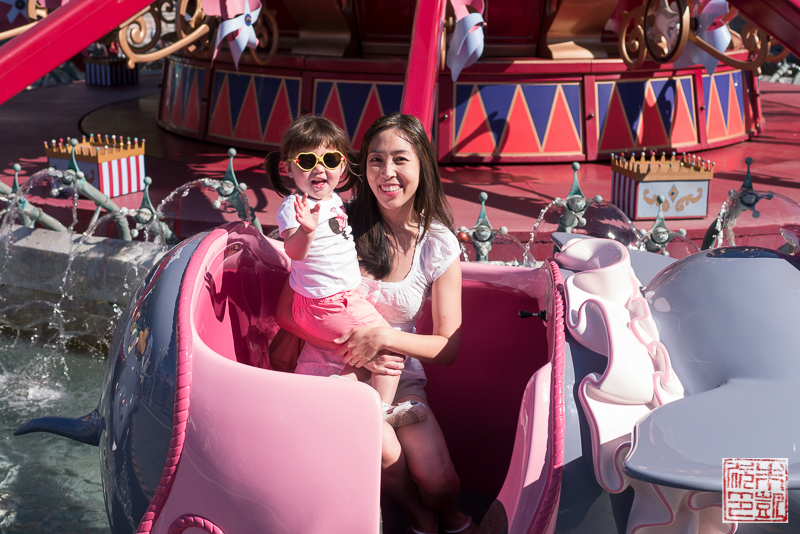 Her favorite ride, Dumbo (the pink one, of course).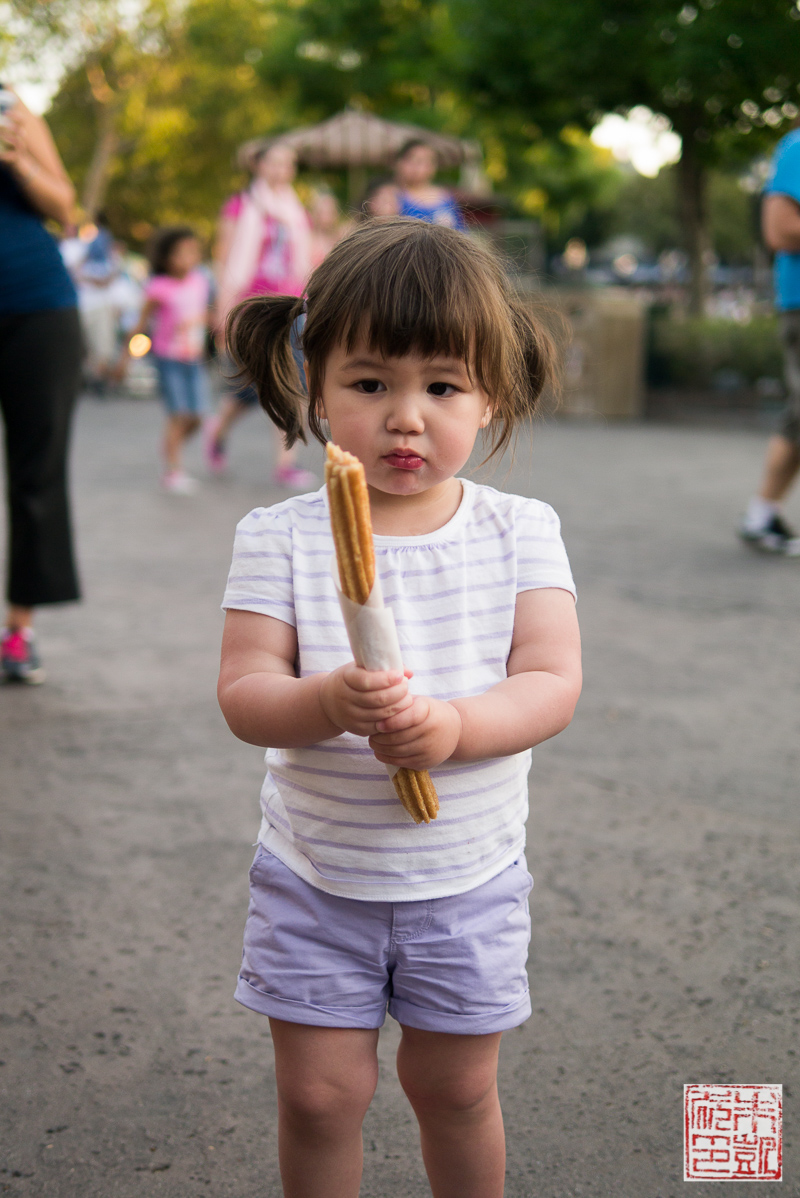 Happiness is a churro as long as your arm.
Or a Mickey ice cream bar.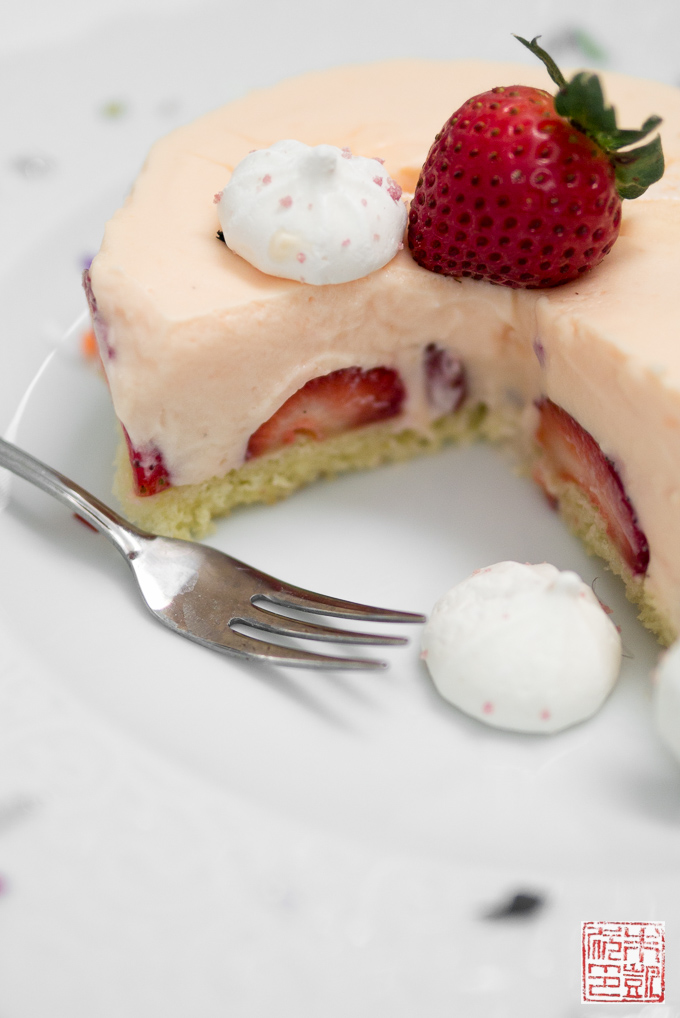 The LA getaway kind of served as an early birthday celebration for me as well, so I'm glad I was able to enjoy it before getting sick again!
Besides my birthday, I'm also celebrating another big change – a major facelift to my blog! If you're a longtime Dessert First reader, I hope you like the redesign. I think it's a bit more modern and streamlined, puts more of a focus on the imagery, and also makes it a little easier to navigate to some of the other parts of this site, like reviews of my favorite sweets or tips on my favorite places in San Francisco. This redesign has been something I've been wanting to do for a while, and I've been working for the last few months with the very talented Julie of Deluxe Designs, who has tirelessly worked to incorporate all my fancy notions and been patient while I hemmed and hewed. Please let me know what you think! There may still be a few kinks I'm working out, so let me know as well if you encounter any issues!
To celebrate my birthday and the new blog design, I did a rift on one of my favorite classic desserts: the fraisier. This showstopping French dessert traditionally features a ring of strawberries cradled in whipped cream and sandwiched between two layers of genoise. It's very spring and a beautiful dessert for a birthday or Mother's Day.
I changed it up a bit by changing the filling to a rose-scented pastry cream; I love the combination of strawberries and rose. I also initially left off the top layer of genoise to show off the pink of the filling, but you can always put in the second layer. I actually ended up doing one with a top layer of genoise and I don't know which way I prefer more. The sheet of genoise in the recipe is big enough for you to cut out about six 4.5″ round circles, so you can definitely do either way.
Although it looks a little elaborate, it's not really that difficult a dessert to make; I did it over the course of a few hours, and I was on cold medication at the same time! The biggest trick to a nice presentation is making sure you have the right equipment – springform pans and acetate strips to line them so you can unmold the cakes easily.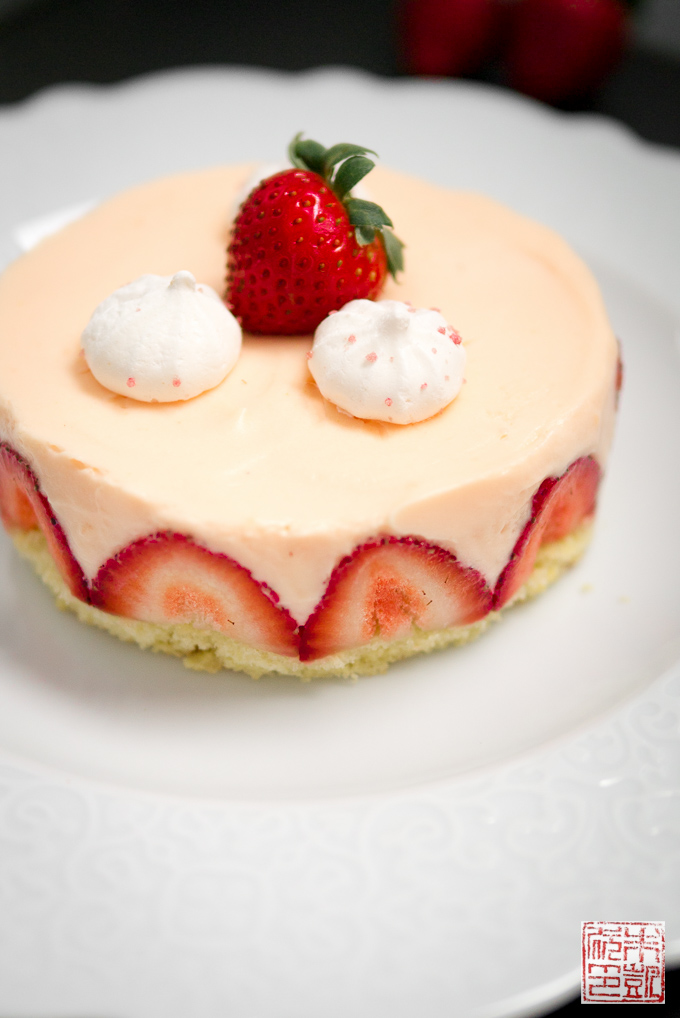 Even if the last few crazy months almost made me forget my birthday, I'm glad everything still came together to make the day special:I have memories of a fun family trip and a shiny pretty new blog! Enjoy!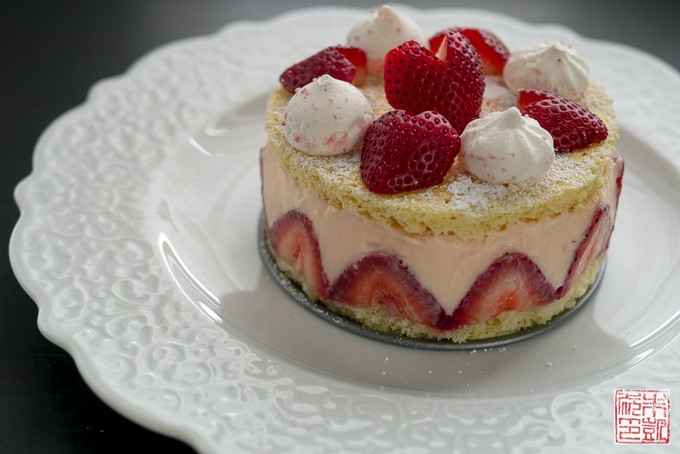 Vanilla Genoise
2/3 cup (133 g)

sugar

4

large eggs, room temperature

2/3 cup (80 g)

cake flour

3 tablespoons (43 g)

unsalted butter, melted

1 teaspoon

vanilla extract

1 teaspoon

almond extract
Rose pastry cream
3/4 cup (173 g)

whole milk

2 tablespoons (30 g) + 4 tablespoons (60 g)

sugar

2

large egg yolks

2 tablespoons (14 g)

cornstarch

1/2 teaspoon

vanilla extract

1/2 teaspoon

rose extract

1 teaspoon

rose syrup

3/4 cup (173 g)

heavy cream

1 teaspoon

powdered gelatin

2 tablespoons

cold water
To assemble
1 pint

strawberries (about 18)
For the genoise:
1. Preheat oven to 350 degrees F. Lightly grease an 11"x17" baking pan and line with parchment paper.
2. Whisk eggs and sugar together in a metal bowl. Place over a saucepan of simmering water and whisk until mixture is warm (the eggs will whip up with more volume if they are warm, but you don't want to cook them).
3. Pour eggs into bowl of a stand mixer. Whip with whisk attachment on high speed for about 5 minutes until very thick and ribbons of batter fall back into bowl when you lift the whisk up.
4. Sift flour over batter and carefully fold in with a balloon whisk or a rubber spatula (a whisk will lessen risk of batter deflating).
5. Combine butter and vanilla and almond extracts together in a small bowl. Pour a bit of the batter into the butter and stir together. Pour butter back into main batter and fold to combine.
6. Pour batter into prepared pan. Bake for 12-15 minutes until top is golden brown and springs back when you press it lightly.
7. Remove from oven and let cool on wire rack for about 10 minutes before unmolding. Let finish cooling on wire rack.
For the pastry cream:
1. Combine milk with 2 tablespoons (30g) of sugar in a small saucepan. Heat on the stove over medium heat until the sugar is dissolved and bubbles appear on the edge of the pan.
2. Meanwhile, whisk together the egg yolks and remaining 4 Tablespoons (60 g) sugar in a bowl. Whisk in cornstarch until combined.
3. Pour the hot milk into the egg mixture, whisking constantly to prevent the eggs from cooking.
4. Return the entire mixture to the saucepan and cook over medium heat, whisking constantly until the mixture thickens.
5. Remove from heat and stir in the vanilla extract. Stir in the rose extract and rose syrup.
6. Scrape the pastry cream into a bowl, press a piece of plastic wrap to the surface, and refrigerate for an hour until chilled. If you want to chill the pastry cream quickly, place the bowl in a larger bowl filled with cold water and ice cubes and stir occasionally until the cream is cold.
To assemble the cakes:
1. When you are ready to assemble the cakes, line the sides of two 4.5" round springform pans with strips of acetate cut to fit.
2. Cut rounds of genoise from the genoise sheet and fit into the bottom of the pans.
3. Wash and hull the strawberries. Cut them in half and trim the ends so they match in height (they should be as high as the top of the pans). Line the sides of the pans with the berries, cut side facing out. Fill in the center of the cake with more berry halves.
4. Whip cream to soft peaks in a stand mixer.
5. Combine the powdered gelatin with the cold water in a glass measuring cup. Let sit until gelatin has bloomed and mixture is soft and rubbery.
6. Microwave the gelatin for about 10 seconds until it has liquefied.
7. Pour the gelatin into the cream and whip until gelatin has been incorporated.
8. Add some of the whipped cream to the chilled pastry cream and fold in to lighten. Add in the rest of the cream and fold in to combine.
9. Fill a pastry bag fitted with a round tip (small to medium) with the pastry cream. Pipe into the pans, being sure to fill in all the gaps between the strawberries. The cream should cover the tops of the strawberries.
10. If you want, you can cut out two more rounds of genoise and place on top of the pastry cream.
11. Place cakes into the refrigerator and chill overnight for the cream to set.
12. Unmold cakes and carefully peel away the acetate strips before serving.